Everyone who sells, specs or collects vintage modern outdoor furniture seems to know the story of Walter Lamb. It's a tale that evokes all the ingenuity and scrappiness, if you will, of young designers just after World War II, when imaginations were set free both by the longed-for end to that conflict and by new materials available as a result of wartime research and development.
Lamb, a UC Berkeley–trained architect living in Hawaii in the late 1940s, got hold of some metal tubing salvaged from sunken naval ships at Pearl Harbor. Weaving nautical rope around frames made of this material, he fashioned elegant chaises and other pieces for the new backyards of returning GIs and their families. Lamb's designs were soon picked up by the then-new Brown Jordan furniture company of Pasadena, California, and they've since become — in both vintage and more recent versions (Brown Jordan reissued the collection in 2009) — a lodestar of good American outdoor furniture design.
"Lamb worked with bronze steam tubes from the bottom of the ocean, a copper alloy with beautiful patina," says Eric Drury, who has been restoring vintage Lamb and other patio furniture since the 1980s, when his father bought a small Palm Springs hotel and offered his teenage son a free room for spring break if he figured out how to rescue a group of sun-damaged vinyl chaises. "People definitely appreciate the stuff that has age, as opposed to the repros," Drury says. "It's part of history."
---
Shop Outdoor Modern
---
Lamb's adventurous designs, and those of other mid-century designers noted for their seminal outdoor furniture — a list that includes Hendrik Van Keppel and Taylor Green, Russell Woodard, Maurizio Tempestini for Salterini and Richard Schultz for Knoll — is often found among the offerings of such 1stdibs dealers as Collage, 20th Century Classics, R.E. Steele, Sputnik Modern and Barbarella Home.
"I use vintage furniture wherever possible, including in my own garden," says Mario Nievera of Nievera Williams Landscape Architecture, the renowned Palm Beach firm whose portfolio includes everything from residences to civic parks and institutional campuses. "Most vintage furniture is so comfortable and well-scaled for residential gardens. There may be some maintenance required, but it's worth the effort."
"There's a lot of need and desire to redo vintage patio furniture, because the new can actually be more expensive, and the stuff made back then was made a little bit better — in the U.S., not overseas," says Shelly Haywood, an owner of Modern Vault in Newport Beach, California, who presently has a set of two low-slung aluminum lounge chairs and an ottoman by Tadao Inouye for Brown Jordan on offer. "There are purists who are fanatical about having the real deal. They want their mid-century homes to be period-correct."
Vintage patio furniture can be restored almost indefinitely, says Drury, who recently flew to Houston to "re-rope" an 18-piece set of Lamb furniture. He has used as much as 1,600 feet of braided yacht cord to refresh a "double-wide" chaise by Van Keppel-Green, and stitches new slings for Schultz pieces on an industrial sewing machine in his Newport Beach workshop.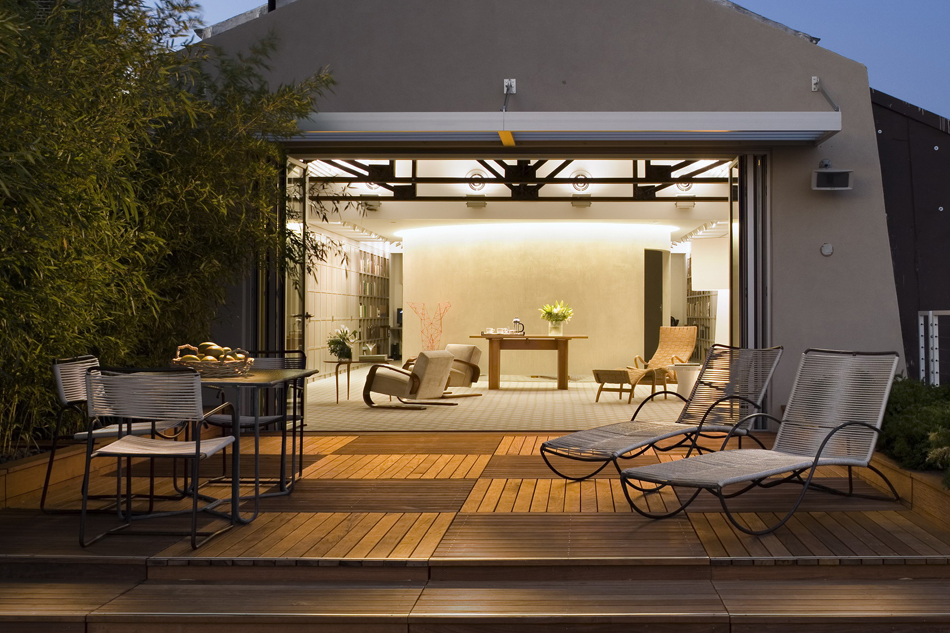 California led the way, as patios accessed through the sliding-glass doors of new ranch houses proliferated and "indoor/outdoor living" became a watchword among decorating magazines and department store tastemakers. But other regions of the country needed outdoor furniture, too. In Florida, says Andy Casas, an owner of Iconic Snob Galeries in West Palm Beach and Miami's Alexander Millen Gallery, "The most important, if you're doing a beach house, is cast aluminum by Molla from the 1950s. It's great by the shore — no salt issues, no maintenance." The British furniture maker, which had a factory in the New York area in the mid-20th century, produced chairs and benches with a neoclassical feel, using seahorse and scallop shell motifs. Casas also cites the local popularity of Brown Jordan's 1960s Surf Line and mid-century designer Dan Johnson's 1954 Sol y Luna chairs, an attenuated take-off on the ancient Greek klismos chair, produced in cast aluminum for outdoor use. "Why buy run-of-the-mill patio furniture from Pottery Barn or Restoration Hardware when you can have a killer set you don't see everywhere? It's like sculpture for the garden."
In colder regions, wrought iron, which can be left outdoors all year round, was the material of choice in outdoor furniture designs for the Atomic Age. Russell Woodard's 1950s Sculptura series, a metal mesh design with swooping curves made by Lee L. Woodard Sons of Owosso, Michigan, was widely distributed in the Midwest, says David Carter of Pegboard Modern. "We're not tripping over it, but we come across a fair amount."
"Woodard is stylish and durable," says Michael De Santis, of Barbarella Home, who recently sold an original five-piece patio set to owners of a townhouse in Greenwich Village, and whose inventory includes two-dozen Woodard table bases from Kutscher's Hotel in the Catskills. "They're Space Age-y, with a brushed aluminum finish."
---
Shop Outdoor Modern
---
Another name that stands out among aficionados is John B. Salterini, the New York maker of wrought-iron "Neva-Rust" patio furniture from the late 1920s into the 1950s. The hoop-like Clamshell series by Tempestini, an Italian designer who worked with Salterini in the '50s, is having a moment, particularly the cantilevered chaise with footrest and the two-person tete-a-tete.
In the earlier years at Salterini, traditionally decorative designs dominated. "Most modern dealers won't touch it," De Santis says. "They'll say 'Flowers? I don't want it!' But I'll buy it if it's stylish. It probably won't end up in the Hamptons, but it will ship out to Georgia or Texas."
Indestructible wrought iron can be sandblasted and powder-coated any color. Landscape designer Susan Welti of Brooklyn's Foras Studio used a Woodard Sculptura dining set to add a jolt of red to the bluestone-paved backyard of a brownstone in Boerum Hill. "Bloom is hard to accomplish in a tiny garden, so I love using furniture as a color element, especially on the vintage stuff, which is so sculptural," Welti says. "New outdoor furniture tends to be big and squat and square. The Woodard pieces have skinny legs and a gentle curved shape to the seat. It's a nice juxtaposition with visual interest."
Dan Thorpe of La Guardia Design in Water Mill, New York, likes Schultz's 1960s Knoll designs for similar reasons, and often specs the iconic chaise with its signature solid wheel, along with Schultz dining sets, lounge chairs and bar stools for Hamptons poolsides. "It's light and airy and transparent, not bulky and blocky like thick teak furniture, so it doesn't cut into your view of the garden," Thorpe says. Though his firm creates cutting-edge modernist landscapes, often around newly built homes, he uses Schultz more than any other outdoor furniture. "It's just timeless, and it complements the contemporary garden very nicely."