April 19, 2020The challenges of motherhood are being felt more acutely than ever by women around the world right now, as they, in the best-case scenarios, try to figure out how to manage roles that include employee, teacher, caregiver and partner. It's natural to feel overwhelmed and vulnerable, but this time of unprecedented togetherness is also a moment to focus on the relationships that matter most to us. This break from our regular routines (and everything else) has sparked an urge to connect with loved ones who don't live with us, whether through Zoom happy hours, FaceTime holiday meals or even the somewhat antiquated, though increasingly novel, act of talking on the phone.

As Mother's Day approaches, we at Introspective couldn't think of a better occasion to reflect on the incredible mothers and mother figures in our lives. And because jewelry designers are often called on to craft pieces to commemorate life's big moments, we spoke to five women who have dedicated their careers to creating beautiful, meaningful items, all while building businesses and raising children.

---
Faye Kim
Thinking back to her first Mother's Day, Westport, Connecticut–based jewelry designer Faye Kim recalls that it made her feel closer to her own mom. "It brings your relationship to a new level of respect, admiration and love," she says. "For me, that was very special. I'm from a large family, and she was the glue that held us together."

A former buyer for Tiffany & Co. and Bergdorf Goodman, Kim was a stay-at-home mom to her three children — her sons are now 19 and 24, and her daughter 27 — for more than a decade before launching her business, in 2003. When her youngest child finished his gap year in Ecuador last year, the whole family visited the country. It was their first trip together as adults — and a revelatory experience for Kim. "Exploring the natural beauty of Ecuador together with three grown children gave me the perspective to appreciate my accomplishments," she says. "It was my time to celebrate myself. I felt like I did a good job." She adds, "As a working mom, you're juggling a million things. [The trip] was one of the few moments in life where you feel like, 'This is what it's all about.' "

"Matte-finished platinum has a slightly industrial vibe," which makes these hoop earrings a great pick "for the younger or edgier mom," Kim says, noting, "I'm very practical, and I'm always trying to elevate everyday style. You always feel better when you look better."
---
Ri Noor
Shibani Shinde Patil never thought she'd be a full-time jewelry designer. It wasn't that she didn't love jewelry. But "I never thought that doing something you enjoyed was the right thing to do," says the pragmatic Patil, whose previous career was in the energy sector.
That changed after she gave birth to her son. It was just before Mother's Day in 2015, and her husband surprised her with an extravagant gift: a pair of earrings set with yellow-diamond-solitaires and white diamonds. He didn't buy her jewelry often, since she usually preferred to commission items herself, and Patil was touched by the gesture. But when she found out how much the pieces cost, she was inspired to start a more affordable line of jewelry.

Four months later, she launched Ri Noor jewelry. "Ri is for my son, Rishi, and noor is for light — he is the light of my life," she says. That was four years ago, and she and her husband have since welcomed a daughter, who is now 15 months old and the inspiration for Ri Noor's Poppy collection. "I wanted to create a brand that is wearable, and I didn't want to compromise on quality," says Patil. "Price point is very important."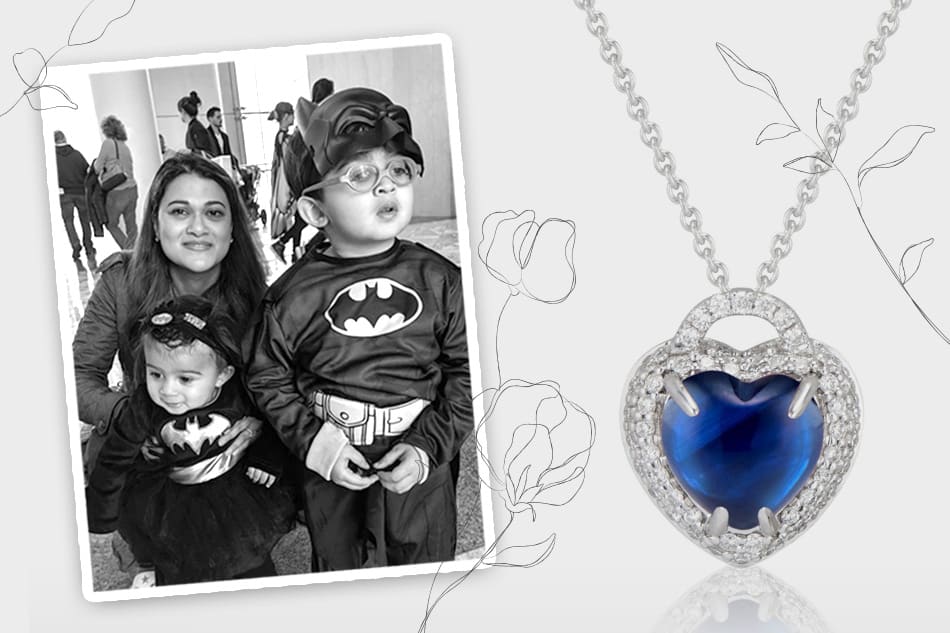 Another of her collections has particular resonance right now. Patil's Big Heart pieces feature hefty cabochon rubies, emeralds and sapphires cut in the line's namesake shape.
Patil, who admits not always having been a fan of the motif, was converted by its iconographic power. "Hearts have always been a symbol of love," says Patil, explaining that this makes them perfect for celebrating mothers. "These cabochons are all hand picked by me as I look to create a 'big' heart effect."

---
AnaKatarina

"I hate drama, but I love the dramatic," says Ana Katarina Dervisevic, recalling one of her most memorable Mother's Days. Her three daughters (now ages 17, 22 and 26) were young, and she dressed them all up, donning a 1920s frock for herself, then took them to Boston to walk around the Public Garden. "We just felt pretty and fun, and it was a beautiful spring day."

The Dedham, Massachusetts–based designer started AnaKatarina in 2007. She had left her husband and had all of $200 in the bank, but she didn't let her situation, or lack of experience, stop her. "Because I wasn't trained as a jewelry maker or designer, I never knew the boundaries of what can't be done." Dervisevic, who is also a reiki master, believes jewelry is talismanic and wants the items she makes for her clients to be donned everyday — not just on special occasions. "The pieces I create are modern heirlooms," she says. "Wear them for your lifetime and then pass them down to your children."

AnaKatarina recently launched the Love Token collection. Made using reclaimed, recycled and fair trade precious gems and metals, the pieces are inspired by Roman spintriae and by seven types of love: agape, eros, philia, philautia, storage, pragma, ludus. "Love is the foundation that connects us all," Dervisevic says. "The carved tree of Storge, with its intricate, expansive branch and root design, represents the love, support and interconnectedness between each of us and our families, whether natural or chosen," Dervisevic says. "On the other side of the pendant is the phrase 'In Love's Shelter I Unfurl Towards the Sun,' which reminds us that these relationships are the foundation of our best lives and qualities."
---
Lauren Harper
"Anyone who knows the Harpers knows that we are really, really bad at doing nothing." That's what Lauren Harper says in a recent Instagram video post that shows her family in their Winnetka, Illinois, home assembling face masks for health care workers amid the COVID-19 crisis. Like seemingly everything these days, this activity is a pivot from the norm, which for Harper means designing bold, colorful pieces for her eponymous jewelry line. But, as she told Introspective, when local hospitals called for assistance, she, her husband and their three daughters — ages 9, 14 and 16 — were happy to comply. The family takes this same team approach to celebrating Mother's Day. "We go to our local nursery in two cars," Harper says. "One entire car is always full of plants on the way home." Then, they garden as a family and enjoy the beautiful results all summer. "It's such a metaphor for being a mom," she says, laughing. "No one has to buy me jewelry — we do the garden!"

That's not to say that jewels aren't an apt gift. "I recently took a trip to Italy with my husband and daughters," says Harper, "and I was so mesmerized by the oversize doors all over Florence and Rome and the detailed metal work that went into the door knockers on each one. The stone work design around these earrings is a tiny colorful version of my favorite door knocker. They have a bright, happy and unforgettable feeling to them, which celebrates how we all feel about our own mothers."
---
ARK Fine Jewelry

"My most memorable Mother's Day was the first one, because it's strange to see yourself step into that role as a mother," recalls Ann Korman, of ARK Fine Jewelry, who is currently working from home in Los Angeles with her daughters, ages 22 and 28. "You don't necessarily have to have your own child to be a mother or motherly," she adds. And her most meaningful Mother's Day? "I think this one will be."

Having worked as a holistic nutritionist and yoga teacher, Korman came to jewelry design after studying in India and learning about the healing properties of gemstones. ARK, whose name comes from Korman's initials (her maiden name is Rosen), was born of her desire to create sustainable, meaningful jewels that are "more than just objects." During this global crisis, she, like many others, has been searching for meaning. "It's such a hard and trying time," she says, "and we only have this moment to be very appreciative of the most important things in life, which are our families."
This emerald-cut pink tourmaline ring evokes creativity, harmony and spiritual manifestation. The engravings on each side represent the feminine Lunar and masculine Solar forces, which inspire balance and grounding. "The energy of tourmaline is joy," Korman says, "which is something the world needs right now."