Persian by way of Italy in heritage, Los Angeles designer Natasha Baradaran has a perspective on furniture, interiors and life unlike any other. "A lot of people feel that I speak with an accent," she says, "even though I was born here and I've never even been to Iran." Baradaran's mother was raised in Milan, and the designer picked up Italian on summer visits to see her grandfather. Add in some Spanish classes in school, and Baradaran grew up speaking four languages.
You can see the fruits of this diverse background throughout her practice: in her furniture collection, with its jewelry-inspired pieces, like the Cuff console and the Baguette coffee table, and in the way she crafts her clients' rooms. They are also in evidence in Baradaran's California ranch house, which is filled with Persian rugs from her grandfather, as well as vintage pieces from her favorite stores in Milan, such as Robertaebasta. "Our home really reflects the way we travel and who we are, and it's very comfortable because I have two daughters," she says. "My rooms are different colors, and I'm always experimenting, as almost all designers are, taking something out and adding something new."
Baradaran took a unique path to success. After the Los Angeles native graduated from the University of Southern California, she was on track to become a professor of political science, with a master's degree in international relations from Columbia University. Then came two epiphanies, the first marked by disenchantment and the second by inspiration. "I was spending all this time in a dungeon-like library in the fabulous city of New York, and I felt like, I don't even deal with people here," she says. "I need to go out and see things and be with people."
Baradaran got back into painting, which had been a passion growing up, but stayed on the poli-sci track, returning to L.A. in anticipation of starting a Ph.D. program in international relations at the University of California, Los Angeles. Newly married and living in a small home in Beverly Glen Canyon, she took some design classes and applied for an internship on a whim. That's when inspiration hit.
Upon walking into Wilson and Associates, a large design firm in downtown Los Angeles, her neurons fired with possibilities. "It was the first time I really saw design on that scale," she says, snapping her fingers to signify the second epiphany, "and I was hooked immediately."
She hustled her way through the ranks at Wilson and Associates, working on big-budget projects in Las Vegas and Tokyo, attuning her eye to many different styles. She was often out of town, coming home to Los Angeles only on the weekends. It was a lifestyle she found fascinating but not conducive to her next big goal: starting a family.
Baradaran decided it was time to rearrange her life's design again. She left the big firm and started her own practice in L.A. Going solo was scary at first, but her time at Wilson and Associates had given her a deep background in many styles — from Asian contemporary to Tuscan infused with Portuguese and Moroccan elements — and the housing boom of the early 2000s helped her make her way. She soon became one of the city's most sought-after designers.
---
"I love the idea of neutrality and trying to give a feeling of richness based on texture and layering, the beauty of pieces and lines and architecture," Baradaran says.
---
One big client was a science-fiction film director with dreams of living in the ultimate bachelor pad in the Hollywood Hills, complete with a movie screen in his living room and a stylish garage for his car collection. "It was really about clean lines, a neutral palette, texture, the combination of pieces you may not think would necessarily get placed together," Baradaran says about her concept for realizing the client's vision.
For the movie screen, she had a custom curtain fashioned — suede with leather embroidery, very Art Deco — and placed on either side octopus sconces from Blackman Cruz. The client loved World War II movies, so she decked the walls of the garage with airplane wings. Baradaran created masculine lines throughout the house, using an ebony lacquer and rose gold Spila table from her own collection as a shiny focal point in the master bedroom.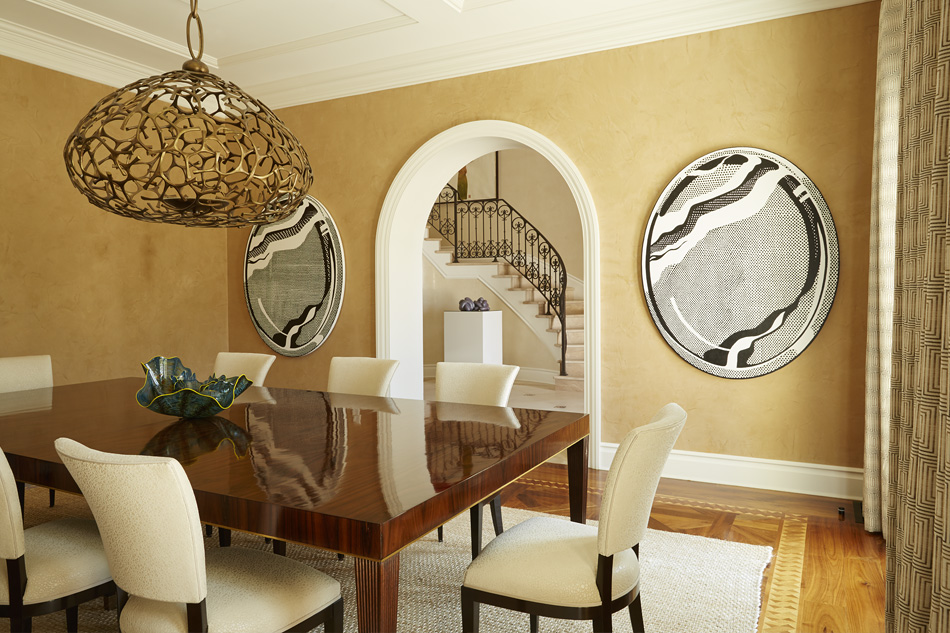 When designing the home of a Brentwood family with an incredible art collection — think Ed Ruscha, Cy Twombly and Roy Lichtenstein, and then keep going — Baradaran stayed neutral and let the paintings and furniture color the interiors.
"I love the idea of neutrality and trying to give a feeling of richness based on texture and layering, the beauty of pieces and lines and architecture," she says. "When I was spending time in Italy, everyone was saying, 'Oh, you're from L.A., everything in L.A. is beige.' But I think it's a challenge to make something really wonderful and visually pleasing with a neutral palette. And I don't think everything here is beige."
For splashes of color, look no farther than her recent California Spanish Revival project, which featured gorgeous, dominant architecture, including original terra-cotta tile work from the 1920s and '30s. "The architecture was a really significant element of that house," she says. "I didn't feel right completely ignoring it and going in an entirely contemporary direction, and that was the main challenge."
Those clients had children and pets, so colors came to the fore, the better to hide finger smudges and paw marks. Along with bright artwork and big carpets, Baradaran added furniture of her own design, placing her Cuff console in the living room, her Sempione bench and Collana mirror in the family room and her Dolce Far Niente lounge chair in the master.
With her own furniture designs, Baradaran has discovered another way to keep growing, changing, rearranging. "It's great that, at this stage of my career, I have found another creative outlet," she says. "It gives me that same excitement and energy that I got when I first started doing interiors."
---
Natasha Baradaran's Quick Picks on 1stdibs