August 13, 2023"I don't believe in intellectual design," says Julien Sebban, founder of the Paris-based design collective Uchronia. "I create things that are extremely colorful and joyful, that lift your spirits and give you energy." It's an approach that has stood him in good stead.
Just six months after he launched the firm, in 2019, Sebban won the competition to design Forest, the restaurant at the Musée d'Art Moderne de la Ville de Paris, one of the city's most prestigious museums. More recently, he was hired to imagine a new generation of Sonia Rykiel boutiques that feature strong lines in bright hues, in a nod to the late fashion designer's signature striped sweaters, and one of his latest residential projects, close to the Champs-Elysées, made the cover of the May issue of Elle Decor.
Now, the 30-year-old designer is bringing a collection of what he calls his "couture" furniture exclusively to 1stDibs, offering the pieces alongside a selection of vintage ones from his personal collection, many of which have been customized. The latter include a set of six Frank Lloyd Wright dining chairs to whose seatbacks Sebban applied fabric from Prelle, the venerable Lyons silk manufacturer. There is also a Pierre Cardin console table relacquered in a deep burgundy and a 1960s German daybed reupholstered in a psychedelic orange fabric with a wave pattern unearthed in a Parisian thrift store.
As for the couture pieces, Sebban says they arose from his desire to create something "very, very original. I'm always looking to do new and different things." Many are inspired by nature, such as the jellyfish-like Medusa pendant, made from crocheted salvaged fabric and plastic; the Seaweed table lamp; and the wiggly steel-and-silk Dancing shelf. There is also the Dandelion screen, which consists of a circular steel structure fitted with vertical strings of large resin-coated beads in gradated terracotta tones.
Other items have been adapted from designs in Uchronia's existing in-house collection, Wave. The legs of the Bisou stool are embellished with shaggy fringes, and Bisou benches have marine-themed ceramic lamps made in Vallauris in the 1960s and '70s affixed to their seats with resin. One of the light fixtures resembles a large fish, another a ship next to a lighthouse.
A further group of pieces were originally developed for the firm's interior design projects — among them, the Sun sconce, imagined for a different Forest restaurant, in Marseilles, which opened in March. What they all share is a spirit of whimsy and exquisite craftsmanship.
Sebban says he wanted to be an architect from the age of three. "A lot of time during my childhood was spent playing building games," he recalls. He studied for two years at the École Spéciale d'Architecture, in Paris, but found the rigid French education system stifling and switched to the Architectural Association School of Architecture, in London.
The move proved a revelation. "I discovered so much freedom," he says. "Unlike in France, I could express myself how I wanted." During his time there, Sebban made trips abroad, to places that reinforced his love of color. He was particularly impressed by the vivid hues of the Inhotim Sculpture Park and the buildings of architect Lina Bo Bardi, in Brazil, and the Johannesburg townships, in South Africa. Ask him about his other aesthetic influences, and he'll cite the English Arts and Crafts movement, the work of Verner Panton and the Memphis Milano group, spearheaded by Ettore Sottsass.
After graduation in London, Sebban returned to Paris and founded Uchronia. The name refers to a hypothetical or fictional period of time. "My idea was to create spaces that were a little outside of time, like a sort of utopia," he says. He also decided to turn his back on architecture and focus on interiors and furniture design. "I didn't like the notion that you design something and have to wait ten years for it to be built."
Today, the firm's headquarters occupy all five floors of a 1970s building, renamed Château Uchronia, in Paris's 18th arrondissement. The ground level is home to a showroom, with the offices in a host of small rooms above. Sebban currently has eight collaborators, the large majority of whom are under 30, a conscious choice. "I think people have a lot more freedom when they're young," he says.
Uchronia's interiors projects have included the set design of catwalk shows for Nina Ricci and the French ready-to-wear brand Jour/Né, several vibrant outlets of Café Nuances in Paris and the two Forest restaurants.
In a Brutalist concrete architectural setting, the Forest at the Musée des Arts Modernes de la Ville de Paris features deep-blue seating and vegetation climbing up the walls, while the Marseilles outpost is swathed almost entirely in terracotta shades. "We wanted to tell the story of the south of France and chose as our reference the ocher tones of Provence," says Sebban. There are lava-stone tabletops and seating upholstered in fabric custom dyed by the Manufacture Royale Bonvallet, which dates back to 1756.
Their work in the residential realm tends to be particularly vibrant in terms of color. The living room in the former apartment/showroom of Sebban and his designer husband, Jonathan Wray (also a Uchronia collaborator), featured a pair of multihued modular Cannaregio sofas by Gaetano Pesce, a bright blue rug and two interlocking Peanut tables from Uchronia's in-house collection. One of the tables had an orange top, the other a mauve base.
And it would seem that, given half the chance, Sebban will always integrate wave motifs into his projects. "I'm obsessed by them," he admits. "I love curved forms. I find them very warm and peaceful." These shapes are evident in an apartment he decorated for clients in Paris's 16th arrondissement — from the sinuous legs of a marble console table in the entry hall to the undulating edges of the kitchen cabinet doors. As in many Uchronia interiors, the decor includes a number of striking vintage pieces, such as a Shiro Kuramata prototype chair and a Vistosi-style glass-disk chandelier.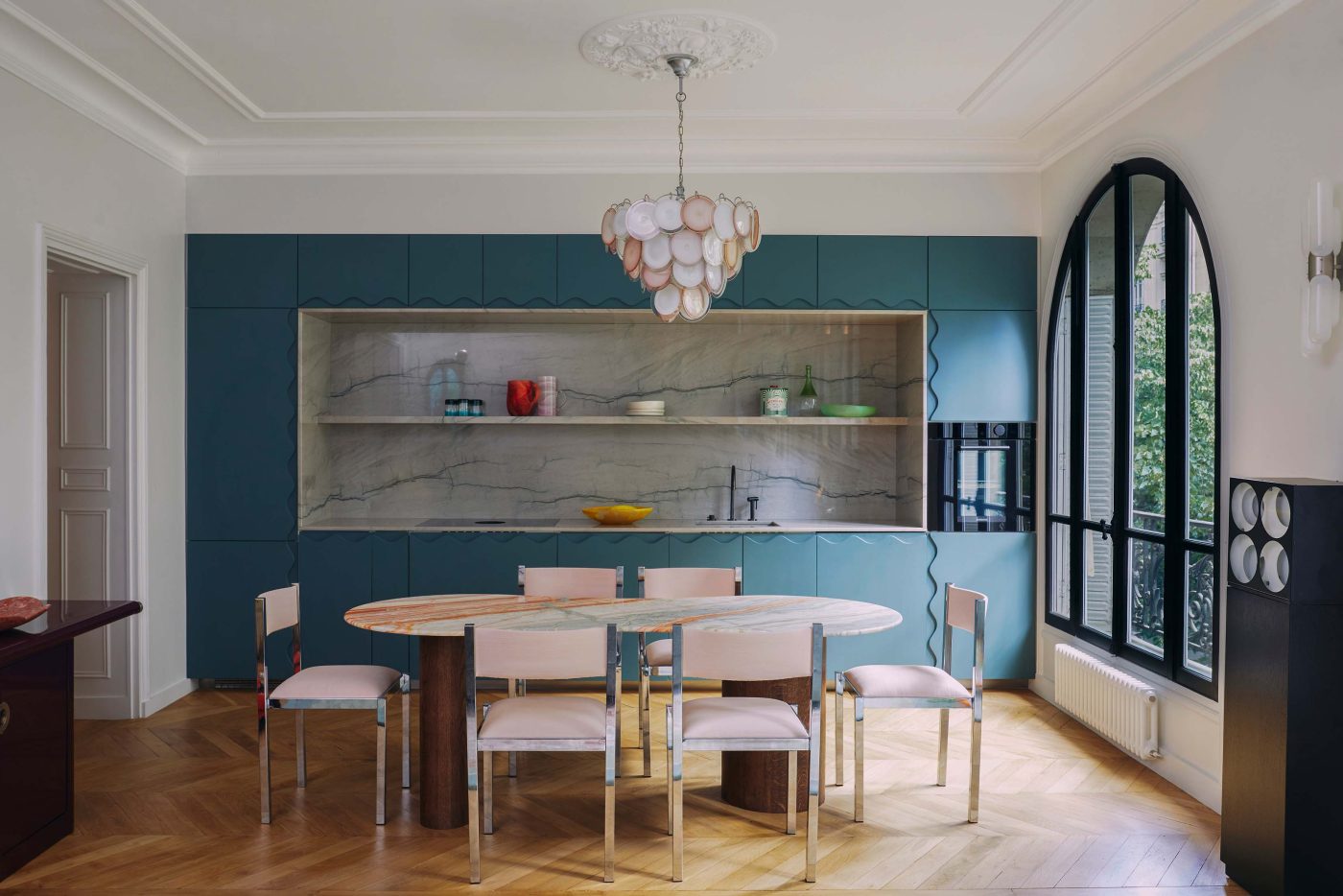 Nowadays, many designers express a passion for craftsmanship, but Sebban seems particularly enamored of it. "It's what interests me most in my work," he says. His couture furniture incorporates wonderful examples. The fringes on the legs of the Pompom stools were made by the Paris-based atelier Passementerie Verrier from offcuts of brocade fabric. Sebban has developed an especially close working relationship with decorative painter David Roma. "We're neighbors," he says. "I worked on his apartment, he worked on mine, and I can see his bedroom from mine."
Together, Sebban and Roma have developed a range of novel resins, including the one used for the Dandelion screen. Most of the fabrics Sebban employs, meanwhile, come from Prelle, which was founded in 1752. "I really like recontextualizing their textiles," says Sebban. "I take something that could look old-fashioned at first sight, but when I use it in a more Pop-like way, it suddenly becomes psychedelic and very modern." A perfect example is one of the Flower pillows offered on 1stDibs, made from an Empire period textile that is remarkably graphic and vibrant.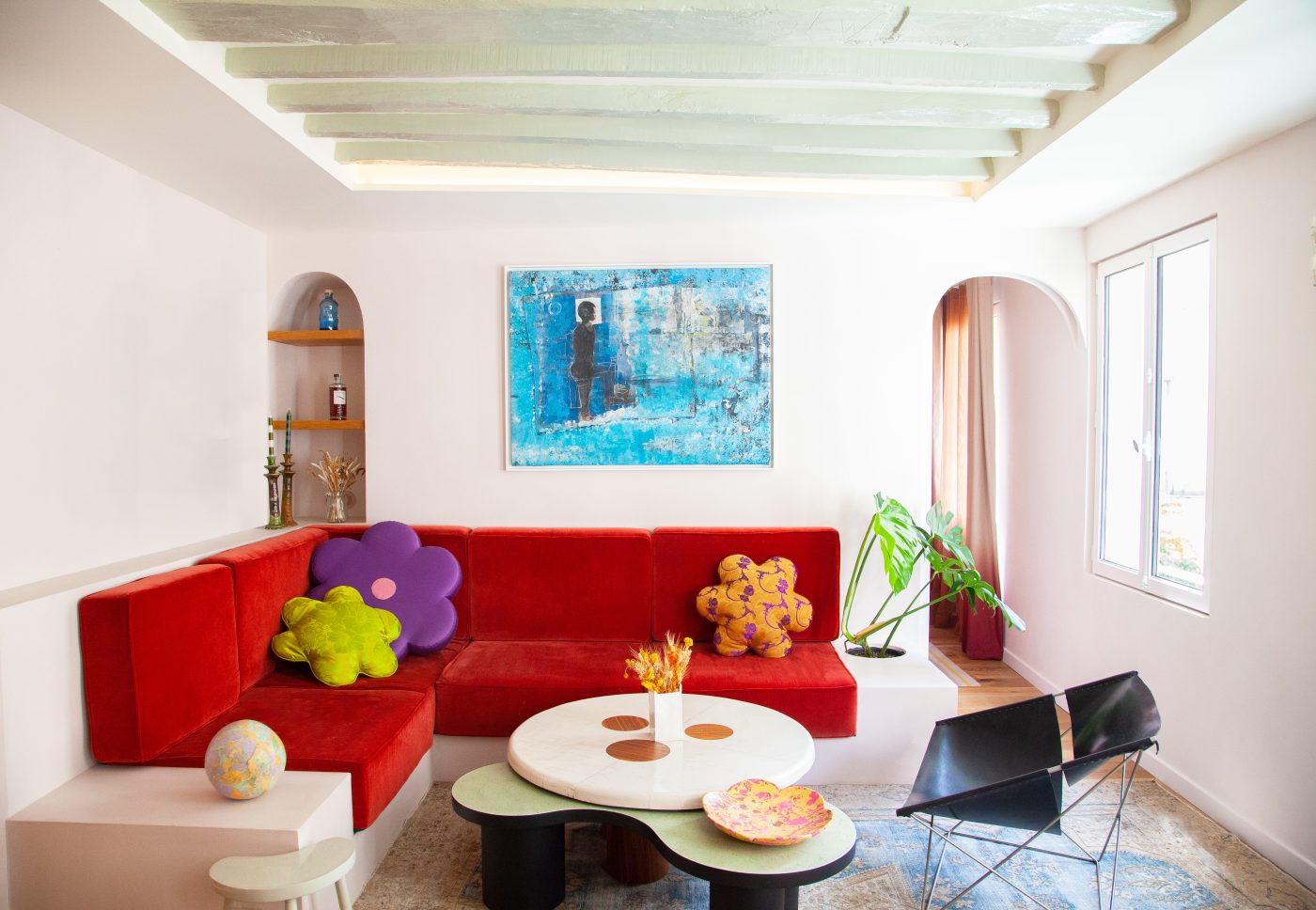 During Paris Design Week this September, Sebban will present a bedroom display called Think Pink! in the grand setting of Hôtel de Sully, a 17th-century town mansion adjacent to the Place des Vosges.
And he is particularly excited about unveiling a set of three jacquards with wave motifs that he designed specifically for Prelle. "It's the first time they've accepted such a collaboration," he says with obvious pride. "Until now, they've only reproduced historical designs already in their archives. These will be their first new fabrics since the eighteenth century."
Julien Sebban's Talking Points