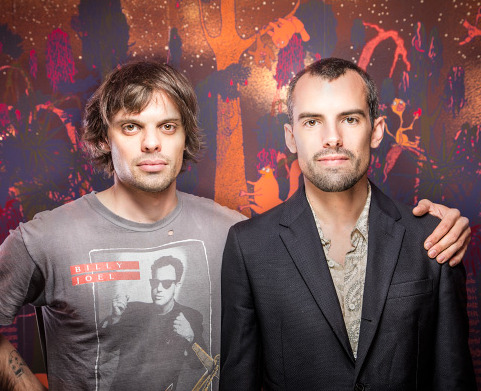 The Haas Brothers — twins Nikolai and Simon — like to reminisce about the day, two years ago, when their lives suddenly changed. Based in Los Angeles, the 30-year-olds were already established as the go-to fabricators for off-beat designers and stars: "the guys you would come to if everyone else told you it wasn't buildable," says Simon, the (slightly) older of the two. They had recently created masks for the men in Lady Gaga's "Fame" perfume campaign and were now making a stainless-steel ceiling whose surface appeared to ripple like water — part of Peter Marino's design for the Guerlain parfumerie in Paris.
Then came September 2012 and their fateful trip to New York, where they met with Zesty Meyers and Evan Snyderman, the owners of R & Company, in Tribeca. The twins brought some samples — cast resin blocks, a square of highly polished brass mosaic tile — and "talked a lot about the way we thought about design and what we wanted to do," Simon says.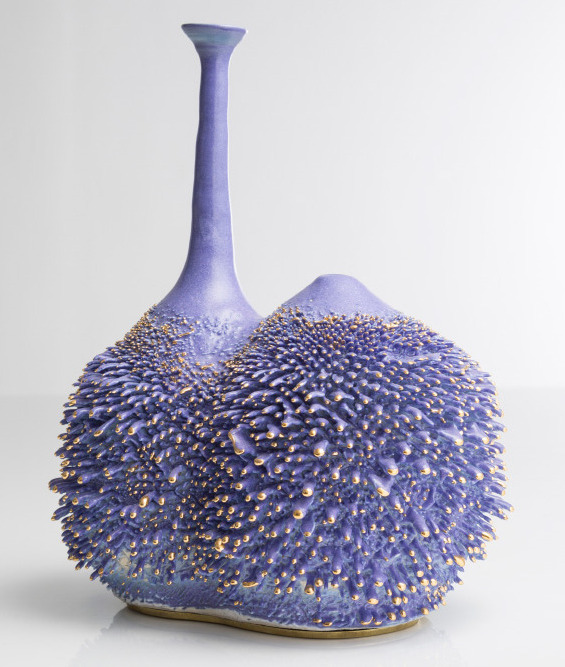 "We asked them, 'What should we make?' " says Nikolai, known as Niki, completing his brother's thought. "And they said, 'Whatever you want.' "
"It was the complete opposite" to their lives as fabricators, Simon adds. "And the liberation and excitement we felt made us think, 'Why would we do anything else?' "
They promptly returned to Los Angeles and began producing the fabulous, fantastical series of pieces they're known for today: ceramic "Accretion" vases, some of whose sea urchin-like surfaces change color under fluorescent light; anthropomorphic "Beast" chairs and couches, complete with ebony horns, bronze hooves and sheepskin hides; and a vast range of items, from tables to picture frames, covered in bronze mosaic and dubbed "Hex" because they're made with six-sided tiles. Each series employs methods the brothers developed themselves through fervent experimentation.
"Most people can't make what they talk about, especially with materials they haven't studied," says Meyers. "But Simon and Niki did exactly what they said they were going to do. And it was just mind-blowing — technically, craft-ily, intellectually."
Examples of these projects and more can now be seen through January 10 at R & Company, in a show the brothers called "Cool World," and in the twins' first monograph, Haas Brothers Volume One, which Damiani released in October.
The show, the brothers' first in this country, is a loose fantasia based on the imagery of Cool World, a 1992 film by the X-rated animator Ralph Bakshi, which they weren't allowed to see as children. The show includes lusciously furry Beasts, with names like Hairy J. Blige and Meryl Sheep, as well as glow-in-the-dark wallpaper and Elephant Skin candelabra and Gnome Dome and Zoidberg lamps made from ceramic and bronze, respectively. There are also cast-bronze Hematite vases, whose bulbous shapes suggest organs or feces; and scores of "Accretion" vessels, grouped so that their biomorphic protrusions and hollows suggest a sexual romp.
---
"Most people can't make what they talk about, especially with materials they haven't studied," says Meyers. "But Simon and Niki did exactly what they said they were going to do. And it was just mind-blowing."
---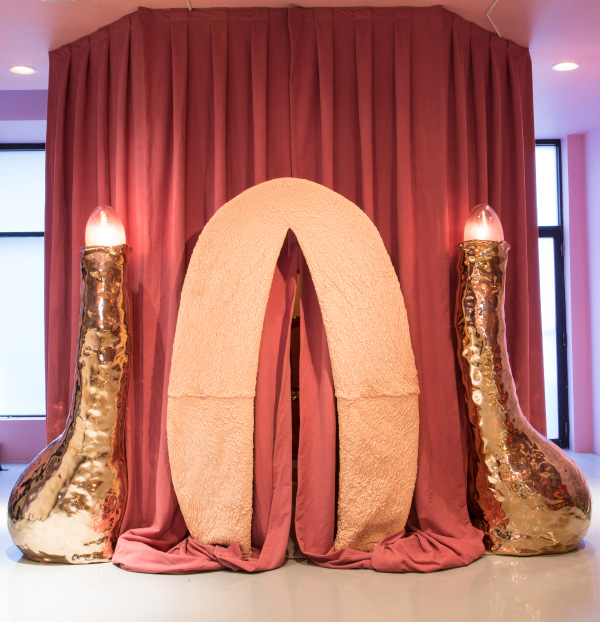 What's remarkable about their work, especially for such young designers, is its "personality and boldness," says Andrea Lipps, assistant curator at New York's Cooper Hewitt, Smithsonian Design Museum. "They just explore everything, there are so many ideas." And while they're always playing with familiar design archetypes, such as vessels and seats, "they are using those architectural forms for a larger expression," Lipps adds. "We don't always see within design such playfulness, humor and willingness to really push the boundaries."
Boundary-pushing certainly describes another work in the exhibit, the notorious installation "Advocates for the Sexual Outsider," which R & Company showed at Design Miami/Basel last summer. A crimson, velvet-curtained tent, flanked by bronze phallus-shaped lamps, is entered through a giant pair of vaginal lips covered with "vermiculated" leather. (The brothers have also used this labor-intensive stitching method — which marks the leather with wavy furrows — for couch upholstery.) Meant to be visited solo, the tent holds drawings, videos and interactive sex toy sculptures — all suggesting "that people being open with each other is how you make a real connection," Niki says. "Simon and I believe that sexuality is an extension of innocence if it's handled properly."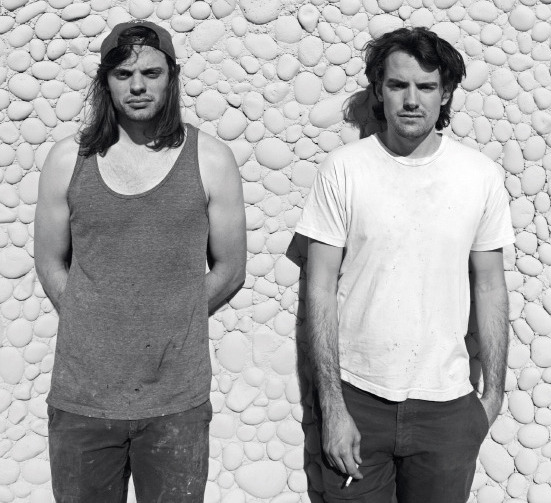 Or, as Design Miami director Rodman Primack, puts it, "It was a very challenging object to have in the fair. But it was certainly unforgettable."
That piece came about because of the brothers' desire to change society. (Niki notes that while "Simon is gay and I'm straight," they're both stymied by social taboos.) But it also recalls the earliest work they made together while growing up in Austin, Texas, sons of a furniture builder-stonemason father and an opera-singer mother (and younger siblings to actor Lukas Haas). At 14, after Niki joked about wanting slippers that would envelop his foot like a vagina, Simon fabricated a pair. Soon, the two were selling their "pussy foot" slipper-art objects through word of mouth.
Later, the precocious pair went separate ways, Simon to study painting at the Rhode Island School of Design, and Niki to tour in a band. They ended up back together in Hollywood five years ago and soon were working together again, prompted by a furniture fabrication commission from the architecture firm Johnston Marklee.
At around the same time, they caught the attention of Roman Alonso, co-founder and creative director of the Los Angeles-based architecture-and-design collaborative Commune. Since then, "they've just evolved and evolved and evolved," Alonso says. "It doesn't stop."
Earlier this year, Alonso hired the brothers to work on the interiors of Commune's celebrated design for the Ace Hotel in downtown L.A.; he recalls telling them to "think about the walls as a blank canvas." They transformed the ground floor of the hipster hotspot, covering it with drawings and caricatures of legendary locals.
Although the twins don't have as much time for commissions as they once did, they still leapt at the opportunity. "We're proud of the Ace," Simon says, to which Niki adds: "Also, we like people who tell us we can do whatever we want."
Shop The Haas Brothers on 1stdibs