November 15, 2020The New York City Jewelry Week (NYCJW) initiative Here We Are launched in 2019 with a billboard in Times Square on which, for two days, giant portraits of a diverse group of jewelry designers looked out over the "crossroads of the world." The valuable, high-profile space was donated — which, if you believe in this kind of thing, seems like a sign of the universe granting its approval.
During NYCJW's November festivities, taking place this year from the 16th through the 22nd, Here We Are sponsors panels, webinars, exhibitions and events aimed at increasing the visibility of designers belonging to groups underrepresented in the industry.
Elliot Carlyle, NYCJW's director of cultural diversity and inclusion, gave the program its name. "Every time I've participated in a public conversation or panel session around diversity and inclusion, somebody says, 'One of the reasons why we don't have diverse representation is we don't know where the diversity exists.' "
This year, the program selected three designers from more than 70 applicants to receive the first Here We Are Funding Awards. "It's funny," says Lorraine West, one of the winners. "Here We Are can have different meanings. Last year it meant, 'Here we are — see what we have to offer.' A year later, it feels more like, 'Here we are — we have arrived.' "
Here, Introspective introduces the three award recipients, who have indeed arrived.
---
Lorraine West
You've probably already seen her work, whether you knew it or not. Beyoncé wore bold, brass Lorraine West Abstract Palette earrings in her "Black Is King" visual album. Zendaya wore earrings of the same design in the September issue of InStyle, and Tracee Ellis Ross sported West's Crescent hoops on the October cover of Shape.
If you've been dazzled by those striking geometric designs but know little about the designer behind them, here she is.
West laughs recalling a good friend's reaction upon hearing of her award. " 'I congratulate you for your success,' he told me. 'But this is not your first time at the rodeo.' " In fact, West's jewelry career spans more than 20 years.
It started at FIT, where she was studying illustration, not jewelry. On a whim one day, she walked into a jewelry-supply store close to campus and came out with wire, beads and tools. Soon, she was spending her free time experimenting with wire-wrapped jewelry. "I had no clue what I was doing," she says. But she had ideas and ambition.
One of her first celebrity clients was singer-songwriter Erykah Badu, whom she met at a poetry reading in 1996, her junior year, and gave an illustration. The two kept in touch, and when West started making jewelry, Badu commissioned a piece: a leather cuff in the shape of a fish with a marine scene burned into the underside. (Badu is a Pisces.)
After years of managing a busy freelance career illustrating, styling and designing jewelry, West launched her business in 2009 and began creating jewelry full-time.
These days, West uses a torch to make her geometric silver, brass and copper designs, which range from wide, weighty cuffs to open heart rings. She has a custom jewelry line as well, distinguished by unexpected pairings like turquoise and diamonds.
"Almost every piece has some type of story," West says. Take those Abstract Palette earrings on Beyoncé and Zendaya, As she explains on Instagram, their swooping shapes were inspired by the painter's palettes she used when doing her illustrations, "flipped like yin-yang" to convey the message that "we need balance, healing and to paint a new world."
West considers her award from Here We Are an extension of what she's already accomplished. "If I didn't put the work in, it wouldn't be happening," she says. Carlyle, who stresses "the heart and soul" in West's designs, agrees. After spending so much time as an important yet underrecognized presence in the industry, he says, "she just deserved it."
---
Lisette Scott, of Jam & Rico
"I was always curious," says Lisette Scott, the creative mind behind Brooklyn-based brand Jam & Rico. "I was born and raised in America, the third generation to be raised here. But my grandparents both migrated from the Caribbean, from Jamaica and Puerto Rico." Her curiosity about this cultural heritage has led her to explore it in her designs — and inspired the name of her company.
Started in 2016, Jam & Rico serves as a sort of launching pad for her cultural exploration. Each collection is based on a specific island, which she researches and visits before she begins designing. For example, her brightly tasseled Carmen earrings reflect the architecture in Cuba, and her Zon earrings embody the sunshine in Aruba.
Avoiding a destination's typical tourist sites, Scott instead immerses herself in its community. One hour may be spent discussing traditional costumes, the next investigating the island's preferred house paint colors. And she always seeks out the local food and music scenes.
Mostly, Scott wants to know what makes an island special to those who live there. The insights she gains are ultimately expressed in playful designs crafted in sterling silver or brass plated in 14-karat gold. The pieces range from simple bangles finished with gold cowrie shells to the sunburst-inspired Sol earrings, an abstract celebration of the Caribbean sun.
It's "absolutely beautiful to see how she infused her inspiration into her entire brand. Even the name is Jamaica and Puerto Rico coming together," Carlyle says. "She definitely reflects the energy and the mission of Here We Are."
Before launching her business, Scott worked full-time in the fashion industry, and she continued to do so even afterwards, most recently as a designer for Vince Camuto. She has been furloughed, however, due to COVID.
"It actually happened at the right time. I would not have been able to manage my full-time job and the amount of exposure that I was getting from Jam & Rico," she says, expressing the positive attitude one associates with spending extended periods on tropical islands. "Now, it's time to put all of my energy into growing the business and making it what I really want it to be."
---
Dominique Renée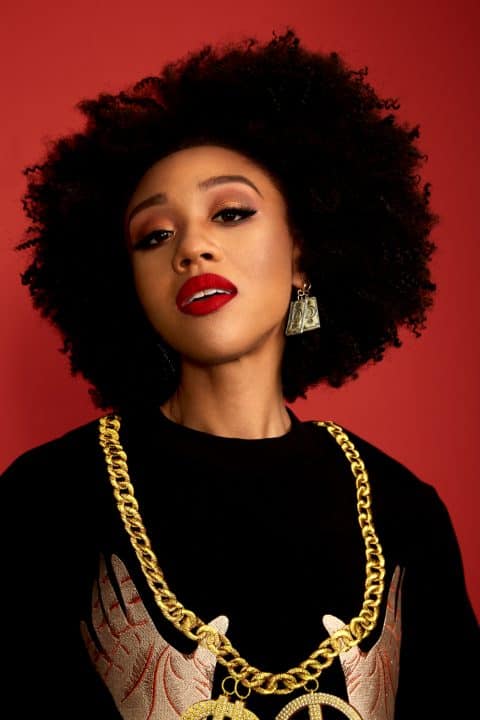 At first, design was a great distraction. As a college student uninspired by her graphic design homework, Dominique Renée stayed up late night after night, initially creating nail art, which gained a significant following through social media, then branching out into playful jewelry, whose designs she hand sculpted from clay.
"I was making stuff, and people liked it," she says. Eventually, the distraction evolved into a business — perhaps prematurely: "I feel like I started before I figured out exactly what my identity was as a designer."
Her uncertainty didn't last long. Approximately eight years after launching her namesake line, in fact, Renée's strong, individual voice was a key reason for her winning the Here We Are award. Created with plastic using 3-D printing, her designs are playful but also nod to personal power.
Renée describes the One in a Million earrings, for example, as a "daily reminder that you don't need to change anything about yourself," and calls the Supa Dupa Fly collection — with its pain-pill charm bracelet and Jealous necklace — a "boastful celebration of self-confidence and love."
"Dominique's collection was fun — she represents energy," says Carlyle. "When you look at her work, you don't just see just an aesthetic. You see a voice, and that makes her stand out."
How would Renée define that voice? "Sassy," she says. "My whole thing with my collection is to embrace my experiences and encourage other people to embrace theirs." Her experience comes with a soundtrack (and no regrets). Once she decides what story she wants to tell, she creates a playlist. As she sketches and listens, "pictures start to pop into my mind."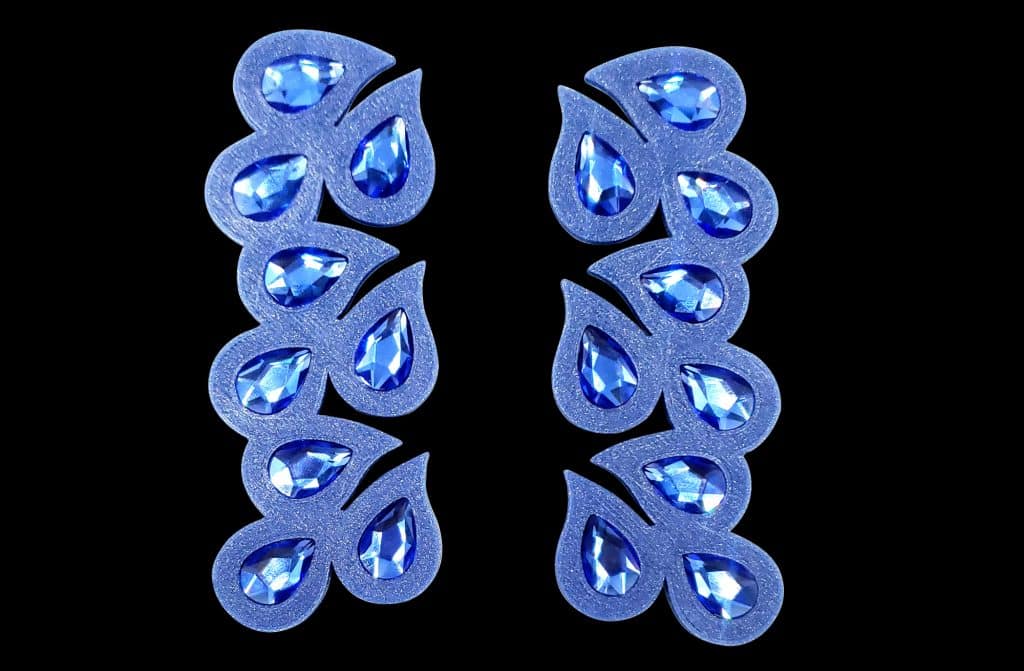 The final product can be sassy, indeed. Her latest collection, I Betcha Think This Collection is about U, was designed in the aftermath of a breakup. If that sounds to you like a play on the lyrics of Carly Simon's 1972 You're So Vain, you're correct.
Renée's personal favorites in this collection are the Not Alone ring and Always on Your Mind earrings — envisioned as a silent gibe at her ex. "Just because your experience might not have been a good one," she explains, "doesn't mean you can't poke fun at it."
A final, happy note: The couple has since reunited.
---