February 19, 2023Although it was established just four years ago, The Back Vault is no fledgling firm. Its history goes back to 1986, when Rick Shatz and Fishel Beigel set up a diamond selling and trading operation in New York City's bustling Diamond District. It was known simply as Rick Shatz Inc. until seven years ago, when the two teamed up with a third partner, Ram Raviv, to develop an arm of the business that would concentrate on the purchasing and selling of vintage fine jewelry.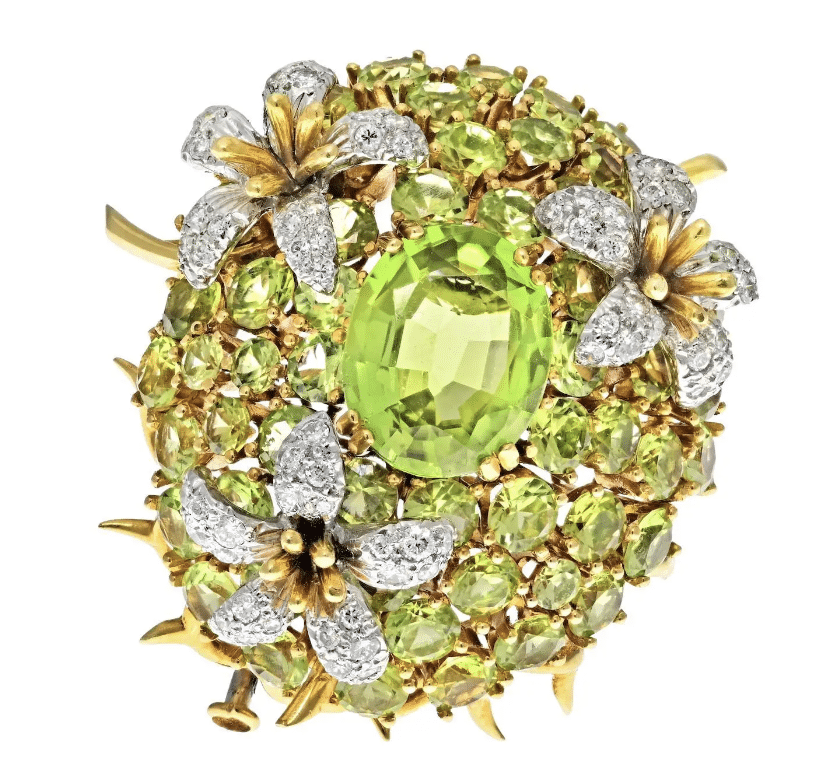 "Together, we opened a gallery on Forty-Seventh Street dealing almost exclusively with vintage jewelry dealers," says Shatz, who has been in the diamond business since 1972 (his first job was at Harry Winston). To reach collectors directly, the three elected to make the gallery shoppable online. Expanding the business, now known as The Back Vault, to include a storefront on 1stDibs was a natural progression. On the site, you will find a wealth of pieces by David Webb, Van Cleef & Arpels, Cartier and other marquee names in collectible fine jewelry. The supply is fed by an intricate international network of sourcing channels.
"Today, secondhand dealers throughout the world know that we are an active buyer of fine original vintage signed jewelry," says Shatz. "We are constantly in touch with the market through trade shows, trade magazines and plain word of mouth. We also exhibit at three to four shows each year, including ones in Miami, Las Vegas, Dubai and New York. In fact, we just got back from the Original Miami Beach Antique Show, where we were lucky enough to acquire an exceptional Cartier Panthère emerald and diamond tassel necklace."
A curious outlier category within The Back Vault's big-name designer mix is an exceptional collection of unsigned yellow diamond rings. How did these beauties come to be part of the picture?
"We have been cutting natural fancy yellow diamonds for more than three decades," explains Shatz. "Rick Shatz Inc. is one of the leading manufacturers of these amazing rings. When we started The Back Vault, we decided to include them in our listings of special jewelry. Fancy yellow diamond jewelry has become increasingly popular in recent years, due to its unique and vibrant look and increased availability. Yellow diamonds are a great choice for making a bold statement. They are also rarer than white diamonds, which adds to their allure."
Whether you come for the yellow diamonds or a piece like this 18-karat yellow gold Walking Elephant Maillon necklace (from Cartier, naturally), trust us, you will be dazzled.
Below, more from our conversation with Shatz about his cabinet of wonders, from Webb's animal kingdom to VCA's iconic Alhambra line.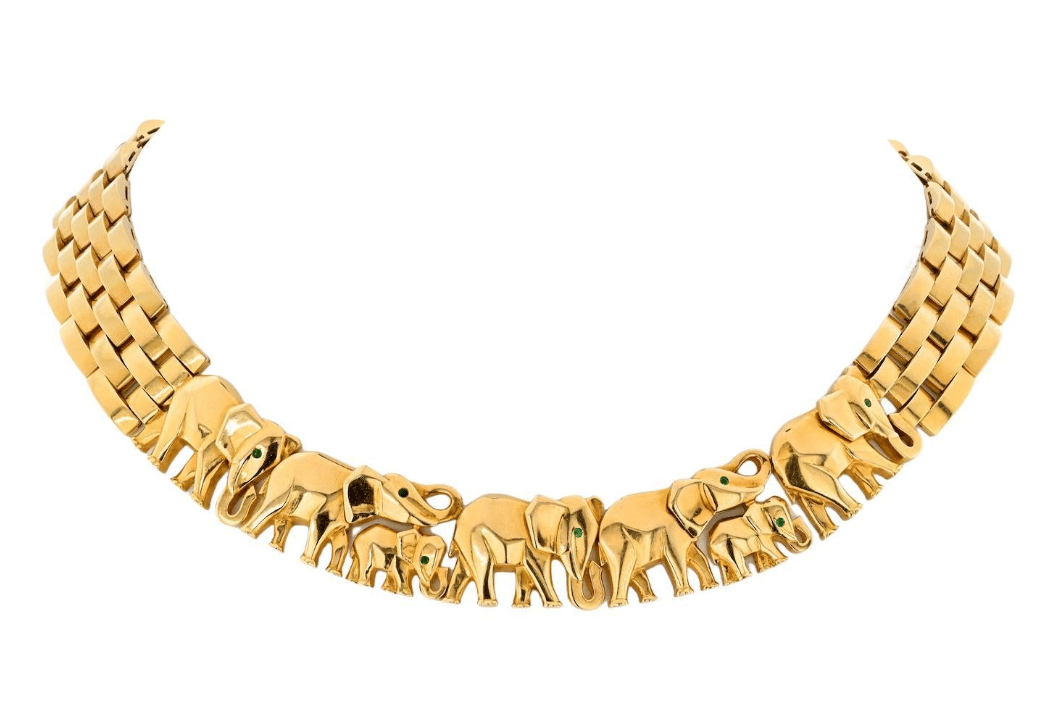 It's clear you have a strong preference for David Webb — how did this come to be?
"Yes, we love David Webb. He has a very recognizable look and feel. The most traditional, signature pieces are the animal bracelets from the Kingdom collection, door-knocker earrings, long articulated link necklaces and wide yellow gold cuffs. He was known to combine materials and techniques that are rarely used by other jewelers. Typically, there's enameling along with diamonds, or other rare gems set in platinum or gold, and sometimes all of the above in one piece of jewelry. Whether a brooch, a pair of earrings or a necklace, the design speaks, and sometimes even screams, 'Webb!' Our customers also seem to appreciate this unique and consistent style throughout all of his jewelry."
Can you point to an iconic Webb jewel in your collection and explain its significance?
"An iconic David Webb piece is one that captures the essence of the brand — timeless, luxurious and exotic. One example that we have is the David Webb Double-Headed Coral Lion Bracelet, which is a contemporary version of a classic David Webb style: the animal bracelet, first created on 1957. Here, the combination of eighteen-karat gold, coral, emeralds, rubies and diamonds creates a luxurious look. And this particular lion-head style is no longer in production, which adds to its rarity and appeal.
In addition to David Webb, what designers and pieces are you always on the hunt for? And where are you finding them?
Traditional iconic pieces from Cartier (Love bracelets, Juste Un Clou,  contemporary and estate Panthère); VCA (Alhambra, Perlée, Lotus, Noël, vintage and estate); and Tiffany Schlumberger (Dot Losange bracelets in paillonné enamel and Jean Schlumberger brooches). Over the past five or six years, we have been reaching out to the thousands of jewelry stores and dealers that we do business with, searching for those special signed pieces that they have acquired from the public and purchasing many of those rare gems from them. 
You have a variety of price points represented among your signed pieces. What items would you suggest to 1stDibs collectors seeking the best of the best?
Vintage Cartier Panthère and Van Cleef & Arpels Alhambra are two that come to mind. Although Van Cleef & Arpels has become well-known for its signature Alhambra collection, they have recently discontinued the production of the designs made with coral, turquoise and lapis. This is due to the fact that sourcing these materials has become increasingly difficult and unsustainable.
Based on the pieces that tend to sell quickly on 1stDibs and beyond, does any designer or jewel type seem to be particularly in demand at the moment?
The rare VCA Alhambra pieces, unique David Webb brooches, necklaces, rings and bracelets and, of course, the more wearable items by Cartier. Our most sophisticated collectors have a discerning eye and a good sense of style, and they appreciate the craftsmanship and materials that go into making each piece. They also appreciate the history of the jewelry as well as the story behind it and have a passion for investing in timeless pieces that will last a lifetime.
Rick Shatz's Talking Points