September 19, 2021When Lady Gaga stepped onto the red carpet at the 2019 Oscars wearing the 128.54-carat Tiffany Diamond, it ignited a lot of new interest in yellow diamonds. Originally purchased by the firm's founder, Charles Lewis Tiffany, in 1877, the stone adorning the superstar's neckline garnered headlines around the globe. But gem trends move at their own leisurely pace, and it took a minute — actually a couple of years — for the fresh fascination with yellow diamonds to translate into more yellow-diamond jewelry in the marketplace.
Why the delay? High-quality natural yellow diamonds are rare — and expensive. Unlike the fast-fashion brands who quickly serve up look-alike gowns based on celebrity finery, even major jewelry houses cannot create a collection overnight. Gems have to be sourced, designs created and jewels manufactured. It also takes time for clients to budget for such a purchase. When people decide they are going to buy a piece with a gem like a yellow diamond, they often wait for a special occasion to make the acquisition.
Red-carpet treasures this year showed that jewelers had been working to incorporate yellow diamonds into their collections. At the Oscars, Zendaya coordinated a $6 million Bulgari necklace centering on a yellow diamond with a yellow Valentino gown. Best Supporting Actress nominee Amanda Seyfried sported several Forevermark yellow diamond pieces from De Beers with a red Armani gown. And at this week's Met Gala, Iman rocked a 13-carat yellow diamond ring from Kwiat with her monumental headdress and gown, while Yara Shahidi wore two Cartier necklaces with yellow diamonds — one as a headband.
Away from the red carpet, Tiffany launched a special pop-up in June at its Rodeo Drive boutique featuring the gem and custom-made yellow jewelry boxes. And on August 23, the house made its commitment to yellow diamonds abundantly clear by outfitting Beyoncé in the Tiffany Diamond and a giant yellow-diamond ring for a new series of ads with Jay-Z titled "About Love." 
At 1stDibs, there has also been an uptick in the sales of yellow-diamond rings, likely intended to be engagement rings or, perhaps, anniversary presents. The choice of a diamond solitaire for an engagement ring is one of the few traditions that remain strong and steadfast in the world of jewelry etiquette.
The revival of yellow diamonds proves yet again that, after such a long time in lockdown, people not only want to go out, they want to stand out in a blaze of accessories glory. Yellow diamonds fulfill the almost universal desire for cheerful and optimistic accessories and clothes. If you are interested in lighting up your look with these sunny gems, find out all about them in our primer below.
How rare exactly are yellow diamonds?
Natural diamonds come in a rainbow of hues. Non-white ones are called fancy color diamonds. The least-rare of these scarce stones are brown. Yellow is the second-most common hue. It is generally agreed that the rarest fancy colors are red, orange and violet.
What makes a diamond yellow?
The chemical element nitrogen makes a diamond yellow. The more nitrogen in a gem, the stronger the saturation and the rarer and more costly the gem.
How is the color of yellow diamonds graded by gemologists?
The Gemological Institute of America (GIA) grades the color of yellow diamonds as Fancy Light, Fancy, Fancy Dark, Fancy Deep, Fancy Intense and Fancy Vivid. The most desirable are the last two grades: Fancy Intense and Fancy Vivid.
"It is the absence of a modifying color, such as brown, that impacts value," explains world-renowned gemologist Peter Schneirla, whose experience includes working as the chief gemologist at Tiffany and director of education at the Gemological Institute of America (GIA).
Does the gem have a nickname?
Yellow diamonds are often referred to as canary diamonds, or simply canaries.
What is the most popular diamond shape for yellow diamond solitaires and why?
"The popularity of yellow diamonds surged after the invention of the radiant cut in 1977," says Schneirla. "All of the facets on the shape, which range from sixty-six to seventy, and the depth of it mean that light travels around within the stone and comes back to the eye looking more saturated."
Cushion — a square cut with rounded corners — and oval cuts are also favored, for the same reason.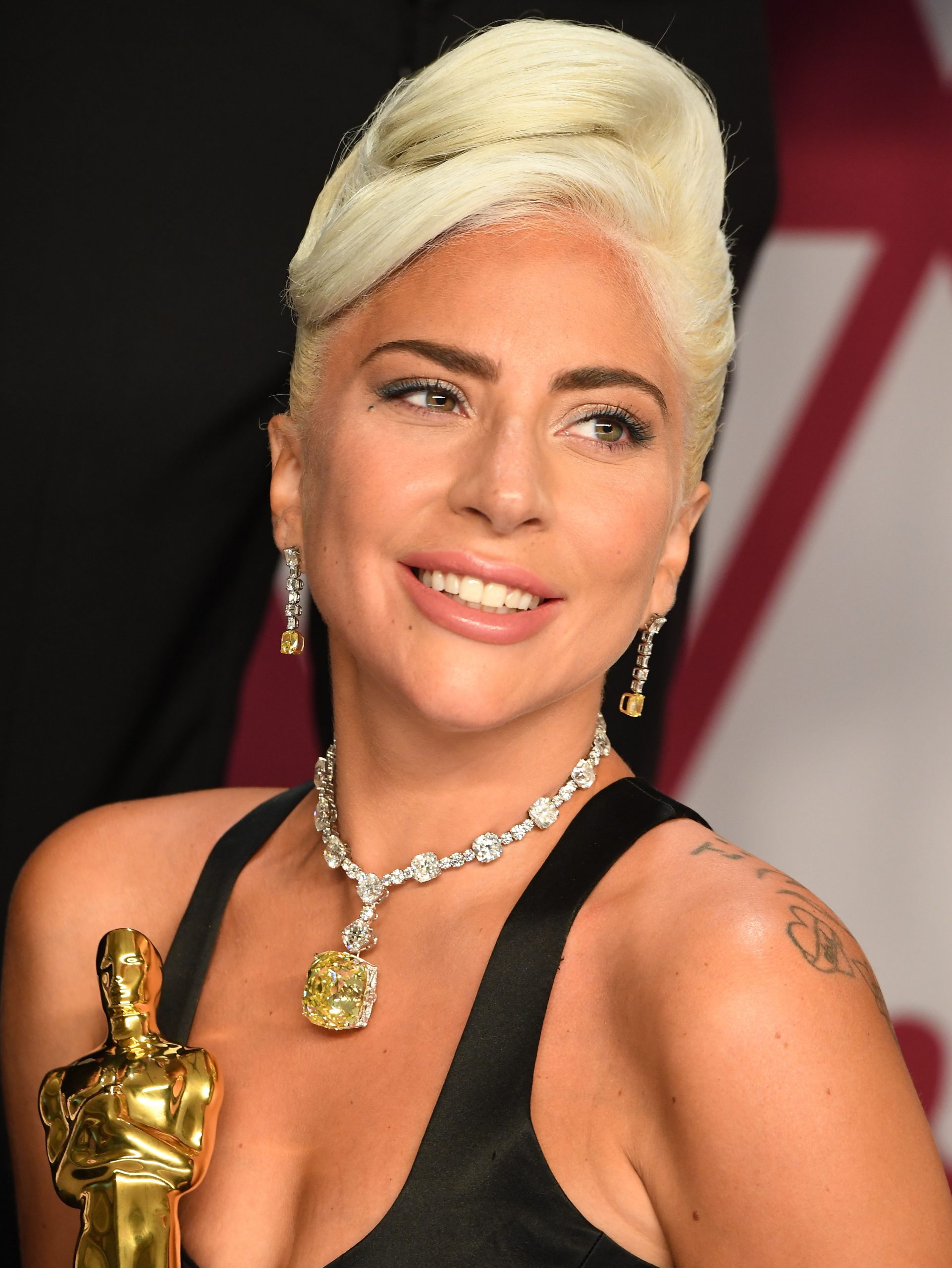 What are some famous yellow diamonds in the history of jewelry?
The Tiffany Diamond is the best-known yellow diamond. Before Lady Gaga brought it back into the spotlight, it was worn by Audrey Hepburn in publicity stills for Breakfast at Tiffany's, and it got a brief close-up in the film. Generally, the gem is on display for all to see at the Tiffany flagship in New York City.
Impressive yellow diamonds have graced many of the world's most celebrated jewelry collections. Elizabeth Taylor had several jewels incorporating the stone, including Bulgari diamond cluster earrings with substantial pear-shape yellow diamond pendants that were a 30th-birthday present from her then-husband, Eddie Fisher.
The Duchess of Windsor had a handful of yellow-diamond pieces as well. Among the most impressive were two 1948 Harry Winston lapel clips set with pear-shape diamonds weighing 40.81 and 52.13. In a note the Duchess wrote to Winston about the jewels, she said, "I can't think of anything I would rather have than these two diamonds." She also owned a Cartier tiger bracelet set with yellow diamonds and onyx.
What styles of jewelry are yellow diamonds set in?
Over the years, small, round pavé-set yellow diamonds have often been used in designs with nature themes, such as florals or animals. They are also frequently employed as highlight gems in white-diamond pieces. More recently, yellow diamonds mounted in yellow gold have become the focus of classic forms like hoop earrings and line bracelets. Yellow diamonds are also a desirable choice for that most romantic of gifts: the engagement ring.