March 26, 2023Milanese jewelry designer Nathalie Jean's best memories of growing up in Montreal are somewhat unusual. They are of the times she helped out in the medical laboratory of her father, noted geneticist Pierre Jean. "It was huge and had all these chemical things," she says. "I absolutely loved it." Now retired from research, her father notably developed a technique to photograph DNA. And he was not the only scientist in the family. "Almost all my relatives were," Jean notes.
Although she opted for a quite different career, that heritage has remained with her. "I would describe my jewelry as an attempt to poeticize science," she says. "I come upon concepts that intrigue me — rotating geometric models or the microstructure of crystals — and play with them until I find a way to interpret them creatively."
The seemingly random forms of pieces in her Mercure collection appear to flow like liquid metal, while the shapes of the necklaces, rings, earrings and bracelets of her Saphir line are based on the structure of sapphires. (Paradoxically, none of these jewels incorporate the namesake gemstone.) The Circuit collection takes as its starting point printed circuit boards, and the Borealis pieces echo the polygonal configurations of drifting ice floes.
Jean also looks to other references for inspiration in creating collections: shells she collected on beaches from the Balearic Islands to Zanzibar (Rivages); an indigenous belt she found in Vietnam, decorated with bells and colored pompons (Hoi An); and the Burmese alphabet (Suite Birmane). For the last, she created necklaces whose elements spell out phrases from an illustrated life of Buddha she discovered in a monastery close to Yangon. "I redesigned the letters completely," she explains. "You can still read the sentences if you're Burmese, but it's like a new font."
If Jean's jewelry is limited chromatically (she tends to use gemstones sparingly), she herself is a wonderfully colorful character. A Canadian journalist has described her as "cheerful, effervescent and garrulous."
In addition, she is straight talking, entertaining and dazzlingly smart, which perfectly fits her characterization of her clients: "strong women who decide for themselves." They include Donna Karan, who was among her earliest fans and invited Jean to present one of her collections in Karan's Madison Avenue flagship. There is also Italian actress Nicoletta Braschi (who is married to Roberto Benigni) and Nina Yashar, the founder of Milan's powerhouse Nilufar Gallery. Yashar terms Jean's creations "strong, unexpected and impactful in the most delicate of ways." The gallerist is a particular fan of the statement necklaces: "They move like characters rather than being still objects." Over the years, Jean has also masterminded collections for brands like Versace, Cerruti, Montblanc and Damiani.
Strangely, she never wore jewelry before she started to design it. "I didn't even think about it," she says. "It wasn't part of my DNA." That may have something to do with her introduction to jewelry: a first communion ring from her grandmother. "It was a mix of gold with silver plate and my birthstone and was terribly flimsy," she remembers. "I asked a jeweler to add my initial, and he wrote a horrible N. The whole thing was just awful!"
Jean initially embarked upon a career as an architect. She graduated from the University of Montreal in 1985 and worked for two years for Peter Rose, best known for projects like the masterplan for the Old Port of Montreal and the Chicago Bears' headquarters and training facility. Then, in January 1987, she got a job in the offices of Ettore Sottsass in Milan through a friend, who was already working there. Jean was only planning to stay a few months. She intended to earn a master's degree in the United States and then apply for a position with Tadao Ando in Tokyo. Instead, she made Milan her permanent home.
"Working for Ettore was a fantastic school for me, because the guy worked with his heart," Jean says. "He taught me that design could be really visceral and emotional and not simply intellectual." While with Sottsass, she collaborated on a wide variety of projects, including boutiques in Lausanne and Copenhagen for the fashion label Esprit, a hotel on Lake Garda and the revamping of 600 Erg gas stations throughout Italy.
In 1994, she set up her own architecture and design practice, specializing in retail projects for brands like Alberta Ferretti, Luisa Beccaria and Pomellato. She also curated the first show in Italy of Jean Prouvé, in 2000, and that same year exhibited a collection of rugs, vases, tables and screens with forms based on rotation geometry at the Design Gallery in Milan. "At the time, everyone was doing blobs, and this was all angles," she says. "[Designer and architect] Andrea Branzi said it was the best show he'd seen during that April's design week."
By then, Jean had started to segue into jewelry. In 1998, she hand-made a collection from paper covered with gold and silver leaf. "It was based on complicated math stuff," she says. Italian design maven Carla Sozzani showed it in her Milanese gallery, and Donna Karan bought a couple of the pieces. "We never actually thought we'd sell anything," recalls Jean. "It's three-D paper. So, if somebody hugs you while you're wearing a necklace, it's basically destroyed."
Convinced that she'd found her calling, Jean took evening classes in goldsmithing at the Scuola Orafa Ambrosiana, in Milan, and set up her own jewelry workshop. She continued collaborating on interior design projects in parallel until 2008. "I'm a real maniac for precision and perfection, and it's difficult to control construction sites," Jean says. With jewelry, in contrast, she could oversee the process from start to finish.
In 2014, she opened a tiny, 120-square-foot boutique on Milan's Via Solferino, which allowed her to expand her clientele, although not all visitors came knocking at the right door. "People would come in and ask, 'Do you make crosses?'"she recounts. "And I was like, 'Have you seen the window? Do I look like a person who would make first communion crosses?' " She decided to close the shop just before COVID struck and now works out of an appointment-only showroom close to Piazza San Babila.
Jean compares her jewelry to wearable sculpture, and its main strength lies in its graphic forms. According to Géraldine de Vulpian, Boucheron's managing director for Europe, the Middle East, Africa and the Americas, "what sets Nathalie apart is her architectural vision of volumes. Her style is free, eclectic and daring."
Her most iconic pieces are her bold pectoral necklaces made from silver. And when she does work with gemstones, they tend to be semiprecious. "They have some incredible tones, whereas precious stones are a bit more boring," she explains. A number of her creations do, however, incorporate diamonds.
All her jewelry displays an incredibly meticulous attention to detail. The Italian art critic and curator Cloe Piccoli praises Jean's "precision and elegance," and she herself points out that the Hoi An collection was two years in the making: "It doesn't show, but it has a million mechanisms." Jean likes nothing more than a technical challenge. She recounts, for example, that her incredibly complex Rivages rings were impossible to draw using 3D software, so "I made them in resin and molded them with my hands."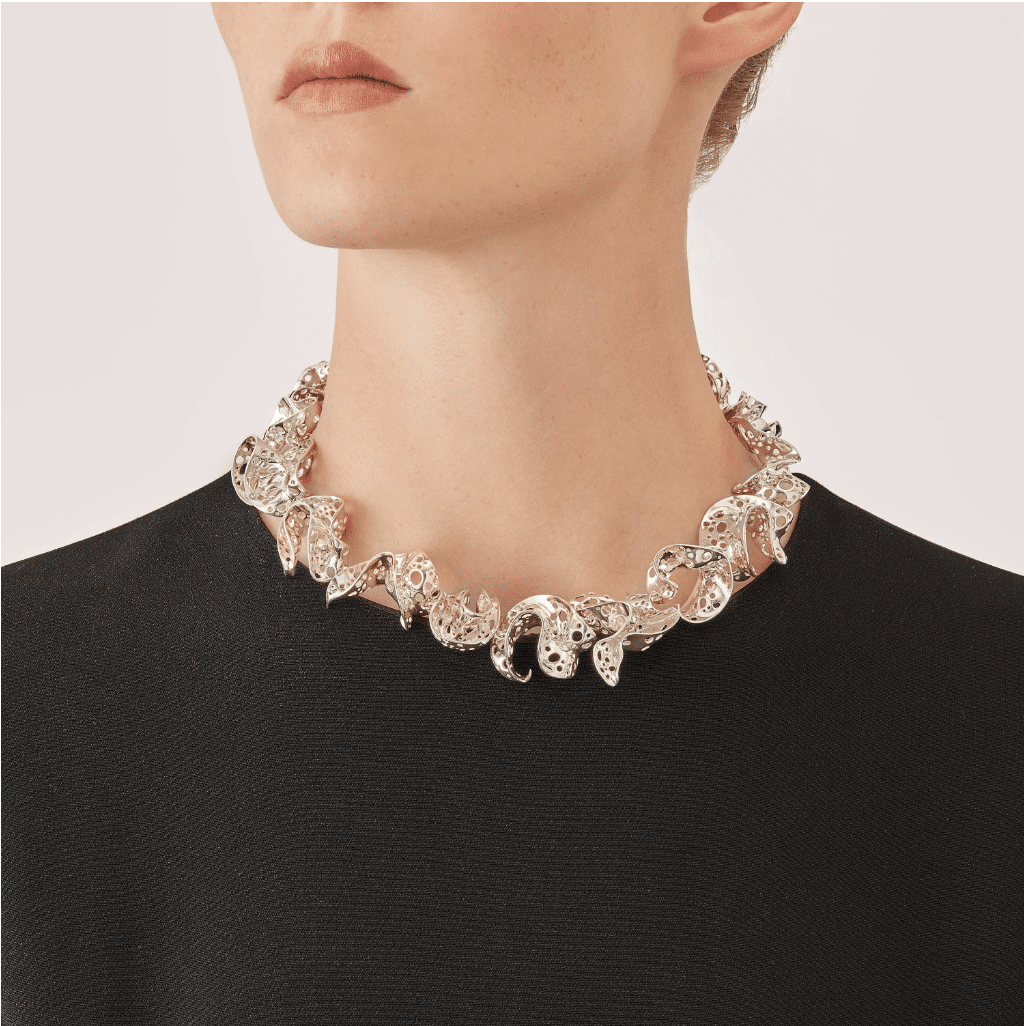 Jean's passion for her work is almost obsessive. "It's the only thing I really like to do," she admits. "For me, there are no weekends. In fact, weekends are even better because I don't get disturbed." Much of her social life is linked to her profession. She still recalls a dinner held during the FIAC art fair in Paris some years ago. "An important New York dealer came up to me and asked where I'd got my necklace," she relates. "When I told him I'd designed it, he asked if he could buy it on the spot. I said, 'Could I finish my meal first?' "
Nathalie Jean's Quick Picks