September 17, 2023Harry Winston, the much-feted "King of Diamonds," once famously said, "People will stare. Make it worth their while." That's a sentiment that no doubt resonates with Parisian-born, Geneva-based vintage-jewelry expert Laurent Iskenderian, who has a magpie eye for collecting unique pieces that stand out and spark the imagination.
His treasure trove showcases more than a century of artistry, with pieces from the late 1800s to the early 1990s. It encompasses everything from magnificent high-carat parures and antique tiaras to more affordable one-offs, like chunky chain bracelets and whimsical 18-karat gold charms, as well as a wide selection of signed classics by such storied houses as Cartier, Van Cleef & Arpels, Tiffany & Co. and Bulgari.  
Iskenderian established his boutique a decade ago, choosing Switzerland as his base because of its rich goldsmithing and gem-setting history and the discerning international clientele it attracts. "What I have observed is that taste is now eclectic on a global scale," he says. "Vintage-high-jewelry trends are no longer shaped by the culture of a particular region — it's all about personal preference. We have loyal clients everywhere from Texas to Kuala Lumpur, and you can't predict what their coup de coeur will be." 
Iskenderian holds a certificate from Antwerp's Diamond High Council, Europe's acknowledged authority on gemological research and grading, and his knowledge of vintage high jewelry is nothing short of encyclopedic. Ask him about the industry's forgotten heroes, and he'll rattle off a long list of names to know, among them Art Deco virtuosos Arnold Ostertag, Jean and Justin Dusausoy and Raymond Templier. But he characterizes his style of curation as ultimately meant to arouse the emotions.
"I would describe myself more as a collector than a dealer," he says. "When I buy an item, I have to love it. Although I might not wear it myself, I think about how a woman would feel wearing it, so it must be special. In this way, I am a collector who sells to other collectors, because my clients are also connoisseurs who appreciate the savoir faire of fine workmanship." 
If he sounds passionate about his trade, he has good reason. He comes from a long line of jewelers — four generations, in fact. "My roots are Armenian," he says. "Diamonds and jewelry have always been a part of our culture through time. My great-grandfather made a name for himself supplying rare jewels to an elite clientele. My grandfather was a talented goldsmith. I have a sister in the business, cousins, a brother-in-law. . . . We are all involved in this milieu in one way or another."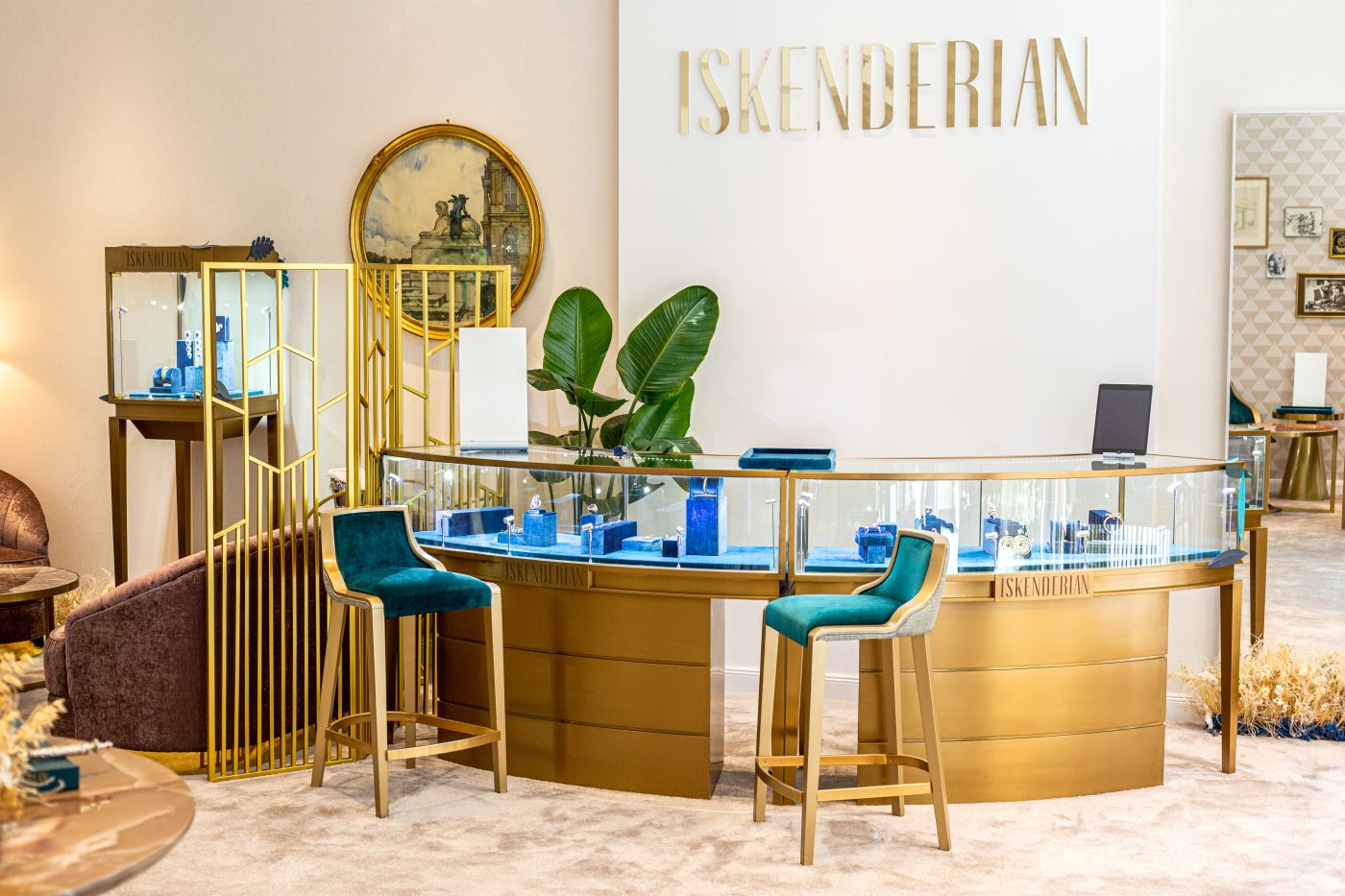 In the early 1960s, Iskenderian's father, Jacques, burnished the family name by opening several boutiques in Paris, including one off Place Vendôme, considered the epicenter of French haute joaillerie. 
"My father worked with other dealers more than I do," Iskenderian says. "I am focused on serving private customers, although I do consult for major auctioneers. As a child, I would accompany him to these auction houses and pore over the catalogues. These places were fascinating to me. They opened my mind to art in all its forms — sculpture, painting, furniture and rare objects. There was, though, no deviation. I was certain from the age of eight that the world of jewelry was where I was destined to be." 
Iskenderian's "big rock" pieces include a 1950s platinum cocktail ring with a megawatt 35.67-carat aquamarine framed by single-cut diamonds, as well as a pair of mid-19th-century earrings once owned by the imperial German-Austrian Habsburg family, set with giant emerald cabochons and a swirl of old-mine-cut diamonds. 
There are a lot of sumptuous serpents, too. "I love the flexible coiling effect of the tubogas [wraparound] style," he says. "Of course, Bulgari is famous for its tubogas Serpenti jewels, but we also have many non-signed snake designs that are absolutely astounding. This supple shape is so timelessly glamorous." 
On the subject of unsigned pieces, Iskenderian shares an illuminating insight. "Signed pieces are always in demand, but when it comes to vintage high jewelry, you don't have to have a brand stamp for a piece to be extraordinary. In fact, in the early to mid-twentieth century, the same goldsmiths and jewelers collaborated on designs for all the prestigious Vendôme houses. The atelier of Georges L'Enfant, for example, worked with Cartier, Van Cleef & Arpels and BOUCHERON, to name but a few. The workshop of Henri Picq [famous for Belle Époque and Art Deco gem-set platinum jewelry] was a major supplier to Cartier. But these studios also produced similar-quality pieces that were not signed but stamped with French maker marks. With such pieces, the design and the quality of the crafting are so strong you are not getting anything less than perfect."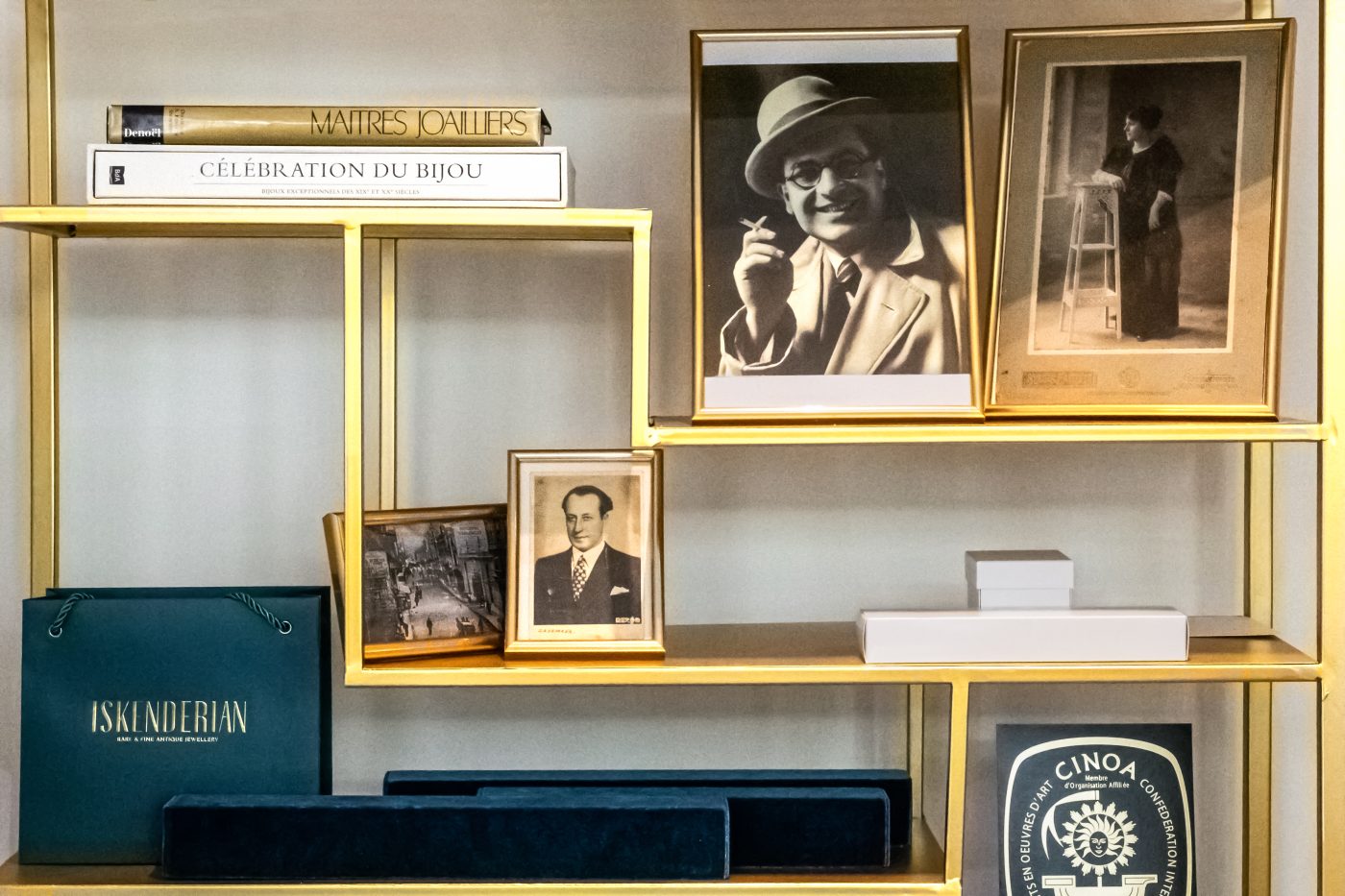 Iskenderian's policy of prioritizing quality over provenance means that his collection includes a wide variety of affordable designs. Among the unusual pieces priced under $1,000 are a charming lounge of lizards comprising four antique silver salamander brooches and an early-19th-century gold pin set with a teeny-tiny bust hand-carved from bright orange coral. For classicists, there are little diamond-encrusted hoop earrings in 18-karat gold, colorful beaded sautoirs and simple, elegant gold rings. 
"You can have a beautiful item for a small amount of money," Iskenderian insists. "It's a question of education, emotion and engagement. If you appreciate the history and the skill at the heart of something, you'll have found yourself a unique treasure. Importantly, all our pieces are beautiful back and front. Particularly during the eras we specialize in [Belle Époque, Art Nouveau and Art Deco], even the unseen details were crafted with the utmost precision and care." 
Iskenderian himself has a soft spot for gems set en tremblant, delicately quivering with the slightest movement and catching the light in myriad ways, lending antique pieces, especially floral-inspired brooches and tiaras, a kinetic appearance, as if they're alive. "The proportions are so immaculately rendered and balanced, because every element of the design is informed by nature itself. These pieces are magical to me and the perfect blend of reality and fantasy," he says dreamily. "I believe even if you don't know anything about jewelry, if you feel an unexplained connection to a piece, be it through its volume, its weight, its color or the configuration of its gems, you will wear it in a way that conveys its unique beauty, and people will understand."
Laurent Iskenderian's Talking Points