Like early-1960s fashion models dressed in Pucci silks and pastel Italian sportswear, Derek Castiglioni's gloriously colorful outdoor furniture collections pose in the front windows of JF Chen's C Gallery in Los Angeles, enticing visitors to explore "Squat Los Angeles." Curated and staged by Nina Yashar, the founder of Milan's lauded Nilufar Gallery, the eye-opening exhibition — which runs through May 20 — presents more than 150 designs by more than 40 mid-century modernists and contemporary furniture makers.
In the 5,000-square-foot space, Yashar showcases top works by Denmark's Finn Juhl and Brazil's Joaquim Tenreiro alongside ones by Italians Giò Ponti, Ico Parisi, Osvaldo Borsani, Ettore Sottsass and Mario Bellini. She juxtaposes these vintage classics with equally innovative recent works by such 21st-century designers as Castiglioni, Martino Gamper and Michael Anastassiades.
"My purpose is to make people want to live in my reality. I am in L.A. to propose my vision of the conversation between historical and contemporary pieces," proclaims the Iranian-Italian Yashar, who opened the massive three-story Milan showroom Nilufar Depot in 2015. "This is the only way to have a personal home. You mix things that are not supposed to be mixed and create harmony between opposites. It's not easy to do, but when you succeed, a house becomes fascinating."
"We need this kind of excitement in L.A.," says C Gallery director Bianca Chen. "I want people to come out and look and touch and learn. When I saw this show installed at my gallery, I was mind-blown."
For "Squat Los Angeles," Yashar has created seven striking room "atmospheres," as she calls them. These vignettes encircle a central display comprising her signature eclectic mix of elements — Gamper's 2019 Off-Cut lino dining table surrounded by seating spanning some six decades: a 1950s iron design by Studio BBPR, 1975 wooden Africa chairs by Afra and Tobia Scarpa and Massimiliano Locatelli's 2018 stiletto-legged cast-aluminum 1.2 seats. Set with contemporary pottery by Matthias Vriens McGrath, the table can easily seat two dozen, thanks to its modular composition of turquoise enameled bases supporting recycled-wood and multihued-linoleum tops.
"I am totally into color," Yashar says. "It's so safe and easy to use brown, white and black. I like people to take risks with color combinations that are completely unexpected."
A case in point: the entryway atmosphere, which captures Los Angeles's indoor-outdoor lifestyle with colorful furniture that can be used in both settings. Castiglioni's dining and lounging sets in sorbetto shades of pink, yellow and aqua evoke "la dolce vita in Capri," says Yashar. While some of Castiglioni's designs give a slight nod to the Memphis movement, the elegantly tapered legs of his tables and chairs — complete with brass sabots — recall the lithe proportions of Ponti and Parisi.
"The concreteness and elegance of the mid-century Italian masters are often my creative starting point," says Castiglioni, 36. "I study and walk on tiptoe between their works with extreme reverence."
Each of the six other vignettes in "Squat Los Angeles" showcases rarely seen 20th-century designs, such as a 1948 Gino Sarfatti floor lamp, a 1930s Alvar Aalto sofa and a soaring bookshelf by Ignazio Gardella. These are displayed with contemporary works in tableaux that, through their balance of form, proportion, color and, most importantly, materials, highlight the contrasts and commonalities among the pieces. In one setting, curvaceous 1950s seating by Parisi covered in an icy blue silk velvet keeps company with Locatelli's biomorphic tables in metal and marble — from 2016 and 2019, respectively — and a rectilinear 2018 Roberto Giulio Rida cabinet studded with gleaming glass recycled from vintage chandeliers.
"Materials give an identity to a piece," says Yashar, who has included in the exhibition chairs carved from marble and constructed from resin cubes, lustrous sculptures by Audrey Large that are 3-D printed with lightweight polylactic-acid filament and tables by the English designer Bethan Laura Wood with laminate inlays, which Yashar calls "a contemporary interpretation of seventeenth-century marquetry."
A Star-Studded Opening Night for "Squat Los Angeles"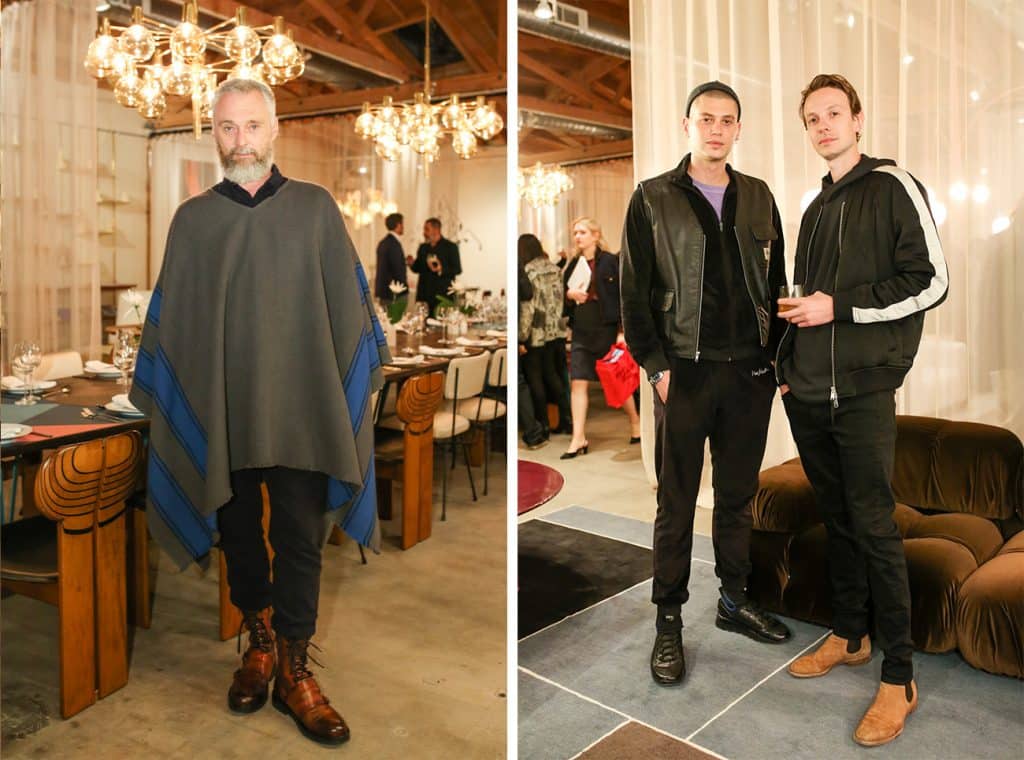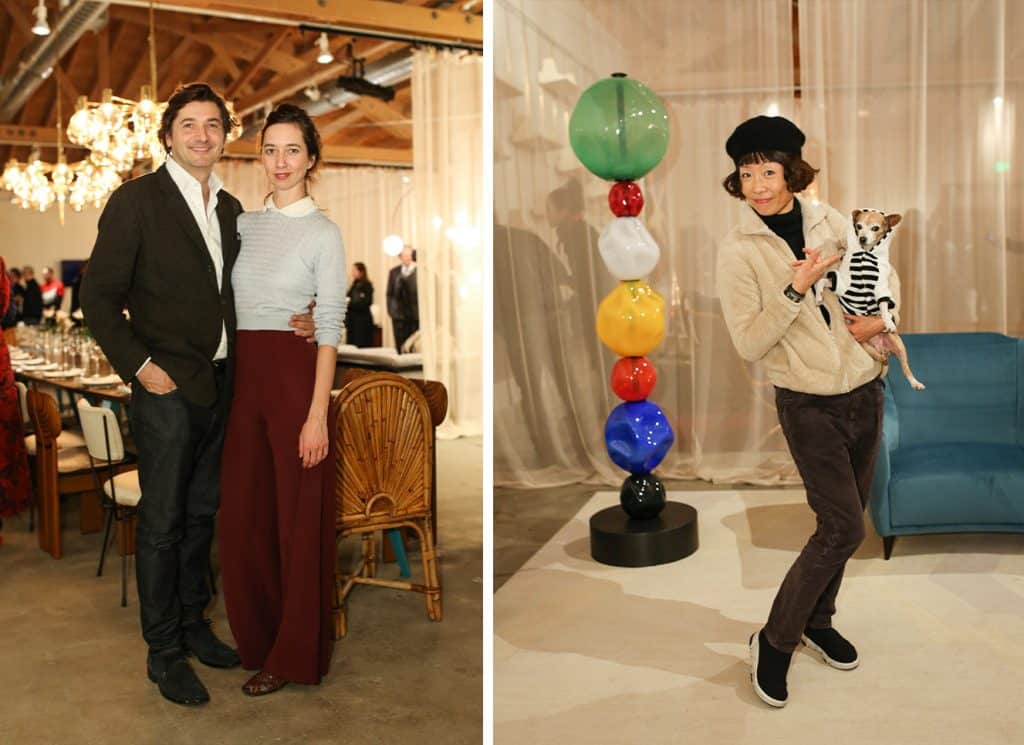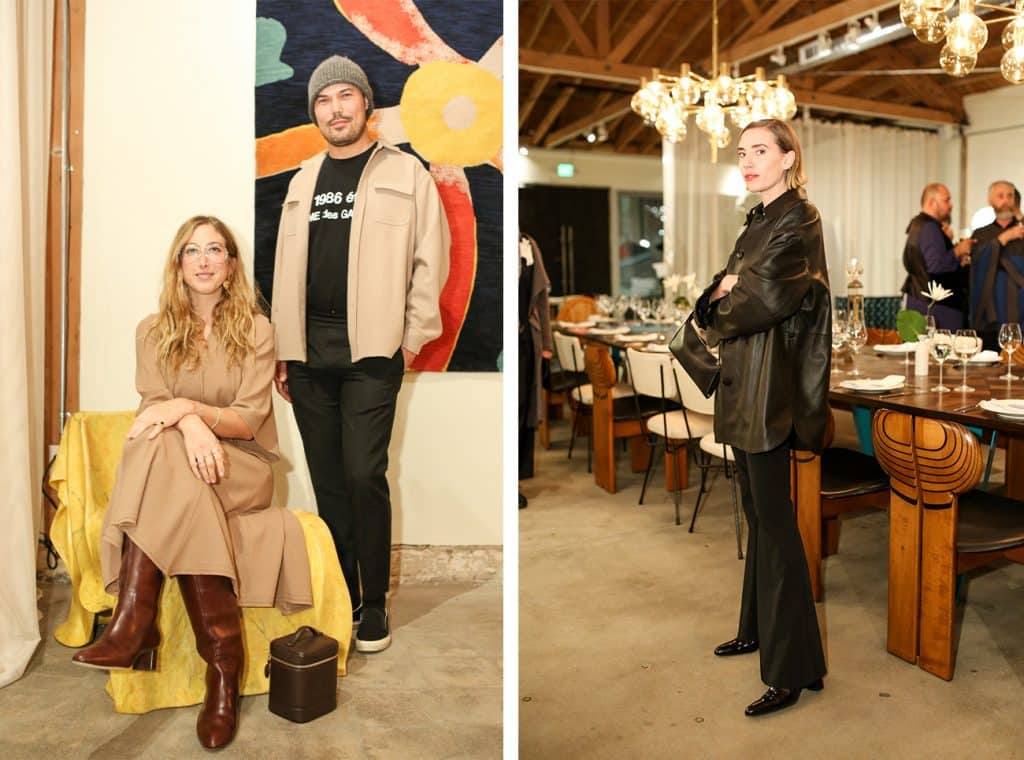 In a room setting that pays homage to the now-fashionable proto-minimalist 1970s designer Gabriella Crespi, Yashar even reexamines rattan and cane, displaying brass editions of Crespi's Caleidoscopo floor lamp and Cubo Magico side table alongside a daybed and coffee table from her Bambù collection and Ponti's 1963 BP 16 rattan armchair. These exceptionally stylish pieces are complemented by exuberant new works in rattan by the Beirut-based Khaled El Mays, who is among the many designers Yashar is introducing to American audiences with this show.
Yashar has been producing her ever-evolving pop-up "Squat" shows since 2012, with previous iterations in Milan, London, Paris, Beirut and New York. She timed the Los Angeles edition to coincide with the Frieze art fair, for which it has also served as an unofficial salon. The exhibit's opening dinner party feted such A-list designers as Trip Haenisch, Cliff Fong and Oliver Furth, and the space is hosting a conversation series that will feature Locatelli on February 11 and Yashar herself on February 12.
"Squat Los Angeles" underscores Yashar's commitment to emerging contemporary design, which she promotes in her gallery, her shows and online. "1stdibs gives customers all around the world the possibility to buy an important design icon, and it also creates awareness for the new category of young collectors and design lovers to be introduced to new talent and their works," she says. "Every contemporary piece is customizable, so people can have a unique piece. This is a Renaissance way of thinking, where I can be a bridge between the artist and the patron."