Finn Juhl Desks and Writing Tables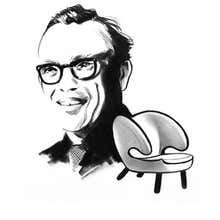 Danish, 1912-1989
Along with Hans Wegner, Arne Jacobsen and Børge Mogensen, Finn Juhl was one of the great masters of mid-20th-century Danish design. Juhl was the first among that group to have his work promoted overseas, bringing the character of the nation's furnishings — and the inherent principles of grace, craftsmanship and utility on which they were based — to an international audience. A stylistic maverick, Juhl embraced expressive, free-flowing shapes in chair and sofa designs much earlier than his colleagues, yet even his quietest pieces incorporate supple, curving forms that are at once elegant and ergonomic.
As a young man, Juhl hoped to become an art historian, but his father steered him into a more practical course of study in architecture. He began designing furniture in the late 1930s, a discipline in which, despite his education, Juhl was self-taught, and quite proud of the fact. His earliest works, designed in the late 1930s, are perhaps his most idiosyncratic. The influence of contemporary art is clear in Juhl's 1939 Pelican chair: an almost Surrealist take on the classic wing chair. Critics reviled the piece, however; one said it looked like a "tired walrus." Juhl had tempered his creativity by 1945, when the Danish furniture-making firm Niels Vodder began to issue his designs. Yet his now-classic NV 45 armchair still demonstrates panache, with a seat that floats above the chair's teak frame.
Juhl first exhibited his work in the United States in 1950, championed by Edgar Kaufmann Jr., an influential design critic and scion of America's most prominent family of modern architecture and design patrons. (Kaufmann's father commissioned Frank Lloyd Wright's design of the house "Fallingwater.") Juhl quickly won a following for such signature designs as the supremely comfortable Chieftan lounge chair, the biomorphic Baker sofa, and the Judas table, a piece ornamented with stylish inlaid silver plaquettes.
As you will see from the offerings on 1stDibs, Finn Juhl's furniture — as well as his lighting, ceramics, tableware and accessories — has an air of relaxed sophistication and elegance that is unique in the realm of mid-20th-century design.
Previously Available Items
Finn Juhl desks and writing tables for sale on 1stDibs
The Finn Juhl desks and writing tables are available for sale on 1stDibs. These distinctive objects are often made of
wood
and designed with extraordinary care. There are many options to choose from in our collection of Finn Juhl desks and writing tables, although
brown
editions of this piece are particularly popular. We have 5 vintage editions of these items in stock, while there is also a modern edition to choose from. Many of Finn Juhl's original desks and writing tables were created in
Scandinavian modern
style during the
mid-20th century
. If you're looking for additional options, many customers also consider desks and writing tables by
Børge Mogensen
, Svend ge Madsen and
Nanna Ditzel
. Prices for Finn Juhl writing tables and desks can vary depending on size, time period and other attributes. 1stDibs's price starts at
$2,576
and tops out at
$86,718
, while pieces like these can sell for
$7,526
on average.