Gauzy white linen curtains billow in the breeze in the Pacific Heights penthouse of the architect and interior designer Orlando Diaz-Azcuy. The muted afternoon light catches the silver glimmer of the designer's collection of Josef Hoffmann bowls on a parchment-colored coffee table.
"I'm a modernist; I've always been a modernist, but my interiors have a certain sensuality and voluptuousness," says the 76-year-old designer commenting on his surroundings. "Even when modernism was not popular in San Francisco, I preferred simple and elegant interiors created by rigorous editing, not by adding decoration."
Dressed with snappy simplicity in a sculptural dark Yohji Yamamoto tunic, navy Junya Watanabe slacks and classic white Converse sneakers, he exudes the serenity of a contented man — and, well, he should, as he's constructed a rather marvelous life. It's especially fortunate when you consider that he left Cuba alone in 1962. A 23-year-old architecture student, he landed in Miami wrapped in a Red Cross blanket, his only material possession. Part of his luck, as he sees it, was his choice of architecture as a profession, since it has offered him such a long and rewarding career.
Now, having practiced for some 50 years, he recently transferred ownership of his celebrated San Francisco firm Orlando Diaz-Azcuy Design Associates (ODADA), to his two longtime partners, interior designers David Oldroyd and Greg Stewart, so that they can handle the day-to-day management of the 20-person firm. It's the ideal arrangement for everyone. "Orlando has an amazing business intuition," observes Oldroyd, who describes his former boss's continuing advice as "invaluable." Released from the responsibilities of running the company, Diaz-Azcuy is now entirely focused on his passion for designing new interiors and collections. "Orlando is working as hard as the day I met him three decades ago," says Oldroyd. "He truly lives and breathes design in all aspects of his life."
Diaz-Azcuy certainly remains prolific. Earlier this year, JANUS et Cie introduced his chic collection of neoclassical powder-coated aluminum outdoor furniture called Quadratl, a reference both to its decorative square motif and to the nickname of Hoffmann, whose designs have long been an influence. Next fall, the furniture maker Matsuoka will launch a special collection of cabinetry, tables and chairs designed by Diaz-Azcuy in an assortment of exquisite wood veneers and exotic lacquer finishes.
One of his grandest new projects is designing the commercial and residential lobby, sales offices and amenities floor for 181 Fremont, an ultra-luxury, high-performance, mixed-use tower now under construction in San Francisco's SoMa district, which when it's finished, will be the tallest building in the western United States. In keeping with his approach to understated opulence, Diaz-Azcuy has specified marble floors, baseboards and door frames in the public corridors, and each of the 67 private apartments will have highly lacquered front doors with French brass hardware "in the manner of gold." He has also planned the layout of the apartments and selected their finishes, the hardware of the fixtures, cabinetry and appliances.
When Diaz-Azcuy arrived in the U.S., he might have lacked possessions, but he was already cosmopolitan in his tastes. "Havana was very stimulating for an architecture student," he recalls. The city had a rich and diverse architectural heritage dating from Spanish-Colonial times. In addition, when Diaz-Azcuy was a student, there were numerous native-born modernists practicing in the city, along with such celebrated foreigners as Walter Gropius, Richard Neutra, and Oscar Niemeyer.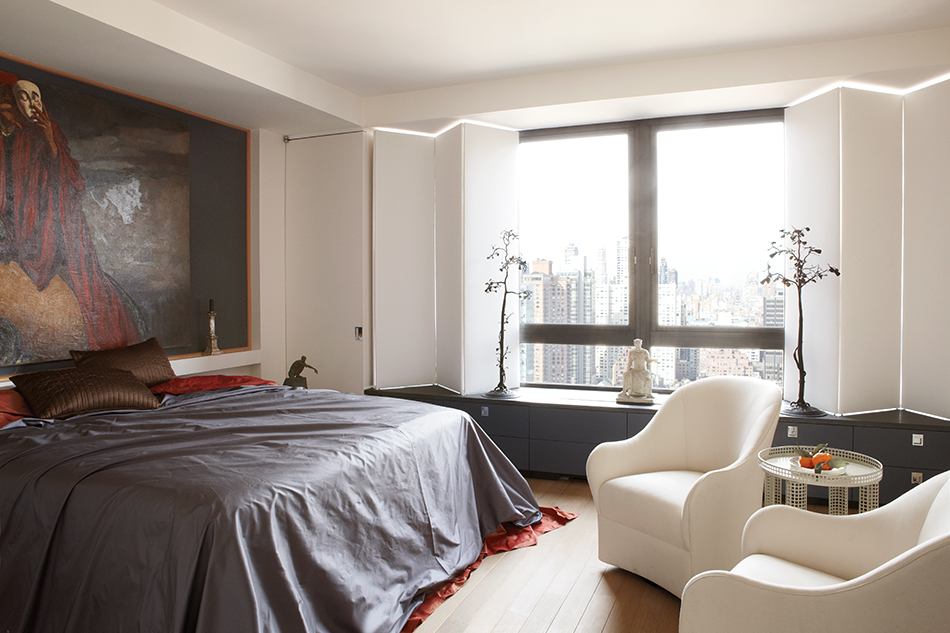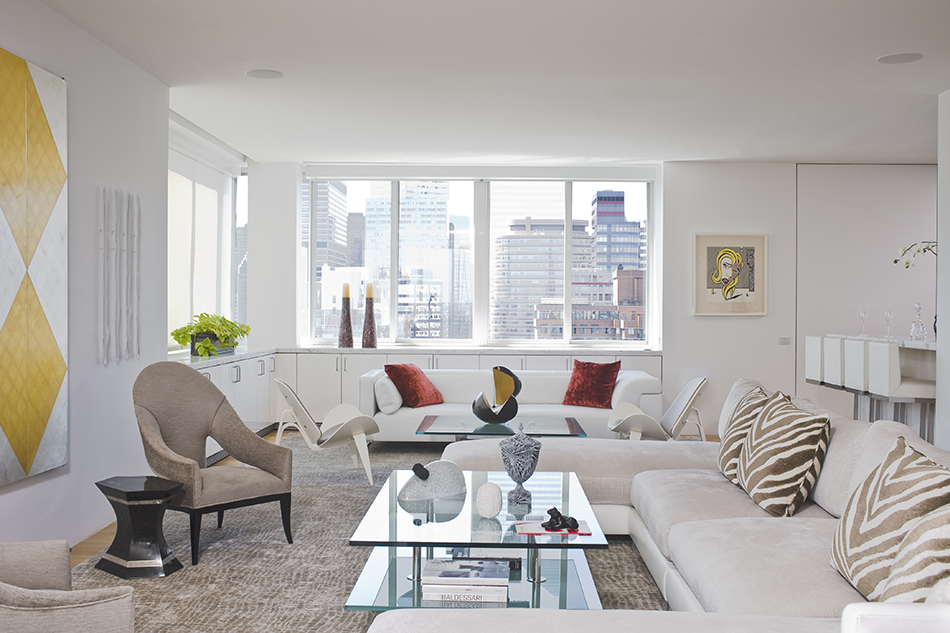 He continued his architecture studies at Catholic University in Washington, D.C., excelling even though he barely spoke English and so had to write his notes phonetically. He then went on to the University of California at Berkeley, where he earned master's degrees in both landscape architecture and regional and city planning. Upon graduating, he was hired by Lawrence Halprin, the highly influential Bay Area landscape architect. Then, in 1975, he changed direction and joined the corporate interior design company Gensler, soon becoming its youngest design principal. Eleven years later, he left to set up his own studio, which quickly became the city's go-to firm for a luxe yet reductive modernism.
"My first ten years were spent studying American culture and trying to fit in," recalls Diaz-Azcuy, who never returned to Cuba or saw his parents again. With the loosening of U.S. travel restrictions, he's thought about visiting the island, although without much enthusiasm. But it's hard not to consider it, especially since he's frequently in Miami these days, supervising work on the sleek interiors of a dramatic Richard Meier–designed triplex with a swimming pool on the roof. Diaz-Azcuy won't disclose that client's name, but some of the one percent who live in his firm's artfully conceived realms include the Hong Kong magnate Sir Michael Kadoorie, cosmetics mogul Leonard Lauder and Hyatt heir John Pritzker and his wife, Lisa.
"I am traveling a lot, working on the largest projects of my career," says Diaz-Azcuy. "It's very exciting to be working in Miami, and the Hamptons and California." When he first arrived on U.S. soil, his biggest dream was to someday live in New York. Some 15 years ago, he realized that fantasy when he became bicoastal, setting up a second home and office in a Midtown Manhattan high-rise. He adores the city's distinct energy and culture, especially its theater. As a contrast to the bustle of the street below, his New York aerie, situated on the 48th floor, is a calming refuge of pale tones and black accents with views of the East River.
Unexpected pairings have been a signature of Diaz-Azcuy's work since early in his tenure at Gensler, where he once proposed graceful peach-colored upholstered chairs for the all-white reception area of a modern corporate office — this at a time when gray industrial carpeting was all the rage. Today, in ODADA's elegant all-white studio conference room in downtown San Francisco, a weatherworn 19th-century English marble bust gazes over a sculptural 1970s gray marble coffee table by Gae Aulenti. "In some way, my whole career has been spent updating the classical tradition and infusing modernism with poetry and hedonism," he observes.
When he wants to escape San Francisco's fog during weekends back on the West Coast, Diaz-Azcuy repairs to sunny Marin County, where he is remodeling a mid-century house in a quiet corner of Lucas Valley with views of a nature preserve. It's part of a subdivision that was built in the 1960s by the visionary tract-housing developer Joseph Eichler, who worked with a handful of talented young West Coast architects to create affordable modernist homes. Diaz-Azcuy has taken the Eichler residence and given it his signature glamour, adding glossy white interiors, white marble detailing, limestone floors, ivory lacquered cabinetry, white wicker furniture, fine modern art and écru linen — all at once both very luxurious and very understated.
"A successful interior design is the result of first perfecting the interior architecture, so that function and aesthetics can seamlessly follow," he says "I create a harmonious background. I avoid excess in architecture. That has been my approach from day one. I never followed trends."
His life today is hectic, he happily notes — clients call at 2 a.m. to discuss potential art acquisitions, and they offer to send a plane to speed him to an art exhibition — but his creative spirit has been set free for the first time. "Designing today is effortless for me," said Diaz-Azcuy. "In two quick sketches, I get instantly to where I want to go. The data stored in my mind is quickly accessed. It's pure pleasure. Absolutely. I'm where I always wanted to be, one-hundred percent devoted to my work."
---
Orlando Diaz-Azcuy's Quick Picks on 1stdibs