Oscar de la Renta," the inaugural exhibition at SCAD FASH, the fashion and film museum on the Atlanta campus of the Savannah College of Art and Design (SCAD), opened in October with an appropriately vibrant and glamorous soirée hosted by Paula Wallace, SCAD's president and founder. Guests, most of them Oscar-clad, were swooning, not only over the 84 quintessential looks on display but also at myriad student installations and live "happenings" occurring throughout the newly enlarged and renovated building. (The show closes at the end of this month.)
Curated by Laurie Ann Farrell, the former executive director of SCAD museums and exhibitions, "Oscar de la Renta" is a visual confirmation of the late designer's dictum "Fashion is about dressing according to what's fashionable. Style is more about being yourself." Thus, the gowns loaned by Lauren Santo Domingo, founder of Moda Operandi, are the epitome of lush elegance, Anna Wintour's paisley coat with sable trim reveals restraint with an opulent edge, and Hilary Clinton's columnar ruby velvet gown, which she wore for her December 2008 Vogue cover, proclaims confident grace. Beyoncé's scarlet ruffle extravaganza is big and bold, while Taylor Swift's embroidered pastel pink swathe expresses maturity despite an air of youthful innocence. There is a lot of tulle, slashed and ripped and ombréed, my personal favorite fabric du jour. Every woman who wears de la Renta, whether designed by the man himself or by his chosen successor, Peter Copping, is secure in the knowledge that she looks her best — or one version of her many bests.
"The seed for this inaugural show," Farrell explains, was "Legendary World of Style," an exhibit that ran on the Savannah campus in February, curated by Andre Leon Talley, a SCAD trustee and contributing editor for Vogue. "Coming so soon after de la Renta's death [of cancer, in 2014 at the age of 82], that show was an in memoriam tribute," Farrell says, "whereas the Atlanta exhibition is a celebration of his legacy and the future of the Oscar de la Renta house." Nearly a third of the exhibited outfits are from Copping's Fall 2015 collection, his first since taking over the firm that its namesake founded 50 years before. "In addition to all the celebrity loans, the earliest design is from 1965 and from SCAD's permanent costume collection," Farrell continues. "Some are from Oscar's archive, some are gifts from his society clients like Cornelia Guest and Mercedes Bass or his step-daughter Eliza Bolen. We now have enlarged space for storing our archival pieces."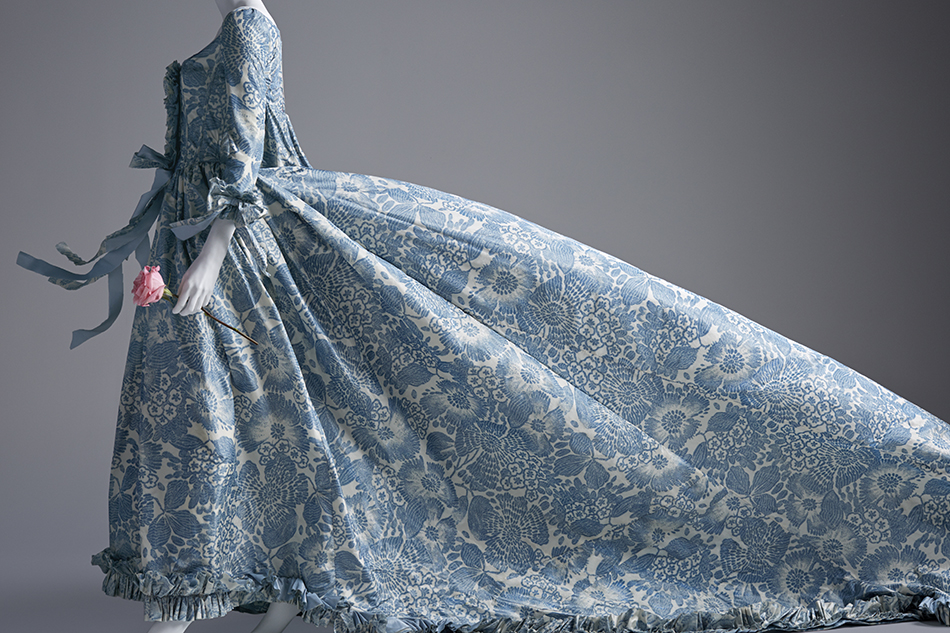 Current students and alumni created the exhibition design: Tableaux within dreamy pastel neon lighting (yes, pastel neon), shone through curvilinear wall panels of scrim evoking Isamu Noguchi's rice-paper shades. And then there are the audio-visual components. "Not only will SCAD FASH originate fashion shows, but we will be commissioning a film with each exhibit," says Farrell. "Georgia is number three in the nation for film production, and SCAD is the only museum, certainly in the Southeast, that focuses on fashion and film." Thus "Ovation to Oscar," a behind-the-scenes documentary by graduate students showing their students at work on the Savannah exhibit, plays in the library adjoining the gallery space. (It premiered at the Marché du Film at the Cannes Film Festival earlier this year.)
The library contains two extra-long mid-century Scandinavian sofas, Harvey Probber–esque sectional cushions, Jorge Zalszupin–style chairs in gilt metal, mirrors above waist-high shelves holding objets alongside fashion books. The reception desk and French oak flooring are among the design elements sourced in or around the SCAD Lacoste campus, in Provence. Other found objects have been upcycled into pendant lighting, wall art, decorative objects and more.
Standing in the center of the 10,000-square-foot exhibition space during the show's opening-night festivities, Rafael Gomes, SCAD's director of fashion exhibitions, was grinning happily as he answered questions from assembled guests, several journalists among them. Just arrived from London, where he worked with Vivienne Westwood's design team, he was a few days away from officially starting in this newly created position. That hadn't stopped him from subtly enhancing the white mannequins by creating eyeliner with single strands of tiny pearls. One such mannequin featured the Charles James–inspired ball gown that Sarah Jessica Parker wore to the 2014 Met Gala. The bottom of its black-and-white lattice-patterned silk train features de la Renta's dashing, oversize signature embroidered in red silk. It's an exuberant sign-off from an extraordinary creative life.