March 3, 2019Known for its grand estates and sandy beaches, Palm Beach, Florida, long ago cemented its reputation for sunbaked luxury, which becomes all the more appealing during the winter months. Now, cresting cultural momentum is transforming it into a year-round destination for art lovers. With additions to the scene like the pre–Art Basel happenings of New Wave Art Wknd (which debuted in 2017 as Palm Beach Art Weekend) and the newly expanded Norton Museum of Art, "it's an exciting time for Palm Beach," says philanthropist Beth Rudin DeWoody, a seasonal resident since the age of three and the super-collector behind the Bunker, a private art space in West Palm Beach. "People are now coming here for artistic reasons." We've rounded up four of our favorites.
---
The New Norton
When it comes to culture and Palm Beach, "appetite has outpaced offerings," says Hope Alswang, executive director of the Norton Museum of Art. "It's one of the primary reasons we undertook this project." Alswang is referring to the Norton's freshly completed $100 million expansion and renovation masterminded by Foster + Partners, the firm of renowned British architect Norman Foster. The remodel has added 35 percent more gallery space and a 37,200-square-foot garden (Foster's first for an art institution) to the museum, which was founded in 1941 by industrialist Ralph Hubbard Norton. At the February 9 grand reopening, visitors were greeted by eight special exhibitions, as well as a complete reinstallation of the permanent collection, with its five major collecting areas: photography, American, Chinese, European and contemporary. Added to these attractions were three newly commissioned site-specific installations, including American artist Pae White's Eikón, a 40-foot-long tapestry inspired by the museum's mammoth ficus tree — an octogenarian marvel that Foster made a focal point of his landscape design.
"Our goal was to create a cultural destination that could stand against any in the country and where anyone and everyone would feel welcome and encouraged to explore and be inspired by art," explains Alswang, who singles out the new entrance as an especially significant change. Previously tucked away on a side street, it now fronts South Dixie Highway and is flanked by Claes Oldenburg and Coosje van Bruggen's 19-foot-tall Typewriter Eraser, Scale X, from 1999, a recent gift from trustee Ronnie F. Heyman. Inside, the building has gained a dynamic, versatile space in the Great Hall, which Alswang likens to a living room. "The museum never had such a gathering place before where visitors could rest, contemplate, meet friends or wait for a program to begin," she says. "It truly marks the Norton as a vital community center."
The New Norton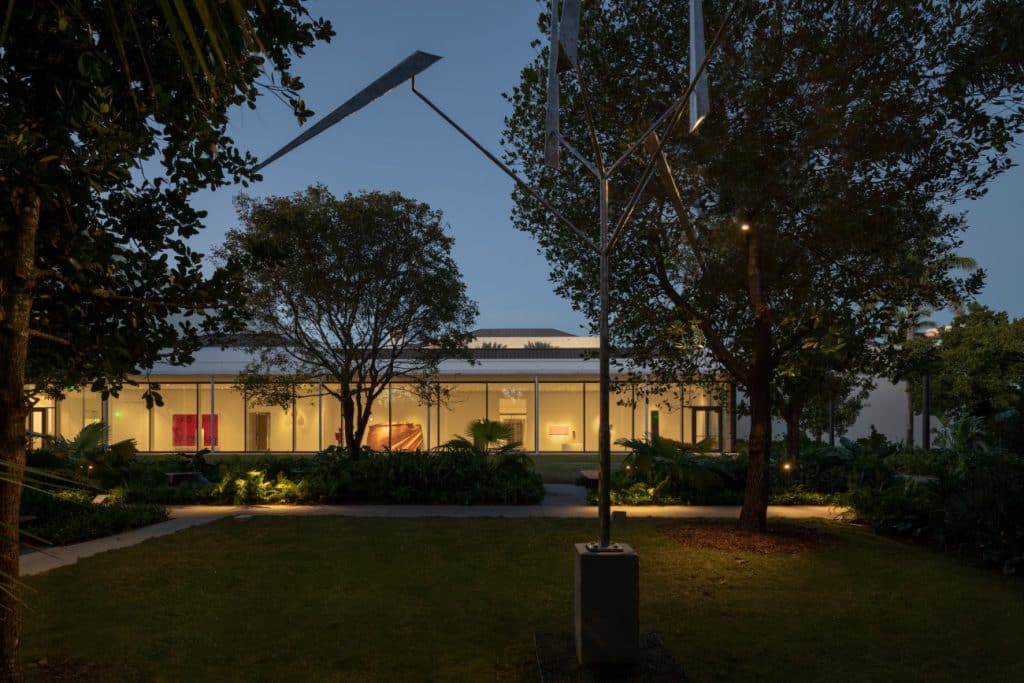 ---
The Bunker
Since its December 2017 debut (timed to coincide with the art world's annual migration south for Art Basel Miami Beach), the Bunker, DeWoody's 20,000-square-foot private art space in West Palm Beach, has become an essential stop for art pilgrims, who are welcomed by appointment. The 1920s Art Deco structure, a former munitions depot, is now home to an explosion of contemporary art, with rotating exhibitions and viewable storage of DeWoody's wide-ranging collection of more than 10,000 works.
"The reaction has been very positive — partly, I think, because people love to look at personal collections," says DeWoody. "And in a museum, things tend to be very pure, whereas in my Bunker, it's a lot of fun." Working with cocurators Phillip Estlund, Laura Dvorkin and Maynard Monrow, DeWoody has displayed pieces by Paul McCarthy, Vito Acconci, George Condo and Nicole Eisenman (plus many, many more) in ways that create drama and encourage dialogue, firmly resisting the impulse to program a visual greatest-hits album. Themed rooms devoted to such topics as food, silver and appropriation are chambers of wonder and delight, revealing the playful and eclectic nature of DeWoody's artistic appetites and distinctly diverse collection.
Next up for the Bunker is "a full change," promises the philanthropist, who has previously tapped guest curators like artist E.V. Day and White Cube gallery's Eric Shiner to freshen the mix. If only there were more room. "I thought I'd be able to have all of my work there and exhibit it or store it in all that space, but I have too much!" says DeWoody with a chuckle. A recently purchased warehouse will replace a rental facility, making it easier to access the collection and change shows. "I didn't predict the popularity of the Bunker," she concludes, "but along with the new Norton, it's become another place to stop and go see."
The Bunker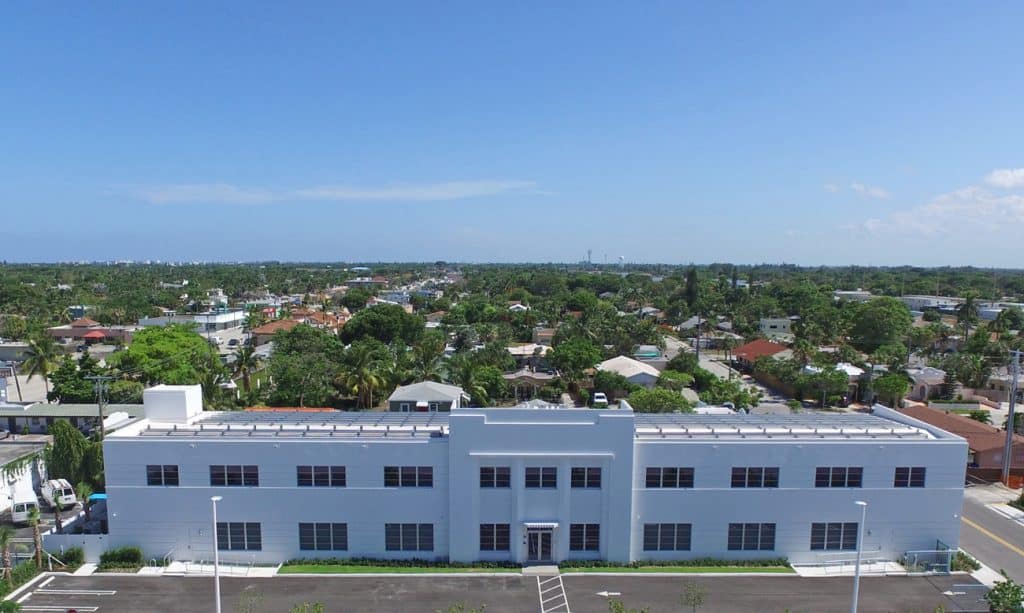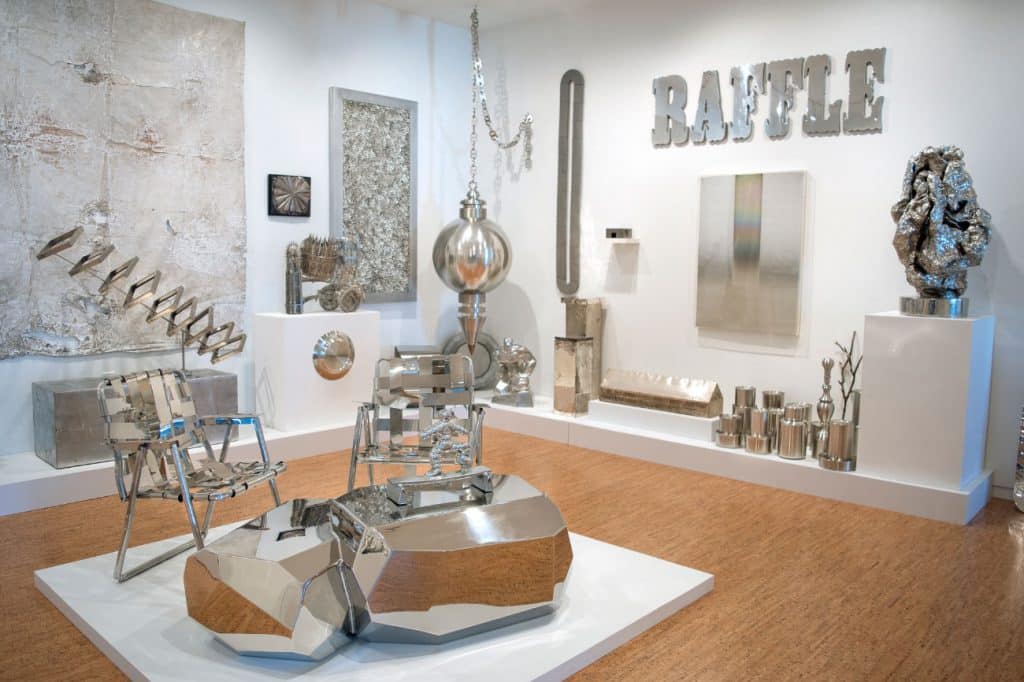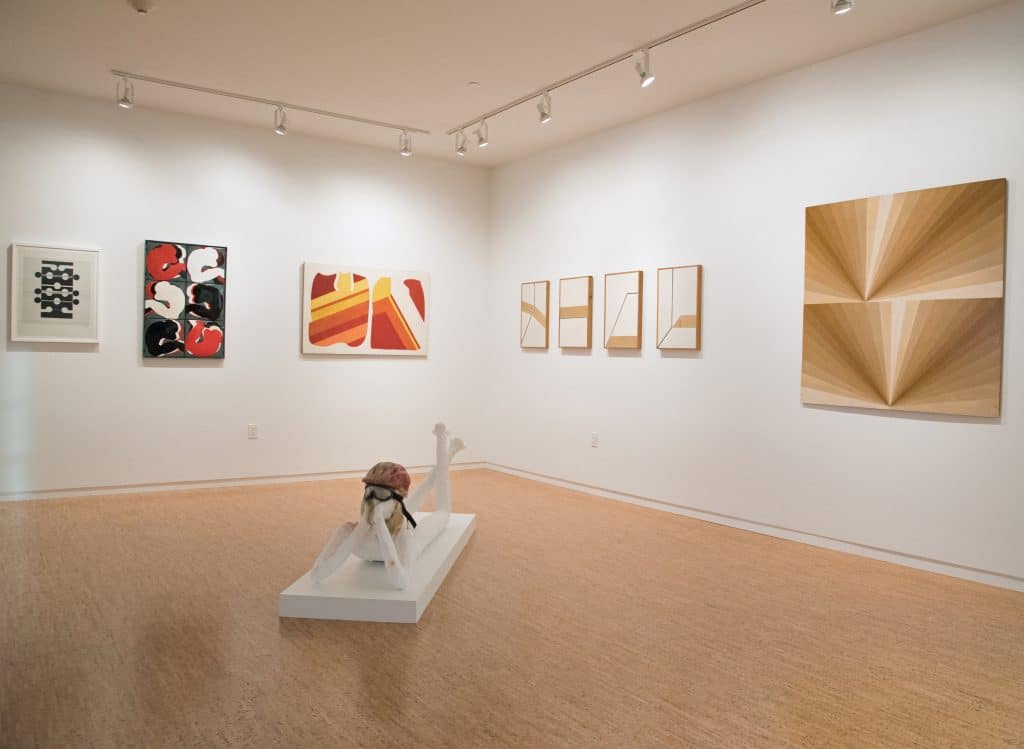 ---
Voltz Clarke Gallery at the Colony Hotel
With its bold Carleton Varney palette of salmon pinks, pool blues and emerald greens, Palm Beach's glamorous Colony Hotel has a chromatically kindred spirit in artist Heather Chontos, whose vibrant new abstract paintings are on view there through May. The solo exhibition is part of a seasonal collaboration with Manhattan-based Voltz Clarke Gallery. "We have many friends and clients who make their way to warmer weather during the brutal months in New York, so the extension makes sense for our programing," says Blair Clarke, who founded the gallery in 2002 with a particular emphasis on emerging and midcareer artists. "A big change I've noticed is that so many weekend visitors are now full-time residents."
Chontos, a New York native who currently splits her time between Maine and Europe, credits her predilection for vivid hues in part to a childhood illness that caused her to become blind for a year; she regained her sight along with a new appreciation for light and color. Titled "Lontano" (Italian for "far" and a nod to Chontos's recent residency at Palazzo Monti, in Brescia), the Colony show features nine large-scale canvases, each a colorful assembly of flattened shapes jostling for prominence within a rectangular frame. Their distinctive liveliness owes much to Chontos's unique approach to paint application. "Heather's work is confident and energetic," says Clarke. "She utilizes whatever tools and supplies she has on hand. Experimenting with hotel key cards to apply paint is a favorite and recurring method."
Voltz Clarke Gallery at the Colony Hotel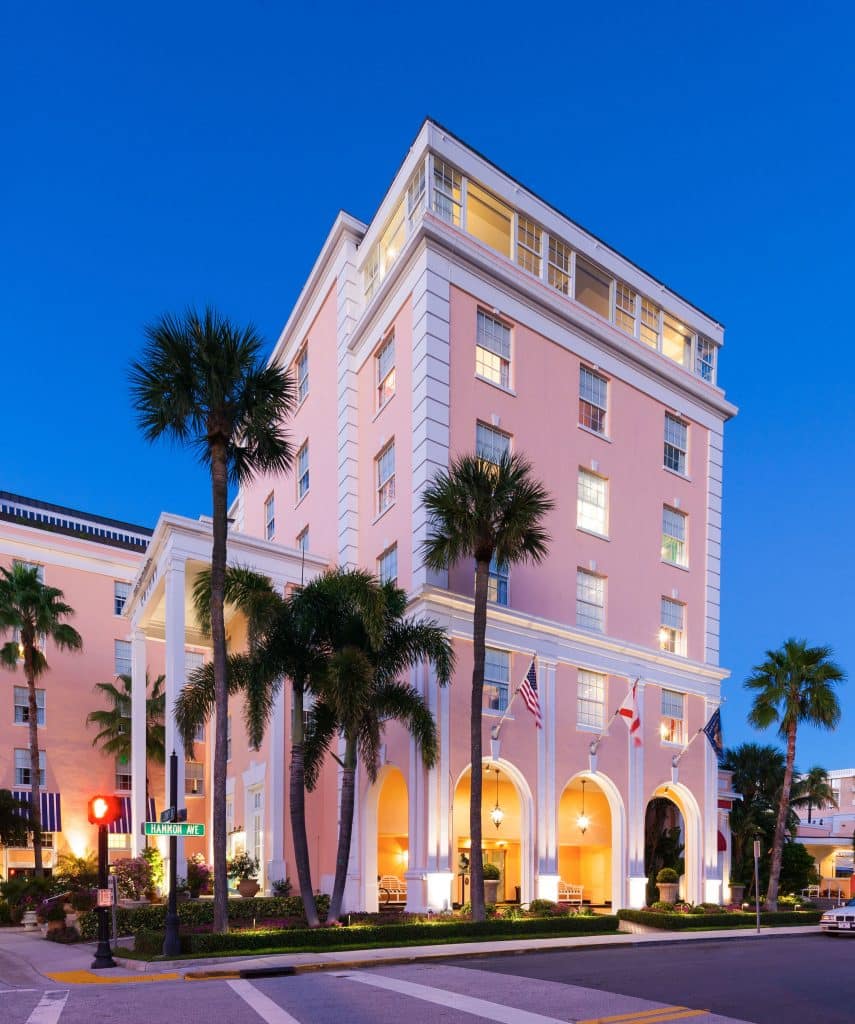 ---
The Flagler Museum
Touted by the New York Herald in 1902 as "more wonderful than any palace in Europe, grander and more magnificent than any other private dwelling in the world," the Carrère and Hastings–designed Whitehall, industrialist Henry Flagler's 75-room, 122,000-square-foot estate on the eastern bank of Lake Worth, established Palm Beach as a favorite winter retreat for the Gilded Age's wealthy elite. Today, the landmark mansion is open to the public as the Flagler Museum. In addition to offering guided tours that include a stop at the Beaux-Arts pavilion housing Flagler's private railcar and a peek at the improbably extensive lace collection, it mounts temporary exhibitions like "Maker & Muse: Women and Early Twentieth Century Art Jewelry," on view now through May 26.
Originally organized by Chicago's Richard H. Driehaus Museum, "Maker & Muse" explores the roles women played in the creation of art jewelry. This innovative category — in which semiprecious stones and enamelwork were incorporated in dramatic forms by Louis Comfort Tiffany, Charlotte Newman, René Lalique and the like — flourished from around 1890 to 1920, making the show an ideal fit for the Flagler's focus on cultural trends and changes during the Gilded Age. "Art jewelry developed as a reaction to the conformity of mass-produced goods throughout the Industrial Revolution," says Kate E. Bradley, archivist and research librarian at the museum. "Women influenced art jewelry both as muses to male designers and, for the first time, as designers in their own right. The works in this exhibition offer a mesmerizing glimpse into the social, political and economic realms in which they were created."
The Flagler Museum
---
Get the Look
Shop Pieces Inspired by the Palm Beach Art Scene