Indisputably the most prestigious modernist enclave in America, if not the world, Palm Springs croons a Sinatra-style siren song for time-traveling design obsessives. "My wife, Annie, and I have been visiting Palm Springs since the end of the nineteen-seventies," says Los Angeleno Tim Street-Porter, the principal photographer of more than 20 architecture and interiors books, including the recently released Palm Springs: A Modernist Paradise (Rizzoli), for which he also wrote the text. "We wore fifties clothes from Cowboys and Poodles on Melrose and drove out in a sixties Cadillac. After that long, boring drive, we loved finally arriving at Cabazon, on the outskirts of Palm Springs, which in those days featured a giant sign saying "EATS" and two giant dinosaurs — and nothing else, except an empty, windy pass. You then dropped into the valley and were enfolded by the desert, with the mountains all around, and the clear sparkling desert air."
Nestled at the base of San Jacinto Mountain, Palm Springs has long been a welcoming haven. Its natural beauty provided shelter and sustenance to the Agua Caliente band of the Cahuilla tribe for thousands of years. In the early 1900s, the city's mineral springs and dry heat drew visitors and residents with health conditions, spurring a 1920s-to-'30s building boom in residences and luxury resorts that attracted A-list movie stars.
After World War II, Palm Springs became an architectural laboratory, exemplifying Atomic Age design and a carefree modern lifestyle. During the 1970s and '80s, however, the city lost its luster. Well-heeled vacation-home owners moved to pricier nearby communities, and Palm Springs' modernist ranch houses grew as aged and rickety as some of its remaining residents. Then, at the turn of the century, a new generation came to the rescue, restoring the classic designs of such L.A. architectural legends as Richard Neutra and John Lautner and desert modernists like Donald Wexler, William F. Cody, Bill Krisel and E. Stewart Williams.
Countless renovations of butterfly-roofed tract houses built by the Alexander Construction Company helped codify a Palm Springs architectural and decor palette (dismissed by some as clichéd) and cemented its reputation as a mecca of all things mid-century modern. Inevitably, lavish photography books followed, dutifully adorning fashionable coffee tables the world over. With the exception of Julius Shulman and society photographer Slim Aarons, however, few lensmen have documented Palm Spring's enduring elegance as well as Street-Porter has.
"Palm Springs is a magical place, and Tim captures that in a new and fresh way that really encapsulates the spirit of the city," says interior designer Martyn Lawrence Bullard, whose own "swinging '60s" home, Villa Grigio, is featured in the new book. "His photographs capture not only the beauty of the architecture but also the homeowners' passions, the energy of the spaces and how they are lived in."
It was Bullard, Street-Porter's L.A. neighbor and friend, who helped broker introductions to the homes in Palm Springs. Some, like Neutra's famed Kaufmann house and A. Quincy Jones' magnificent Sunnylands, built for Leonore and Walter Annenberg, may be familiar but are seen as if for the first time through Street-Porter's lens. Others, from the Streamline Moderne Ship of the Desert (owned by fashion designer Trina Turk, who wrote the foreword to the book) to the Welton Becket–designed home of Gerald and Betty Ford (updated with 1980s and Memphis designs), are a revelation. Among the highlights of this ambitiously curated collection: a 1962 neoclassical modern residence, commissioned from James McNaughton by the eldest son of William Randolph Hearst, that still radiates San Simeon grandeur, and a 1957 Moroccan-style home with interior elements by T. H. Robsjohn-Gibbings.
In the artfully composed photographs, the furnishings — from the to-be-expected Eames, Bertoia and Warren Platner chairs to the more uncommon Charles Hollis Jones Lucite four-posters, William Haines floral sofas and Stan Bitters ceramic sculpture — always shine. "I like natural lighting to help invite you into the space," Street-Porter explains. "A streak of sun on a chair leg can animate a room in a wonderful way."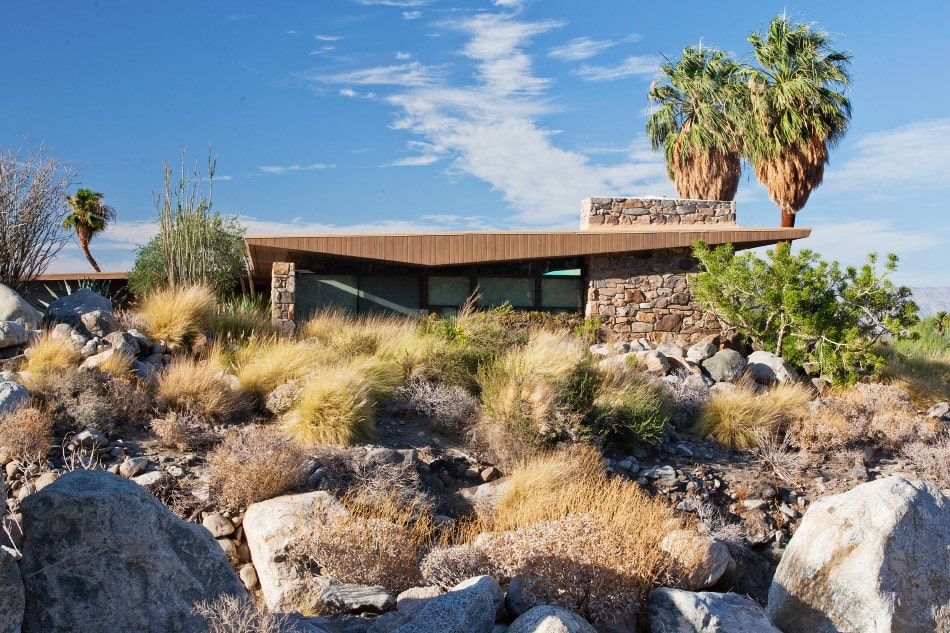 Street-Porter brings a lifetime of aesthetic and academic mastery to his work. Born in Suffolk, England, he studied architecture in London. "I was rigorously trained as a modernist in the sixties, and all these subsequent years have been a kind of debriefing," says the photographer, who lives with his wife and frequent collaborator, Annie Kelly, in a 1920s Venetian-style home in the Hollywood Hills.
In his final year of college, Street-Porter realized, "I did not want to spend my life in an office," he recalls. "So, I switched to photography." He shot all of Norman Foster's early work before moving to Los Angeles in the late '70s to document the "early radical work" of Frank Gehry, who helped him obtain a green card.
---
"His photographs capture not only the beauty of the architecture but also the homeowners' passions, the energy of the spaces and how they are lived in."
---
As an author, Street-Porter's first foray was the 1986 book Freestyle: The New Architecture and Design from Los Angeles (Stewart, Tabori & Chang), in which his pictures and text bore witness to the emerging talents of Gehry, Eric Moss and Morphosis. "I think I'm the only architectural photographer who is at home with a pen as well as with a camera. I enjoy having the opportunity to discourse on the architecture," Street-Porter notes. "The camera can describe visually, but it can't make comments or critical evaluations." To that end, his entries on each of the storied homes in Palm Springs are illuminating and precise, not prosaic.
Acclaimed as a chronicler of architecture for magazines, Street-Porter admits he experiences an "extra level of emotional involvement" in his books. "I romance the subject," he says. Throughout Palm Springs, he captures the interplay between the built environment and the rugged terrain. "I love how the crisp, linear architecture sits in a landscape of date palms and mountains reminiscent of Morocco. I try to make viewers fall in love with these houses as I did."
If Palm Springs is his valentine to the city, Street-Porter has a fitting P.S. "While writing the intro for the book, I tried to describe the happy feeling as you absorb this blissful desert landscape," he says. "It was not until the book had gone to press — after those heavy rains last winter when the mountains all round were topped with snow — that I came up with, to me, the perfect metaphor: It's like I'm lying happily on my back on the bottom of an empty margarita glass and looking up at the salted rim."
Or Support Your Local Bookstore