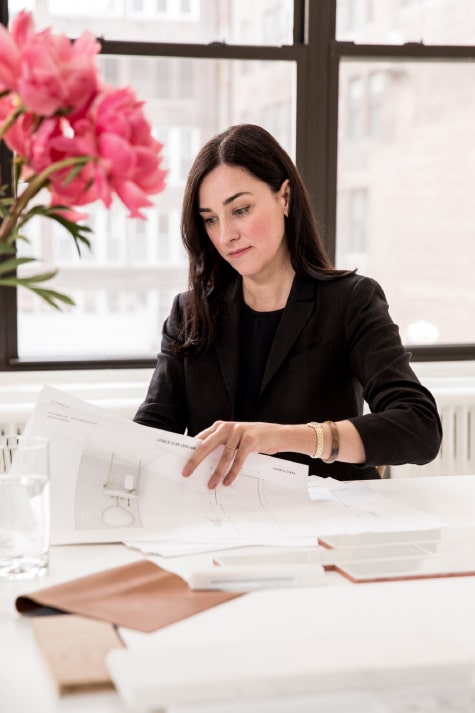 High-rise Manhattan living is the stuff of timeless fantasy. From the lower floors, you get streetscape and building facades — not exactly shabby, especially in this pricey town. But from the upper stories, an entire metropolis unfurls before you. That heady perspective casts a beguiling spell. And in the case of Paris Forino's design for this 11th-floor, 2,600-square-foot prewar apartment in the Flatiron District, that spell affected just about everything.
"We were inspired by the view," says the Australian-born, New York–based Forino, who established her firm here in 2012. "The silhouettes of the furnishings reference the architecture we're seeing out those big, beautiful windows."
The building was designed in 1915 by William Van Alen, the architect of the nearby Chrysler Building. Visible from almost every room of the apartment is another Manhattan icon: Cass Gilbert's circa 1926 New York Life building, its gold-capped spire providing the springboard for the brass accents that grace much of the lighting and many of the small furnishings. (The interior architecture is the work of Alan Wanzenberg, who converted the structure from commercial space to residential units several years ago.)
Forino's empty-nester clients, a real estate developer and his wife, had sold their house in the suburbs after raising two sons there and wanted a very adult apartment. They chose Forino for her signature style, which functions as a kind of fulcrum between history and modernity. "Good design is really about balance," she explains, "juxtaposing something graphic with something quiet, something angular with something curved, something traditional with something more contemporary." Here, Forino walks Introspective through a series of aesthetic choices that resulted in an enviable, suitably sophisticated aerie for a now-high-flying couple.
---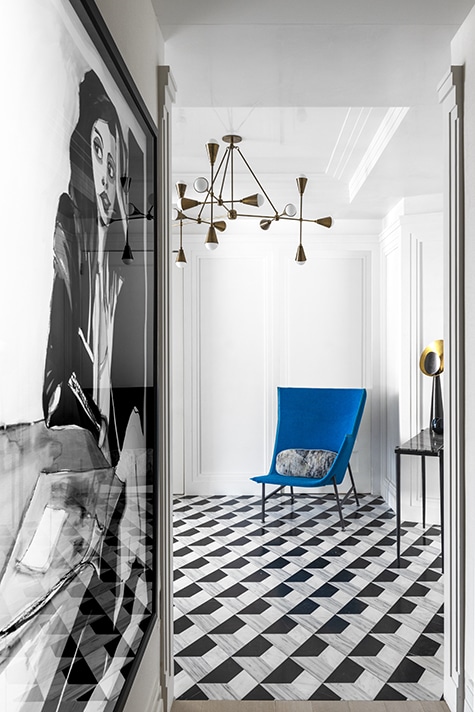 ENTRY
"The clients wanted something very dramatic and graphic, something with a 'wow' factor," Forino says, referring to the luxuriously scaled entry, paved in a custom geometric arrangement of gray, black and white marble tile. "It's a classic pattern," she notes, although its bold scale is decidedly contemporary. Forino's style emphasizes context and harmony, and the floor evokes the public areas of the historic building. So does the room's detailing: "The plasterwork is very classical in approach, but we've balanced it out with modern furniture and lighting."
The result is a harmony between traditionally styled interior architecture and furniture that is light and fresh, such as Nipa Doshi and Jonathan Levien's barely there Paper Planes chair for Moroso and a Lark console from Holly Hunt. Overhead, Apparatus Studio's Triad chandelier inserts a note of industrial chic.
---
LIVING/DINING AREA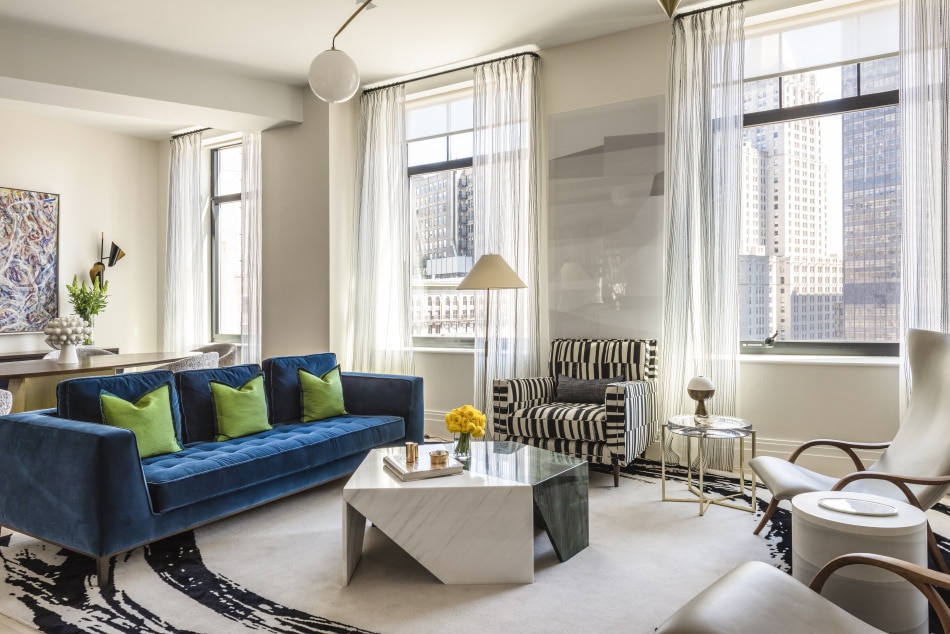 The generously scaled central living space provides the setting for another balancing act. Forino's clients had clear ideas about furniture choices, she explains: "There are so many great Italian designs from the twentieth and twenty-first centuries, and they were drawn to that." To create equilibrium, she offset the slim-lined Mediterranean aesthetic with more substantial handcrafted pieces by mostly American designers. In the living room, for instance, B&B Italia's asymmetrical Lucrezia sofa, trimly tailored in sapphire velvet, is paired with a blocky custom armchair fabricated by Dmitriy & Co. and covered in a graphic, almost Op art textile from Jim Thompson. Echoing the geometric vibe of these pieces are a custom rug from Sacco in black and white wool and a marble-slab coffee table in white and emerald green. "We like using black and white with pops of jewel tones," Forino says of the palette.
The room's straightforward rectangular configuration made it easy to lay out, with living and dining areas at opposite ends. "But," the designer points out, "there were a lot of soffits that made lighting hard to place." One such tough spot was over the dining table (from Egg Collective, paired with Minotti's Aston chairs from DDC), where a soffit impeded the hanging of a chandelier. Instead, Forino went with Atelier de Troupe's Cigale double sconces; in the living area, she deployed designer Anna Karlin's Arc light, which creates a soft, mobile illumination that unifies both spaces.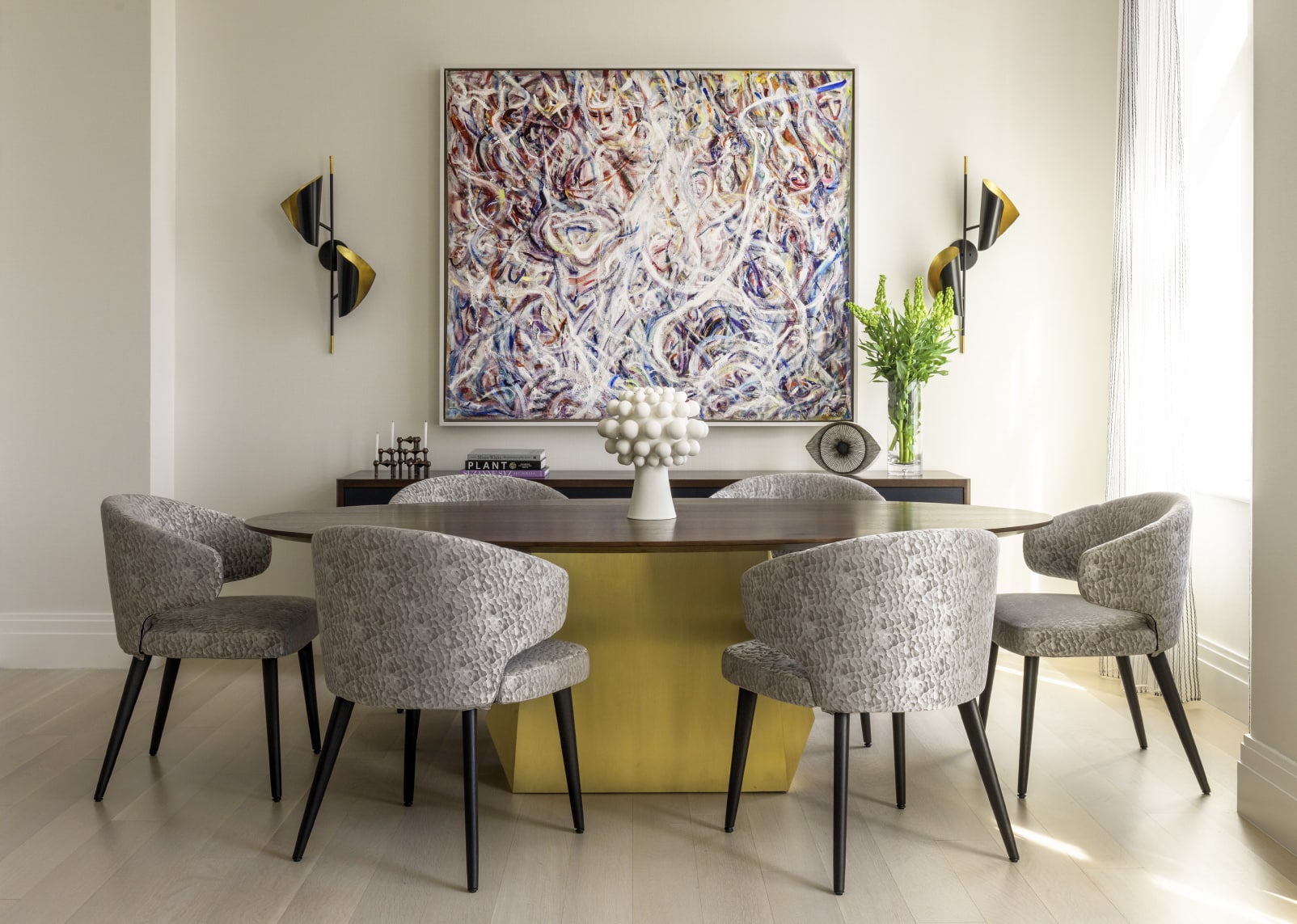 ---
KITCHEN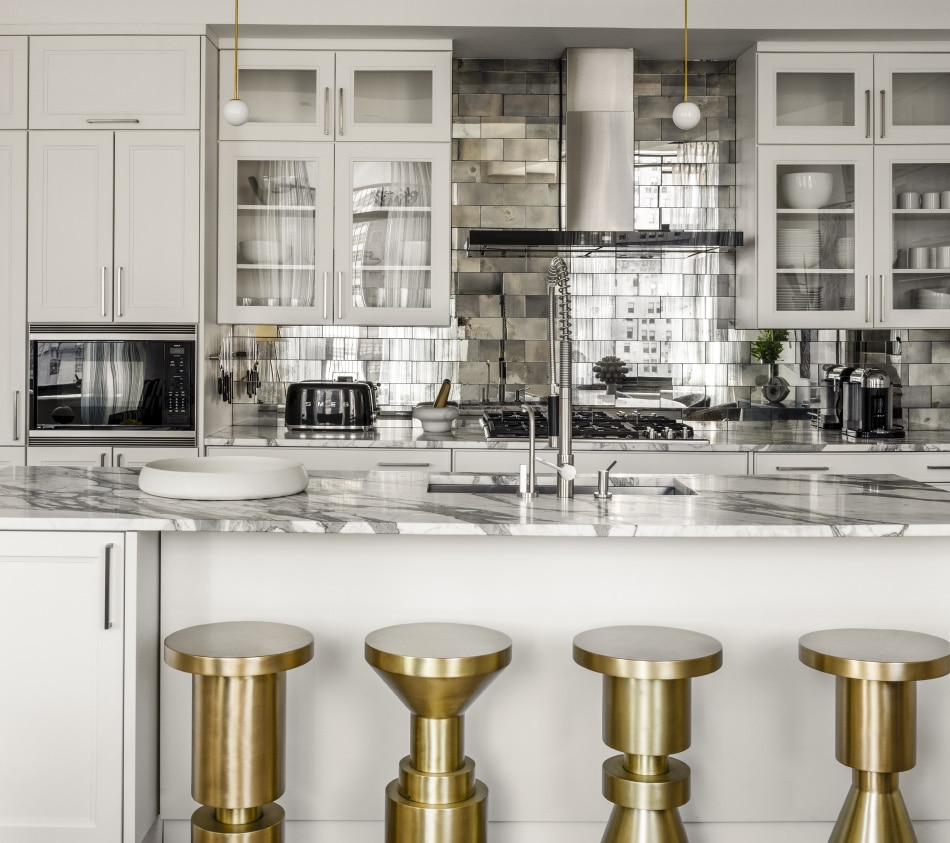 Capturing the view was Forino's goal in the open kitchen, which looks out on the living area and its dramatic bank of windows. The sheer Creation Baumann fabric of the floor-length curtains filters and softens the light without spoiling the vista. To reflect the view, Forino upgraded the kitchen with antiqued-glass backsplash tiles from Ann Sacks. She also replaced the existing marble countertops with a more dramatically figured stone that meshed with her black-and-white program. Brass Chess Piece counter stools by Anna Karlin relate to the living area furnishings in form but have their own distinct personalities.
---
DEN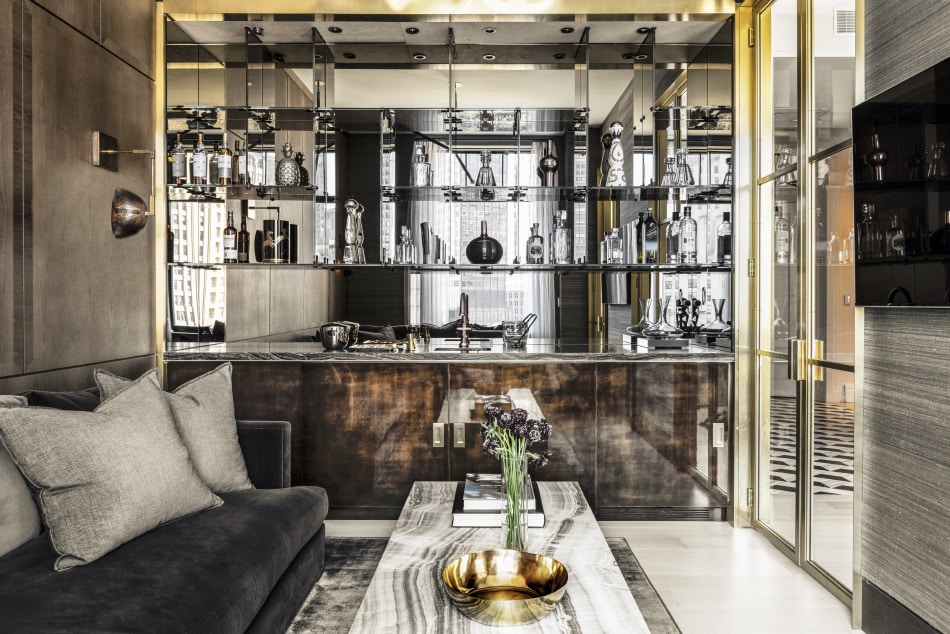 "He's a guy's guy," Forino says of the husband, "so he wanted a den where he could have drinks with his friends, something very masculine and warm." She experimented with a new bespoke paneling treatment, trimming quarter-sawn rift-oak rectangles with "frames" whose grain runs perpendicular to that of the oak. The composition, later stained a rich walnut, pays homage to the building's neoclassical roots but in a more modern context, since the paneling's three-dimensional effect is an illusion. The bar's painted finish "brings in copper tones," says Forino, "as well as chocolate brown in a mottled effect — very rich, with a gorgeous dark stone on top." She further tricked out the sybaritic space with a custom sofa by Dmitriy & Co. in russet brown velvet and a Phillip Jeffries grasscloth wallcovering for more texture. Lightening the atmosphere are brass accents on the bar, on the double doors and in two pieces of signature lighting from Apparatus: an Arrow pendant and Bowl sconce.
---
MASTER SUITE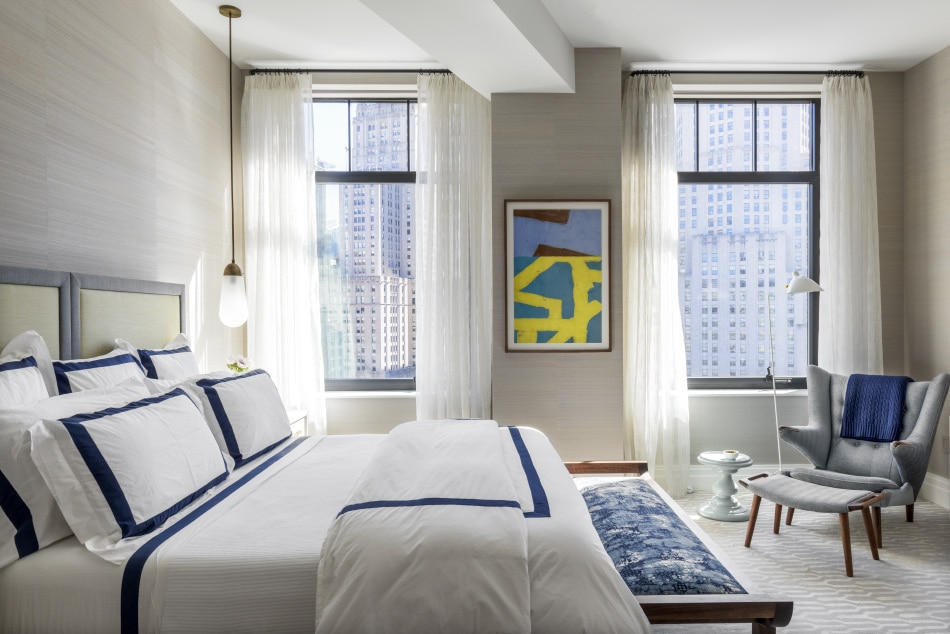 "We try to create a cocoon-like feeling in bedrooms," says Forino, "soft, muted, serene, restful and calm." Wrapping the master in mineral-gray linen and carpeting it in Sacco's matching wall-to-wall carpet in a silk-wool blend was certainly a supple way to start. These choices, along with the selection of a reproduction Hans Wegner Papa Bear chair and ottoman dressed in a similarly hued Lee Jofa wool flannel, impart a soothing neutrality to the space. The room's lighting trades glimmer for the darker, bronze finish of the Apparatus Lariat pendant and Trapeze sconces and the white of a reproduction Serge Mouille floor lamp. The only "jewel" pop appears in the Matouk bed linens and Kelly Wearstler's Mineral indigo velvet for Lee Jofa, which adorns the BDDW September bench at the foot of the bed.
---
GUEST ROOM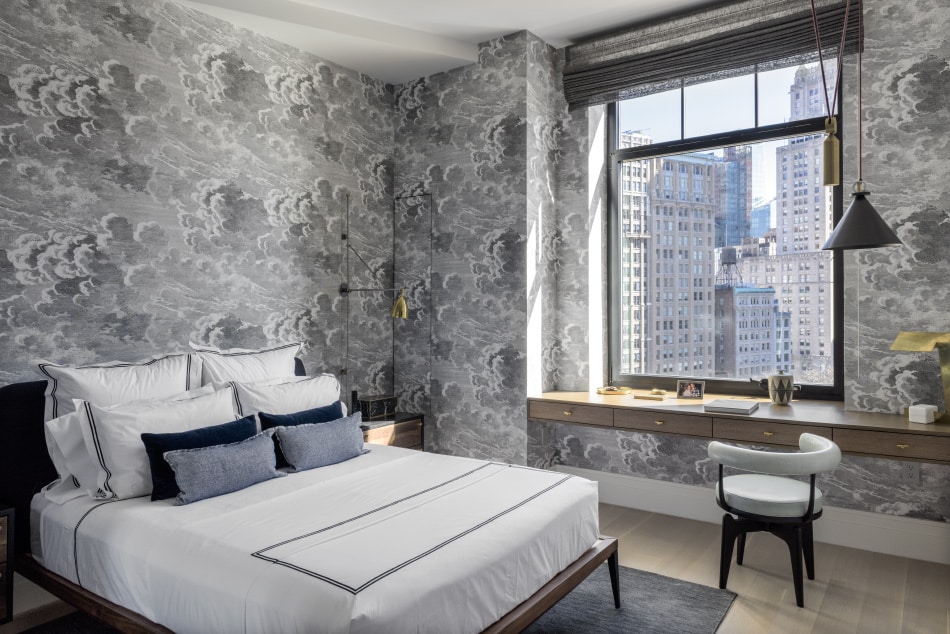 In the second bedroom, Forino contrasted the monochrome palette she loves with touches of walnut-stained wood, here in the form of a built-in desk and Benna nightstands, the latter by Fern. "The introduction of wood gives the room texture and something natural, so everything isn't glossy and smooth," she says. "It brings in depth." The work of Piero Fornasetti makes an appearance on the walls, which are covered in his classic cloud-patterned Nuvolette paper, a licensed design from Cole & Son. A Cox London Opus wall light beside the bed brings in Forino's familiar brass accents; at the desk, Charlotte Perriand's Indochine armchair from Cassina reprises the black-and-white color scheme.
---
POWDER ROOM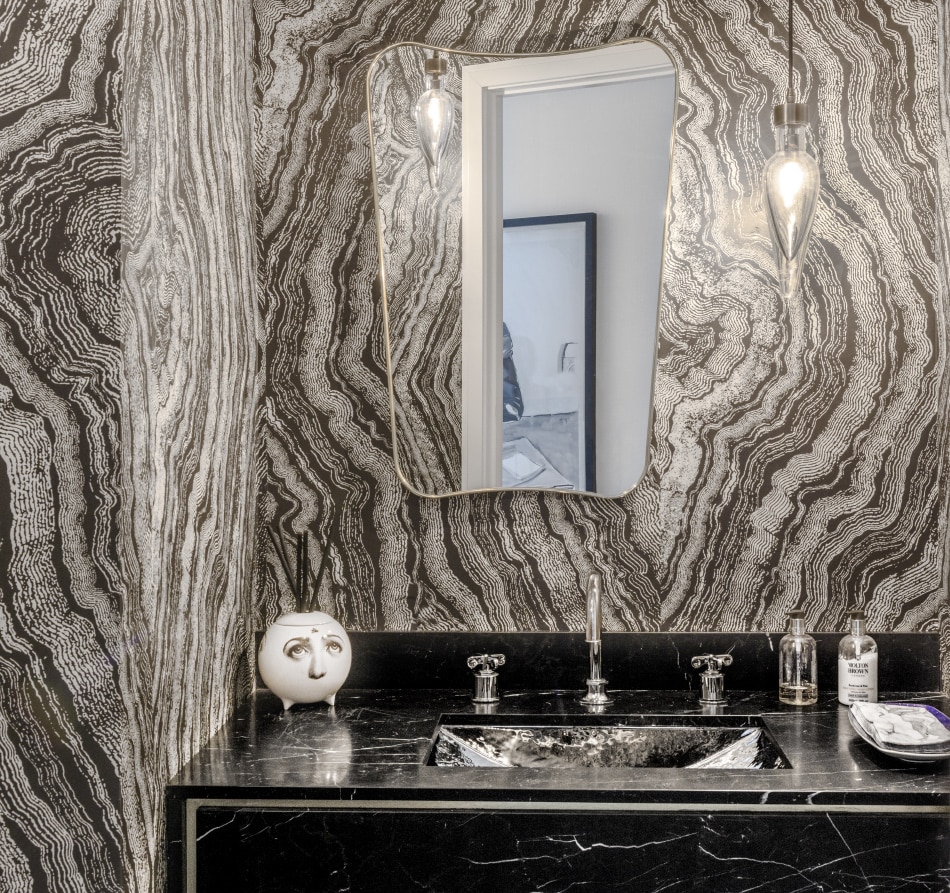 Forino showcased Italian design again in the powder room with a reproduction Giò Ponti mirror from Gubi and a playful Fornasetti L'Ape room diffuser. She set these against Zak+Fox's Strata Study wallcovering, which the company developed from a drawing by Apparatus's Gabriel Hendifar; its flowing cut-stone pattern complements the Fornasetti piece perfectly, referring both to the legendary Italian designer's famous malachite motif and his love for black and white. Holly Hunt's Amphora pendant illuminates the scene, notably the custom vanity faced with inky black marble. "It was a complicated construction," says Forino, "but it's very luxurious." Not unlike the rest of this well-appointed residence.
---
GET THE LOOK