August 20, 2023Having children underfoot doesn't necessarily mean a house full of wash-and-wear fabrics. These three design firms love the challenge of creating spaces for adults and kids that look fabulous and function beautifully. Each of them mixed vintage and new furnishings, eye-catching art and fresh colors and patterns to achieve a lively home for a lucky family.
---
And And And Studio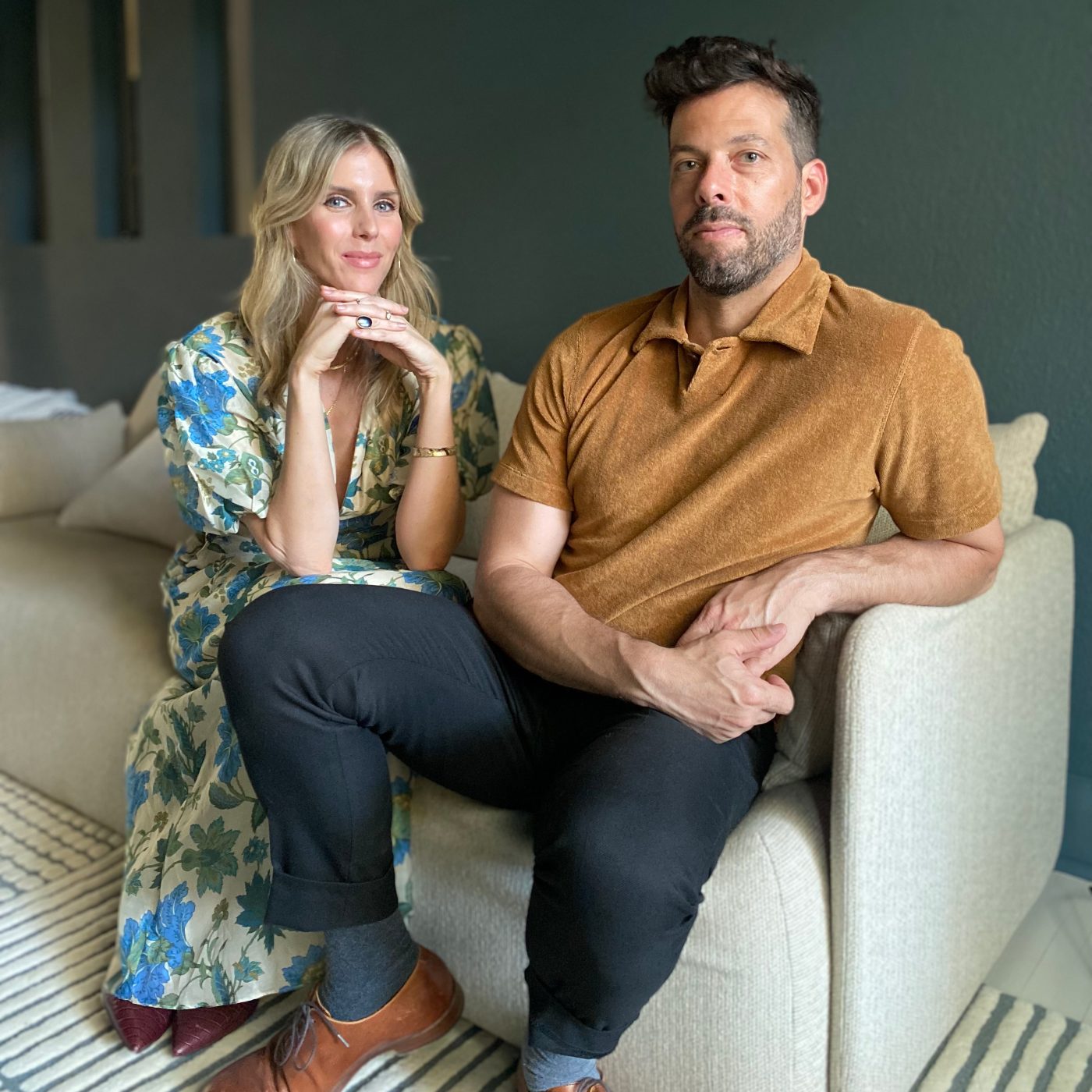 Los Angeles–based architecture and interior design firm And And And Studio was founded in 2017 by Daniel Rabin and Annie Ritz. The two met in a graduate-level architecture program and are now married, with two children and a bustling business. "We have a holistic approach to design," Ritz says. "We like to focus on projects where we're doing the architecture, interior design and furniture."
As befits their all-encompassing approach, they look to work with clients who are open to collaboration and to making discoveries as the project unfolds. "We like to figure out what you're bringing to the table," Ritz says. "Then we work to interpret it into something new and exciting."
For a 2022 project in the Beverlywood neighborhood of Los Angeles, the clients — a couple with three children — were eager to work with the duo because of their comprehensive design approach. A sloping lot and a homeowners association with exacting rules made the architectural process for the new build challenging. "The house has traditional materials — plaster walls, terracotta tiles, wood doors — but the organization of the house and the layout are quite novel and different," Rabin says. "We weren't making something new that was trying to imitate something old, but something new that references the past."
Influenced by Mediterranean architecture, the duo arranged the wings of the home around an interior courtyard, ultimately creating a contemporary abode that's full of beautiful moments. Ancient travertine threads through the house but always combined with clean, modern lines. Rabin and Ritz used the material in the 20-foot-long kitchen island as well as the sculptural mantel that grounds the living room (although there's no fireplace).
"We had a lot of fun in the living room," Ritz says. "The clients have a slight inclination toward the glamorous, and we do too. They weren't looking for beige performance fabric." The duo are quick to note, however, that they incorporated fabrics that could stand up to family life and were a breeze to clean.
A sense of delight pervades the house, evoked in an arch or two and lots of rounded edges — the arch leading into the dining room, for example, provides a glimpse of the curvy Gubi Epic dining table. "We wanted to play with curves, but we weren't driven by them," Ritz says. "They're a breath of fresh air and a fun twist in the space."
---
Rachel Sloane Interiors
Rachel Sloane Sherman started her New York–based firm in 2019, at about the same time that she gave birth to her daughter. "It was like I had twins," she says with a laugh. "Now, four and a half years in, we're very lucky to be very busy." Focusing on luxury residential projects, Sherman has two goals: to design homes that bring her clients joy and to create environments that reflect how they want to live.
A 2021 project in Larchmont, New York, provided an opportunity to realize both aims. The clients were moving from Brooklyn to the suburbs with their three children and were intimidated by the blank slate the house presented. "They were overwhelmed with the vastness of space and worried about how they could make it feel cozy and intimate," Sherman says. "Fortunately, they both love color and design statements, so we planned the house to bring out those pieces of their personalities."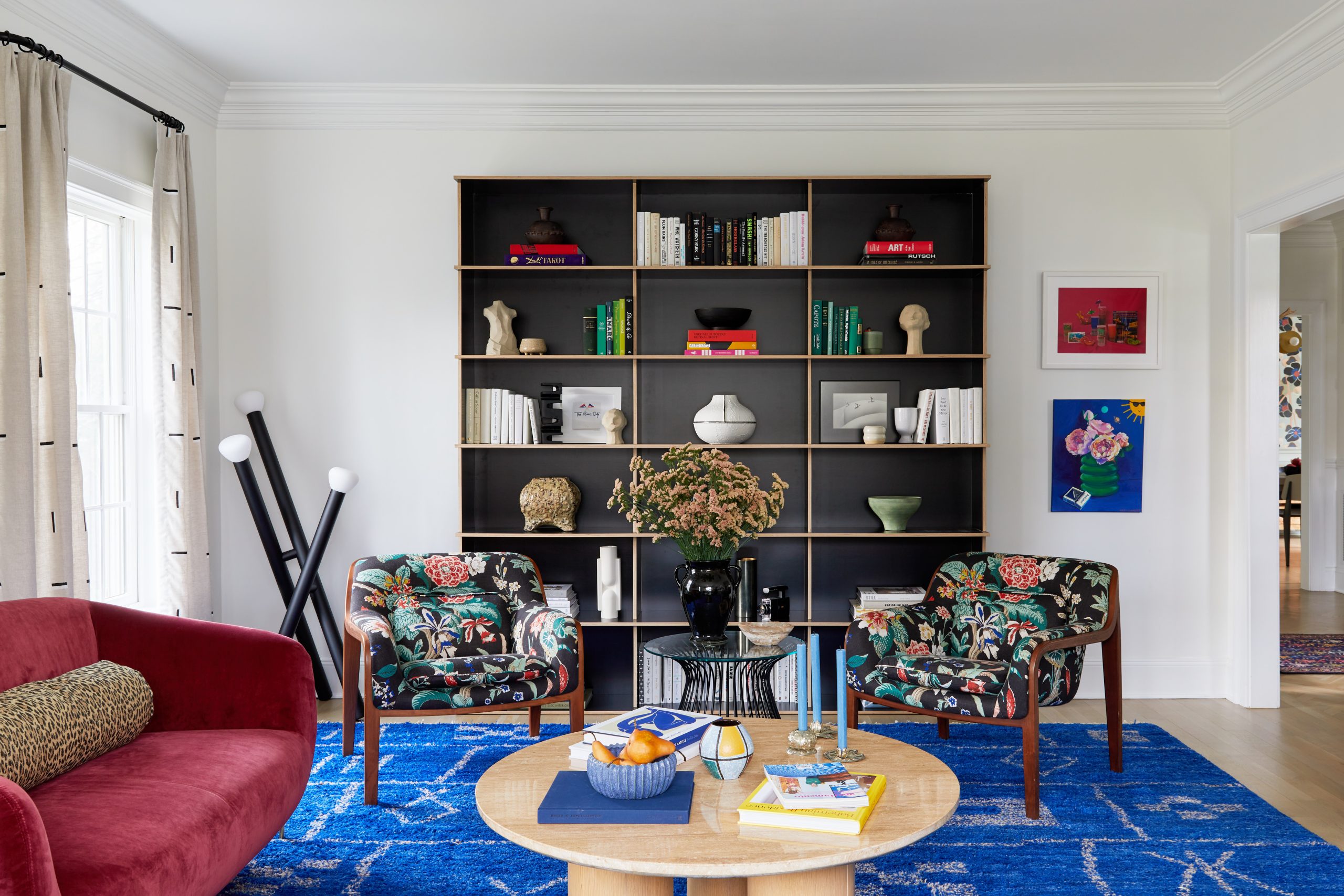 The élan the young couple was going for is best expressed in the living room, with its mid-century-modern bentwood lounge chairs, found on 1stDibs, and cobalt-blue vintage rug. "They wanted something unique, and they realized that meant bold choices," says Sherman. "That room is really well balanced, with the rug creating an energetic ground for us to build on."
In the kitchen, Sherman worked with the existing bones while fixing what her clients agreed were the design's glaring problems, like the dual-level island and the dust-collecting floating upper cabinets. She painted the cabinets, replaced the countertops and added a built-in banquette. "For a little fun, we chose a Pierre Frey fabric for the window treatments in the breakfast nook," she says. "It's the meeting point between the kitchen and the family room, and it brought in the pinks, grays and greens of both rooms."
As for concessions to the couple's three children, Sherman notes that none of the chairs in the kitchen or the dining room (by Philippe Starck for Emeco and Jean Prouvé for Vitra, respectively) are upholstered. "We took into account their kids and family life, but it wasn't a barrier to achieving the level of design we wanted," she says. "We did the dining chairs in a color run that was very funky, and the banquette's a pink vinyl."
---
Studio AK
Anna Baraness and Kristin Tarsi met when they both worked for legendary New York designer Victoria Hagan. After almost a decade with Hagan, both women left to launch their own design practices. But the fast friends found they kept calling each other to share ideas. The next logical step was to join forces, and in 2020, they opened Studio AK. "We hit the ground running, and we've been able to work on some amazing projects since becoming partners," says Baraness.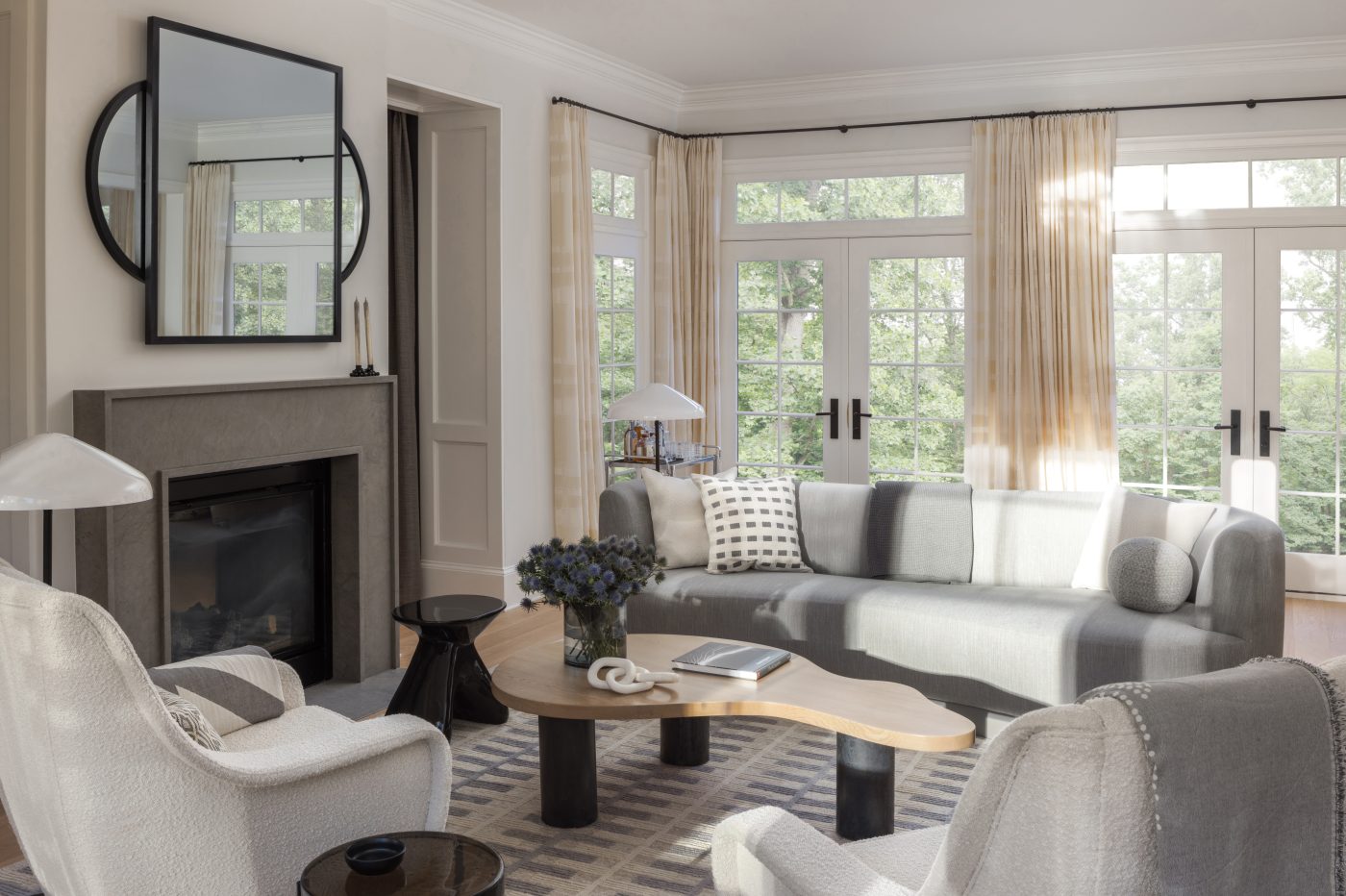 The New York–based designers, each of whom is married with two children, quickly began to take on clients in other parts of the country, including a young family in Bethesda, Maryland. They hired the duo to design a rental home in 2020 and then a center-hall colonial they purchased in 2021.
The colonial had a traditional layout that worked for the clients. But the interior was a hodgepodge of different floorings and heavy millwork, with a dated kitchen. "Every room had an extra layer of detail that we wanted to simplify," Tarsi says. "We went through the house thinking about what pieces we could modify that would have the biggest visual impact." Their alterations included stripping back some crown molding they found too ornate and choosing a light hardwood to unify the first floor.
In the family room, their efforts centered on a heavy stone fireplace. "We did a whole redo of the kitchen and then looked at the adjoining family room and said, 'You cannot have this fireplace next to that kitchen,' " Baraness explains, noting that removing the stone veneer and refacing the chimney with tongue-and-groove boards was "a huge visual change."
By taking away some of the heavier elements, the partners gave the house the youthful and unstuffy vibe the clients wanted in order to enjoy it with their friends and kids. Furnishings are mostly upholstered, eliminating sharp edges, and the fabrics are durable and can withstand the occasional sticky hand. But practical doesn't preclude glamor. Case in point: the Elton John portrait by Terry O'Neill in the dining room. It looks right at home in the contemporary space and sets an energetic tone that carries throughout the house.