April 30, 2023From its Art Deco–inspired green terracotta facade to its detail-rich interiors, everything about the 10-story Fitzroy, in New York City's West Chelsea, speaks of character, craft and material refinement. "I've never seen a newly built apartment building with such high-end fixtures and finishes," designer Shawn Henderson says of the Roman and Williams–designed Fitzroy, completed in 2019 adjacent to the High Line elevated park.
Two years ago, Henderson was hired by a couple to decorate their three-bedroom residence in the building, whose atmospheric marriage of tradition and modernity played perfectly to his strengths. Henderson — a returning member of the 1stDibs 50 whose firm is celebrating its 20th anniversary this year — has become known for wedding standout vintage pieces with contemporary furnishings and art. Meticulously considered but never precious, the rooms and homes he creates are deeply sophisticated even as they remain accessible and inviting.
His approach appealed to the Fitzroy clients, who didn't want to compromise on style while tailoring the home to their family, which includes two grade-school-age boys.
Initially, Henderson was asked to focus on the living and dining areas, collaborating primarily with the wife, whom he describes as "a very knowledgeable design junkie." However, he relates, "as we got going, we were all getting excited about the project and agreed to do the rest of the home as well."
While leaving Roman and Williams's copper-accented designs for the kitchen and baths largely untouched, along with the herringbone oak floors and the oak moldings, Henderson put his distinctive stamp on the entertaining spaces and bedrooms.
He transformed one bedroom into what he describes as a "moody little cozy den, where the family can hang out and watch movies." This freed him up to compose the living room without having to accommodate a TV.
The living room, the first space you encounter beyond the narrow entry hall, sets a tone of elevated eclecticism. Warm, earthy hues complement the oak casement windows, where Henderson installed roman sheers and window-seat cushions — an element he added throughout, taking advantage of the deep sills. "I really wanted to create a serene backdrop," he says, "soft, soothing, comfortable."
Anchoring the room's main seating area is a saffron-mohair-upholstered custom sofa by Swaine, the furniture company Henderson founded with designer Mike Rupp. The sofa, positioned beneath a swirling abstract painting by Dan Christensen, is joined by one of Philip and Kelvin LaVerne's etched and enameled metal tables from the 1960s and a graceful pair of vintage O.H. Sjögren armchairs, covered in a sumptuous pale-blue alpaca velvet.
The room's Scandinavian-heavy mix also includes mid-century Ole Wanscher side tables topped by 1930s Swedish lamps and a vintage Carl-Axel Acking daybed. This "elegant and unusual" piece, says Henderson, "acts as a bridge" between the main seating area and what he calls "a little game-table situation" in the corner: a svelte 1950s Josef Frank table with a burl-wood top paired with spindle-back Joaquim Tenreiro chairs from the '60s that together provide a chic spot for cards or cocktails.
Henderson rounded out the seating with a mid-century Scandinavian low wingback chair and ottoman, well positioned for relaxing while keeping an eye on the boys as they practice on the nearby upright piano.
Underfoot is a carpet by Atelier Février featuring chestnut-colored fragmented shapes scattered sporadically across a cream-colored ground. "I usually don't love rugs that are so specifically designed, but the craftsmanship and the layout of this is just so cool," Henderson says.
In the adjacent dining room, he considered paneling the entire space like an intimate library before deciding to wrap the walls in de Gournay's hand-painted Early Views of India wallpaper. He added plaster moldings and had them painted in a faux-bois pattern to match the existing woodwork.
Having set the stage, he mounted a 1950s Scandinavian brass light fixture over a new Cristian Branea table with a slab walnut top and an elegantly reeded base, which he surrounded with vintage Niels Møller rosewood chairs. A self-described modernist who loves traditional design, Henderson says the dining room is "a perfect example of those two worlds merging together for me."
Texture tends to take precedence over pattern in Henderson's work, but both are compellingly deployed in the converted den. The room's palette was drawn from the Holland & Sherry plaid used on the window seat and the accent pillows. Its purply claret prompted the upholstery for the sculptural Kerstin Hörlin-Holmquist lounge chair and the sectional sofa, covered in a nubby fabric from Pierre Frey that Henderson says he's currently "using in every colorway possible."
The plaid's blue, meanwhile, is echoed in a subtly textured linen wallcovering, which provides an ethereal backdrop for a lively Larry Zox painting, giving the room "a little extra depth and warmth."
The oystery-hued primary bedroom features a custom-made bed clad in a blue wool bouclé and dressed with a raw-silk bedcover made by Pat McGann. The room's most dramatic element is a pair of Swedish Art Deco alabaster pendant lights that fill the space with a lovely soft glow.
When it came time to design the boys' room, Henderson reached out to his go-to collaborators at Casa Kids, in Brooklyn, to help create bunk beds, desks and bookshelves that would be fun and liven up the space. He outfitted it with a striking wallcovering of striated cork ("one of my favorite materials to use") as well as retro-funky Arne Jacobsen Drop chairs and Greta Magnusson-Grossman table lamps. An emerald-green carpet and mustard-yellow bedding by Schoolhouse Electric supply a chromatic pop.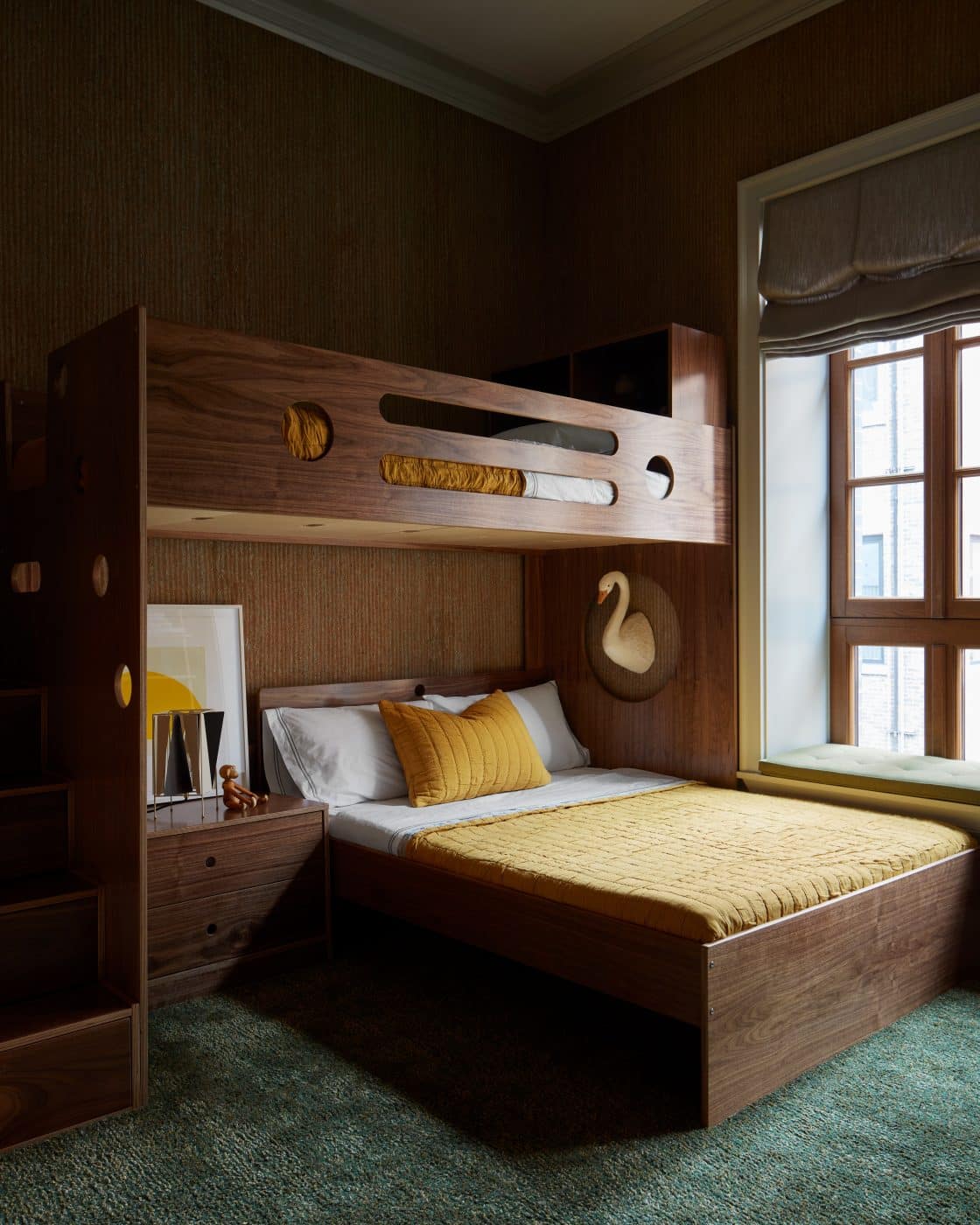 "I love doing kids' rooms," says Henderson. It's a sentiment you don't hear expressed by top designers all that often, but it reflects the uncommonly affable and engaging spirit that Henderson brings to all his projects.