December 12, 2021When he started his design firm, in 2003, "I was a little more rigid than I am today," admits SHAWN HENDERSON, who before going out on his own had apprenticed for Thad Hayes, at the firm now called RIES/HAYES, and Birch Coffey Design Associates.
"I turned down clients if I didn't agree with what they wanted me to do instead of going on that journey with them."
What led to this reminiscing was the publication of his first book, Shawn Henderson: Interiors in Context (Monacelli Press). The introduction, by Mayer Rus, describes Henderson's rooms as "comfort perfected, everyday life ennobled."
Now, 18 years on from those early days, the designer says, "I've become a much better listener, and I'm really tapping into what the needs of my clients are and what reflects their personalities."
And it's okay if the client's desires don't match his taste exactly. "That journey — where the client challenges me to try a new direction — is fun for me to do now."
Perhaps no project has been more challenging — or fun — than the refurbishment of a distinguished 19th-century house in the French Quarter of New Orleans.
An art-collecting couple for whom Henderson had already done an apartment and a townhouse in New York were charmed by the mansion's old-world grandeur: With 13-foot ceilings, it's even more voluminous than its 9,000 square feet suggest.
Henderson, too, was charmed, but also a bit concerned. He needed to choose big furniture — and make big statements — if his work wasn't going to be overshadowed by the architecture. At the same time, he didn't want pieces that were so big that they seemed cartoony.
In addition to responding to the spirit of the house, he wanted to capture the energy of New Orleans. Further, having worked for the same couple twice before, he says, "I wanted them to feel like this was someplace different and exciting. I wanted them to have a new experience." No wonder, then, that he characterizes this as "the most theatrical design I've ever done."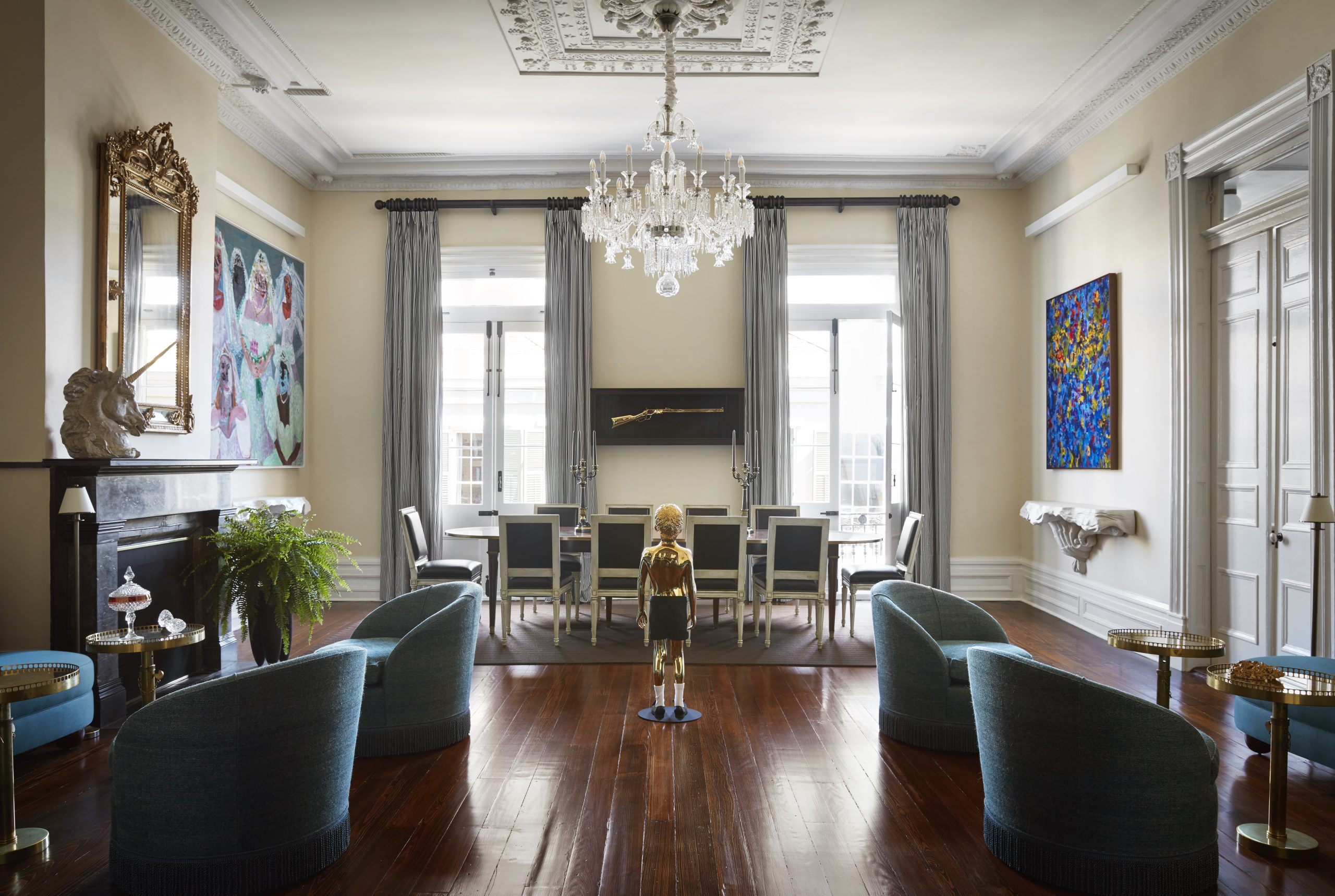 The drama begins in the main parlor, a daunting 25-foot square. As in much of the house, no real construction was required; instead, Henderson renovated the space with paint and textiles.
"Normally, my palettes are fairly subdued," he says. "Here, I wanted things to be super vibrant — not just beautiful but happy and exciting." To that end, he brought in furniture that was, for the most part, bolder and more graphic than his usual fare, including pieces he designed and ones he found.
The custom sofa, based on a design by Maison Jansen, is a 10-foot-long jolt of saffrony linen. Henderson thought gilded chairs would complement the color perfectly. But the antique seating he looked at felt "a little fussy and a little too feminine," he says.
At London's David Gill Gallery, he found a contemporary chair by Garouste & Bonetti with curly, gilded arms that was "exactly what we needed." He bought four and covered them in a wool sateen to play off the black and white drapes.
Then, he took a bookstand by the brothers Simon and Nikolai Haas — one of a series commissioned by Phaidon to hold its massive book on Rihanna — and by placing a slab of stone where the volume would be, turned it into a coffee table. The form of the 66-pound, cast-resin and 18-karat-gold piece suggests water dripping upward.
Henderson kept the existing crystal chandelier, which, he says, "harks back to an earlier era of New Orleans glamour." He added to that glamour with ornate mirrors over the fireplaces and an imposing, antique carved-wood cabinet, a family heirloom, near the window. The abstract painting by Angel Otero and the ring of faces with lightbulb noses by Evan Holloway pull the room back into the present.
Thanks to the carvings, the mirror, the water dripping up, the crystals dripping down and the swoopy gilt arms, the room is as bold as the Holloway and as painterly as the Otero.
The dining room, almost as large as the parlor, also needed more than the standard, centered suite of furniture. Accordingly, Henderson placed at one end a large mahogany-topped table surrounded by reproduction LOUIS XVI CHAIRS in black leather, flanking these with a pair of curvy plaster consoles from SERGE ROCHE.
That left enough space for Henderson to create two large seating areas, bringing together custom settees with undulating backs (mid-century Italian in feel) and custom swivel chairs inspired by the work of Edward Wormley. Most dining rooms are empty between meals, Henderson notes, but this one's conversation-friendly arrangements, with their swoops and swivels, ensure that it's used all the time.
The move was bold. But why not take some chances? The clients, after all, installed One Day, ELMGREEN & DRAGSET's 2016 sculpture of a boy and a gun, which is more provocative than even the most audacious interior design.
The office, near the front entrance, is another space where people gather, and not just because it has the house's only television. The custom sofa and the André Sornay chairs, in what Henderson calls "merlot-y" colors, are invitations to come sit awhile. He knew the desk was going to float in the space, so it had to look good on all sides. The burled-wood Art Deco desk passed the test.
Upstairs, Henderson got to have even more fun. "I don't like to overdecorate," he says. "But I had always wanted to do a four-poster bed wrapped entirely in velvet." Here, he had a real reason for doing that: to make the clients' cavernous bedroom seem more intimate.
"My other obsession," he continues, "is Yves Klein blue." So, he chose that color for the velvet encasing the bed and then used the same fabric for draperies.
The Italian bench at the foot of the bed is covered in a linen, and the nearly seven-foot-long BIEDERMEIER daybed near the fireplace in mohair.
In the conversation area — itself as big as some living rooms — a Scandinavian lounge chair and ottoman upholstered in shearling provide a new color and texture; the greenish-blue jute carpet does the same.
The plaster light fixture is custom. Giving a sense of the scale of the room, Henderson points out that it's almost four feet square.
The first guest room was designed around a mirrored bed bought by the clients. They wanted pink walls, so Henderson chose a shade he had used before and loves. "The room absolutely glows," he says. Raspberry upholstery takes the ice-cream-parlor palette up a notch.
To keep the room from becoming cloying, he introduced neutrals in the form of a wicker chest and sisal rug. There are two other guest bedrooms, one Kelly green, the other chartreuse.
But on his most recent trip to New Orleans, Henderson stayed in the pink room. "It has multiple exposures and there are beautiful views of downtown New Orleans," he says. "Plus, pink is one of my favorite colors.
"That room," he concludes, "is just so welcoming and warm to be in."
Shawn Henderson's Quick Picks