April 2, 2023Bay Area native Michael Hilal — anewly minted member of the 1stDibs 50 — was always interested in design, but his family thought a creative career offered less stability than business. So, he studied communications in college and, after graduating, went to work in tech. During the 2010s, he rose through the ranks in product strategy and development. But he was unfulfilled, and, by 30, he was planning a professional pivot to interior design. The field wasn't entirely new to him. His mother's family had for several generations owned an upholstery shop.
In the beginning, he was, "an extreme hobbyist," he says. "I made some furniture, and I took on some small interiors projects. I wanted to test the waters." During this period, he developed his own compelling aesthetic: Part California modern in its embrace of nature, free-flowing spaces and easy elegance, it was also characterized by a strong sense of structure and a surprising palette of what Hilal calls "muddy earth tones."
For all the confidence of his vision, he was pragmatic enough to know he couldn't master design's technical aspects without training. And so, while still a tech executive by day, he enrolled in an interior architecture MFA program through UCLA. The combined demands of work and school were beyond onerous, however, and halfway through his coursework, a professor urged him to quit school and get some clients. "The taste level is there," the instructor assured him. And the clients were too — through Hilal's extensive tech network.
A couple Hilal met in the fall of 2019, not long after launching his eponymous firm, hired him to design the interior of an 8,500-square-foot new-build contemporary in the affluent San Francisco suburb of Hillsborough. The pair — she's in tech, he's in finance — envisioned a true California showplace for themselves and their twin son and daughter.
They wanted it to be a home where indoors and out merged, where their collection of contemporary South Asian art was brilliantly displayed and where high-powered entertaining was all but effortless. They also desired a true family retreat with a "loungy vibe," as Hilal puts it, to make it a welcoming hangout for their children and friends.
A complex program to be sure, especially for a relative novice. But Hilal took it in stride. "Maybe it's from my years in tech, but I always want to be learning," he says.
Subtle as Hilal's aesthetic can be, his spaces have their share of grand gestures. The living room of this home, for example, dazzles with a striking double-story, dry-stack, gray-stone fireplace that mimics the often-misty morning sky. And magnificent walnut-framed burl-wood-veneer doors conceal a jewel-box cocktail bar with smoked-glass mirrored walls, hanging brushed-brass and glass shelves, cabinets painted a high-gloss aubergine and a Breccia Viola marble counter.
When open, the bar doors reveal a play of hue and line that creates a compelling counterpoint to the Rana Begum sculpture installed on the adjacent wall. "I like color to resonate through the house in clever ways," Hilal notes of the pairing.
There is statement furniture here, too, to be sure, like the two Jindřich Halabala chairs and a pair of asymmetric walnut stools from Hilal's own Big Sur collection.
In the adjoining dining room, which features a stunning mother-of-pearl Verner Panton chandelier, the chairs and table are also Hilal designs. The velvet-covered seats are a nod to Panton's demure 430 chair, while the table is a distinctly architectural affair, with dramatic offset arched steel legs and a Perla Veneta quartzite top.
To give the room a sense of history, Hilal selected an early-19th-century Chinese sideboard, above which he hung two works by the late Bangladeshi artist Kalidas Karmakar and Apparatus Trapeze sconces. When the windows are open, Hilal says, the chandelier's shell disks tinkle charmingly in the breeze, adding to the home's overall sense of calm.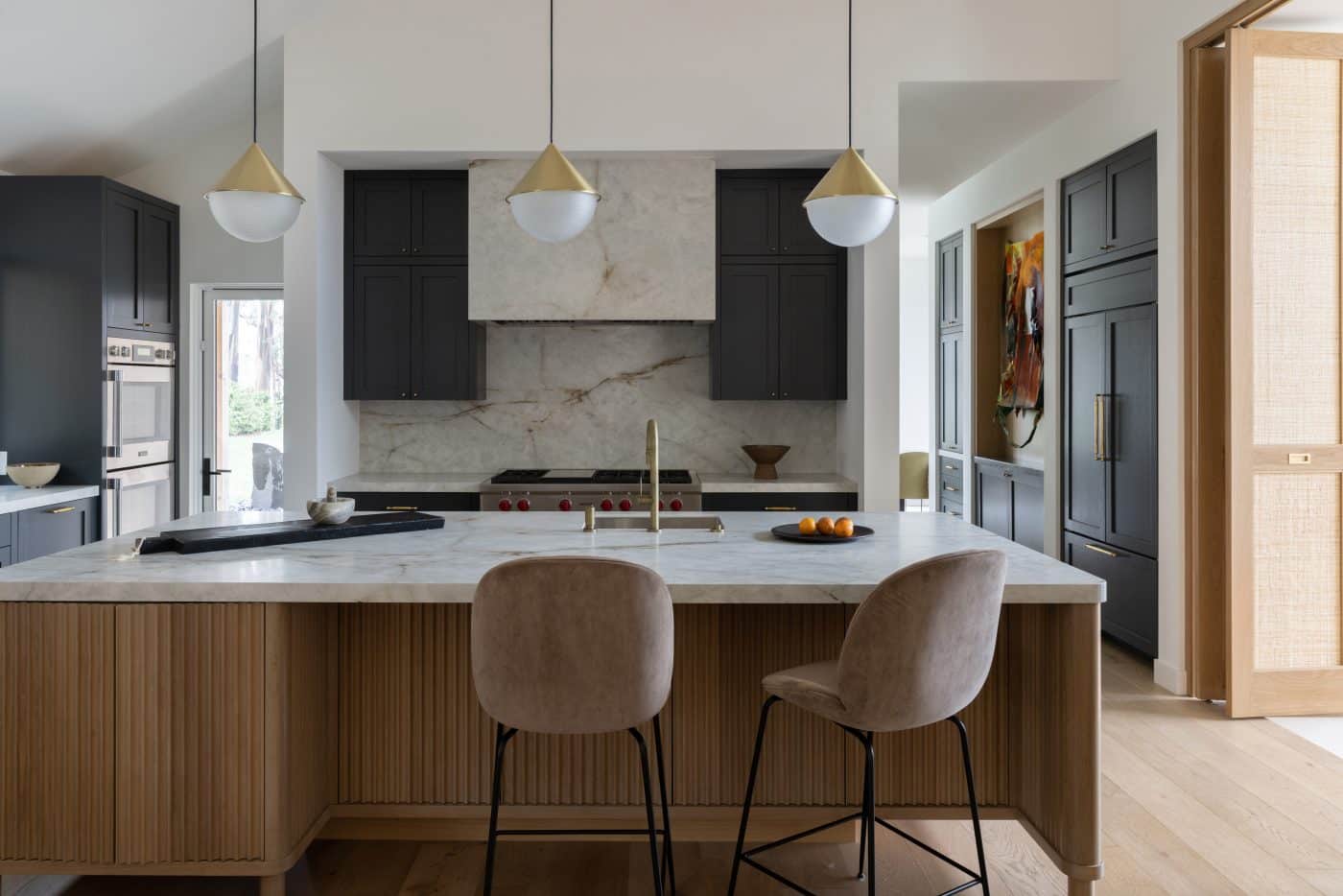 The dining room flows into the kitchen, which is spare and spacious but not without splendor. Instead of choosing overtly contemporary millwork, Hilal sought to conjure an atmosphere with no clear stylistic or period reference, selecting Shaker-style cabinetry, painted an off black, for the walls and fluted white-oak cabinets for the kitchen island.
The room's dining nook, designed for informal family gatherings, doesn't lack for luxury. It contains two more of Hilal's Big Sur stools plus a banquette, also of his creation, outfitted with a leather seat and a back cushion covered in a jacquard velvet with a print reminiscent of Tibetan tiger rugs.
At once impressive and informal, the decor of the house satisfies every desire on his clients' wish list. Yet Hilal, while pleased, isn't fully satisfied with all he's accomplished in his few short years as a professional interior designer. He's still plotting a way to go back to school to get that MFA.