Empty nesters' downsizing after their children head off to college is a common phenomenon. It's unusual, however, to hear of parents' up-sizing to bigger, better nests when the kids leave.
But that's exactly what San Francisco clients of designer Suzanne Tucker and architect Andrew Skurman did not long ago. They exchanged their smaller Edwardian Craftsman-style home for a 17,000-square-foot French neoclassical residence, which they purchased and then completely reimagined.
"They surprised themselves," Tucker says of the husband and wife, who both work in the financial sector. The immediate impetus for the up-sizing was a need for more wall space to accommodate an important art collection. This had begun decades ago with works by Bay Area Figurative Movement artists like Richard Diebenkorn and David Park and quickly expanded to include sculptures by Ruth Asawa, Barbara Hepworth and Louise Nevelson, as well as paintings by Helen Frankenthaler, Hans Hofmann, Joan Mitchell, Pat Steir, Clyfford Still and Wayne Thiebaud, among others.  
"They had outgrown the home where they were living, both in terms of their furnishings and their level of sophistication," Tucker explains, noting that the couple also collected antiques and decorative arts.
That led to the acquisition not only of this six-bedroom manse but also of a New York pied-à-terre and a beach house elsewhere in California, all of which Tucker and senior designer Amanda Ahlgren worked on simultaneously.
The San Francisco residence — which graces the cover of Tucker's third and latest book, Extraordinary Interiors, published by Phaidon imprint Monacelli — turned into a complete gut renovation that lasted five years. The house was originally designed in 1905 in an English style. In 1930, however, it was given a French demeanor, a surprising aesthetic for its renowned architect, Albert Farr, who is best known for Craftsmen and shingled Edwardian homes like the one the clients had just vacated.
Skurman and Tucker lifted the house off its foundation in order to excavate underneath, then took it down to the studs to reconfigure every room. They also created a brand-new interior architectural envelope, one that arises from a neoclassical idiom respectful of Farr's exterior.
From there, Tucker and her clients embarked on an ambitious shopping spree.
Their guiding principle? "We're not putting together a historical set of rooms," says Tucker. "We're creating a home. One of the things that makes it feel like a home is a variety of styles. That personalizes it and adds what I call a 'seductive tension.' I'm also looking to see where there is a conversation going on in a room — a scroll detail in a molding, say, that's repeated in a mosaic."
The seductive tension begins just beyond the threshold, past iron and glass doors inspired by Gilbert Poillerat and fabricated by Ateliers Saint-Jacques in Paris. There, in the generous foyer, an antique 12-sided Scottish table creates an anchor under an octagonal, brass George IV–style lantern from Jamb. These geometries, along with the diamond-patterned floor, Tucker observes, "contrast with the curves of the stairs and a suspended Ruth Asawa sculpture."
Also in the foyer are Han dynasty vessels, a Diebenkorn painting and a Hepworth sculpture that sits atop a customized Lucy Johnson Etruscan-style console standing below a 1770s giltwood mirror. The space brims with contrasting but complementary materials, hues and stylistic eras.
To one side of the foyer, the living room presents a variety of "conversations," most notably between a pair of rugs from FJ Hakimian that ground the room. These share a cream-and-gold palette but express it in complementary patterns (a Greek key motif and a geometric design), which "marry" them while simultaneously defining separate seating areas.
There is color synchrony above the rugs, too: in the vivid reds of paintings by Steir and Kazuo Shiraga and between the blue hues of a Hofmann painting and the turquoise of the 17th-century Chinese vases with 18th-century French bronze mounts.
Yet the room also has its share of seductive tension in the way it gathers antique and modern elements. Custom carved Ashburton marble mantels by Jamb, George III mirrors above 18th-century Italian marquetry commodes and Louis XVI fauteuils, for example, are juxtaposed with a Philip and Kelvin LaVerne Table, a Mark Brazier-Jones chandelier from Maison Gerard and a contemporary shagreen and agate table from R&Y Augousti.
For the dining room, Tucker turned to a noted Parisian dealer, where she found Régence-period boiserie that, she marvels, "fit within six inches of the space," requiring only a small reproduced section to fill it out. She asked the dealer to triple bleach it ("There are my Michael Taylor days coming back," she says, referring to her early mentor, an icon of Bay Area decor). He balked at first, but after following her lead on one panel, he was convinced.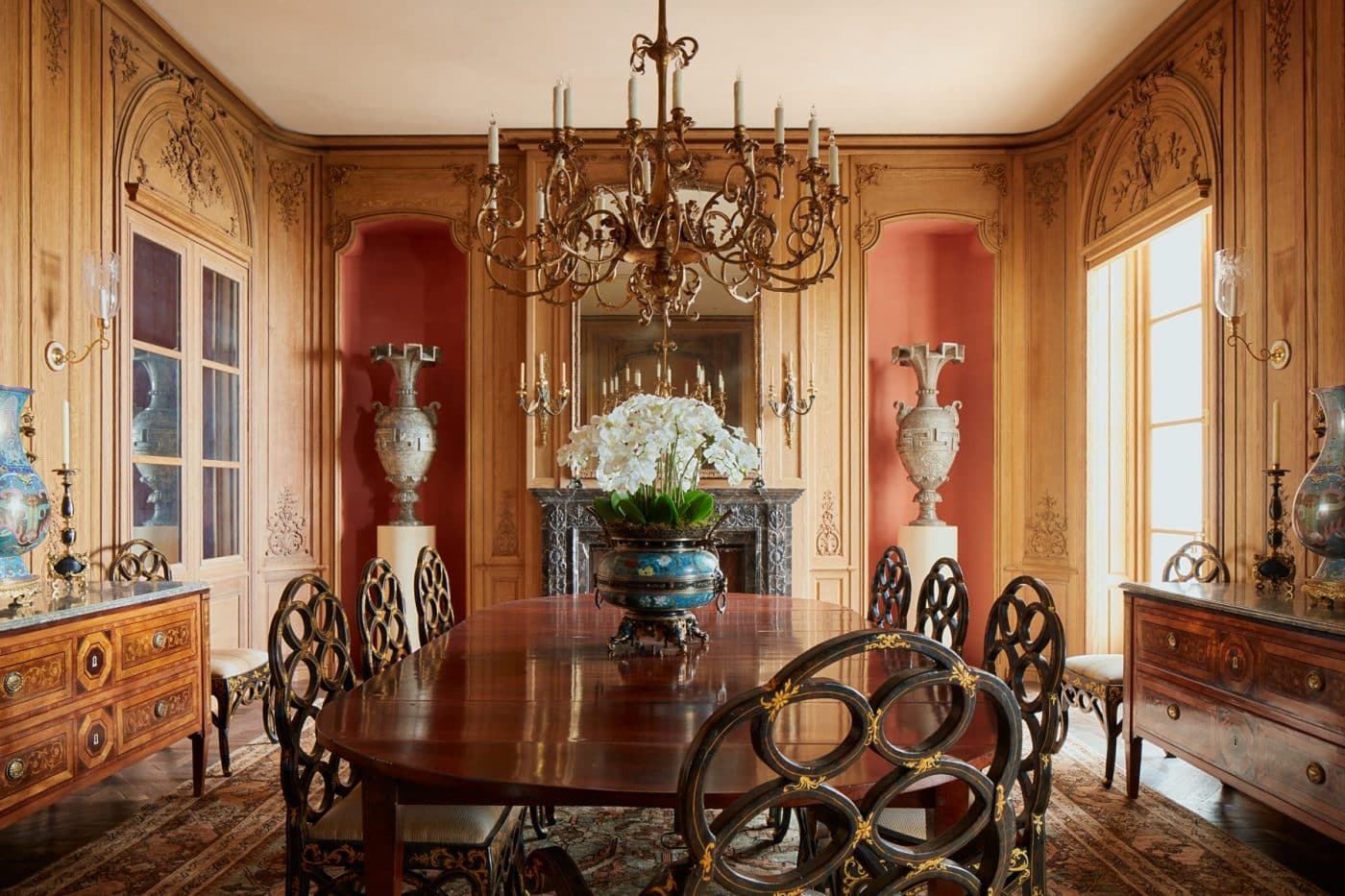 Tucker created two niches to accommodate a pair of alabaster Tuscan vases from about 1840. Central and East Asian touches include an 1800s Sultanabad carpet from Mansour, 18th-century japanned loop chairs she discovered four years before the house was completed and Qianlong cloisonné jardinieres.
For another niche, "I didn't want anything eighteenth-century," the designer says. "I wanted something big and unexpected, something that would give visual relief but still speak to the quality of the pieces in the room."
She satisfied this desire with an Ingrid Donat console whose patinated bronze texture "captures the light so well and has a presence to it." This she paired with a second Diebenkorn canvas. For the dining table, she selected a French Directoire piece.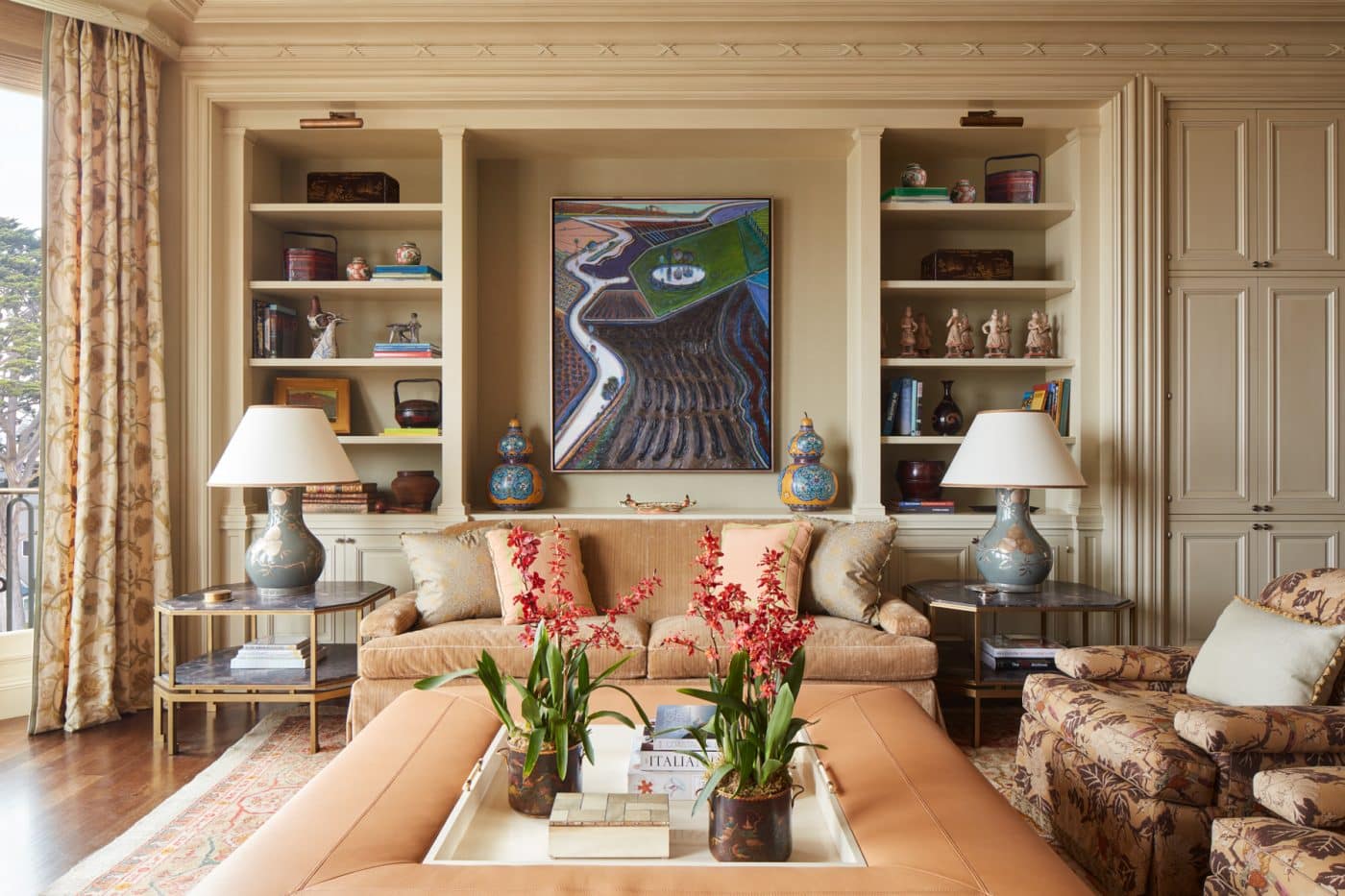 Off the dining room, a curving library graced with magnificent San Francisco Bay views exudes the mellow warmth of wood through the dialogue initiated by its painted faux-bois walls and custom window banquette upholstered in faux-bois fabric. Here, Tucker deployed 19th-century giltwood and ebonized armchairs in the manner of French cabinetmaker Jean-Joseph Chapuis, antique elements she contrasted with 1980s etched-brass tables by Christian Krekels from Bernd Goeckler Antiques and a 2006 library lantern by Alexander von Eikh from Liz O'Brien.
Appropriately, Tucker's seductive tension eases somewhat in the primary suite, where celadon-fabric-covered walls and upholstered comfort create a sense of alluring sensuality. But it does not disappear completely. Frissons of excitement arise from the punctuation of the muted palette by an 18th-century black-lacquered Chinoiserie cabinet, a strongly hued figurative Park work mounted above it and, facing both across the room, a boldly gestural wall-sized painting by Mitchell.
A quieter interjection is proffered by Georges RouaUlt's L'Asiate, dit aussi Orientale — an oil on panel in a frame painted by the artist, acquired by the clients at auction — which, Tucker says, "required a very intimate space."
Although the couple purchased the California beach house and New York pied-à-terre later, Tucker finished them before work ended on the San Francisco home. The fact that its comprehensive transformation took five years highlights the designer's and, more importantly, the owners' commitment to their vision for this elegant residence.
"This wasn't their first rodeo," says Tucker. "They embraced this project and the vision for it wholeheartedly — and with tremendous passion for art and design."
Suzanne Tucker's Quick Picks