October 31, 2021"I hate talking about decorating," Victoria Hagan confides within a minute and fifty-three seconds of answering a Zoom call to her study in Southport, Connecticut. This might come as news to many of her clients, who have been dialing her up from New York, Nantucket, Palm Beach and Montecito for decades to talk about little else. Has there been some misunderstanding?
What she means, it turns out, is that she'd rather do the work than natter on about it to a journalist. And doing the work is what the designer has been up to since her public debut — in a 1988 New York magazine cover story with her late partner, Simone Feldman — earning a well-deserved reputation for stylish, serene and high-functioning spaces. Now and then, she breaks her silence to write a book, as she has just done.
"I never want to do a book unless I have something to say," Hagan says. "With the last few years, there's been something to chat about. We're living in a different way. COVID has been a game changer — forever, now, no?"
Although Hagan's journey through the pandemic has been relatively smooth, spent mostly with her family in Southport, she's come away with a new appreciation of home, nature and family rituals, and with a conscious desire for deceleration. Realizing that these experiences have been widely shared, with home becoming a powerful new focus, Hagan decided to seize the moment and write a book. (She also, like the rest of us, came to this state of resolve from one of panic: "We'd closed the office. I thought, 'Oh, my goodness, I didn't think I was going to retire so soon.' And then I thought, 'Victoria, you are nuts! You've been training your entire life for this.' ")
Hagan's new volume, her third, explores the many ways interiors can be enhanced to offer deeper emotional rewards. Titled Victoria Hagan: Live Now (Rizzoli) and written with journalist David Colman, it offers a look at a dozen recent projects, including quite a few full-time homes freshly woven out of former vacation getaways and pieds-à-terre.
Her own Georgian-style house features prominently here, a choice that makes perfect sense. Although it's been her family's primary home since 2006, Hagan has been tinkering with various rooms over the past few years to sync them up with their multiplied uses and new potential. "Each space has evolved," she says. "That's how it should be. Changing the attitude while some things stay the same."
The most profound changes have taken place in the living room, where Hagan's signature embrace of clean lines, strong silhouettes and American classical furniture has become even more pronounced against a backdrop of softer fabrics, many of them printed or woven. It's now a place for reading during the day or for casual dinners by the fire. Framing the Palladian windows are Hagan's go-to floor-length curtains, updated with a horizontal-striped fabric that she designed. "I wanted to accent certain things," she says. "It's as though I were drawing in my home."
Here and there, Hagan pulled out the paint box. The dining room has gone from a tasteful oyster — a color she helped put on the map in the 2000s — to vintage champagne, better suited to daytime video calls and romantic late-night suppers, and her study has blossomed with a cutting-garden chintz in rose and spring green on a pair of Bridgewater chairs. In the entry hall, a newly acquired Gilbert Poillerat stone-top table displays cut branches and a charming gilt picture frame — a touch of the Americana Hagan just can't quit. Rather than playing decorative catch-up to a new aesthetic, then, her redesign reflects a deepened understanding of what the house can offer her family, now and in the future.
Sixty miles south, on Manhattan's Central Park West, Hagan worked with FERGUSON & SHAMAMIAN ARCHITECTS to transform a pied-à-terre into a full-time, duplex home for a pair of art collectors whose interests run from AGNES MARTIN to ROBERT MOTHERWELL and CY TWOMBLY, among other blue-chip names. As an example of Hagan's practical intelligence, the apartment is hard to beat; every square inch has been measured and maximized. Her talent for problem solving has induced these and many other clients to become returnees, who together account for at least half the projects her staff of nearly two dozen takes on, spread between offices in New York and Palm Beach.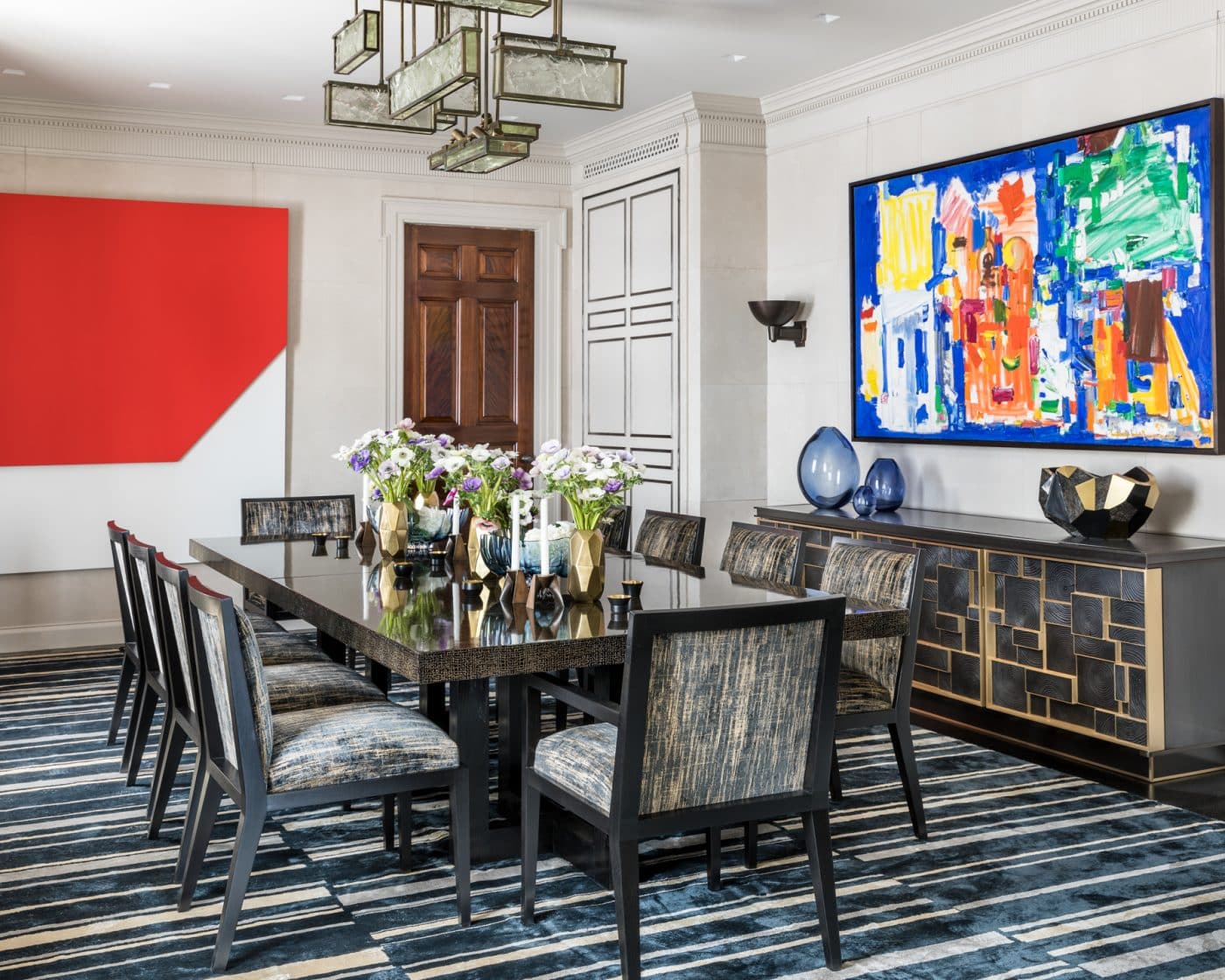 The couple pushed Hagan to give them something new, and she obliged. "Design is my sport," she says. "I'm always trying to do it better, faster, more refined." In response to the strength of the art, she introduced sculptural metal furnishings, found through 1stDibs dealers, by a fleet of contemporary Europeans — a Christophe Côme Lava cabinet, for example, from Cristina Grajales; a Franck Chartrain sideboard and Achille Salvagni coffee table, via Maison Gerard— and vintage French and Italian armchairs. The elegant suite of rooms provides one of the most sumptuous moments in the book.
A Sonoma farmhouse strikes a mellower note. Hagan designed it for a couple as a part-time home, accentuating comfort with deep sofas and armchairs and a unified palette of earth tones, crisply detailed SCONCES and STANDING LAMPS serving as a graphic language in the parchment-colored rooms. When the house suddenly became the family's pandemic retreat, they marveled at the multitude of small, smart moves Hagan had made for them, and they Zoomed from their kitchen counter to tell her so. She was moved — and relieved to hear that the house had delivered.
"I still aim for quiet, good scale and comfort. That's what it's all about," she modestly sums up her work. "How does it feel? That question used to be my secret sauce. Now, I don't hide it anymore. It's the first thing I ask a client. 'How do you want it to feel?' " Hagan may not like to talk about decorating, but she does love questions — as long as they have a purpose.
"As a designer, I'm always trying to make it all come together," she says. "So it feels good, like home."
Victoria Hagan's Quick Picks