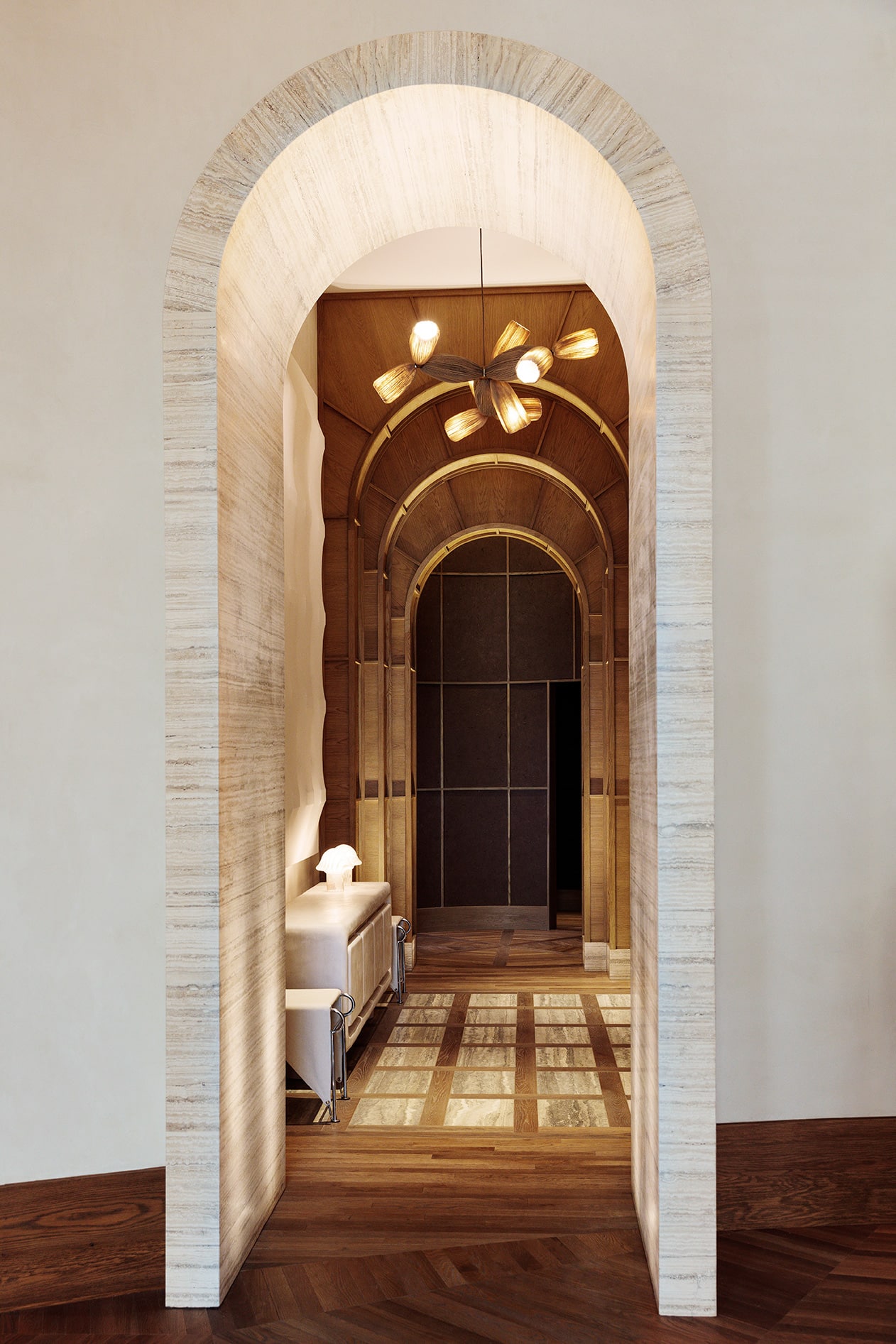 Travertine began cropping up on our radar a couple of years ago when designers were jumping on the mixed-marble trend. This year, the beige limestone seems ubiquitous, appearing in the jagged slabs of Brazilian architect Otto Felix's conceptual Sibipirunas House for the CASACOR design event in Brazil and in the archways of Kelly Wearstler's buzzy Santa Monica Proper hotel.
A quick search on 1stdibs turns up beautiful contemporary works, from Kueng Caputo's Half Way to the Universe stool to Carta Bianca's Gilded Cross table. And Carlo Scarpa's 1985 Argo dining table continues to captivate.
At a time when the world is filled with uncertainty, travertine exudes calm and permanence. "There can be an almost retro association," says Laura Aviva, creative director of L'Aviva Home, noting that the stone (in one of its many comebacks since ancient times) was a 1970s mainstay. "But it can also play out as very sleek and modern. It's really endlessly versatile, and we adore seeing how different designers use it in a wide range of projects."
Here, we spotlight 14 travertine treasures, old and new, along with thoughts from their makers and sellers.
---
Fratelli Mannelli Table Lamp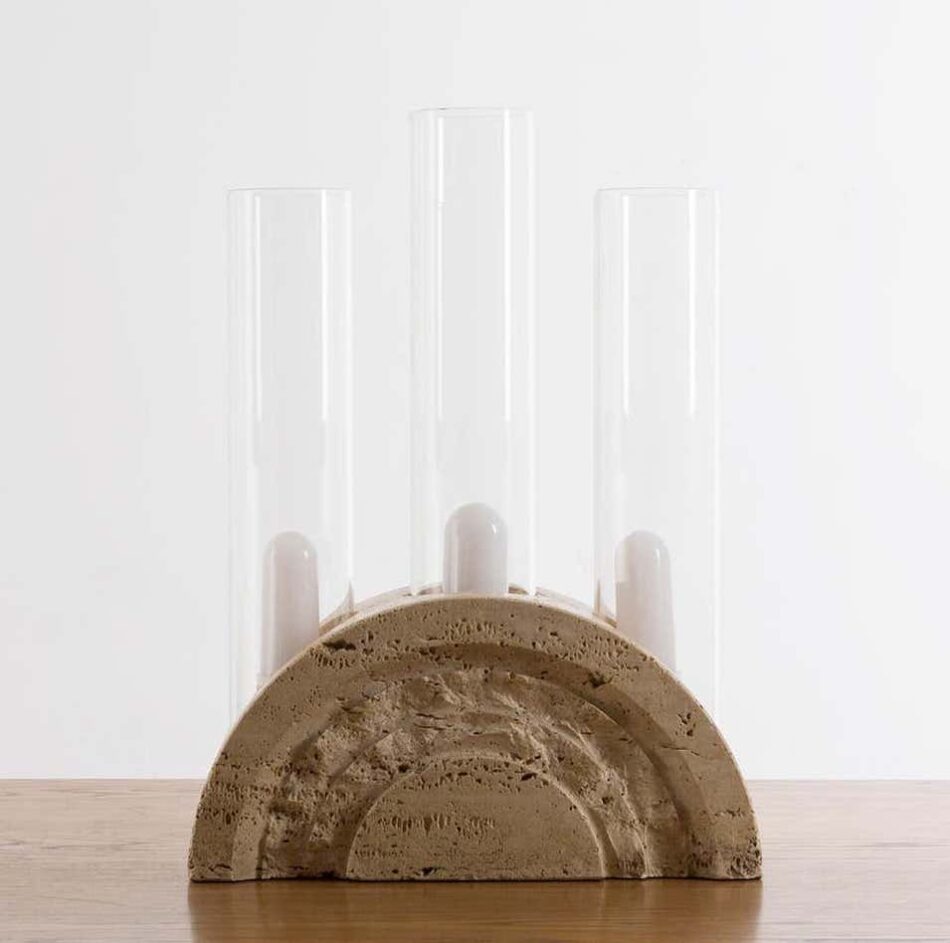 Very little is known about Fratelli Mannelli, a mid-century sculptor who clearly liked working with travertine. But the internet abounds with his quirky creations, from card and letter holders shaped like roosters to Brutalist bookends and penholders. This eccentric table lamp, made in the 1970s and offered by Fragile, would bring a touch of postmodern fun to any table or desktop.
---
Laun Chord Daybed
Los Angeles designers Rachel Bullock and Molly Purnell usually use metal and terrazzo for the pieces they create under the name Laun. But for the Chord indoor/outdoor daybed, they had something different in mind.
"Visually, we were inspired by the monolithic qualities of some of the architecture in Los Angeles," says Bullock, citing Rafael Moneo's Cathedral of Our Lady of the Angels. "It's this really beautiful building that seems like it's suspended next to the 101 freeway downtown."
The daybed's travertine blocks support a thin copper sheet that produces a similar sensation of floating in air.
---
Enzo Mari Bookends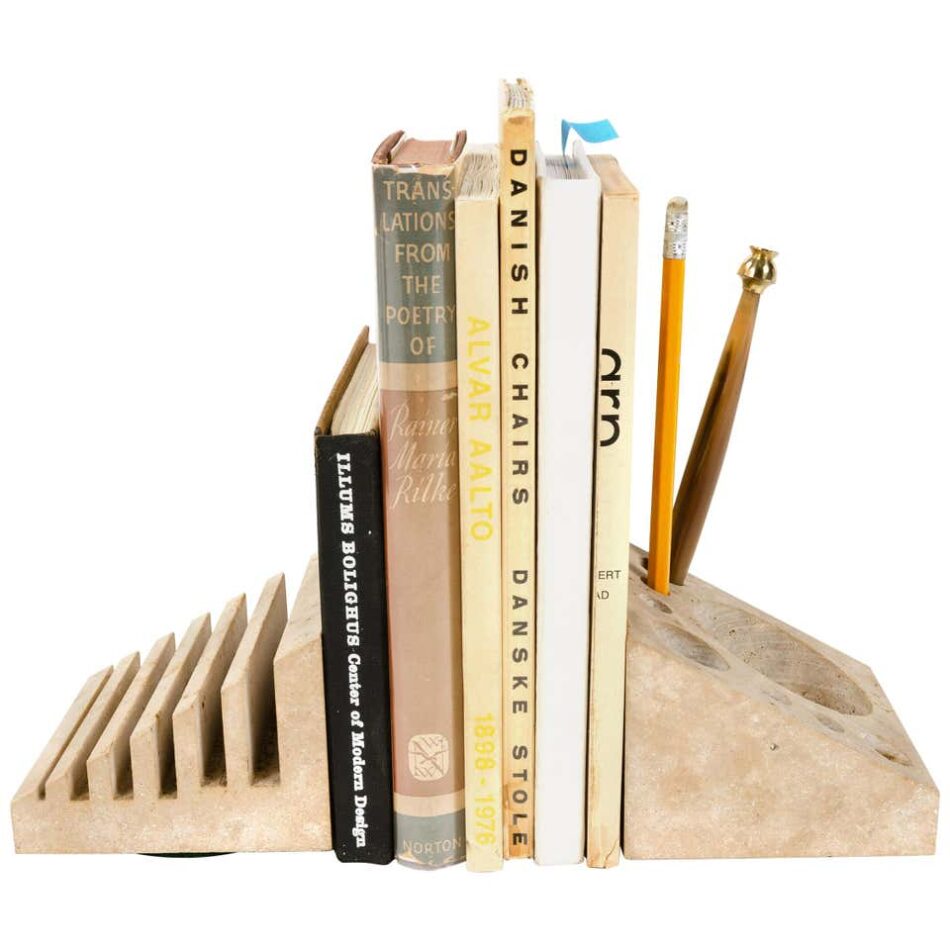 The works of Italian furniture designer Enzo Mari, for whom the impulse to create was as natural as hunger, embody both Arts and Craft influences and his communist political views, along with a humble, DIY spirit.
This desk accessory, released in the 1960s by Danese Milano and available through WYETH, is multifunctional as well as elegant, suitable for holding books, storing writing utensils and separating and sorting letters.
---
Fort Standard Planar Side Table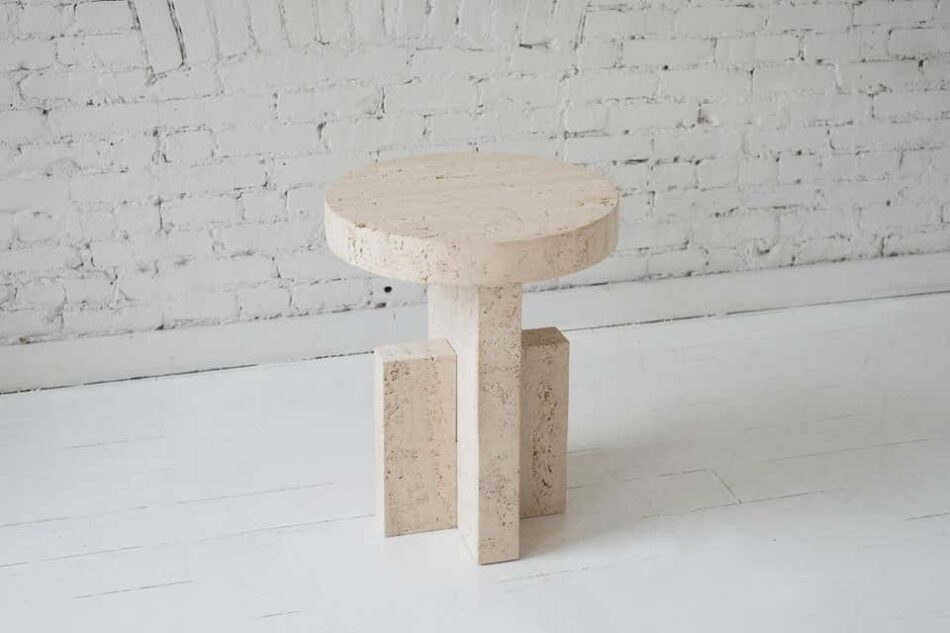 "My love of travertine began when I visited the Mies van der Rohe Barcelona Pavilion while studying abroad in 2007," says Fort Standard founder Greg Buntain. "Unfilled travertine is used throughout the space, in partitions, walls, floors and benches, which made for a lasting impression."
Indeed, a decade later and many miles away, in Red Hook, Brooklyn, Buntain crafted the Planar side table from pieces of travertine that slot together like those of a Tetris puzzle. Launched in 2018, the piece remains one of his favorite creations.
---
Addition Studio Exhale the Void Table Lamp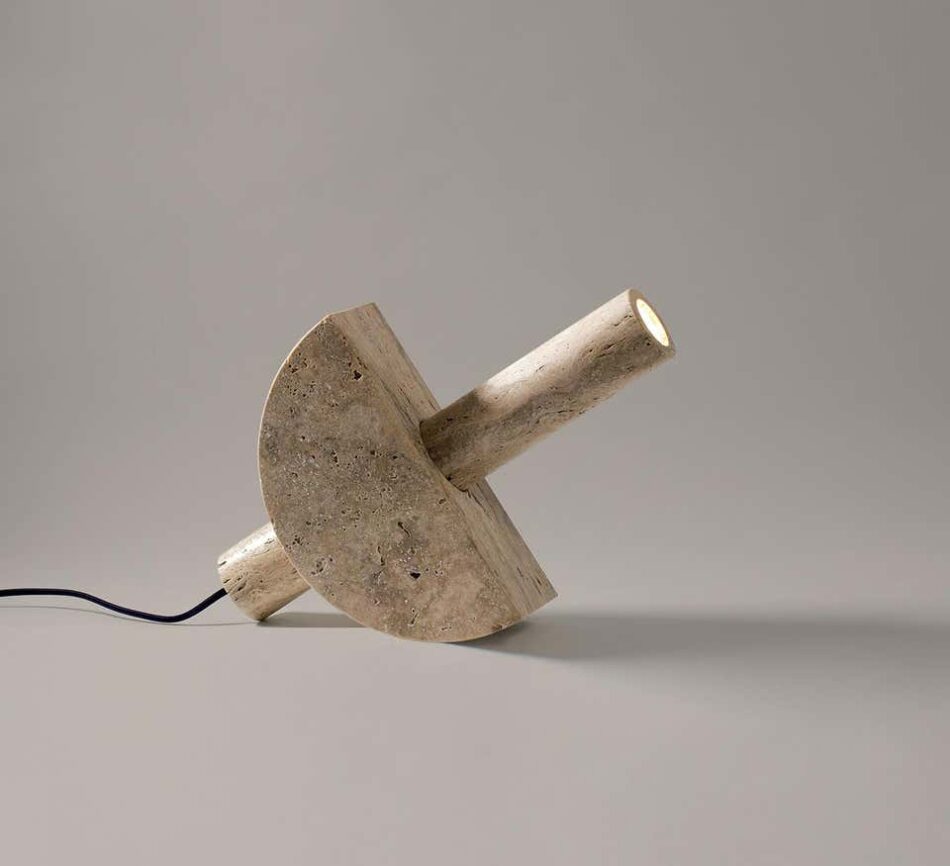 Australian designer Ryan Hanrahan isn't shy about his fondness for travertine. Having worked with the stone for five years, he's found it "blends well with most situations" and has a knockout "crater-like texture."
"It's not harsh like a black marble or boring like a white marble," says Hanrahan, who used the material, sourced from China, for his adjustable Exhale the Void table light. The resulting piece, offered by Sight Unseen, is a stunner — or, as he puts it, "functional art."
---
Kueng Caputo Half Way to the Universe Stool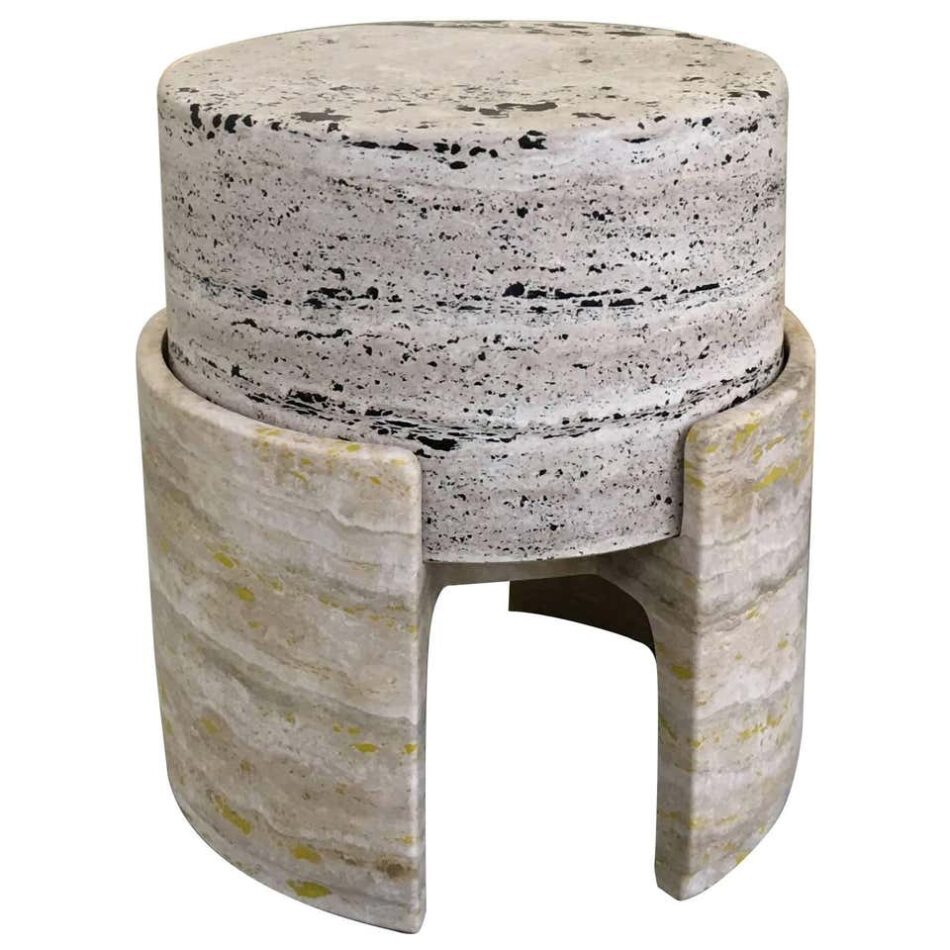 Kueng Caputo has a knack for making natural materials feel otherworldly. Case in point: the Swiss duo's Half Way to the Universe stool, composed of two contrasting hunks of travertine — one lacquered and polished, the other hand-cut and porous. Designed to function as a chair, side table or sculpture and available through Etage Projects, the piece celebrates the beauty of imperfection while winking at Memphis Milano.
---
Stillmade Tripod Table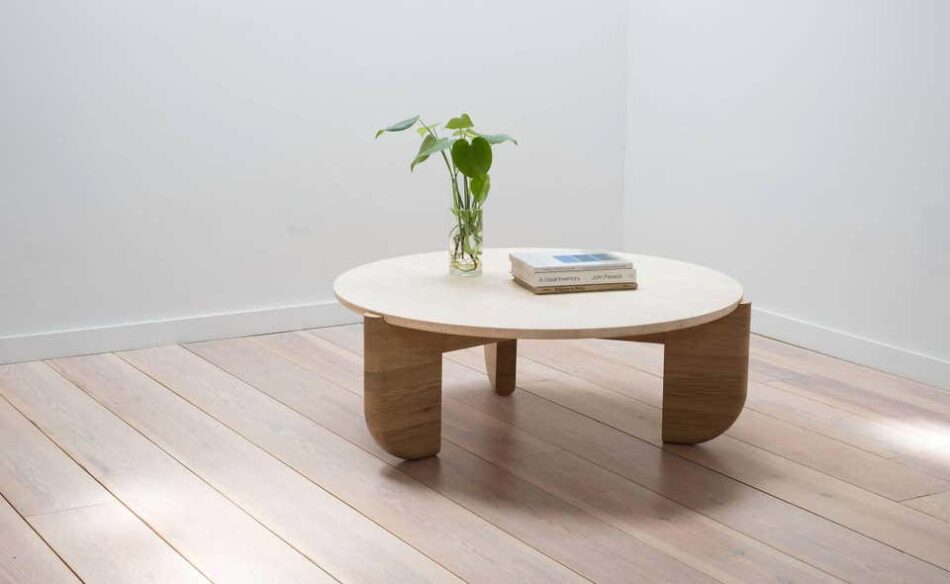 Achieving true beauty takes work. And that's as true for travertine as for other fine design materials. It's a challenge to find high-quality slabs with just the right hue and veining. Just ask Paul Mignogna. For Stillmade's Tripod table, the New York designer settled on Italian Navona stone because of its "warm, light color" and intricate patterns. Paired with a trio of sculptural cuts of American white oak, it makes for a modern classic.
---
ASH NYC Marbicle
The seeds for the Marbicle were planted in 2015, when ASH NYC chief creative officer Will Cooper was spending time in Mexico City. "Sir David Chipperfield erected a massive museum there for the Jumex collection out of travertine," recalls Cooper, who was particularly struck by Martin Creed's site-specific striped stone floor.
That memory came back to him when he was working on furniture for a client's home on Manhattan's Upper East Side. And thus was born the mixed-marble Marbicle — "two dressers that sit inside the antique dressers that flank the master bed," as Cooper describes his creation. "The beauty is you can flip them around multiple times and always have a surface to look at. They are perfect as nightstands and equally great as side tables for your living room or library."
---
Coffee Table Attributed to Jean-Charles Moreux
Travertine shows Gallic élan in this coffee table attributed to Jean-Charles Moreux. The French architect and designer, who had a passion for gardens, was equally enchanted by baroque, classical and rococo styles. The 1940s piece, offered by Newel, stands out for its scroll-headed tapering legs, a poetic flourish that Colette, one of Moreux's celebrity clients, would have appreciated.
---
Vaust Berlin Untitled I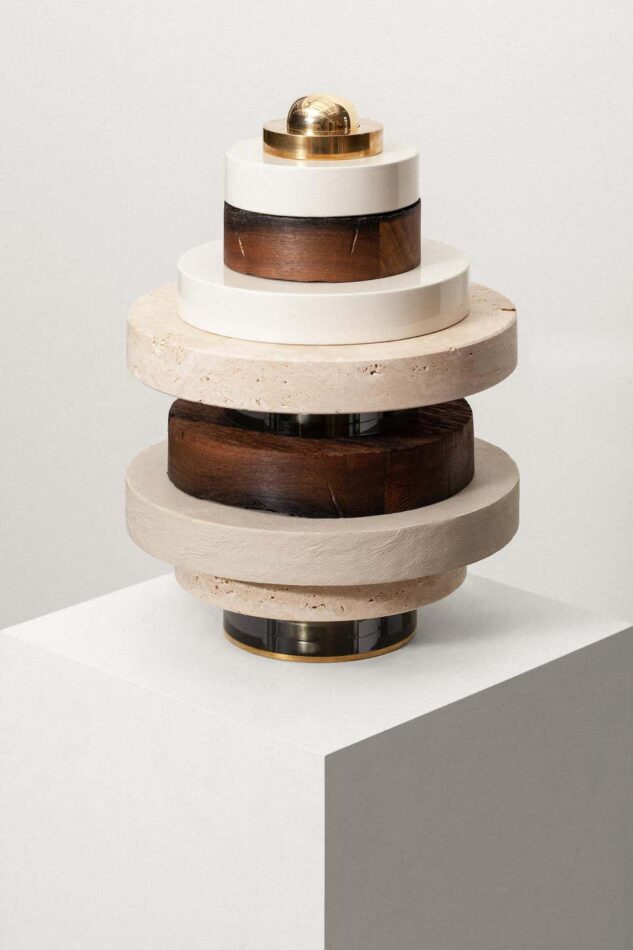 David Kosock likes to think of his Berlin Untitled I as a memento of sorts. "Each of the pieces reflects another facet of this city," says the Vaust studio designer, referring to the sculpture's alternating discs of Gauinger Travertin (sourced from the southwest German state of Baden-Württemberg), hand-carved leather, acrylic, oak and brass.
Those materials serve as metaphors for his experiences in Berlin, "from intensive nights in various clubs, to art museums, to days spent strolling around the city for understanding its history in architecture." The piece would be equally evocative standing on a plinth or sideboard or next to a lounge chair or modernist sofa.
---
Carlo Scarpa Argo Table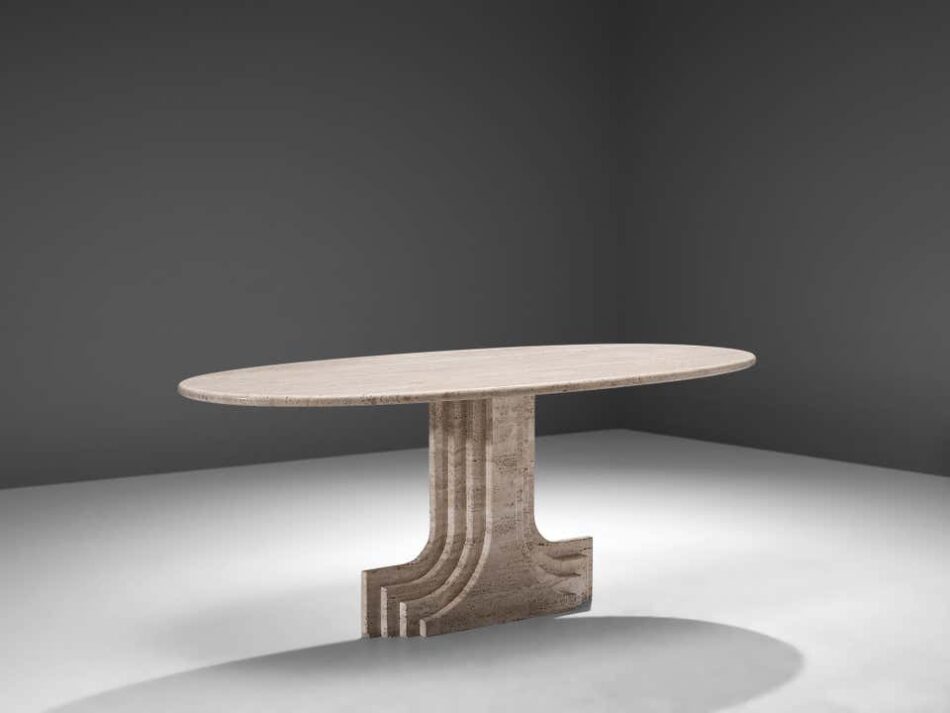 Carlo Scarpa was known for breathing life into ancient public buildings. But the 20th-century Italian architect also designed objects and furniture handcrafted from wood, stone, stucco and glass.
This Argo travertine table, 1985, sold by Morentz, is based on a series of designs Scarpa produced in the late 1960s for Simon Gavina Editions and riffs on his wider Samo table. With its base composed of stylized classical pillars, it would make a subtly luxurious statement in a dining room.
---
L'Aviva Home Piedra Lights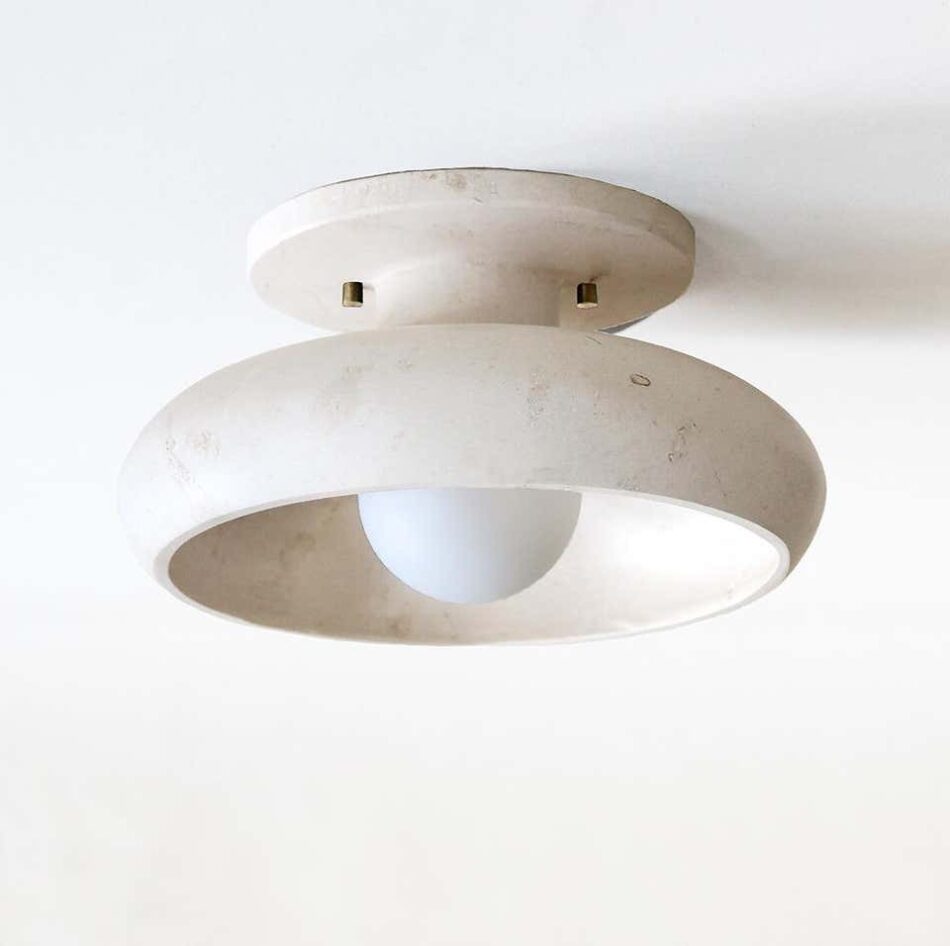 Stone, including travertine, is the star of L'Aviva Home's Piedra collection of hand-carved sconces and flush mounts. "It's a streamlined design that is all about letting the stone, and the uniqueness of each cut block of stone, really shine," says founder Laura Aviva.
The line has an archeological origin story. "When we learned that the stone for the masks of Teotihuacán is believed to have been quarried from the place being mined today by the artisans in the town in Puebla, it all gelled," she says. The pieces — each unique, thanks to the material's variable coloration — have been a hit with designers working on homes in Palm Springs.
---
Toucan Statue
Made in the Philippines some time in the 1960s, this colorful mixed-stone toucan, available from Horseman Antiques, will enliven any space. How would we style it? In the center of a mantel with a gilded clock, as Bryan O'Sullivan did in a recently restored salon in Paris, or nestled among a stack of books in a wood-paneled library.
---
Alex P. White Side Table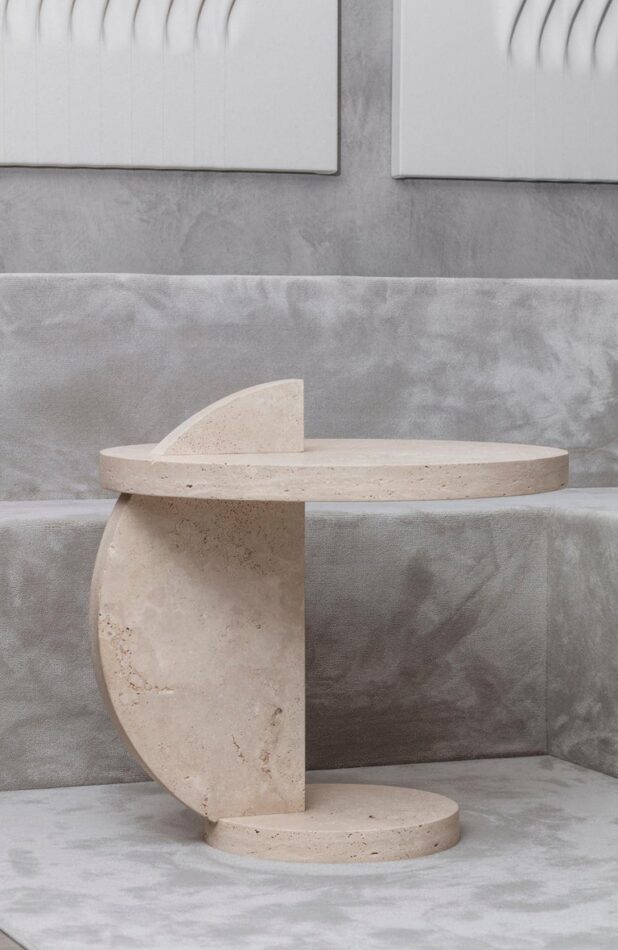 "Even though it is fabricated from several pieces of travertine, I wanted a thicker, almost monolithic appearance, as if it were carved from one block of stone," says New York and Los Angeles designer Alex P. White, describing his side table. "I wanted the most raw, porous-looking material I could find, like it was just pulled out of the earth."
That raw material has been precision cut into clean, geometric shapes, fitted together in a sculptural piece that is a true work of art — and just the right spot for a quarantine cocktail.