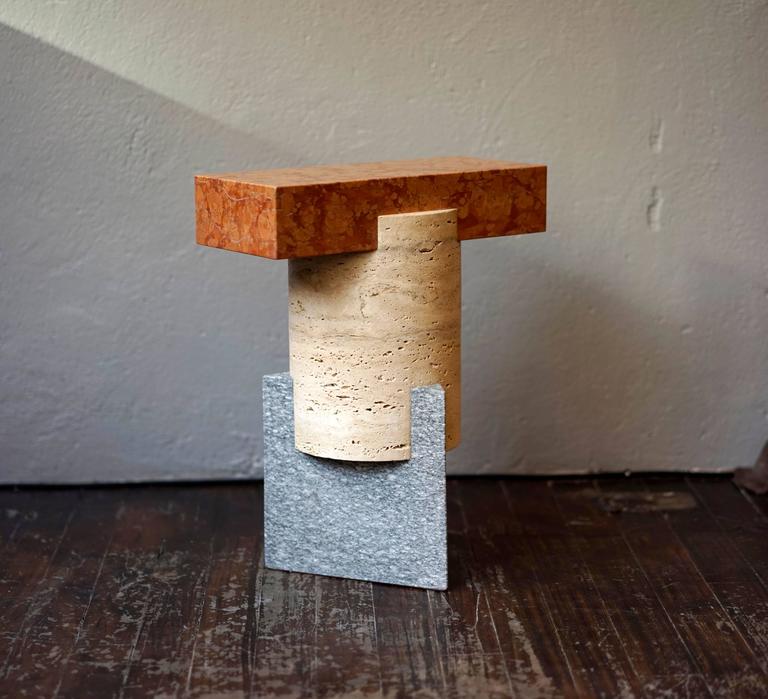 Designers love to look to the past for inspiration, as recent revivals of Art Deco and Memphis make clear. But lately they're going back even further, to the classical age of the Greek and Roman Empires, when marble was a favored decorative material.

"There is a history and a longevity to marble, which pushes the product into the realm of a modern heirloom," say Avantika Agarwal, Jess Fügler and Tino Seubert, of the global furniture firm Other Kingdom. Accessible production techniques allow them to "use and sculpt the material in any way imaginable," they explain. And despite marble's inherent challenges — it is heavy and brittle, which can make transport difficult — its natural aesthetic feels timeless and offers a welcome reprieve from technology.

"Homo sapiens are still animals — not machines yet — and sometimes we like to take it slow, contemplate and produce handcrafts that will last generations," says Matteo Cibic, whose high-profile collaborations with brands like Scarlet Splendour rely on natural materials. Here are six inventive designers whose marble creations are doing just that.
---
Atelier Lachaert Dhanis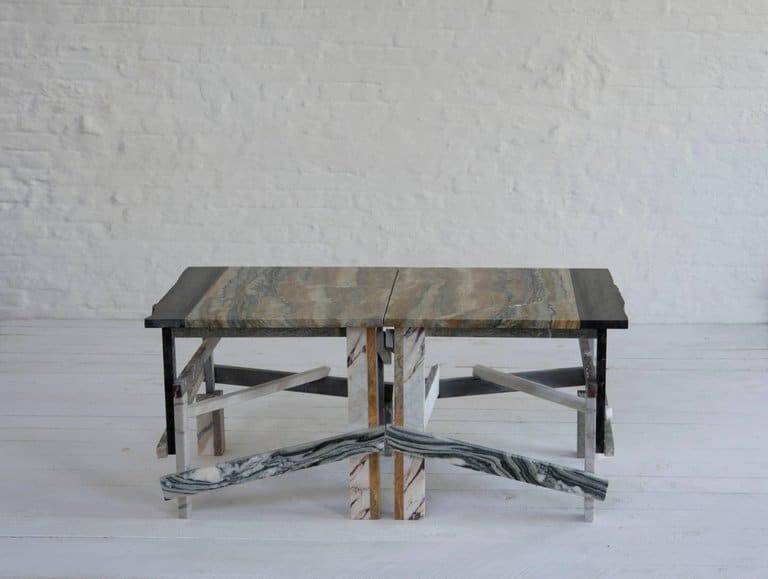 Atelier Lachaert Dhanis's Twin tables (which are not identical) may look as if they were cobbled together using leftover scraps of stone. However, upon closer inspection, you'll find that these "precious, natural segments are meticulously put together, with great respect for craftsmanship," say Sofie Lachaert and Luc d'Hanis, founders of the Belgium-based firm.
After the designers render a series of models in wood, the fragments of rare stone, including Belgian marble, are carefully assembled and finished using diamond grinding discs and sandpaper. "In a computer-controlled time, artists and designers are returning to nature," note Lachaert and d'Hanis. "Materiality has become important again."
---
Campbell-Rey
"We've always been drawn to the octagonal shape — it's found throughout history as an architectural motif in various cultures," says Charlotte Rey, one half of the London design duo of Campbell-Rey. She's speaking of the shape of the firm's Thierry line of furniture, which debuted to much acclaim last year during Salone del Mobile in Milan.
The designers also wove in Italian and Brazilian mid-century-modern touches, like warm brass and tapering legs, but the real standout factor is the combination of luxurious stones. "Materiality is very important in our work, and one of the ideas with the tables was to allow the marble to be the star," says Duncan Campbell, Rey's business partner. "We chose contrasting colors and made an almost invisible join to create the most striking effect we could."
---
Other Kingdom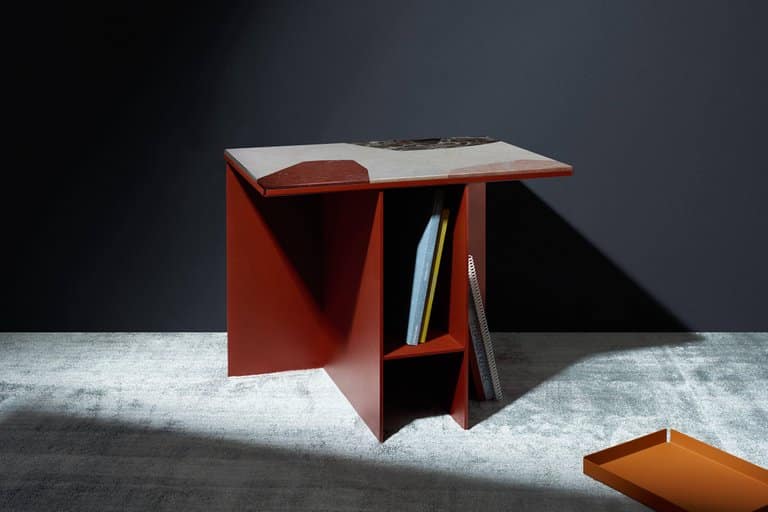 The "playful works" of the German-French sculptor Jean Arp and French Impressionist painter Henri Matisse inform the organic, hand-cut marble shapes of the Uniform side table, say Other Kingdom designers Avantika Agarwal, Jess Fügler and Tino Seubert.
"We were working with a palette of off-cut marble pieces, and chose colors and textures that we felt would complement each other best." After a client selects the colors and composition they like, the designers send their drawings to their craftsmen in India, where the parts are then hand cut and inlaid in the surface using a custom mixed epoxy that matches the stones' natural color. The result? A showpiece with a "warmth and ornate veining" that can only be found in nature.
---
Silvia Fanticelli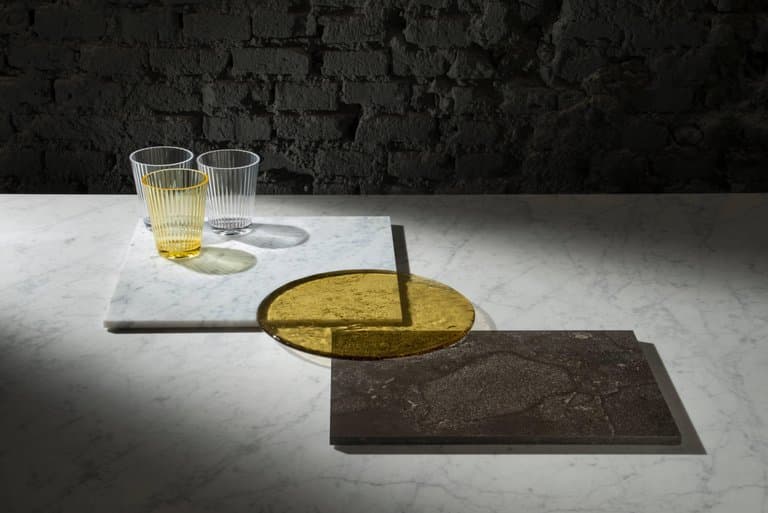 Tactility has always been a driving force for Silvia Fanticelli. In 2012, her Underpressure series of ceramic vases employed the texture of tire treads, woven baskets and cobblestone. More recently, the Italian architect partnered with local stone specialists Salvatori for a series of trays to be used anywhere in the home.
Titled Plat-Eau, French for "tray," the collection explores the varied textures of marble, augmented by colorful glass and hand-polished brass. In perhaps the most striking of the five-piece collection, a splash of yellow pops against a backdrop of gray-colored stones.
---
Michele De Lucchi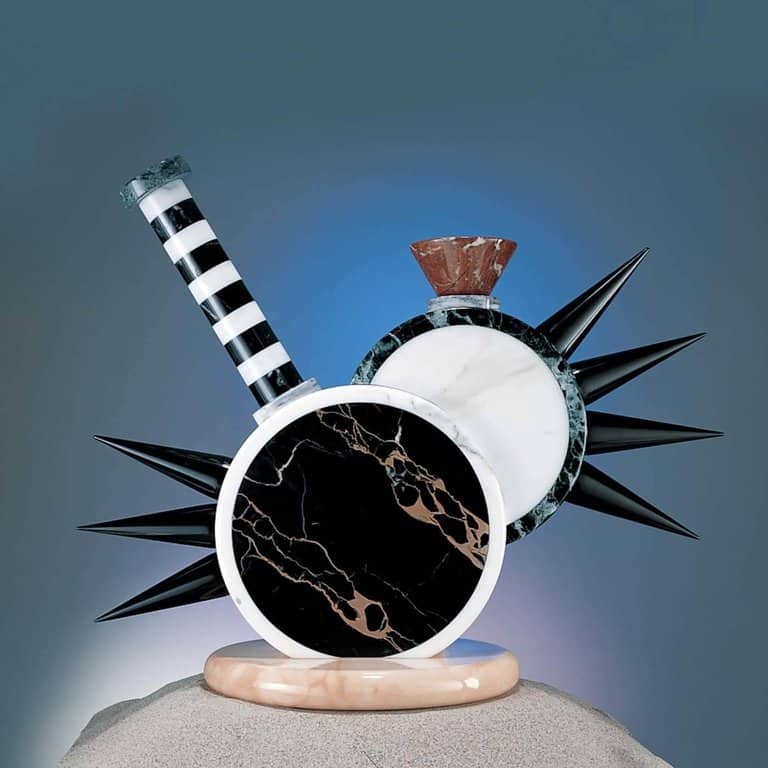 Nearly 40 years after co-founding the Memphis Group, design legend Michele De Lucchi still believes objects have something to say. For a series of sculptures with the Italian marble firm UpGroup, the Italian designer and architect found inspiration in geometric elements, like Solapuri Chaddar, traditional Indian cotton linens. Similar to their dizzying patterns, the Sholapur sculpture features contrasting discs — in white Carrara and black Portoro marble — with dramatic black spikes jutting out from each side. A black-and-white tube that resembles a swizzle stick nods to De Lucchi's mentor Ettore Sottsass.
---
Studio Superego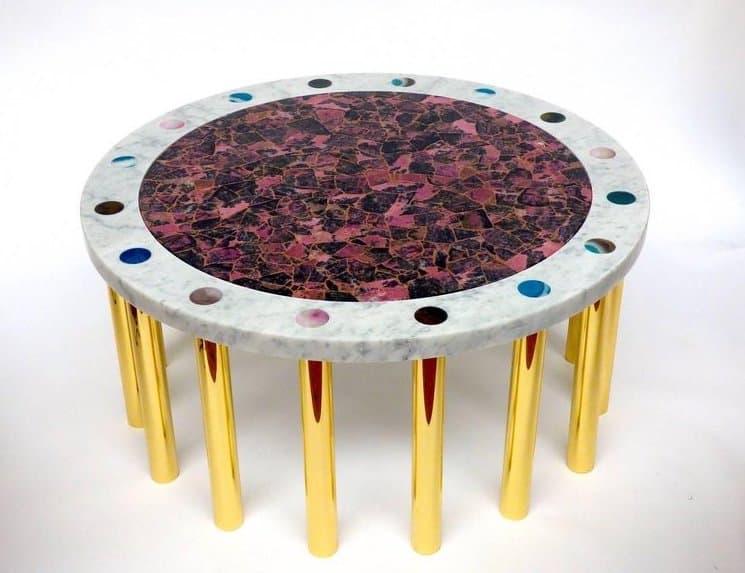 Studio Superego Cosmos coffee table A hulking disc of rose-pink rhodonite is the star of Studio Superego's dazzling table, inspired by the plebeian-style tomb of Eurysaces the Baker in Rome.
Cylindrical brass legs mimic the Romans' monolithic columns, while raw materials sourced around the world — such as agate from Brazil and malachite from Zambia — lend the table a supernatural feel. Sure, it may be composed of materials found on our planet, but its looks are out of this world.
---
Matteo Cibic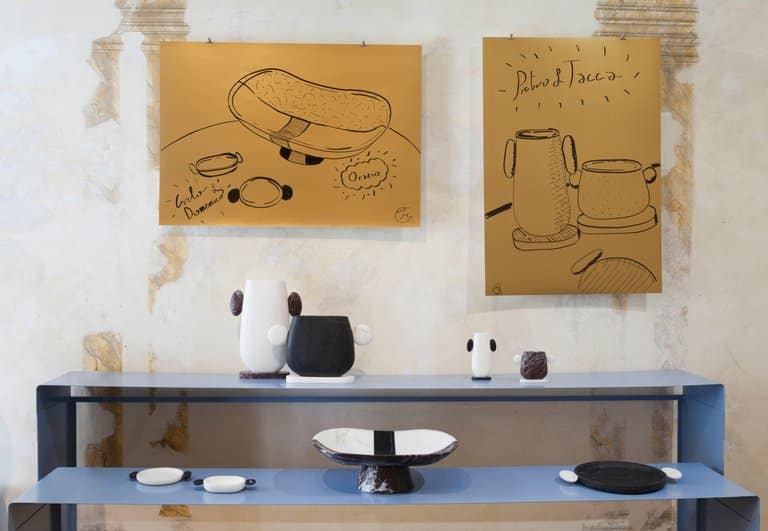 The urge to make something timeless drew Italian designer Matteo Cibic to marble. Well, he also wanted to pay homage to the fraudsters who in 1984 sunk three sculpted heads — done in the style of Modigliani — in a canal in Livorno, Italy.
Italian manufacturer Mmairo suggested a collaboration, and Cibic found inspiration in the Carrara of his home and the historic Basque region of Biscay, Spain.
Ultimately, he settled on three different types of marble: white Michaelangelo, "with its soft, almost translucent white," he says; red Levanto, "with its contrasting veins and dots," which he felt was impossible not to use; and black Marquina, which made "an ideal companion to the white Michaelangelo to represent the contrast and the complexity of life."
---