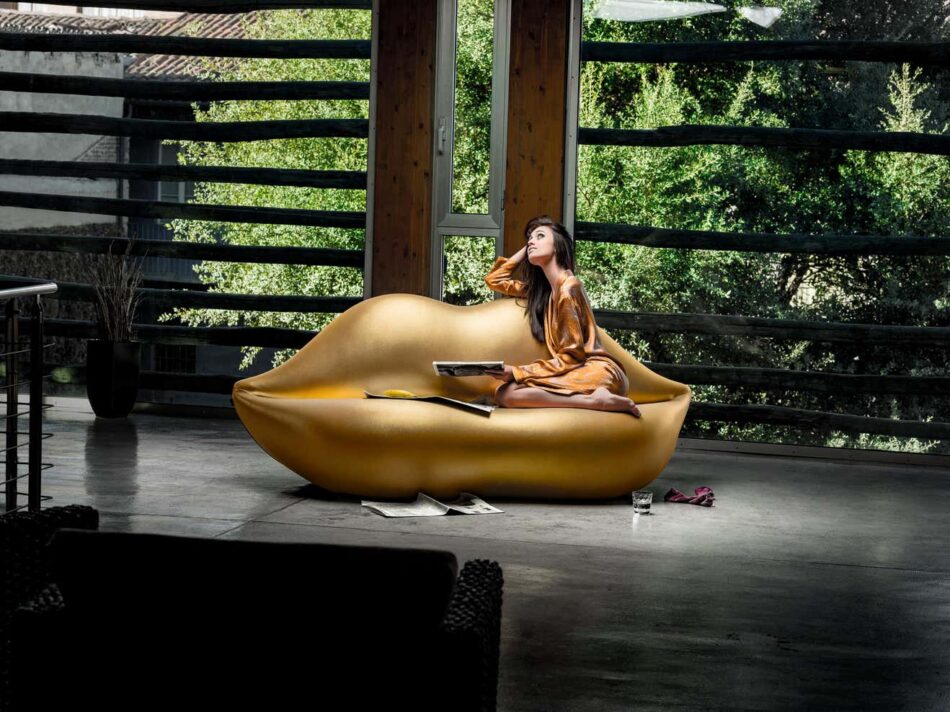 This time of year, it may look as if Hallmark has cornered the market on expressions of affection. But the iconography of love — hearts and roses, lips and cupids — has inspired some serious design by world-renowned creators. Cards, flowers and candy are sweet, but let's look at some durable goods that communicate love far longer.
---
Verner Panton Cone Heart Chair
Perhaps best known for his iconic S-shaped Panton chair, Danish-born Verner Panton (1926–98) has been a force in design since the late 1950s, when he drew international attention with his classic Cone chair and its warm and welcoming Cone Heart chair version.
---
Marcantonio for Seletti Love in Bloom Vase
The anatomically correct heart-shaped vase by Marcantonio for Seletti will allow your love to display flowers either hanging from a wall or standing on a table. Love in Bloom combines the designer's fascination with biological forms and off-beat humor.
---
Salvador Dalí for Limoges Coeur de Fraises Dish
Strawberries, ancient Roman symbols for Venus, the goddess of love, glisten on this editioned dish designed for Limoges by Surrealist master Salvador Dalí (1904–89), who often incorporated sensual images of food in his work.
---
Royal Stranger Queen Heart Side Table
Designed by Royal Stranger, the Portuguese furniture brand cofounded by architects Sofia Pinho Santos and Rui Moreira Santos, this heartfelt table, available in three finishes and two heights, was inspired by Lewis Carroll's Alice in Wonderland books.
---
Studio 65 for Gufram Bocca Couch
The idea for this inviting sofa was sparked by Salvador Dalí's 1930s portrait of Mae West, in which he envisions her face as an apartment and her lips as the couch. Created in 1970 by Studio 65 architect Franco Audrito for a fitness center in Milan, the Bocca is produced by the Italian brand Gufram, famed for its Radical Design pieces and nonconformist spirit.
---
Psyche and Cupid Tapestry
The union of Cupid, the god of love and desire, and Psyche, the goddess of the soul, was a popular subject in art even before Apuleius recorded their story in his Metamorphoses in the 2nd century. In this handwoven silk-wool tapestry, the happy couple kisses in the background, while in the foreground, musicians, poets and singers celebrate their marriage.
---
Ron Arad for Moroso Soft Heart Rocking Chair
The Israeli-born designer Ron Arad, who launched his career with the Rover chair, is known for innovation, his use of metal and the integration of technology into his pieces — some of his more recent furniture can receive and display SMS messages. Although the Soft Heart chair expresses Arad's gentler side, its tender exterior is built on a core of steel.
---
Alexandre Arrechea for SoShiro I Do Desk
Kenyan-born architect and designer Shiro Muchiri — founder and curator of the London incubator, gallery and event space SoShiro — worked with Cuban-born, Madrid- and Miami-based artist Alexandre Arrechea to create this playful desk, which says "I do" on one side and questions "do I" on the other.
---
Fornasetti Cabinet Kiss
This cabinet features the iconic lips of 19th-century opera singer Lina Cavalieri. The Milan-based designer Piero Fornasetti (1913–88) often used transfer prints of Cavalieri's face and lovely lips as graphic elements on his striking and clever furnishings.
---
Ettore Sottsass for Olivetti Valentine Typewriter
Surely love notes crafted on this sweetheart of a machine will be long cherished. Its creator, Italian architect and industrial designer Ettore Sottsass (1917–2007), famed for his leading role in the Memphis Group, selected its sanguine color "so as not to remind anyone of monotonous working hours." An example of the typewriter lives in the permanent collection of the Metropolitan Museum of Art, in New York City.
---
Merve Kahraman Uni Armchair
Merve Kahraman, who works in both New York City and Istanbul, creates furniture and other objects as integral parts of her interior designs. She dedicated her Uni chair, with its comforting deep, curly pile, to all the broken hearts.
---
Ingo Maurer One for the Recession Wall Lamp
Often referred to as a poet of light, German designer Ingo Maurer (1932–19) founded his lighting design company in Munich in the 1960s. His iconic and collectible work, such as this radiant heart, draws from both minimalism and Pop art and has been exhibited in museums and public spaces all over the world.
---
Japy Frères Porcelain Clock
Designed and produced by Japy Frères, the leading French clockmaker of the 19th century, this exquisite ormolu timepiece features Cupid ready to strike with one of his fateful arrows. His quiver and bow, along with a flaming torch, adorn the base.
---
Cedar Cassone
This museum-quality 16th-century cassone, or large chest, is incised with intricate ornamentation — hearts, flowers, foliage, scrollwork and numerous mythical creatures — indicating it was a marriage chest. Probably crafted in the Azores, a chain of islands off the coast of Portugal known at the time for its cosmopolitanism and busy workshops, this heirloom piece embodies a love for the ages.