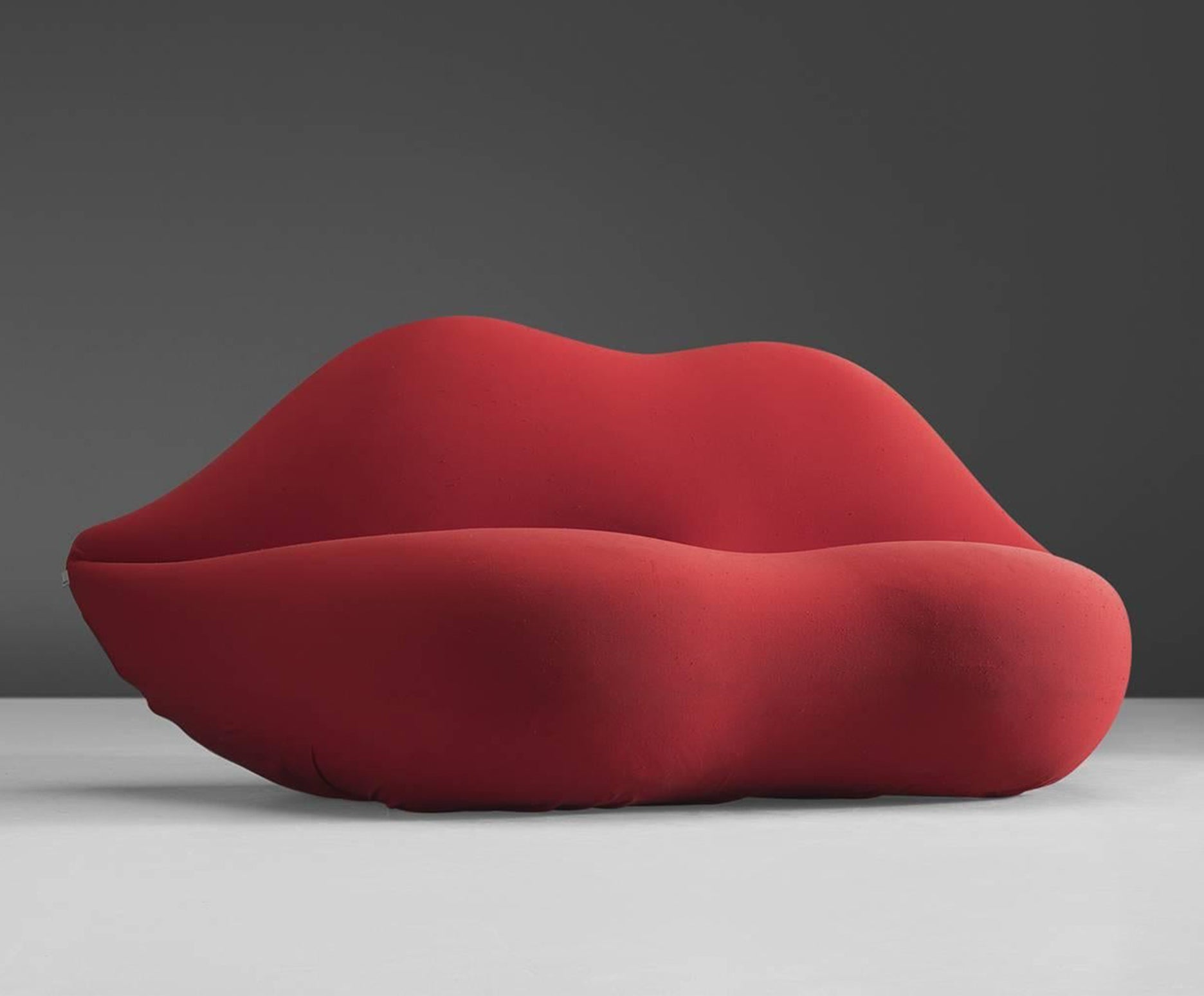 About the Design
First imagined as a statement piece for an upscale fitness center in Milan, the lip-shaped Bocca sofa — designed by Studio 65 architect Franco Audrito (b. 1943) in 1970 — has a delightfully dizzying history. 
The piece was inspired by an erotic, ruby-red-colored life-size sculpture that surrealist artist Salvador Dalí crafted of pioneering performer and writer Mae West's famously full lips. But the origins of Dalí's provocative sculpture, commissioned in the 1930s by the artist's British patron Edward James, lie in Dalí's collage Mae West's Face which May be Used as a Surrealist Apartment, a mixed-media work based on a portrait of West that the artist found in a magazine. 
As part of the fitness center that Audrito was designing, the "lips sofa" he wanted to include would be part of a "Temple of Beauty," and the architect initially called it "Marilyn" for Marilyn Monroe as well as for Marilyn Garosci, the facility's owner. It was later renamed Bocca ("mouth" in Spanish) to pay homage to its Dalí roots. The sofa was manufactured by Gufram, an Italian furniture company founded in 1966 that was renowned for its pursuit of bold, cutting-edge pieces that blurred the line between art and design, function and form. Sensual and playful, the Bocca sofa embodies that creative quest. 
Since 1970, the Bocca has been used as a prop in television, film and more, and is celebrated all over the world. It's included in the permanent collections of a number of museums. Today, two versions of the sofa that differ slightly from one another with respect to materials are manufactured by Gufram (polyurethane and elastic fabric) and Heller (resin polymer plastic).