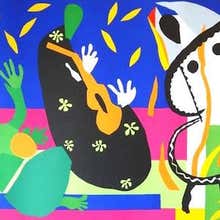 French, 1869-1954
Whether working as a draftsman, a sculptor, a printmaker or a painter, Henri Matisse was a master of color. Although classically trained at the Académie Julian, in Paris, he quickly abandoned traditional techniques and genres to pioneer a style all his own, marked by quick, gestural strokes and fluid contours.
Along with fellow painter André Derain, Matisse was the leading proponent of Fauvism, a movement whose name is derived from the French word for "wild beast." Marked by vibrant hues, Fauvist paintings like Matisse's famous 1906 composition Le Bonheur de vivre use wild, active brushstrokes and a palette unconstrained by nature, resulting in women with purple skin and trees with orange leaves. Often, these compositions unite pure color with the white of exposed canvas to create a sense of transparency and light.
In addition to masterful landscapes and still lifes, Matisse loved to paint erotic subjects, particularly the female nude. Rejecting strict realism, he distilled the form into its essential parts and then translated these into voluptuous, rounded contours. In pictures like the lithograph Nu Bleu, he explored the expressive power of a body in motion by placing his figures in twisted or conrtorted poses, transforming their limbs into tangles of color and shape that push figure painting toward abstraction.
Find original Henri Matisse art on 1stDibs.
Henri Matisse art for sale on 1stDibs
1stDibs offers a wide variety of authentic Henri Matisse art for sale. If you're looking for art to add a pop of color to a neutral corner of your
living room
or
bedroom
, you can find work that includes elements of orange, purple, yellow and other colors. You can also browse by medium to find Henri Matisse's art in lithograph, linocut, etching and more. Much of the original work by this artist or collective was created during the 20th Century and is mostly associated with the
Modern
style. Not every interior allows for large Henri Matisse art, so small editions measuring 4.730000019073486 inches across are available. Customers who are interested in this artist might also find the work of
Bernard Buffet
,
Mino Maccari
and
Jean Cocteau
. On 1stDibs, the price for these items starts at
$50
and tops out at
$245,000
, while the average work can sell for
$2,500
..
Artists Similar to Henri Matisse