We know that objects and decor can be used to tell a story; home owners, decorators and designers do it all the time. The more specific the narrative is to the people who live in the space, the more successful it is.
The Hollywood production designer John Goldsmith — who helmed the design of Perry Mason, the hit HBO series which ends tonight and has now been renewed for a second season — takes that concept to a whole new level, agonizing for months about, say, the wallpaper or a lamp in a scene that's onscreen for a few minutes and consciously noticed by just a few viewers. When chosen correctly, though, every object adds to the mood and the story in a significant way.
Goldsmith, who has two graduate degrees in architecture, fell into the business after hearing the designer Anton Furst (who won an Oscar for Batman) give a lecture at Columbia when Goldsmith was a student there; he contacted Furst and got a low-level Hollywood job. After a couple of twists and turns in life (including a stint working for Frank Gehry), he eventually embarked on a decades-long run designing TV shows and movies like All Is Lost and A Most Violent Year, both for director J.C. Chandor.
Perry Mason is his career apotheosis. "It's the first thing that's gotten this level of attention, and that's exciting," says Goldsmith, who lives in Santa Monica with his wife and three children.
A mystery-thriller set in 1932 Los Angeles and shot in a somber palette of grays and browns, the series is meticulously detailed and rich, true to the period but very much alive.
It tells how Perry Mason — the literary character created by Erle Stanley Gardner in the 1930s and spun off many times in different media, notably in a 1950s–60s TV show starring Raymond Burr — went from seedy private eye to crusading attorney. A grisly kidnapping and murder, and many buried secrets, keep the plot boiling.
The show combines actual locations — places that exist in the real world and can be dressed up to look like it's 1932 — and built-from-scratch studio sets. They are blended into a seamless whole by Goldsmith and the team of people he leads.
"I love research, and this required so much of it," says Goldsmith, who had to truly nerd out about the 1920s and early '30s. But he didn't incorporate references to, say, Jean-Michel Frank, René Laliqiue and Russel Wright. "It was the opposite of that," he says, "nothing iconic, instead getting at what was common among people back then."
Goldsmith has one rule that guides everything he does: "I don't want anything on any set that does not have a reason for being there."
The starry cast, led by Matthew Rhys as Perry Mason, noticed the attention to detail. Veteran actor John Lithgow, who plays E.B. Jonathan, a once-grand lawyer increasingly out of step with the times, was shooting a scene in a period-appointed home set when he stopped the proceedings to pay a compliment.
Goldsmith heard from director Tim Van Patten that Lithgow "gestured broadly, with his hands sweeping across the room, and said of the production design, 'Everything has been beautiful, authentic and poetic.' "
A great example of Goldsmith's talent for elaborating on the script, and the backstory as invented by the writers, is the simple farmhouse where Perry Mason lives, unhappily. "He's inherited his house from his parents, and all the decorating choices were primarily his mother's, and there's an oak roll desk from which his father managed the dairy farm," says Goldsmith, describing the layout, which manifests the narrative through design. "It has a heavy presence."
Even subtler messages are suggested by the living room wallpaper, a floral vertical stripe that, in the show's purposefully murky cinematography, reads like "bars in a cell," says Goldsmith. "That's what I wanted, this idea of his being trapped in this house."
The law office space occupied by Lithgow's E.B. Jonathan character has a similar theme. Bronze grills over the outside of the windows are "beautiful but oppressive," Goldsmith says, and the bluish wall color is "not really a color at all."
A 1920s Tudor–style house in Hancock Park was a perfect shoot location for Jonathan's home. Goldsmith decided the character's slide from respectability could be illustrated through the decor: "What if downstairs was fully furnished with beautiful things and upstairs he's had to sell off most of his stuff?"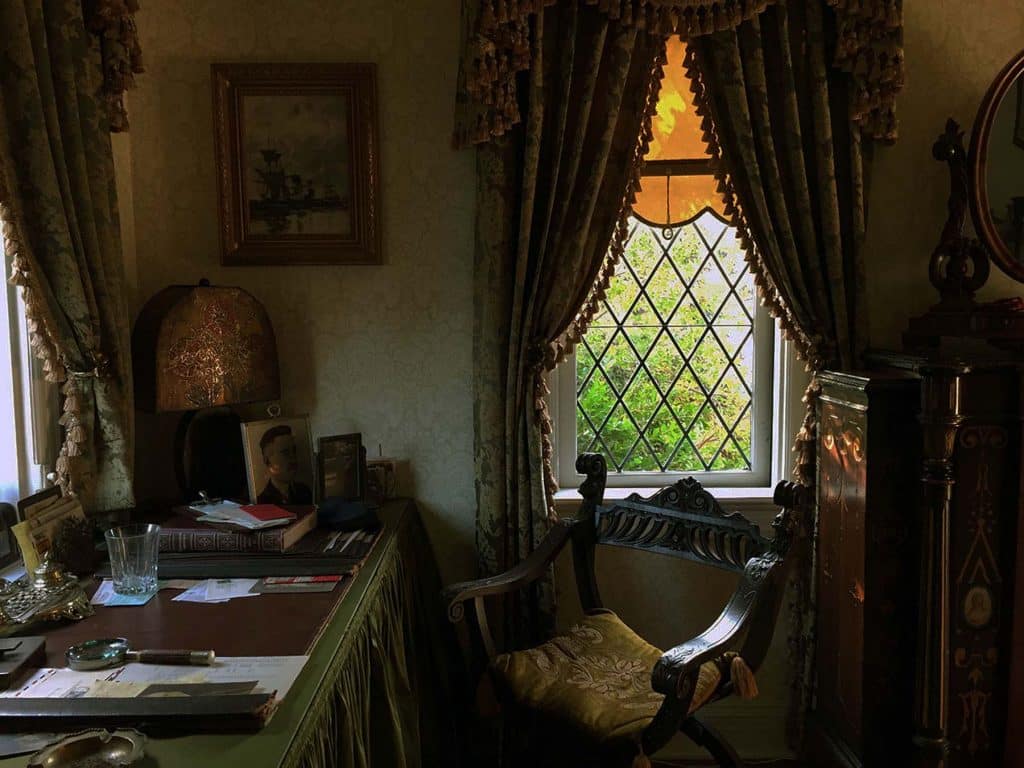 For instance, Goldsmith altered the very modern bedroom of the current residents by adding 1932-appropriate pea green silk to make the window seats look like vanities, the type of decor that might have been selected by Jonathan's wife before she left him —a deep backstory detail indeed. Another touch: a Spanish-style carved dark-wood chair with a tasseled seat, sourced from the Warner Brothers props department, one of several studio troves that provided many of the furnishings for the series.
Goldsmith talks about the Jonathan character, one of his favorites in the show, with such profound empathy that he seems to be conjuring the man into flesh and blood. "It's all about finding visual expressions for these intimate interior lives," he says.
This approach is exemplified in the Tiffany-esque stained-glass lamp on the desk of a boarding house bedroom (another evocation of faded glory), as well as the home where an African-American police officer and his wife live. Its living room and bedroom are wallpapered, to show their aspirations and upward mobility in a time of change, but the rest of the house is fairly plain, to indicate that they have not made it yet.
A single piece of furniture can be imbued with much meaning in the hands of Goldsmith and team. Take the heavily draped four-poster bed where Sister Alice, a celebrity preacher played by Tatiana Maslany, sleeps. Sourced online by the show's set decorator, Halina Siwolop, it resembles a cage, illustrating how Alice is controlled by her mother. Its strange finials — Goldsmith isn't sure if they're acorns or pineapples — add an extra element of menace.
The show's most important built set is the courtroom where a woman stands trial, and the level of detail is extraordinary. "The space is traditional but also Moderne," says Goldsmith. "We wanted to have the sense that the future is coming. We're in transition." The wood paneling is heavy and conventional, but a WPA-like frieze near the ceiling and chunky, Art Deco–style lights hint at how 1930s design, and the world in general, will move forward, leaving some of the characters behind.
Goldsmith characterizes his personal design taste as "eclectic," adding that he loves early-20th-century Arts & Crafts and Mission-style pieces. It's a penchant reflected in the wood furniture throughout the show. As Goldsmith considers moving with his family from their current home during a challenging time in the L.A. real-estate market, he reflects that his delicately nuanced efforts on Perry Mason — and perhaps all his work — constitute a form of therapy.
"What I cannot do in my personal space, I can do in my work," he says. "It's cathartic."
---
John Goldsmith's Quick Picks