Red Hook, Brooklyn, is a tiny, out-of-the-way neighborhood that feels left over from the Industrial Revolution. Located on a curved peninsula jutting out into Upper New York Bay, it has an unobstructed view of the Statue of Liberty and Governors Island. (A car or ferry is the best way to get from Manhattan to the area, which is a bus ride away from the nearest subway stop.)
Named by the Dutch in the 1600s for its red clay soil and the point (hoek, in Dutch) of land sticking out into the bay, Red Hook has a long history as a busy port and manufacturing center. Today, it is a district of converted brick warehouses, cobblestone streets and abandoned trolley tracks (remnants of a failed transit venture), whose combination of charming decay, relative isolation and low rents have made it a haven for artists and other creatives. Glassblowing and metalworking shops began cropping up in the 1990s, followed in recent years by top-flight restaurants, on-trend boutiques and Pioneer Works, a multidisciplinary gallery and workshop.
The warehouses on or near the waterfront, such as the Civil War–era behemoth at 481 Van Brunt Street, in particular, are packed with outstanding furniture and lighting designers. Introspective talked with five of these: four in the Van Brunt building and a fifth whose studio is just around the corner, in a freestanding, freewheeling structure. They share an obsession with artisanal techniques of the past as well as a tendency to veer off the beaten path. Hence, their unusual locale.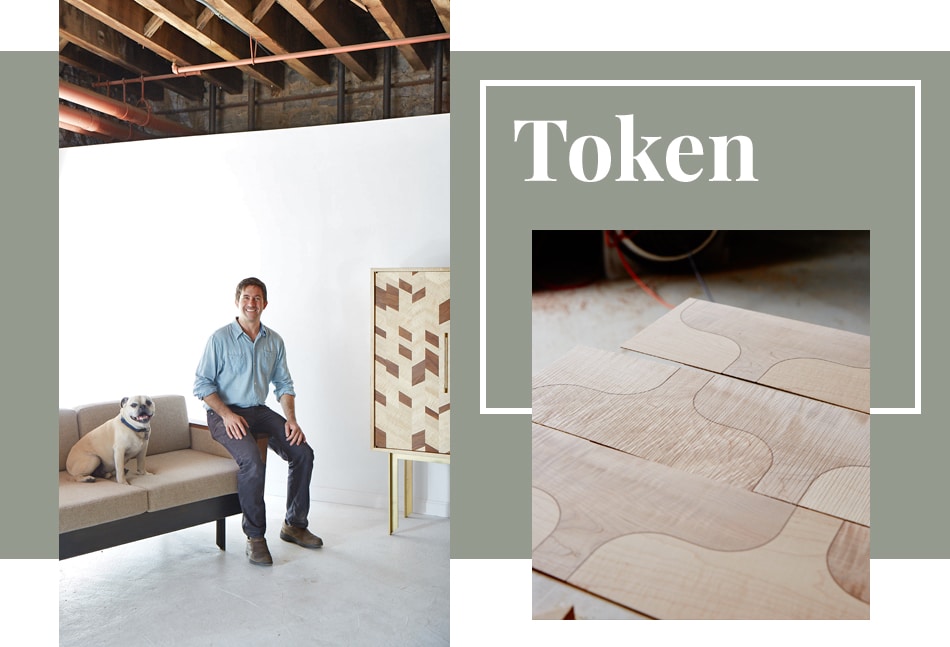 Will Kavesh earned an MFA in sculpture from Virginia Commonwealth University and spent many years making custom furniture for other designers before starting Token a decade ago. His passion is the painstaking craft of marquetry, which dates back to the 16th century and in which he is self-taught. "The Dutch were obsessed with marquetry, birds on bowls and such," he explains. "But I'm more interested in modernist painters like Agnes Martin. I try to combine the modern aesthetic with the traditional technique." (In his showroom, his furniture is complemented by hand-blown, recycled glass lights from partner company TokenLights.)
His Barnet dining table, inspired by 1960s Op art, features deep, repeating curves in various hardwoods that are unified by their grains, which all run in the same direction. In his Dorothy dry bar, rows of stacked rhombuses in dark and light woods form a pixelated geometry that pairs well with sharp, brass legs. "I want to push marquetry to a new place," Kavesh says, "kind of like what Carlo Scarpa did with Venini glass."
Above left: Will Kavesh and Henry the dog sit on a Louise sofa in Token's showroom. To the right is the Dorothy dry bar. Right: A studio-cut veneer marquetry piece in progress, featuring curly maple and American walnut.
---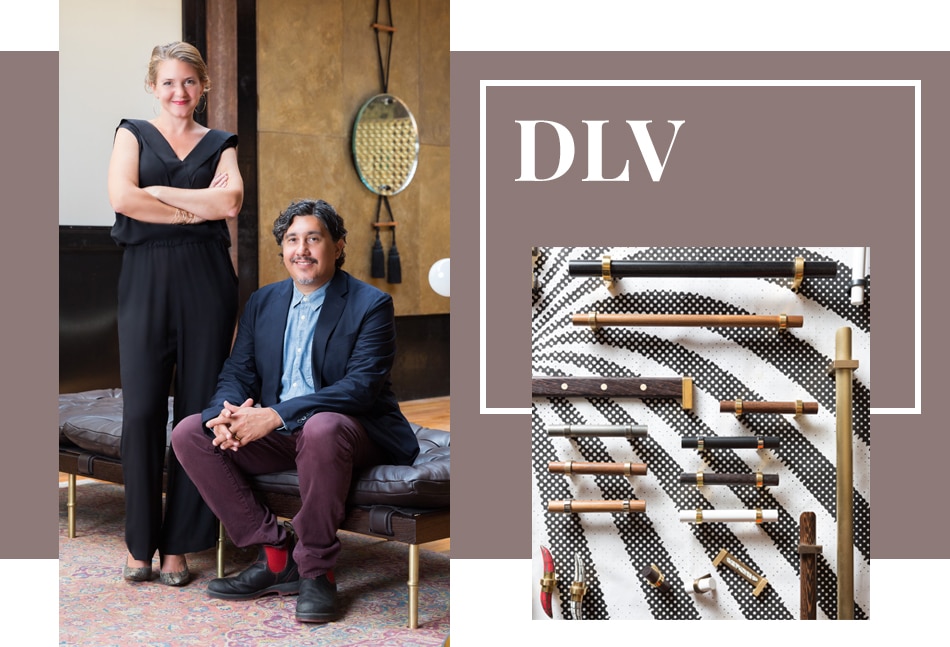 Before setting out on his own, Mark de la Vega studied industrial design at the Art Institute of Colorado and created furnishing pieces for architects and designers, notably at Studio Sofield, where he was introduced to the world of luxury furniture and traditional French techniques. "I was like a sponge," he recalls of learning from Sofield's master artisans.
In 2012, de la Vega launched his own line of furniture, DLV, with a focus on rich finishes and details: a nightstand with leather drawer fronts and a subtle step in the wood around the top; a settee with a sinuous hand-carved cast-aluminum frame that's reminiscent of Jean-Michel Frank's designs. His wife, Maggie, joined him to run the business.
"Furniture shouldn't scream for attention," de la Vega says. "Details should do the talking." Lately, his goal has been to update the traditional Vietnamese Coquille d'oeuf (cracked eggshell mosaic) lacquer technique for use in pieces such as his L'Oeuf mirror. "We start with one hundred fifty dozen organic eggs — for their strong shells — from a farmer in Pennsylvania," he says, explaining  the process. "We hard-boil them and clean them out to make nice, clean stacks of shells that will be carefully cracked into smaller pieces. The leftover insides are stinky and gross, and we have a raccoon lurking around this building, so disposal is a real problem. Sometimes, we take them out to the Gowanus Canal, where the crabs and fish love them."
Above left: DLV's business director and managing partner, Maggie de la Vega, stands next to her husband, Mark, who is sitting on a Campanha daybed in their showroom. A Carlo mirror hangs on faux cast-bronze panels in the background. Right: A selection of DLV's drawer pull options.
---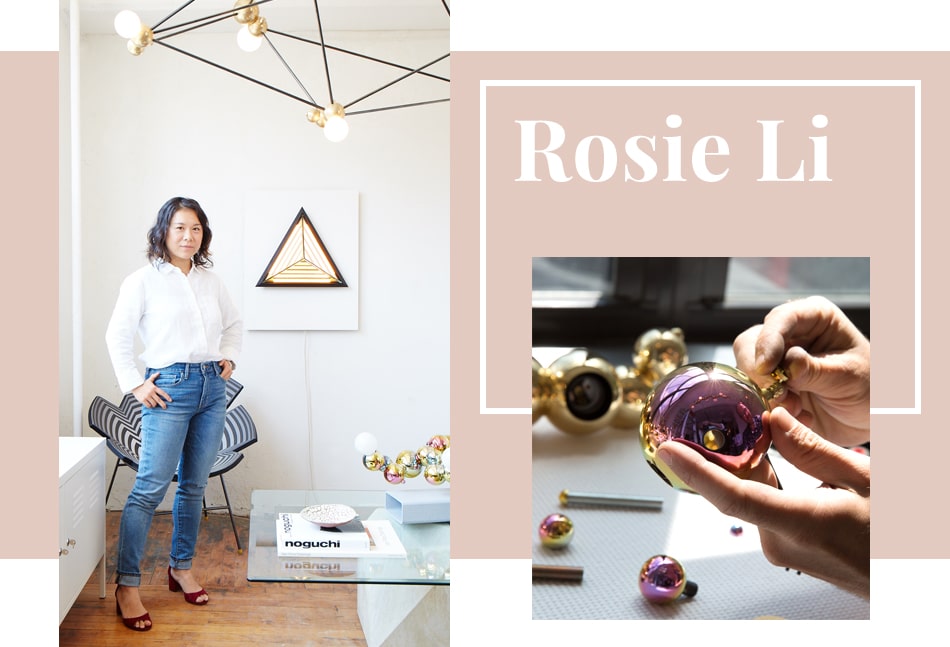 Rosie Li, who holds a BFA in furniture design from Rhode Island School of Design, spent several years creating artful, made-to-order light fixtures for the Brooklyn atelier Roll & Hill. Two years ago, she decided to found her own studio in the Brooklyn Navy Yard, where she creates lighting designs based on natural forms, drawing inspiration from artistic sources like Eva Hesse's organic rope installations. (She shows her pieces in the expansive studio and showroom space of fellow creative DLV.)
For her Bubbly series of chandeliers, in polished brass and other finishes, her team developed a sphere that can be precisely milled with a lathe. An underlying armature of 3-D-printed jigs holds the bubbles together on the inside, so there are no welding seams. Everything is crisp. "Making your pieces look effortless, that's the trick of design," says Li. "The Bubbly chandeliers are mysterious and magical to look at. You're not thinking about the construction methods. You're just seeing the form."
Above left: Rosie Li stands in a corner of the studio, which holds a Hesse 07-light chandelier and a Stella Triangle sconce, one of Li's designs for lighting manufacturer Roll & Hill. The black-and-white Riley chair is from her student thesis collection at Rhode Island School of Design. Right: Rosie Li Studio cofounder Philip Watkins assembles a Rainbow Bubbly fixture and sets up an integrated power switch that will include a sculptural ball knob.
---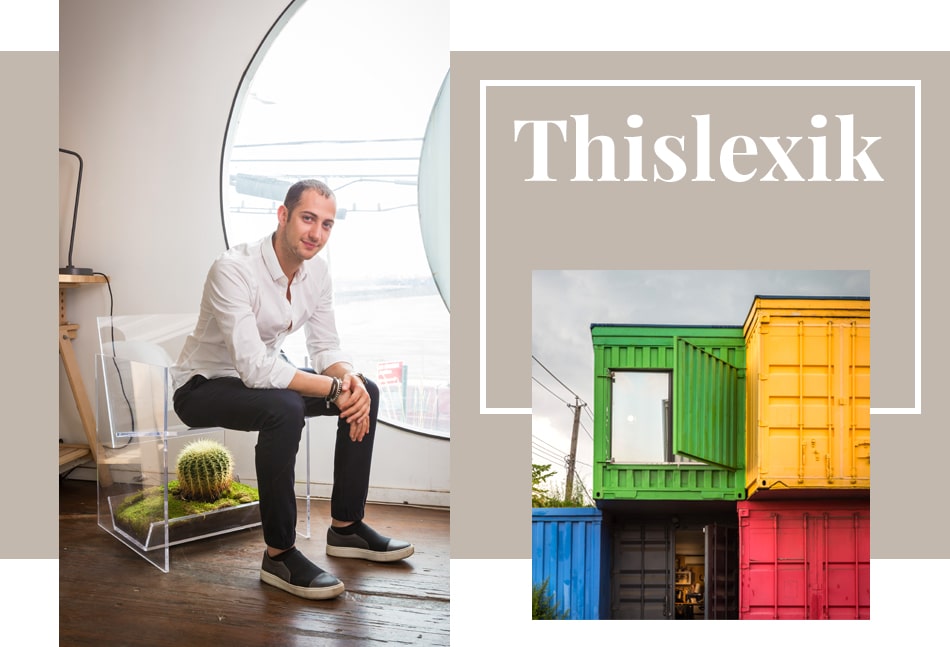 Vedat Ulgen knew he wanted to be an independent designer almost immediately after he graduated from Pratt Institute with an industrial design degree. He recognized that he wouldn't be happy working for someone else, because his goal was to create zany yet functional pieces that would spark conversation (disembodied shirtsleeves that serve as vases or see-through side tables that double as terrariums). So, he started his own company and named it Thislexik, after his dyslexia, which he credits for his imaginative thinking.
Thislexik's early pieces (still in production) include a stool made from old jeans coated in resin and hardened over a mold and a wall-mounted wooden sculpture with movable LEDs. "My designs are about surprise, experience and memory," Ulgen says. "I want to make people question how something works." His latest fixture, the Axis LED floor lamp, is composed of three lightsaber-like elements leaning against each other asymmetrically, so that it appears distinct from different vantage points.
Ulgen's outside-the-norm ethos extends to the Thislexik workshop in Red Hook, which comprises five colorful reclaimed shipping containers bolted together. The Lego-like structure overlooks New York Harbor and has eco-friendly details like refurbished wood floors and a composting toilet.
Above left: Ulgen sits on Thislexik's Bond Arm Chair, formerly known as the Cactus chair, which was inspired by the classic cartoon trope of the villain falling on a cactus. The transparent glass piece (which was originally made from acrylic) can be used as a terrarium or to cleverly display other objects. Right: Thislexik's studio was made by combining five reclaimed shipping containers, a project that Ulgen worked on with architect Deger Cengiz. The containers, which are each about 320 square feet, have a green roof, a composting toilet and an eco-friendly water filtration system. 
---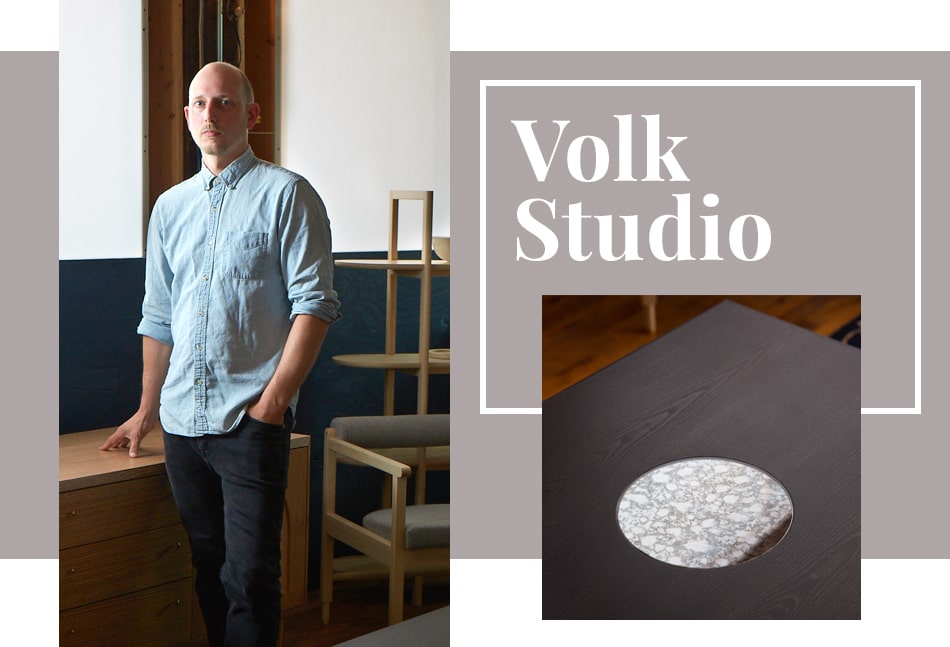 Brian Volk-Zimmerman learned how to make furniture by apprenticing for five years at a high-end cabinet shop after studying painting at Rhode Island School of Design. He began his own studio practice about five years ago, and one of his first pieces was a classically mid-century night table with a vintage organ pull repurposed as a knob. The whimsy of that detail appealed to him.
"As I got increasingly comfortable designing my own stuff, ideas that were more fun starting coming out of my brain," Volk-Zimmerman recalls. "I'm obsessed with simplicity, but it needs a bit of playfulness." So he made the hardware on his pieces as diminutive as thumb tacks, to create a sense of lightness. He also added graphic insets in pale leather: a circular blotter on his St. Charles desk, for instance, and graceful arches on the doors of his Pacific sideboard.
The newest Volk furnishings evoke Key West rather than Red Hook. They include plush benches and daybeds made in collaboration with Kate Wall, who designed the tropical textile patterns. Despite the botanical motifs, the fabrics' smoky hues bring us right back to those industrial docks outside the Volk studio windows.
Above left: Brian Volk-Zimmerman in his studio with the Pacific sideboard, St. Charles armchair and St. Charles cocktail table. Right: Detail of an antique mirror inset.