Richard Shapiro is a passionate man. Whether he's collecting art and antiques, designing interiors and furniture, sculpting and painting, or creating houses and breathtaking gardens for himself, he pursues every passion with remarkable skill and artistry. Past Perfect: Richard Shapiro Houses and Gardens, a sumptuous new monograph from Rizzoli, focuses on his 30-year journey bringing to life his two remarkable California residences: in the Holmby Hills neighborhood of Los Angeles and in Malibu.
I met Shapiro five years ago when I was writing about his work for AD France. I will never forget the first time I stepped from the street through the entry gate of his Holmby Hills estate. I immediately felt transported to another place and time. But where? Was I in the hills of Tuscany, entering an 18th-century villa? Or perhaps it was an aristocratic Florentine palazzo hidden on a backstreet of that time-worn city? I was to learn that this is in fact Shapiro's ultimate goal: to deceive his visitors with an ingenious, self-taught architecture of illusion, marrying the centuries old with the new — and he often succeeds in fooling himself, too.
Born in Little Rock, Arkansas, and raised in Los Angeles, Shapiro had a successful career as a young entrepreneur in the car rental and real estate industries before selling his business to pursue his more artistic passions. He first made his mark on the city's design scene when he created the Grill on the Alley in Beverly Hills. The year was 1984, and the restaurant became an instant landmark, one that to this day remains a preferred watering hole for Hollywood's elite, who love it for its deep leather booths, its brass chandeliers with milky-white globes and the curated collection of drawings that cover every inch of its walls — all meticulously hung by Shapiro.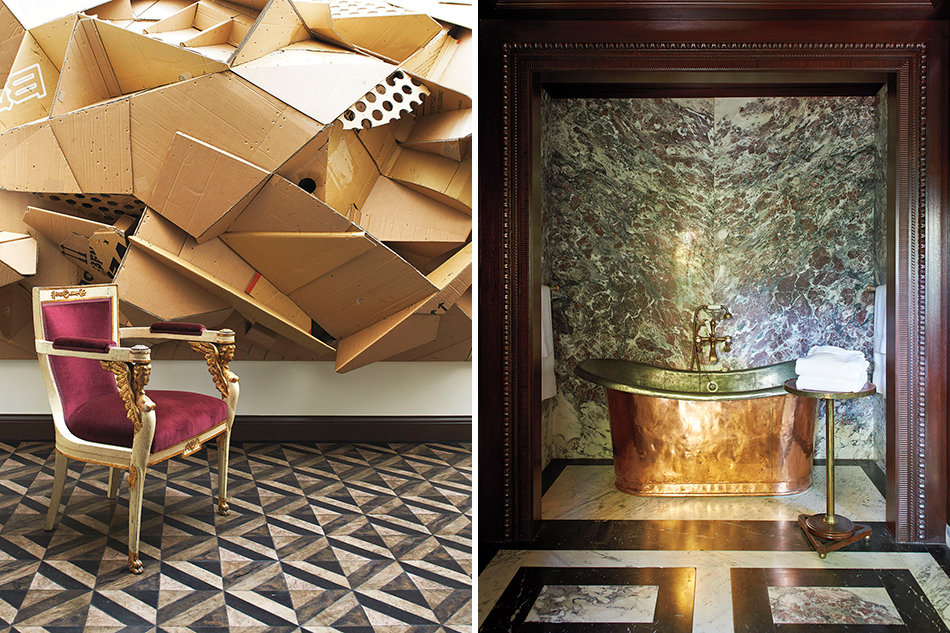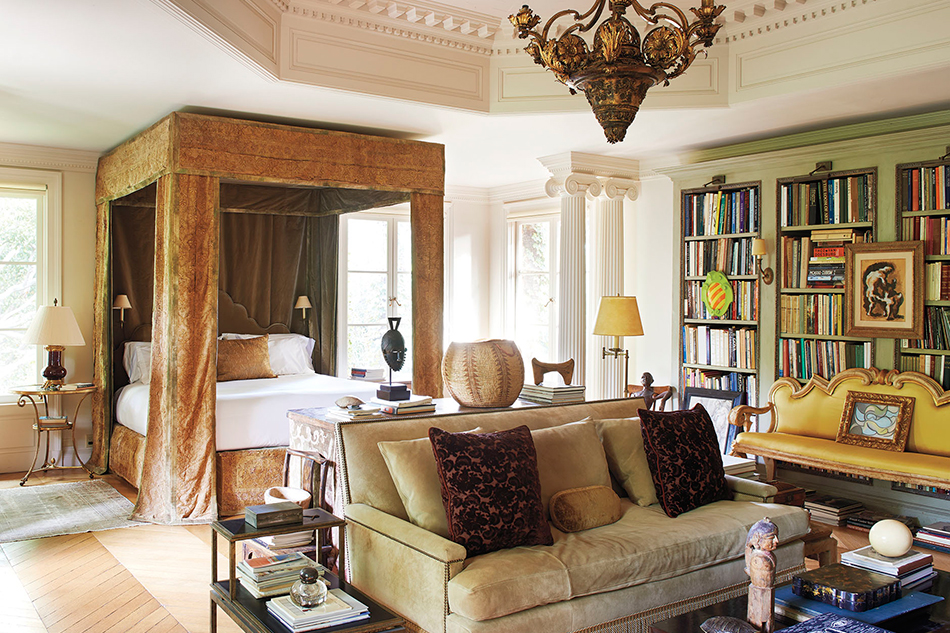 A dedicated student of art history and an artist himself — he has painted and sculpted for years — Shapiro immersed himself during the 1980s in collecting modern and contemporary art. His trove ultimately included so many important pieces that in the early 2000s he sold off a good portion. "I grew weary from worrying about them all the time," he says. "Still, it was tough to part with the Twombly."
Shapiro then shifted his attention to exceptional furniture and objects and, in 2001, opened his store, Richard Shapiro Studiolo, on Melrose Avenue in West Hollywood. After more than a decade, he closed its doors to focus on design projects for private clients and the further development of his own furniture collection, Studiolo. Composed of timeless, pared-down pieces, the Studiolo line of tables, sofas, armchairs and more feels touched by historical inspirations ranging from the Renaissance to Art Deco to minimalism.
Just when he thought he was done with "shopkeeping," however, Shapiro realized that he missed the energy and exchange with customers, and this past February he reopened the store.
The new Los Angeles gallery, located on the historic antiques-shopping street of La Cienega Boulevard, offers Shapiro's signature mix of antique and vintage treasures along with creations from his Studiolo line. "The last shop focused on Italian design and art from antiquity to the eighteenth century," he explains. "Here, I've blended those works with wonderfully eccentric twentieth-century finds. I apply the same criteria as a private collector to the pieces I buy for the shop. I only sell things I love and would be happy to take home."
---
"The houses reinvent the ambiance of distant places I love. Both are fictions crafted and composed to allow for the suspension of your awareness of time and place."
---
One of those homes, which he refers to as his Florentine Villa, is located on a quiet tree-lined street in the residential neighborhood of Holmby Hills. Built in the 1920s, the Hispano-Moorish house, along with its surrounding gardens, has been transformed by Shapiro into a secluded, enchanted world of beauty. The second, Tangier Outlook, set on a dramatic promontory above a Malibu beach and designed and built by Shapiro from the ground up, is reminiscent of a villa in the South of France crossed with a romantic Moroccan riad.
As Shapiro himself writes in an essay in Past Perfect, "The houses reinvent the ambiance of distant places I love. Both are fictions crafted and composed to allow for the suspension of your awareness of time and place. They are transcendent — imbued with qualities so authentic in appearance, spirit and mood that their true age and locale cannot be discerned. There, in either house, you really do live in a different, better world."
Likewise, Past Perfect, which I edited, is so much more than a book about decorating or well-appointed gardens; it's the story of creating transformative places through the pursuit of one's passions. As Mayer Rus, Architectural Digest's West Coast editor, so deftly explains in the book's forward, "There are divine rooms and gorgeous objects aplenty here. Also countless decorating lessons and clever solutions. But there is so much more about the soul of a home, the alchemy of good design, the weight of history, the power of memory and the recognition that one's abode is ultimately and inevitably an exercise in autobiography."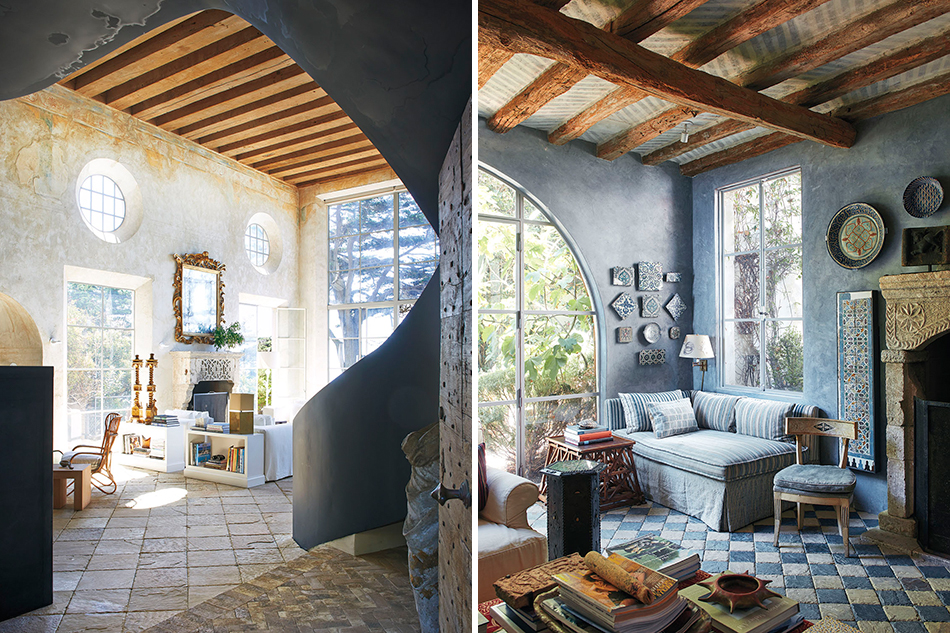 How did Shapiro create such an effect in his homes? The book does not just recount his personal and artistic journey; it also includes a "Master Class" section of takeaways allowing the reader to understand the requisite scraping and gouging of wood floors, the endless pruning of boxwoods and the clever tricks learned over years of experimentation in patinas, faux finishes, materials and architectural detailing. (He shared some additional decorating ideas exclusively with 1stdibs' blog, The Study.)
Rus's words and Shapiro's tips notwithstanding, this book is first and foremost a visual treat. Over the years, both properties had been photographed, at varying stages, by an array of publications. However, Shapiro had long had his own ideas about how he wanted them portrayed, and Jason Schmidt's beautiful and powerful images — taken over a period of several months — bring Shapiro's vision to life. (Rounding out the dream team, the renowned creative director Mary Shanahan masterminded the book's clean, elegant design.)
Ultimately, "Shapiro himself is the true architect of this monograph," Rus writes in the book's introduction. "Tenaciously obsessing over every aspect of the creative and production process, he has dedicated extraordinary time and effort to create something equal in ambition to the homes he has painstakingly nurtured for decades. And why not? This is his life, and we welcome you to it."
or support your local bookstore
---
Richard Shapiro's Quick Picks on 1stdibs