July 30, 2023"I mean . . . insane," says Jenny Walton with a giddy smile as she tries on a Belle Époque diamond-and-platinum tiara at Bentley & Skinner, in London's Mayfair shopping district. Jewelers by royal appointment to the late Queen Elizabeth and the former Prince of Wales, now His Majesty King Charles III, the venerable firm is especially known for its collection of antique pieces by some of the finest makers in the UK and across Europe.
Walton, a talented fashion illustrator who's worked with brands like Gucci and Bottega Veneta, gained an impressive Instagram following as a street-style darling in New York, where she lived after graduating from Parsons School of Design in 2012. Now based in Milan, the perennially chic American expat was visiting Bentley & Skinner with 1stDibs, getting a close-up look at a few of the spectacular pieces normally stashed away in the vault.
"I actually think it's really interesting to wear jewelry like this all of the time," she says, modeling a Victorian pearl-and-diamond pendant necklace with her minimalist black sweater and white skirt. "So I would wear it even with just a simple outfit like this."
Curious about what Walton would wear with some of the shop's other magnificent jewels, we asked her to pair a few of her favorite finds with designs from 1stDibs' extensive inventory of vintage fashion. Once home in Milan, she got to work putting together six ensembles in her signature polished but playful style and sketching them out with bold strokes and vivid colors.
---
Art Nouveau Grasshopper Brooch
"Wearing a vintage turquoise cape dress with a grasshopper brooch just seems like something I want to do," says Walton. "This is the perfect look to spread your wings and be a social butterfly — er, I mean grasshopper."
Victorian Coral Fringe Suite
"This top and skirt from Prada are so majorly major that they need a full suite of jewels, which luckily this Victorian coral set provides. I just love these colors together, especially this time of year. You can be in the city, but it's like you brought the energy of the sea back with you."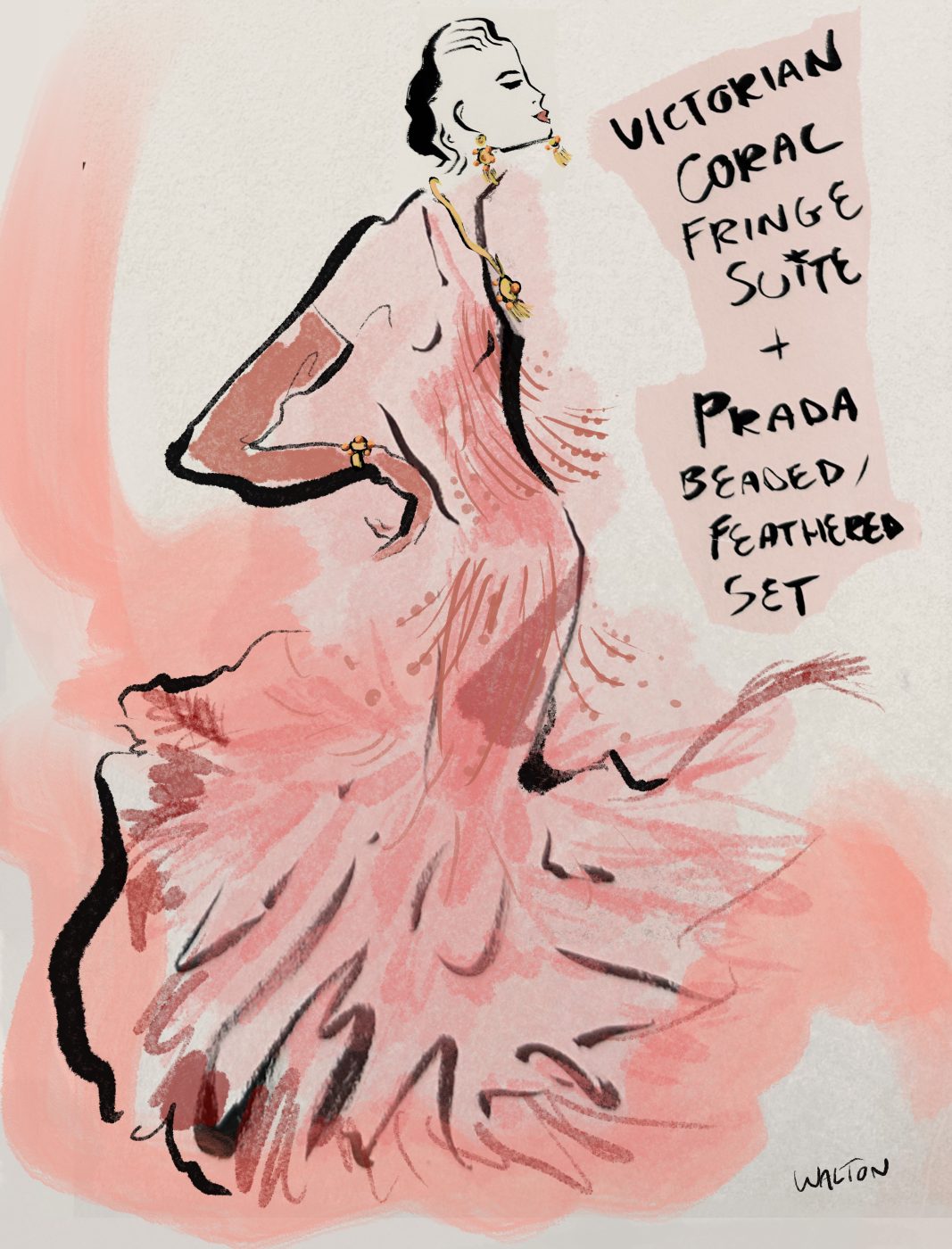 Rope of Pearls
"I think a little black dress and pearls can look a bit solemn, especially in the summer. That's why I would suggest this wonderful little white dress. The symmetry of the design will go perfectly with a vintage strand of pearls worn either long or doubled."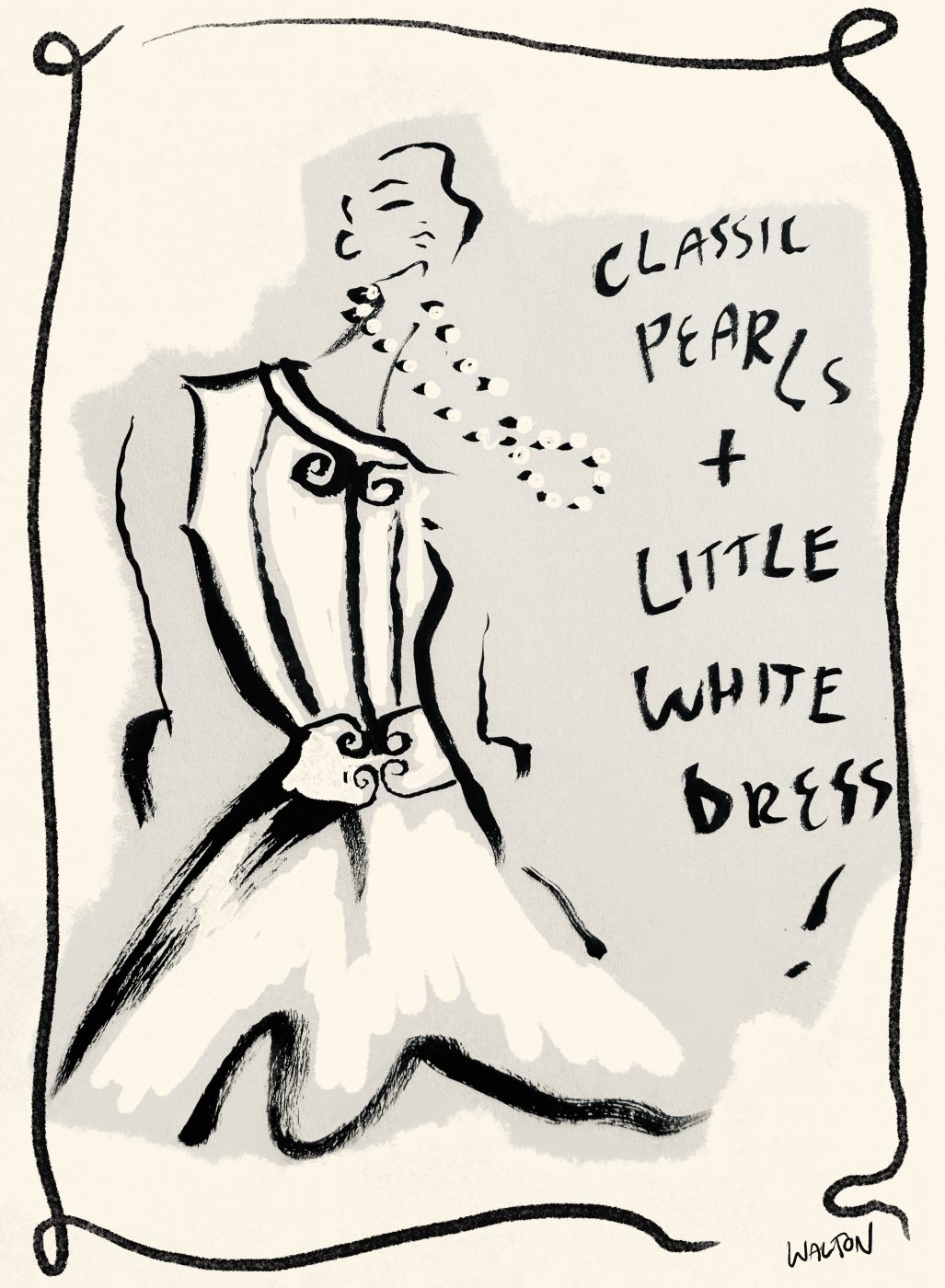 Victorian Aquamarine-and-Diamond Pendant
"I love the idea of wearing a gorgeous statement necklace like this aquamarine-and-diamond pendant back to front. The color sits perfectly with this vintage Galliano for Dior lace dress. I think the patent-leather green Gucci gloves and the surprising colors of the Prada jacket help to give the look an unexpectedly modern twist."
Victorian Topaz Suite
"I have finally gotten over the trauma of my high-school colors being green and gold and now in my thirties can finally appreciate this color combination. A portrait collar is made for an earring-and-necklace suite just like this one. There is a certain cheerfulness to this green dress that somehow makes it equally suitable for the summer and the holidays."
Charles Duron Renaissance Revival Cameo Brooch
"I think you can go two ways with a colorful statement brooch like this. You can easily set it on a solid-color sweater (I would choose one of the colors in the brooch — possibly the blue, for example — e basta). Or you can match the maximalism of the brooch with an equally avant-garde look, which this Prada 2017 top and skirt very much provide. The addition of the nineteen-fifties feathered hat is for only the most daring of fashion devotees."