September 18, 2022Having cultivated a style that combines classic, 1950s Hitchcockian glamour with a dash of 21st-century anything-goes quirkiness, fashion illustrator and collector Jenny Walton has become an "it girl" in the fashion world and beyond.
Her Marnie-meets-Marni aesthetic has drawn more than 350,000 Instagram followers, and her illustrations of emotive figures that seem almost to move on the page have landed her gigs with Gucci, Moncler and Bottega Veneta, among others.
The road to this moment began in Richwood, New Jersey, where she grew up and where her mother taught her and her sisters to sew. After earning a bachelor's degree from New York's Parsons School of Design, Walton landed a job as an assistant knitwear designer at fashion brand Calypso St. Barth. She amused herself on her long daily commute by making sketches, which she posted on Instagram. They were seen by a Manhattan store, which hired her to draw quick portraits of guests during its opening. Not long after, she was tapped to illustrate a 14-page spread in InStyle magazine, a job that also sprang from her Instagram account. "I never even needed a portfolio, which is crazy," she recalls. "Things just kind of took off from there."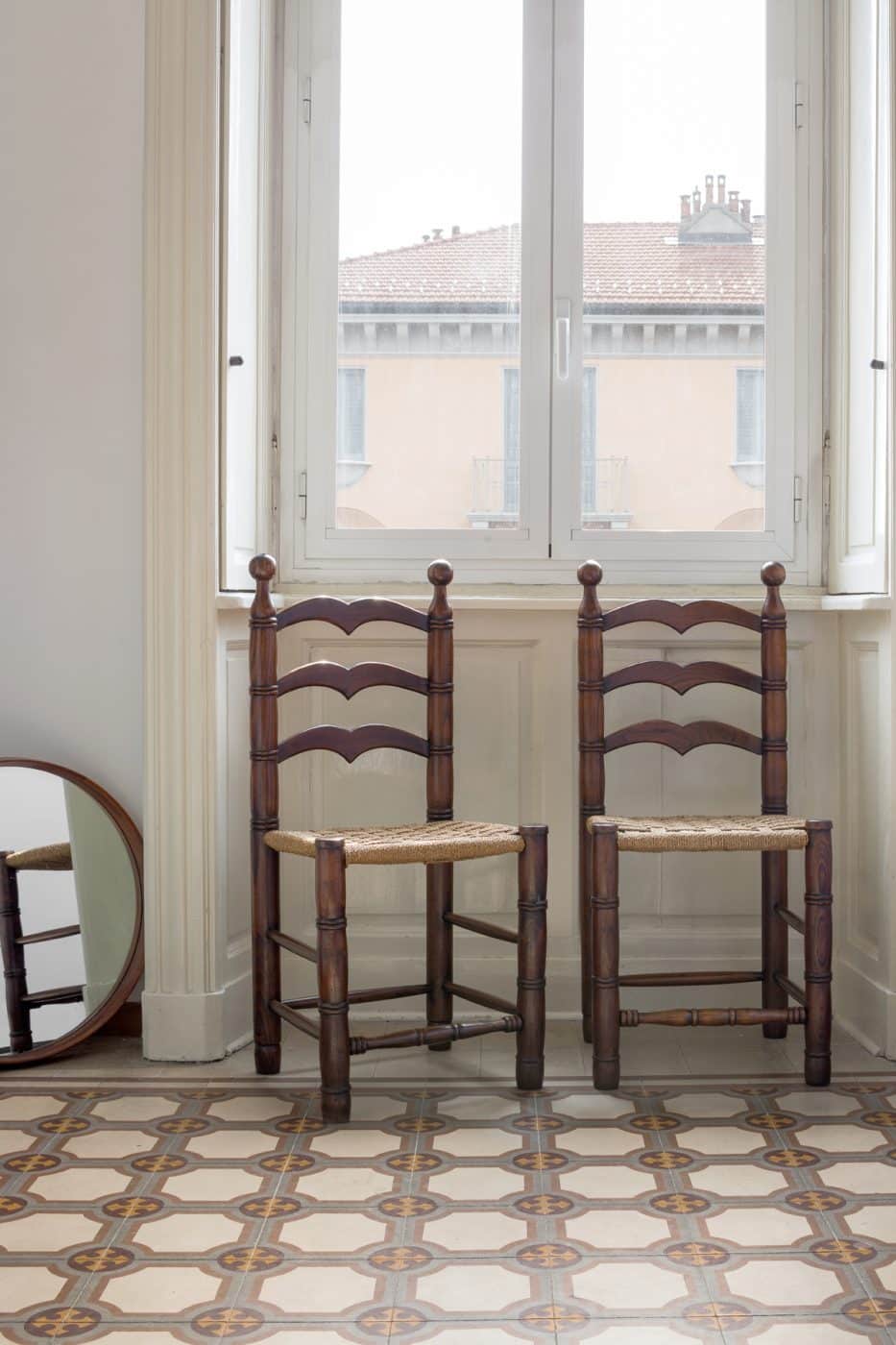 In 2014, Walton was appointed fashion director of the street-style blog The Sartorialist. This professional move had a profound effect on her personal life, as well. In 2017, she became engaged to the blog's founder, Scott Schuman, and last fall, they moved together from Manhattan to Milan.
By this spring, however, the pair had decided that their relationship had run its course. Walton could have packed it in and returned to the States. Instead, she decided to turn lemons into limoncello and remained in the fashion capital, recently finding her own apartment on the east side. "It's a period building from around 1920," she says. "There are two lions that greet you when you enter, and the staircase is magnificent."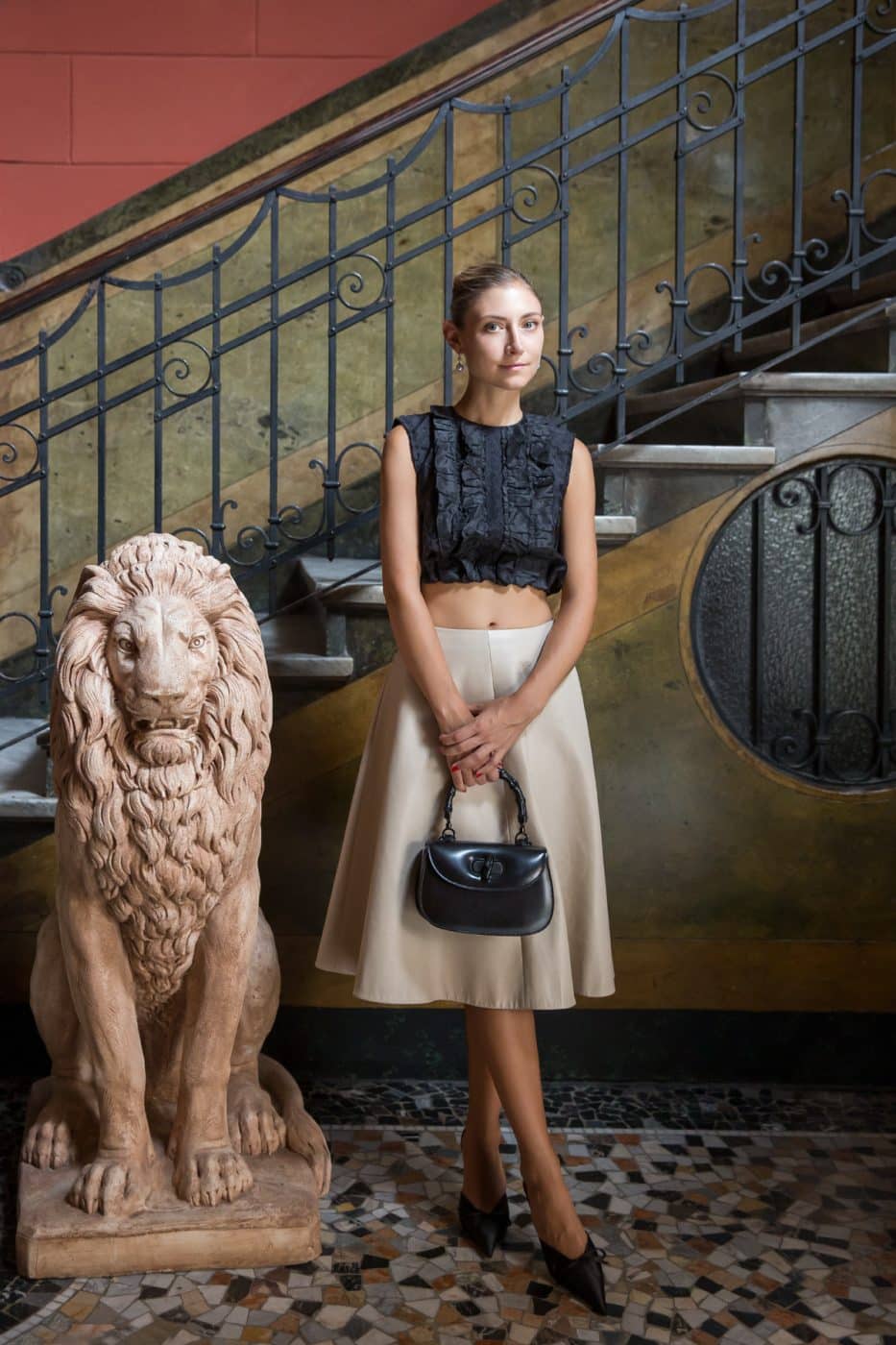 Although Walton has always loved decorating, she felt conflicted about settling on an aesthetic for her new place. "It feels kind of French — I think it's the tall windows and the parquet floors," she says. "So, I was a little frozen at first. Do I do French, or do I do Italian? I even asked that on my Instagram Stories, and everyone was like, 'Why do you have to choose? What are you talking about? You don't have to choose French or Italian!' "
Walton took the comments to heart and is now slowly acquiring pieces from across Europe, many of which she's purchased on 1stDibs. "In a funny way, the apartment kind of represents where I am in my life," she says. "I'm finding myself again. And that's why I'm trying to be really precious with it."
When it came to choosing objects, one designer was an absolute must. "Gio Ponti is one of the most incredible and well-known Italian designers of all time," she says. "And so, I had to have something Gio Ponti in this apartment!"
Several of the Ponti pieces she liked, though, fell outside her current budget ("I love the Superleggera chairs — to me, they're the perfect design, and I love how lightweight they are"). Her solution was to go small, purchasing an eye-catching set of his silver-plate Soliflore vases from 1938.
"This whole moment in my life is just about nourishing myself," Walton explains. "I also bought a silver tray from 1stDibs, and my idea is that in the morning, I'm going to have breakfast in bed with my silver tray, my coffee, my brioche and my dogs, and I'm going to put whatever beautiful little flower I want in my little Gio Ponti vase."
Also among her 1stDibs buys is an Osvaldo Borsani mid-century blond-walnut coffee table from 1940. "I love the curved legs of it," she says. "It looks like a creature. Like either an alien or an insect. It has a personality — like you could almost name it — and I love that."
Walton says her purchase of the Bauhaus pendant light she found the site was inspired by similar lights in a bar she used to pass on her way to Parsons. "It had gorgeous globe lights," she recalls. "And then, when I started coming to Paris and to Milan, I realized how prevalent they are here — Milan really loves the globe light! I fell in love with them because they're so simple and beautiful."
She notes that her choice of a small French corner chair was influenced by photos of Henri Matisse's studio. "I saw in the corner of one of the photos that he had a corner chair that looked very similar, kind of provincial French" she says. "And I was like, 'Oh, I need a corner chair like that!' Then I found this one on 1stDibs. I don't know what the actual use for it is, but, oh, it's beautiful."
In fact, Walton has been drawing inspiration from and shopping the site for years, uncovering vintage and antique treasures. That made her the perfect person to curate a collection of her favorite pieces for 1stDibs Auctions.
Having been introduced to auctions by her mother, she is very familiar with them. "There is something about the excitement of time running out. I absolutely adore auctions for this reason," Walton says, adding that the idea of snagging a bargain is equally motivating. "Especially if there's no reserve. You think, 'If everyone else is just sleepy right now, I could get this for a great price.' It just pulls you in!"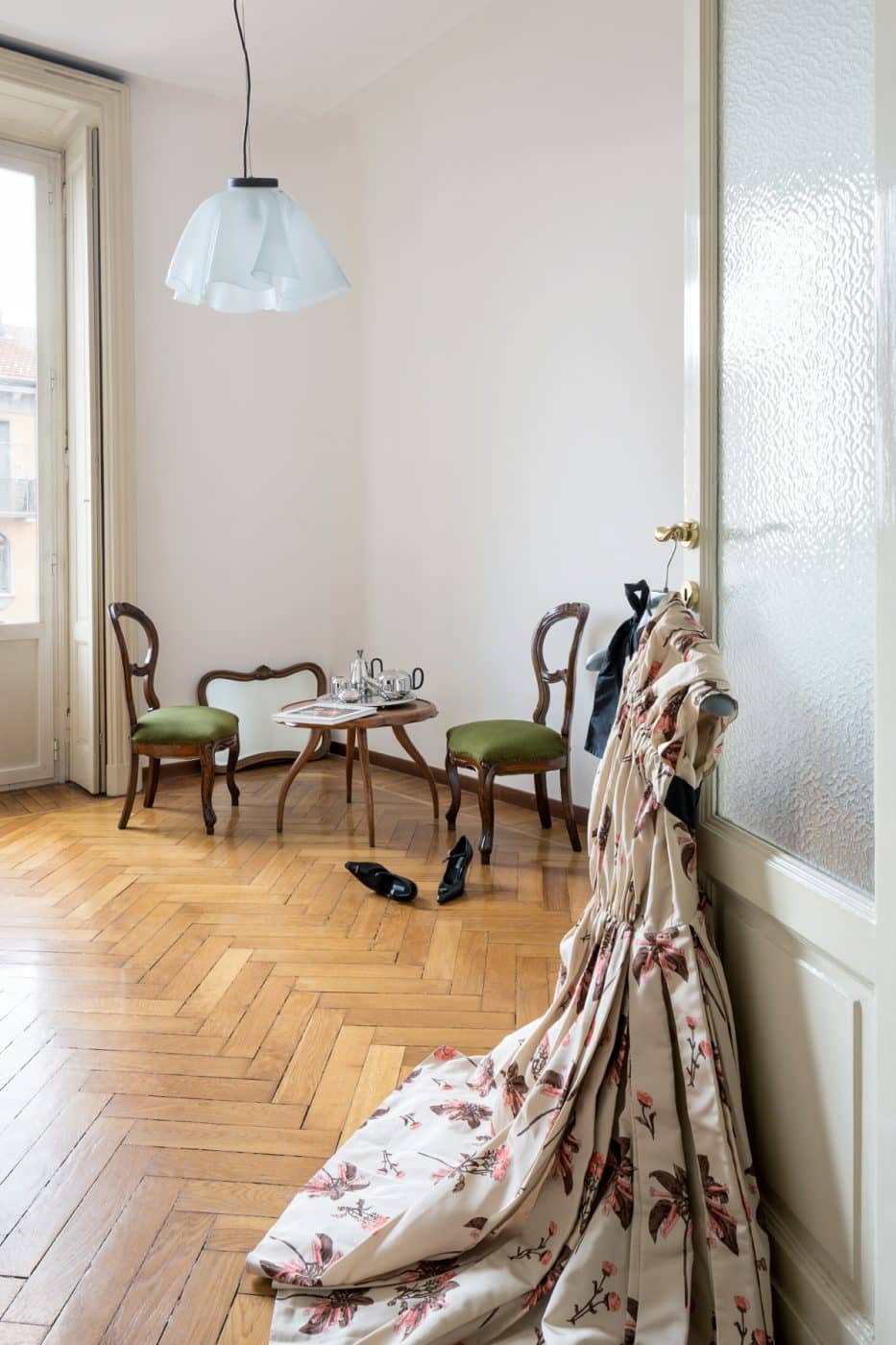 Among her 1stDibs auction picks are a 19th-century Italian baroque cassapanca, or storage bench, painted in shades of aqua and green. Walton chose it for both its look and its provenance. "The colors of this bench are fantastic," she says. "I also enjoy that in the description, it mentions that finding a cassapanca is quite rare, as typically, they stayed in Florentine palaces and were passed down from generation to generation. So, you may not own a Florentine palazzo, but you can own a bench that came from one!"
A Prada collector, Walton set up an Instagram account with a friend dedicated to the brand's vintage pieces. So, she naturally included a few standout examples in her curation. One selection, a colorful PVC tote bag from the aughts with green leather trim, certainly qualifies as a conversation piece. "It's an interesting mix of materials," Walton notes. "It's perfect for a seaside vacation and then bringing that energy back with you when you have to reluctantly return to the city."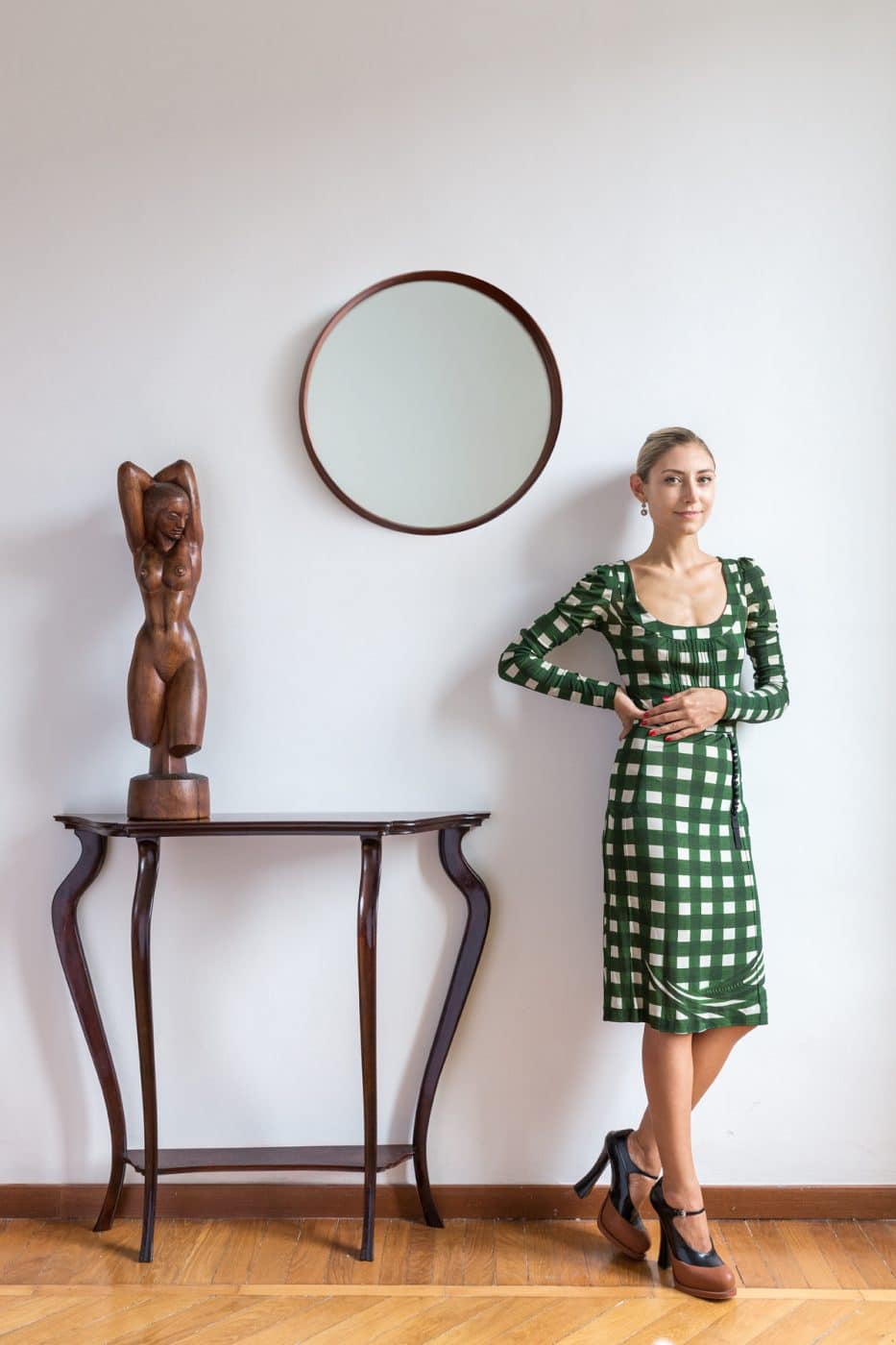 Speaking of bringing energy home with you, anyone entering Walton's apartment will instantly notice a two-and-a-half-foot-tall wooden sculpture. She found the 1938 Art Deco nude, by American artist James House, on 1stDibs as well and has given it pride of place in the new flat. If it seems conspicuous, that's on purpose. "I'm in this new mindset, reclaiming myself, my space, my identity," she says. "I'm really into this female-energy moment. So, when you come in, you see her right away. I kind of want to be a bit obnoxious about it."
Like its owner, the piece has endured some uprooting lately but has come out the other side triumphant. "She's exactly the height of Away suitcases," Walton says. "Packing her, I was trying to get her arm inside and then prayed the whole flight from New York to Milan that she would not break. But she emerged intact, and she's just as beautiful as ever!"
Jenny Walton's Auction Picks