September 4, 2022When French-born decorator Caroline Sarkozy was a student at Parsons School of Design, in New York, one of her grandmothers arranged for her to meet the legendary Italian interior designer Renzo Mongiardino with the aim of securing a summer internship with him. The interview took place in the maestro's Milan apartment and left her "petrified," she recalls.
"He had the shutters closed, so it was very dark. And he was larger than life, with his large white beard and deep voice. I felt so insignificant," says Sarkozy. "I still kick myself today on missing out on such a great opportunity."
Still, it hasn't stopped her from having an extremely successful career. She trained instead with both Mark Hampton and Andrée Putman, before setting up her own firm in 1998. Since then, she has worked on projects from London to Aspen, the Bahamas to the Middle East.
Over the years, she has developed a close professional relationship with architect Laurent Bourgois. Today, they both have their own firms, with offices a stone's throw away from each other in Paris's 11th arrondissement, to the east of the Place de la Bastille, and they occasionally still work on separate projects. But they also have a joint company, CSLB Studio, through which they take on the shared commissions that make up the majority of their work.
Exactly who does what in these collaborations is at times a little difficult to determine.
"It's not a question of an architect overseeing the building work and a decorator choosing fabrics," says Bourgois. "Our teams work together from start to finish. I may give my opinion on a pair of curtains, and Caroline may give hers on how to alter the structure of an apartment."
Although the designers are unequivocally aligned in their quest for quality, their acute attention to detail and their embrace of rigor and organization, they differ in their aesthetic sensibilities. Sarkozy's tastes tend to be more contemporary; Bourgois has an undying passion for 18th-century France.
The result is a portfolio of projects that are varied in style, ranging from, as Bourgois puts it, "extremely classical châteaus" to "flats decorated with twentieth-century furniture by the likes of Jean Royère."
The pair met through a common acquaintance back in 2000. Bourgois claims to have stolen a project in Paris from Sarkozy; she insists she had turned it down. "I was living in London at the time, and it was too complicated to manage at a distance," she explains.
Several years after moving back to the French capital, Sarkozy was approached by a Russian oligarch to work on a rather over-the-top project close to Moscow, and she asked Bourgois if he'd be interested in joining forces.
Although the commission didn't pan out, an eventful trip to the Russian capital helped seal their friendship. They recall attending a dinner with platters laden with caviar and diamonds and being escorted by a police cavalcade.
It would be five more years before they actually worked together — first on a 6,500-square-foot apartment on Paris's elite avenue Montaigne and then on a grand seaside house in Normandy.
Bourgois studied architecture at Paris's École des Beaux-Arts, then spent several years designing housing developments in decidedly unglamorous suburbs. In the mid-1980s, an architect friend needed help on a swankier project: the late fashion designer Hubert de Givenchy's mansion on rue de Grenelle in Paris. Bourgois joined his friend on the commission, and a few years later, he set up his own firm, specializing in high-end residential interiors.
Every profile of Sarkozy inevitably mentions her family ties. She is the half-sister of the former French president Nicolas, and her full brother Olivier is the ex-husband of actress-turned-fashion-titan Mary-Kate Olsen. Although born in France, she moved to the United States at the age of nine, after her mother married the U.S. diplomat Frank G. Wisner.
Sarkozy was particularly impressed during her childhood by her grandmothers' homes. "They both worked with decorators, and I'd attend meetings with them," she says.
Her mother's mother, Marie-Hélène de Ganay, had a home in Paris that was filled with 18th-century French furniture and works by artists like Georges Braque and Christian Bérard. Wisner's mother, Polly Fritchey, was a Washington, D.C., socialite with a grand house in Georgetown. Their influence is manifest in her very deep love of objects. "I see beauty in everything," she says. "I can fall as easily for a Scandinavian credenza as an object from Oceania."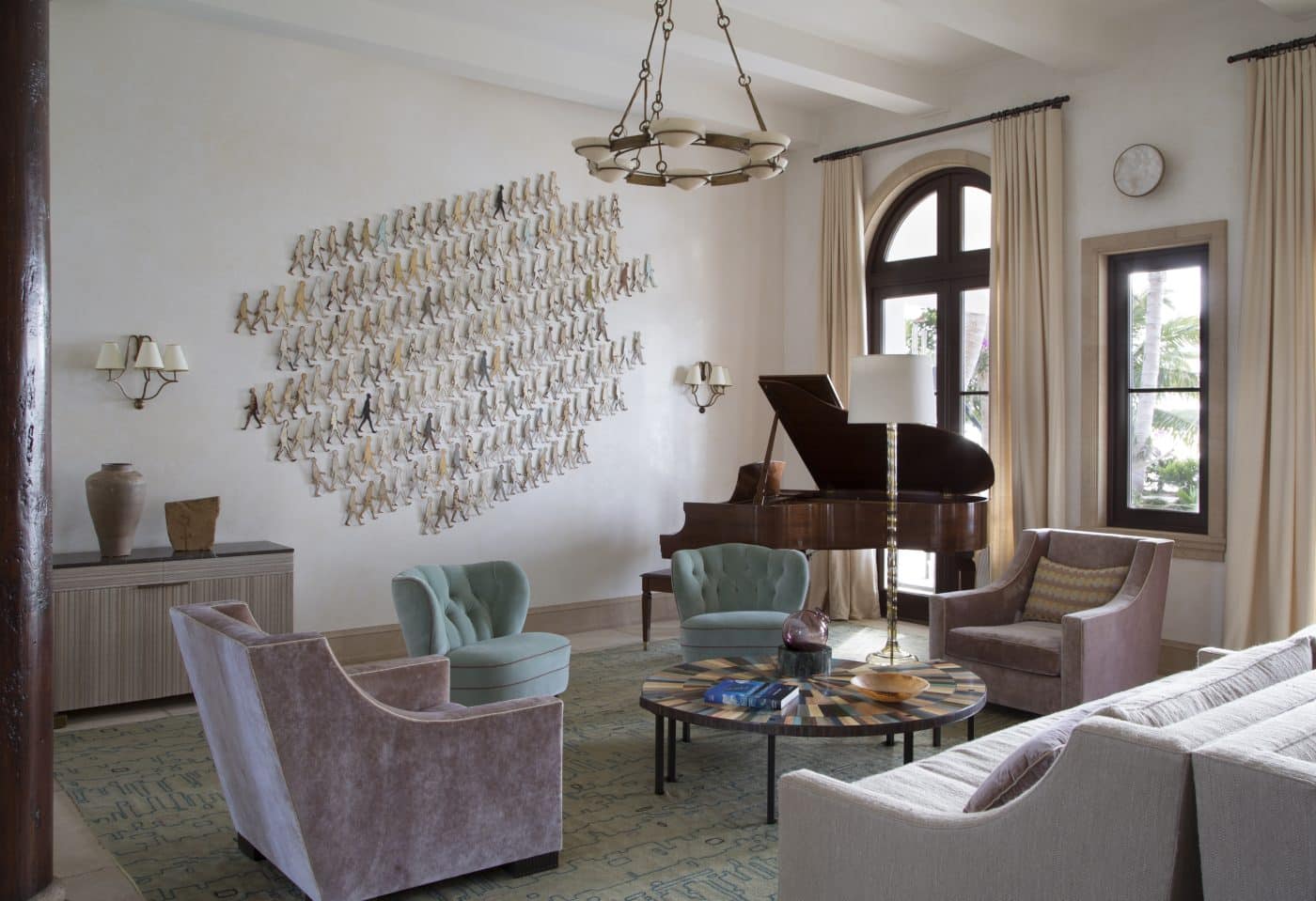 The owners of one of Sarkozy and Bourgois's most recent commissions — an apartment in Chelsea, London — evince a similar passion. "He, in particular, is crazy about things," Sarkozy says. "There's hardly space on his desk for a sheet of paper."
The project consisted largely of arranging the clients' existing collection of fine art and furniture, including a Kaare Klint sofa and a pair of FRITZ HANSEN ARMCHAIRS (which ended up in the sitting room), a Hans Wegner armchair (the study) and a chandelier and matching sconces by Arteluce founder Gino Sarfatti (the main bathroom).
The designers added a number of custom designs, such as the sitting room's straw marquetry and brass cocktail table and rhythmically tiled fireplace, whose geometric pattern was inspired by the floors of Italian churches. "I've spent a lot of time studying them," Sarkozy explains, "and you often find their motifs reused in our projects."
A similar play with pattern is displayed in the rectangular gray and white tiles of one of the bathrooms of a grand Mediterranean-style house in Miami. Among the items Sarkozy and Bourgois sourced for the home — on which they collaborated with American architect Brian O'Keefe — are a pair of Royère sconces, a Patrice Dangel chandelier and a George Nakashima dining table.
As in all their projects, they brought in a few elements to shake things up. Most dramatically, they selected a totemic Ai Weiwei porcelain sculpture resembling blue-and-white vases stacked on top of each other. The piece stands guard at the foot of the main staircase.
There's also a 1950s bar in the sitting room with a multicolored swirling motif in parchment and a ceiling in one of the corridors that's custom painted with dozens of squares in different pastel hues.
"Interiors that are too homogenous bore me," says Sarkozy. "You always need to mix in something slightly askew."
Sarkozy seeks to ensure that every object she selects has a strong presence. That is very much the case in her own home — a three-bedroom apartment overlooking the Seine.
There, a striking oak credenza by the 20th-century Swedish architect Ernst Spolén dominates the entry foyer, while the focus of the sitting room is a cocktail table that was created expressly for Sarkozy by Hubert Le Gall some 22 years ago and has been with her ever since. "When an object is well designed, you never tire of it," she says.
Another favorite item is the black-and-white Janette Laverrière extendable dining table with Formica top and stained cherry-wood underside. "You can put hot pans on top of it," she explains. "I like the fact that it's both practical and beautiful."
The piece that's closest to her heart, however, is no doubt the Napoleon III sofa, which she inherited from her French grandmother.
"I keep telling myself I should replace it," she says, "but I never do. I love it so much!"
Caroline Sarkozy's Quick Picks