Märta Måås-Fjetterström Rugs and Carpets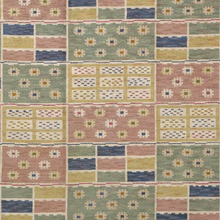 Märta Måås-Fjetterström was the leading figure in Swedish textile design in the early 20th century. Through her rug-weaving studio, Måås-Fjetterström introduced a modern and cosmopolitan spirit to the tradition-bound craft, creating some of the era's most sublime rugs and carpets — works that are elegant yet have a handmade warmth and honesty.
Måås-Fjetterström was the daughter of a small-town minister, and her creative bent led her to study drawing at the School of Industrial Arts in Stockholm between 1890 and 1895. She became an art teacher after graduating and began drafting textile designs in the late 1890s. At the time, Sweden was experiencing many of the same cultural concerns that fueled the English Arts and Crafts movement: fears that industrialization was causing many traditional handicrafts to wither into extinction. The state supported numerous artisan workshops, and Måås-Fjetterström was hired as director of a weaving studio in the southern city of Mälmo in 1905. She was dismissed six years later for insisting that artisans be allowed to create original patterns rather than merely copy old ones.
She traveled widely in search of design inspirations, and in 1919 — thanks in large part to the patronage of Ludvig Nobel, grand-nephew of Alfred Nobel, who commissioned her to make all the rugs for a new country manor hotel — Måås-Fjetterström opened her own workshop. There she trained many of Sweden's best modern weavers, including Barbo Nilsson and Marianne Richter (the mid-century modernist designer Richter took over leadership of the Måås-Fjetterström factory after its founder's death in 1941). A major exhibition in Stockholm in 1934 brought public acclaim, a reputation secured worldwide by exhibitions at the British Museum in 1936 and the Metropolitan Museum of Art in New York in 1939. Måås-Fjetterström's company, MMF AB, is still in operation, and most of her roughly 700 designs are available for fabrication.
A broad range of influences can be seen in Måås-Fjetterström's designs, among them Art Nouveau and classic Near Eastern and Asian styles. Her rug patterns fall roughly into two groups: The first includes stylized floral and other naturalistic motifs as well as modernized folkloric themes. The second comprises those employing geometric "tiles" in a formal composition based on that of Persian rugs, with an intricate border surrounding a central medallion.
Måås-Fjetterström generally used a subtle color palette: Soft pastels predominate, punctuated by the odd vibrant note. Her rugs are remarkable for their flexibility of use in decor schemes. They are a perfect complement to simple modern furniture in both blond and darker finishes; at the same time, the rugs can act as a perfect calming foil to more ornate historical styles. Måås-Fjetterström's creations, particularly signed vintage pieces, are highly collectible. Her designs are found in the world's leading museums, including the Metropolitan Museum of Art, the Victoria & Albert Museum and the Nationalmuseum in Stockholm.
Find a collection of vintage Märta Måås-Fjetterström rugs and carpets on 1stDibs.
Creator
:
Märta Måås-Fjetterström
Märta Måås-Fjetterström rugs and carpets for sale on 1stDibs
Märta Måås-Fjetterström rugs and carpets are available for sale on 1stDibs. These distinctive items are often made of
fabric
and designed with extraordinary care. There are many options in our collection of Märta Måås-Fjetterström rugs and carpets, although
brown
editions of this piece are particularly popular. We have 97 vintage editions of these items in-stock, while there is 0 modern edition to choose from as well. Many of the original rugs and carpets by Märta Måås-Fjetterström were created in
Europe
during the
20th century
in
Scandinavian Modern
style. If you're looking for additional options, many customers also consider rugs and carpets by
Svensk Hemslöjd
,
Ingegerd Silow
and
Barbro Lundberg-Nilsson
. Prices for Märta Måås-Fjetterström carpets and rugs can vary depending upon size, time period and other attributes. Price for these items starts at
$1,156
and tops out at
$240,000
, while pieces like these can sell for
$32,000
on average.
Creators Similar to Märta Måås-Fjetterström