The release of Robert Kime (Frances Lincoln Publishers) would be cause for celebration even if the book weren't, as it certainly is, a stunning, long-overdue document of this Englishman's timelessly chic, extraordinarily inviting style. Kime has been working for nearly 50 years as an interior designer, antiques dealer and, more recently, creator of his own range of fabrics  — available in the United States through John Rosselli — but his oeuvre has never been represented in a monograph until now.
The volume takes readers on a tour of 12 houses, seven of which have, at some time or another, belonged to Kime and his late wife, children's book author and audiobook entrepreneur Helen Nicoll. For those who already know his work, the book confirms the sublimity of Kime's understated approach to design. And for those not familiar with his aesthetic, it offers the chance to discover someone who mixes good antique furniture with vibrant patterns and bold colors to create spaces that are both elegant and cozy.
As Kime's most famous client, Prince Charles, puts it in the foreword to the book, Kime creates rooms that make it "hard to drag yourself away." In 2002, Kime took on the task of transforming Clarence House, formerly the London home of the Queen Mother, into a residence for Charles, the Duchess of Cornwall and Prince Harry. To do so, Kime changed the color schemes, moved and regrouped the furniture, rehung paintings and recovered upholstered pieces. Clearly an ardent admirer, Charles credits Kime with having "one of the best" eyes in the business, possessing an uncanny ability to design rooms that are "welcoming, interesting and, above all, comforting." (The book reveals the redesigned Clarence House, but, alas, it cannot be reproduced here.)
"I learned early on that I was not a scholar," says Kime, who studied history at Oxford and worked at Sotheby's, "but I have never tired of looking at objects that inform me of the past. It's their history that I love." These objects — quirky, historically interesting, compelling, beautiful — fill his interiors and run from tapestries to dramatically striped or pattern-covered sofas; antique oriental rugs, often piled on top of each other; blue-and-white Iznik jugs; and sometimes threadbare but always ravishing embroidered 19th-century Bokhara bedspreads. There is even a Victorian conservatory, found on his travels and now attached to a house.
Following the publication of the new tome, Introspective spoke to Kime about his book and his signature look.
1. A Kime room never feels jumbled or busy. Everything works with everything else and looks as if it had always been that way. How do you go about putting a room together?
I have never seen myself as a decorator. You could call me an assembler. I like to go bit by bit, but I don't have an initial plan, I don't do drawings, and I don't know how to do a proper design. I just think a lot about what works next to something else. I love things that don't match, and I want my rooms to be lived in, not to be looked at.
2. Would you say that your taste has changed over the years?
On the contrary, I don't think it has changed the least bit. Doing a book has given me a chance to look back on some of my earlier projects — the book is organized chronologically — and I am rather pleased to find I wouldn't change a thing today. I have always loved interesting things. It comes from being an antiques dealer. I think the difference between me and many other designers is that they tend to get stuck with a certain look and never move on, whereas I never stop finding new objects and am always on the lookout for more. This stops me from getting in a rut. One of my favorite occupations has always been poring over auction catalogues. I find it endlessly fascinating, and it takes up hours of my time.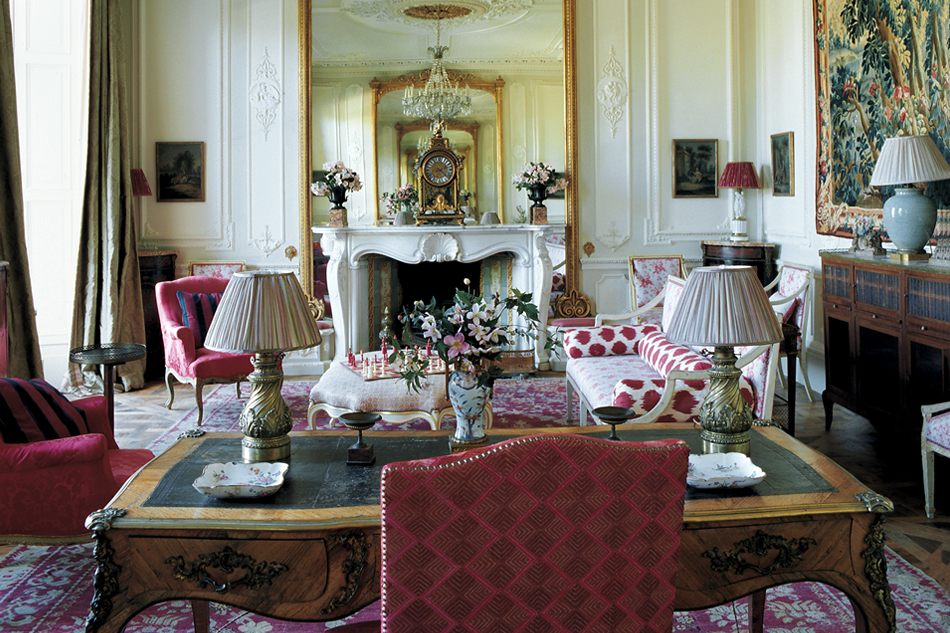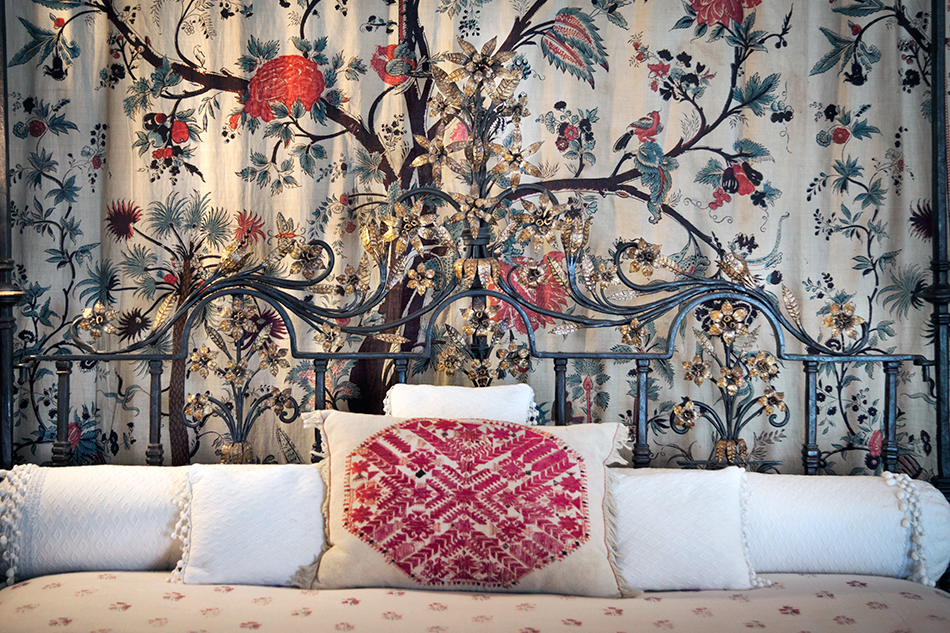 3. Your book is unusual in that it shows only a dozen of your projects. Why twelve?
Twelve is enough. I prefer to show a house in detail, and in this book I've tried to show all sorts of houses — those that have three bedrooms and those that have thirty. Whether it's a palace or a cottage, to me, size doesn't matter. I want to make everything work for the space. It happens bit by bit, and I love it when people let me make a complete story.
4. How do you find your clients?
It's all word of mouth or someone coming into one of my two antiques shops in London and liking what they see. Choosing my clients takes a lot of time, but I've never been disappointed. They need to understand what I am about, and I have to grasp who they are, as they are the ones who will live in the finished space. I have a wonderful staff and I take on about five new projects a year.
5. Why did we have to wait so long for a book about your oeuvre?
I had started to work on a book some years ago, but then I suffered a stroke that was not diagnosed in any kind of timely fashion. As a result, I completely crashed, and it has taken me a long time to recover and get back to where I was. Only recently have I had the energy to finish it. But doing a book and looking back over my work has been wonderfully restorative.
---
or support your local bookstore