The work of Robin Rhode encompasses sculpture, performance, photography, video and installation, but it is first and foremost about the act of drawing. In his current exhibition on view through August 21 at Lehmann Maupin in New York — titled "Borne Frieze," a play on the term "born frees" used to describe the generation born after 1994 and the end of apartheid in Rhode's native South Africa — the artist shows the remnants and documentation of two high-octane drawing performances that connect creativity and freedom.
In the installation Light Giver Light Taker, two giant light bulbs — one made of charcoal, the other of chalk — rest amid a tangle of black and white marks made from their movement around the floor of the gallery, animated by a flashing strobe light. A 12-minute video just outside the gallery shows Rhode pushing, pulling and spinning these surreal and heavy drawing tools with great physical intensity to create the floor piece. Rhode first became interested in the idea of the light bulb while preparing a project for Prospect.1 New Orleans in 2008, when he came across a supermarket selling T-shirts listing black inventors and their inventions. One of those luminaries was Lewis Howard Latimer, who patented the process for making carbon filaments for light bulbs and later collaborated with Thomas Edison.
"To encounter this history was quite profound," says Rhode, who was born in Cape Town in 1976 to parents of mixed race and grew up in Johannesburg amid the burden and suffering of apartheid. "Coming from South Africa, we have very few black inventors. The light bulb, too, was very much inspired by communities struggling with power outages in South Africa at the moment. The notion of light has become such a key component now to people's daily lives."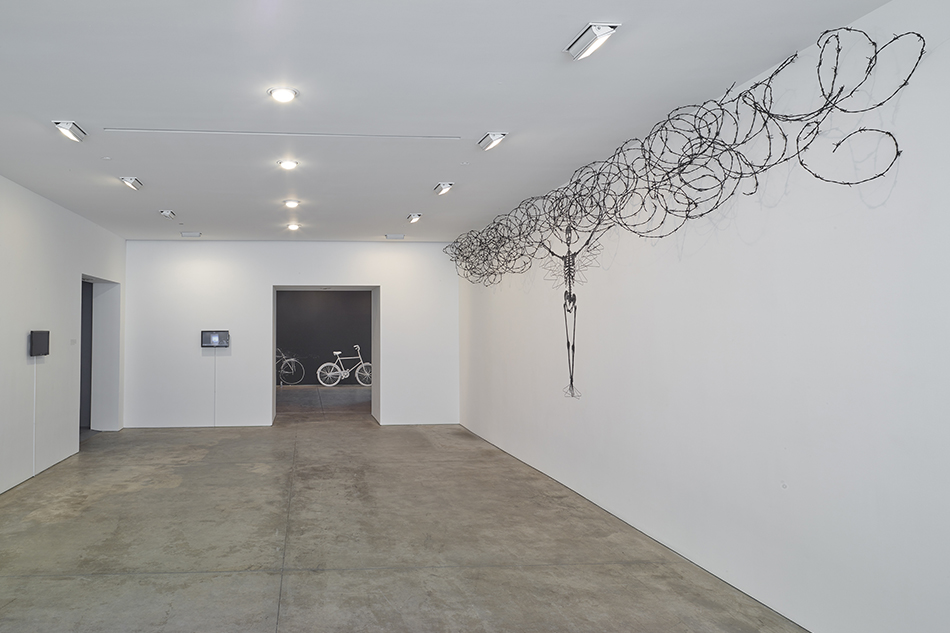 Rhode conjured another potent object from his personal history in his installation and video Chalk Bike — the remnants of a performance in which he moved a life-size chalk bicycle along four sides of the gallery and repeatedly dashed off its "shadow" in chalk on the black walls. "We were never allowed to come to school by bike," Rhode recalls, referring to one of the authoritarian controls imposed on his community of peers. "Bicycles are always about freedom. They became objects of desire." In the gallery, he also installed two chalk sculptures of classroom windows in an open position on opposite walls, as if allowing for images to escape or memories to rush in.
Rhode was a teenager in the early 1990s, when the political trauma in Johannesburg got to the point where teachers stopped teaching. "They referred to this boycott as 'chalk down,' " he explains. He and his friends also partook in a longstanding hazing ritual of drawing bikes on the walls of the schoolyard with stolen chalk and bullying younger kids to pretend to ride them for group entertainment. Looking back on this street action while he was in art school at Johannesburg's Technikon Witwatersrand in the late 1990s, Rhode recognized in it a relationship to the histories of wall painting and performance art. "It took me years to digest and make sense of that situation," Rhode says of his search for an authentic visual language.
---
"It's theater," Rhode says of his performative public art.
---
He began rendering bold graphic images on public walls using commonplace materials such as chalk, charcoal, soap or house paint. He would then direct a performer to interact with the drawing at each stage of development, all captured sequentially in grids of photographs that tell playful or magical stories in a manner akin to stop-motion animation or flip-book art. In School of Fish (2012), for instance, an accumulation of triangles on a blue wall is transformed into a giant sea creature once a man with a fishing pole casts his line. In Breaking Waves (2014–15), semicircular blue strokes on a white wall read as water because of the maneuvers of a boy and his surfboard. This 16-photograph piece, which culminates in an abstract grid of blue circles, is currently on view in another Rhode exhibition in New York, "Drawing Waves" at the Drawing Center through August 30.
"It's theater," Rhode says of these pieces, which he has done in different parts of the world, including Spain, New York and Germany (where he has lived since going to Berlin for a residency in 2002). He has just been commissioned to do a multimedia piece in Manhattan's Times Square based on a 1909 Schoenberg opera for "Performa 15," the performance-art biennial in November.
Even with all his success, the artist continues to return to Johannesburg several times a year to work on one particular wall that local graffiti artists have yielded to him and his crew after a long turf battle. "Neighborhood people watch us, homeless people watch us, young kids peek through the barbed wire watching the narrative evolve from start to finish," says Rhode, who originally worked improvisationally but now choreographs his drawings and performers with precision. He likes offering these public pieces to his childhood community, which has limited access to art. "My work on the streets," he says, "it's like a window."