In the frenzied run-up to the 2016 United States presidential election, Julia Sherman ran a flawless campaign on behalf of a candidate beloved by Democrats, Republicans and most everyone else: salad. The Brooklyn-based artist and cook is the founder of Salad for President, an evolving publishing project that connects food, art, design and everyday obsessions. Her new book, Salad for President: A Cookbook Inspired by Artists (Abrams), celebrates a daily practice of making salads in creative kitchens, including those belonging to William Wegman, Alice Waters, Laurie Anderson and Tauba Auerbach.
In Sherman's hands — and through her lens (she learned the finer points of food photography by trial and error after earning fine-art degrees from the Rhode Island School of Design and Columbia University) — salad becomes "edible confetti," she says. It's "pretty but not precious, scalable, affordable and unbelievably good-looking on a family-style platter."
Launched in 2012 as an online sketchbook, Salad for President soon became a must-follow blog for visual artists and foodies alike. "Turns out, I'm not the only artist who has a thing for food," says Sherman, who parlayed her passion into rooftop Salad Garden installations at MoMA PS1, in Queens, and, later, the J. Paul Getty Museum, in Los Angeles. "I think there's an intentionality involved in making a salad that appeals to artists, because it's not so dissimilar from making a painting or putting together a sculpture. It's an additive process that's very visually inclined."
Sherman's blog and equally leafy Instagram presence also helped her land a full-time job as creative director of Chopt Creative Salad Company. She travels frequently — and widely — to capture the "faraway flavors and local ingredients" on which the restaurant chain prides itself. After years of salad-oriented conversations, trips and meals, she has no desire to leave the greens party, although she is quick to point out that her love of cooking extends beyond salad.
"My husband always jokes that my project should have been Soup for President, because we're also really into soup," Sherman says. "And don't get me started on heirloom beans!" Between wrapping up events for the book and preparing for her September appearance on a Bon Appétit panel ("Vegetables: A Love Story") at the Feast Portland food festival, she made time to answer Introspective's five questions.
1. How does Salad for President relate to your artistic practice?
For me, it's an openness and the ability to ask a million questions and be very confident. That's my practice. Moving through the world and assuming I'll never be in a position where I'm an expert — that's how I am in my personal life and in my professional life. My art projects are so much about research and working through the state of not knowing.
That's a lot of what Salad for President is about, too. It's walking into an unfamiliar territory with a person you've never met and interacting with them. There's a lack of a plan that has always been very important for me. In starting this project, I thought, I know I love salad, and I know I have these basic skills, so what can I do to bring all those things together? What are the ways that a blog could actually manifest itself in real life?
2. What's the particular appeal of salads to artists?
I think it has a lot to do with composition and color. A salad is really an exercise in composition — arranging ingredients and thinking about presentation. But it also involves thinking about an economy of means. An elegant salad shows a certain amount of restraint. It has a clarity in its ingredients and a reason for existing, whereas a not-so-impressive salad is a big bowl full of lots of different stuff without any plan in place. Not that you have to have a plan, but you have to have a vision.
3. How did you go about making the blog into a book?
Through the process of writing the book, I realized how different it is from making a blog. I think somebody wants to go to his shelf and pick up a book knowing that one author has pulled together these recipes. So I didn't want to have a book made entirely by guest artists.
With the blog, I always take someone's ideas and figure out how to develop them into real recipes, but it was nice to also use the book as a way to show how I like to cook on my own.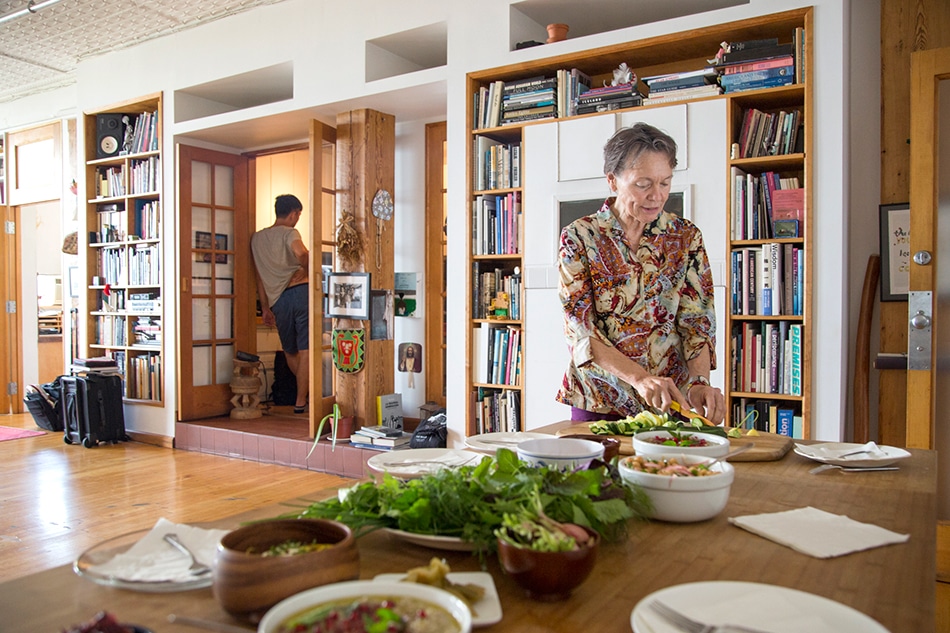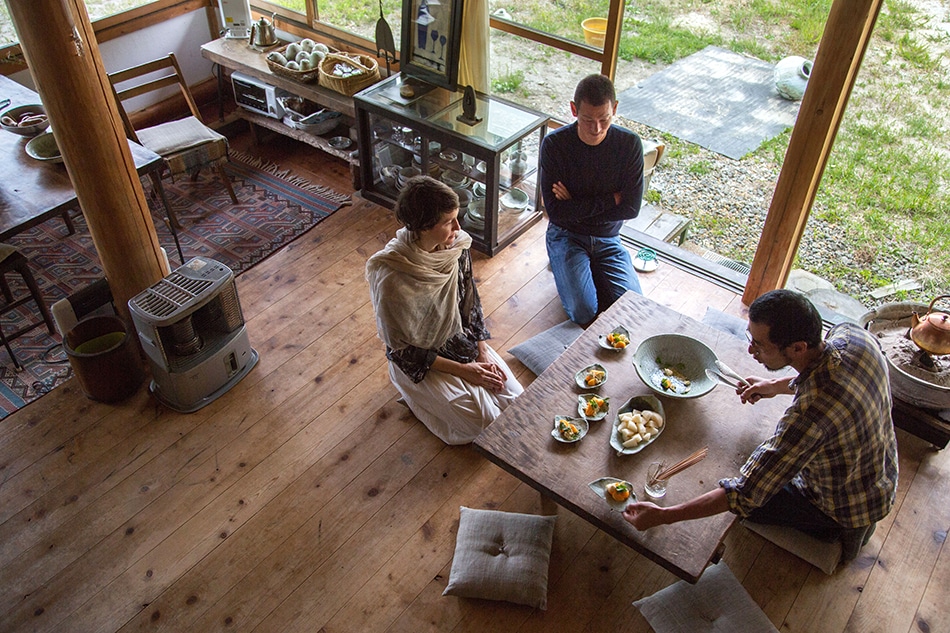 4. Have you been surprised by how any of the artists make salad?
A few people, such as Samara Golden, approached the salad as more of a sculpture. They thought of it in terms of the photo, as opposed to what we would end up eating. Recently, I made a salad with Will Cotton, and he made a candy salad. He candied Swiss chard — coated it in egg white, dusted it with superfine sugar and then crystallized it — and he used marshmallows instead of croutons. Basically, it was not really edible. It was entirely a visual exercise, which I thought was kind of amazing.
5. And William Wegman had help from Flo and Topper, two of his famed Weimaraners. What was it like making a salad with all of them?
I've been an admirer of his work forever, but Bill does not really like salad, so we decided to make something like salad but without any greens in it. It's a nut-and-fruit-based recipe composed of toast with minced apple, Concord-grape-juice-poached figs, pecans and balsamic drizzle.
I went to his place in Chelsea, and it's amazing. The dogs are unruly. They come rushing at you, which was kind of jarring at first, because I had my own vision of what they were going to be like. The images in the book where the dogs are up on the counters while Bill is cooking is actually exactly how they cook. That wasn't staged at all.
Later, he took me down to this huge room, which is their costume closet. And as soon as the dogs got in there, they started posing. As soon as they saw the props, they got into work mode. It's fascinating.
Bill is totally unpretentious. You realize that there is this special thing that artists have where they have a vision and they stick to it, and it's so clear. If you're committed, you can do whatever you want.
or support your local bookstore