The Paris-based interior designer Sarah Lavoine loves to move. In the past 20 years, she has changed apartments 13 times, but always within the same few streets in the 1st arrondissement. "The district is quite magical," she explains. "It's very cosmopolitan and also very central. I can walk everywhere quite easily." The nomadic urge, she says, was inherited from her decorator mother, Sabine Marchal. "When I was a child, she moved all the time," Lavoine recounts. "I love changing the furniture and doing up new places, almost to the point of it being a neurosis."
At 44, the gravelly-voiced Lavoine has become an embodiment of Parisian style and something of an "It" girl in the French interiors world. To some extent, her glamour and success are due to her family ties. She was born a princess, and a statue of one of her Polish ancestors, Prince Józef Antoni Poniatowski, can be found outside the Louvre (Napoléon made him a Marshal of the French Empire). She was also a flower girl at the 1978 wedding of Caroline of Monaco to Philippe Junot, and she is the daughter of Jean Poniatowski, who served as editor in chief of French Vogue between 1981 and 1995. Poniatowski took his two daughters with him everywhere, including to meetings with the Dalai Lama and Orson Welles. (Lavoine's sister Marie Poniatowski is a jewelry designer.) On top of that, the decorator is the wife of one of France's best-known pop singers, Marc Lavoine, with whom she has three children: Yasmine, Roman and Milo.
But Lavoine is much more than her background. "Sarah has a great ability to sense what's in the air," fashion designer Michel Klein, a close friend, says when asked about the secret of her success. "Rather like Isabel Marant in fashion, she's one of those people who know how to propose things that everyone craves but that didn't previously exist."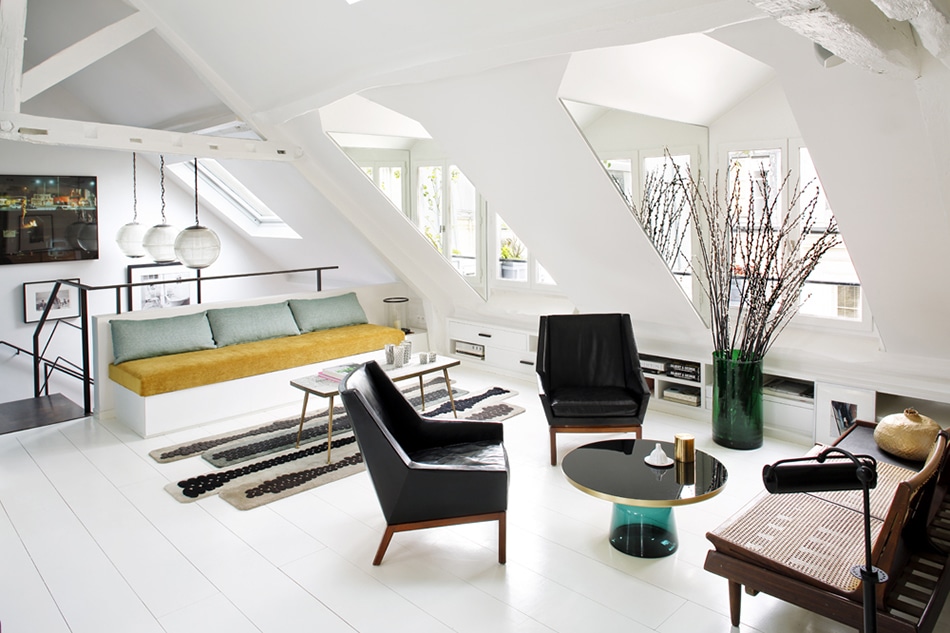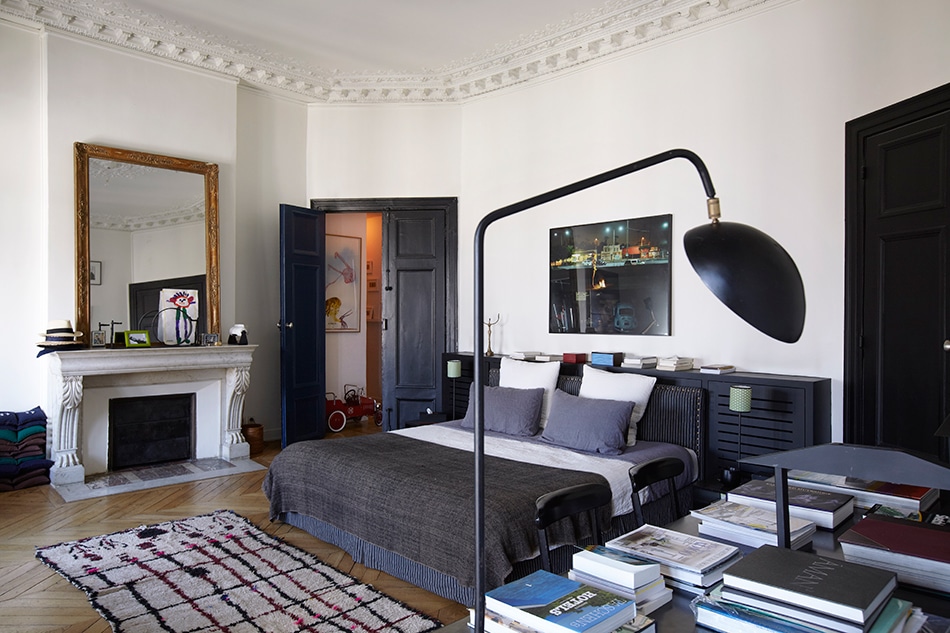 She is recognized particularly for her use of color and has created a range of 36 hues for the French paint manufacturer Ressource, one of which is her signature Bleu Sarah, a teal-tinted tone featured in one way or another in each of her projects. She designed an Elle Café in Tokyo, in tandem with the women's fashion magazine; the elegant Victoria 1836 restaurant, in a townhouse mansion near the Arc de Triomphe; and the five-star Le Roch Hôtel, just down the street from her apartment. Beyond that, she has two houseware shops in the French capital (clients include actresses Salma Hayek and Diane Kruger), plus the Maison Sarah Lavoine, a new lifestyle store that can be accessed from both the Place des Victoires and the Place des Petits Pères. This not only features an in-house restaurant but also sells everything from her own furniture and tableware collections to books and foodstuffs. "Lots of people use it as a passage, which amuses me," she says. "They come in, look around and walk out the other side."
One of the things you can find in the store is Lavoine's very own style guide, Chez Moi: Decorating Your Home and Living Like a Parisienne, whose English translation was published last fall by Abrams. It includes countless interiors tips, such as combining black, white and yellow to energize a room and placing a colored kilim in a kitchen — "It makes [it] cozy and avoids water stains on the floor." Other sections are devoted to her favorite recipes, her beauty regime and even her advice on how to raise children.
Lavoine's success has engendered more than a hint of jealousy. Certain peers consider her a lightweight and are snobbishly dismissive of her work. Her interiors may not be esoteric — as she herself acknowledges over a recent coffee at Maison Sarah Lavoine, "I have an easy-living approach" — but she has created a distinctive aesthetic, one that is both strikingly graphic and appealingly joyful.
"She has a vision, ambition, great energy and is an impressively hard worker," says Sylvie de Chirée, the editor in chief of French Elle Décoration. "Her projects are full of life. There's never anything cold or inaccessible about them."
Emmanuel Blanchemanche, the general manager of Le Roch Hôtel, agrees, noting, "She's really dynamic and does everything with passion." Le Roch is among Lavoine's strongest projects, featuring a moody blue and black lobby, zellige tiles in the bathrooms and rugs with geometric patterns inspired by Berber designs. "I wanted it to be very cozy, a little haven of peace," the designer says.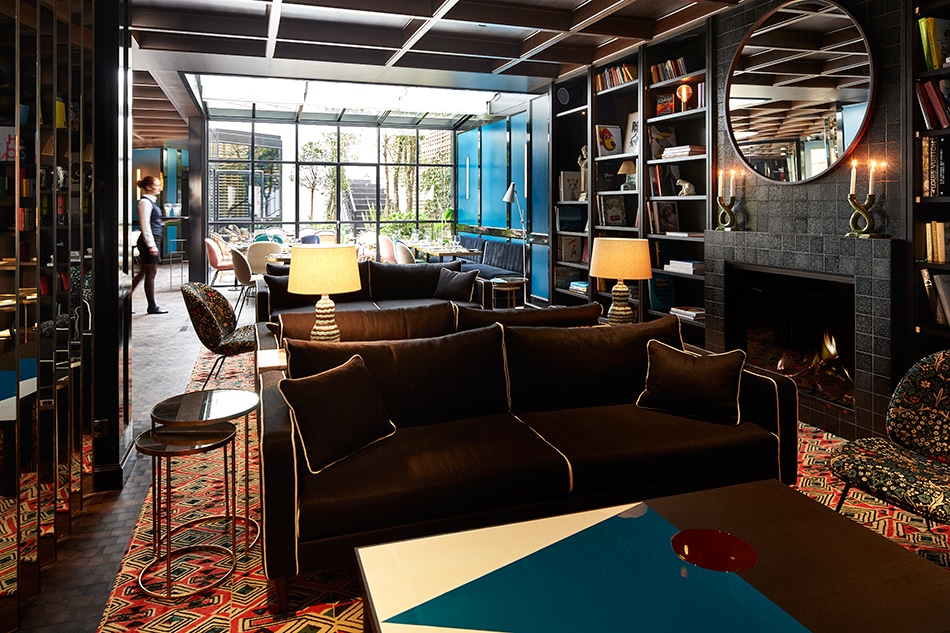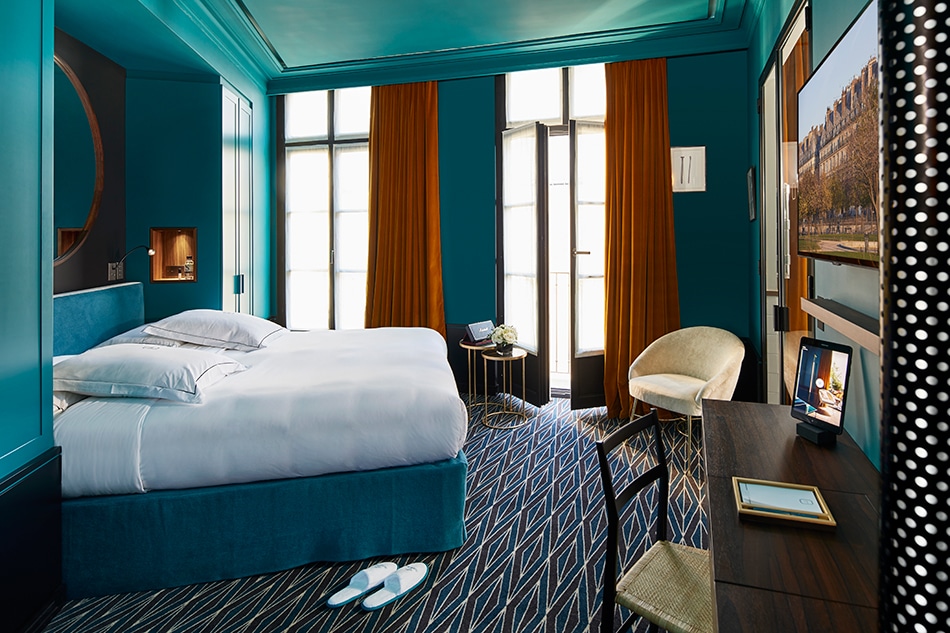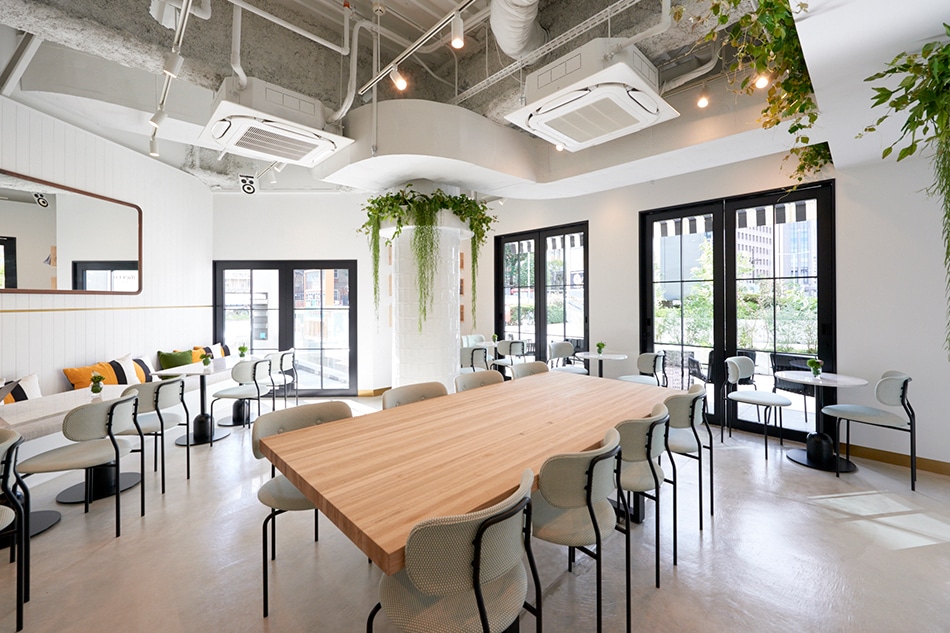 Lavoine started her firm, which now has some 50 employees, in 2002. Before that, she had considered an acting career. After high school, she spent a year at the Lee Strasberg Institute, in New York, but she soon came to the conclusion that neither the boards nor the silver screen were her calling. After returning to France, she studied philosophy and psychology at the Institut Catholique de Paris, worked as a script reader and got married. Then, at age 23, she decided to train with her mother.
Today, Marchal's style may be more classic, but Lavoine sees similarities. "We're both capable of mixing furniture of different periods and styles," she says, "and we both create warm atmospheres."
Lavoine often insists that she is not interested in trends, but there is something very of-the-moment about her work. She loves stripes and geometric patterns, has a penchant for hanging mirrors near windows and is a big fan of black. "It conceals what needs to be hidden and underlines what needs to be highlighted," she explains. Her Bleu Sarah was inspired by the color of saris she spotted en route between Delhi and Jaipur. "It's a quite magical hue," she asserts. "It's luminous, joyous and has depth to it."
Currently on her drawing board is a vast array of ventures. They include more than 500,000 square feet of new office space in the Parisian suburb of Levallois-Perret for the headquarters of the L'Oréal Luxe division of the beauty behemoth, as well as the Château Ducru-Beaucaillou winery, in the Bordeaux region, and several apartments in the French capital. Also in the offing is the launch of a perfume she created for Ateliers Cologne, plus more lifestyle stores, the first of which she will unveil in October in a former locksmith's shop in the west of Paris. Recently, Lavoine began releasing pieces from her debut clothing collection, which she describes as "anti-fashion fashion" — a kind of ideal wardrobe composed of the basics you want to throw into your suitcase.
One thing she is not counting on doing is moving again soon. Last year, she acquired an artist's studio next to her apartment and linked the two spaces. "I spotted it from the street eighteen years ago and have dreamed of owning it ever since," she says. "It has a sublime view of the Sacré-Cœur. That should keep me there for the next two or three years at least."
---
Sarah Lavoine's Quick Picks