November 20, 2022"Very early on in my career, I made it a personal challenge to work in as many locations as possible," recounts French interior designer Jean-Louis Deniot in his recently published monograph, Destinations (Rizzoli), written by Pamela Golbin.
The book itself is proof that, at 48, he has already gone at least some way to achieving his goal. It features 18 different projects in 13 different places, ranging from his own home in the Hollywood Hills to an 18,000-square-foot triplex at the top of a Bangkok skyscraper. Others include a modernist villa in Miami Beach, the dacha on Yves Saint Laurent's former property in Normandy (which Deniot refurbished for its current owners); an apartment in Moscow; and the gardens of his vacation home in Tangier, Morocco.
One of his earliest commissions abroad is also highlighted: an extremely grand ground-up house that sits on a five-acre plot on the outskirts of Delhi. For the architecture, Deniot took his inspiration from the buildings of Edwin Lutyens, who was responsible for constructing New Delhi in the early 20th century. Both the portico on the front facade and the colonnades that wrap around the sides are reminiscent of the English architect's work.
"It was a really fantastic project," recalls Deniot. "In India, they can make anything you want and very quickly. So, everything is possible." A carpenter even set up his workshop on the building site, which allowed Deniot to sketch designs and have prototypes made up within 15 minutes.
Today, he remains a fan of commissioning custom furnishings by local artisans, whenever possible. Yet his interiors never over-embrace the vernacular style of a particular country or region. Instead, he weaves in influences subtly and adds more than a dose of Gallic style. "People generally come to me in the first place because they want something French," says the Paris-based Deniot.
East and West certainly come together in the Bangkok triplex, although the Western influences stretch beyond France. From the East, there's a gilded meditation room that references the shiny gold leaf of the Buddha sculptures in the Thai capital's temples. Doors have been fitted with handles in the shape of bamboo stalks, and another Asian nod comes by way of the central engraved-glass staircase, whose angular, folded forms are origami-like. The furniture, meanwhile, is very much Western. Among the pieces are a Piet Hein Eek dining table surrounded by Kelly Wearstler chairs, a Vincenzo De Cotiis cocktail table and a pair of Télémaque armchairs Deniot designed for the French furniture manufacturer Pouenat. Stunning though the interiors are, the property's most spectacular feature is to be found outside — a swimming pool with sweeping views of the cityscape, housed within a faux grotto made from painted plaster.
Water is also very present in another of the book's projects — a 5,400-square-foot villa overlooking the Mediterranean on the French island of Corsica, whose design was largely inspired by the unique natural surroundings. The tones of the local soil and olive trees made their way into the palette, and Deniot commissioned the Paris-based decorative artist Florence Girette to paint the vaulted ceiling in the dining room the color of the local lauze stone. Underneath it, Deniot set a Jean Prouvé table, placing it diagonally. "Otherwise, it would have looked too much like a canteen," he explains. The other furniture includes a pair of curvaceous Vladimir Kagan sofas, Poul Kjærholm's iconic PK24 chaise longue and a dramatic 1950s chandelier by the Austrian architect Oswald Haerdtl that is composed of several dozen white-glass globes. "It looks like pills on the ceiling," quips Deniot.
On another Mediterranean island, Capri, a revamped vacation home for an Italian art collector was, he says, his most arduous commission to date. The work was complicated by the fact that the house cannot be accessed by either car or truck. Instead, rubble had to be transported away in crates on scooters and deliveries carried up through narrow alleyways from a point more than 300 yards downhill. "Everything we bought or designed for the house could not exceed a certain size," he notes. Thus, sofas were delivered in kit form, as was the more than nine-foot-long travertine-topped outdoor dining table.
Ask Deniot the main difference between working in France and abroad, and he'll mention the fact that you often need to accommodate large numbers of staff in certain countries, such as India and Thailand. "You have to find ways to preserve your clients' privacy while allowing them to have the help they desire," he says.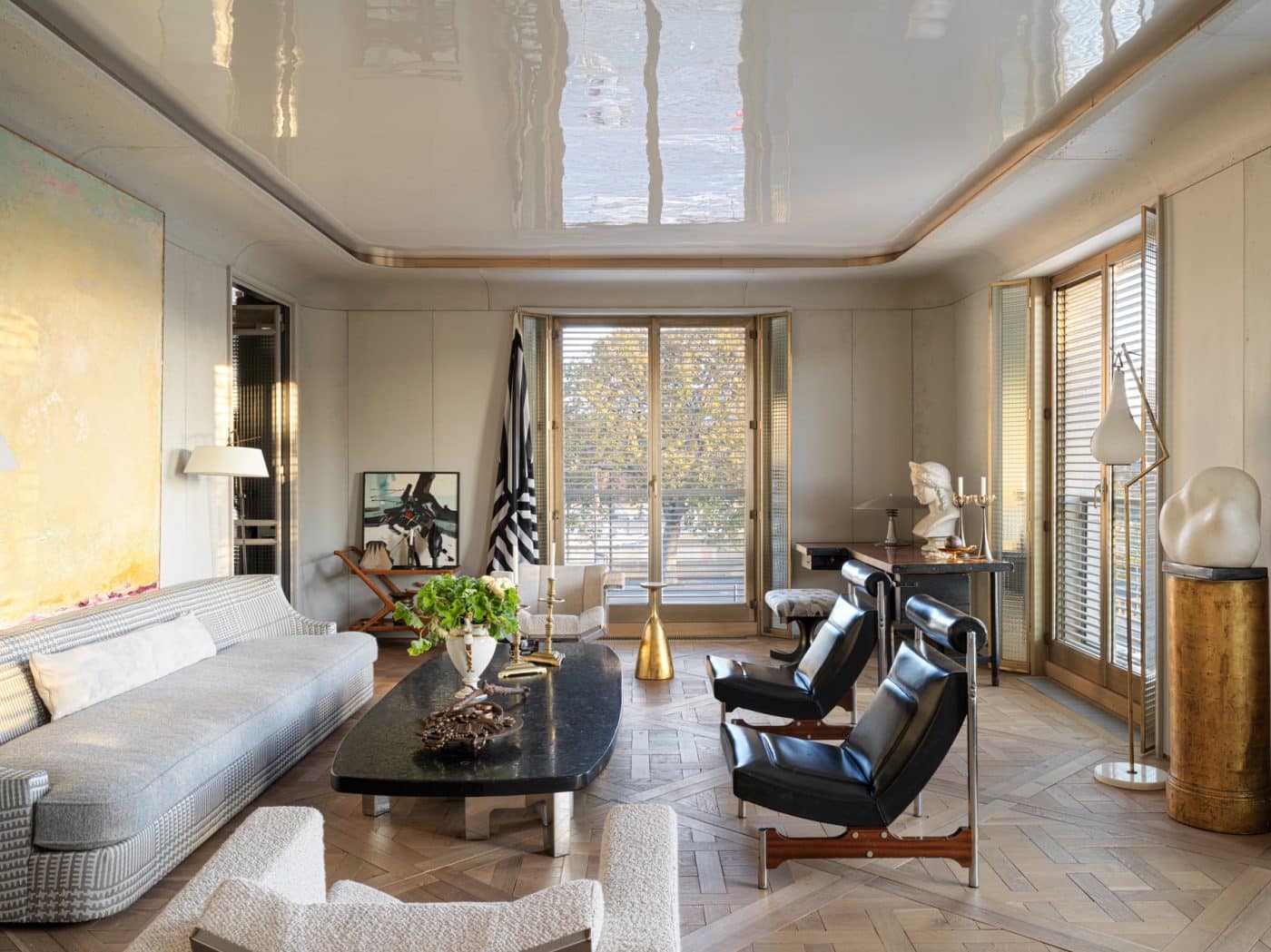 His own employees are certainly well accommodated, as illustrated by another project in the book — Deniot's own offices, located in a 4,300-square-feet space directly on the Left Bank of the Seine, close to the Invalides, that had formerly housed a firm of notaries. He completely reconfigured the space, creating an elegant enfilade of rooms separated by a succession of wired-glass doors whose watery appearance is meant as a direct reference to the river below. Deniot says he wanted to create the "least decorated space" possible. By that, he means no rugs, few patterns and little in the way of architectural detailing. However, the rooms are certainly not spare. In a hallway, a Hans Hartung lithograph hangs above an Angelo Mangiarotti console table with a 16th-century bust on it. The library features a 1930s Bauhaus daybed and a pair of Robert Mallet-Stevens armchairs, while a lounge-like meeting room is decorated with a pair of Piet Hein Eek armchairs, a side table by Philippe Hiquily, a Sol LeWitt flag, a Jacques Quinet desk, a marble bust of Juno and a couple of Gio Ponti chests of drawers. A different vintage chair, meanwhile, has been placed for guests in the office of each of Deniot's team members.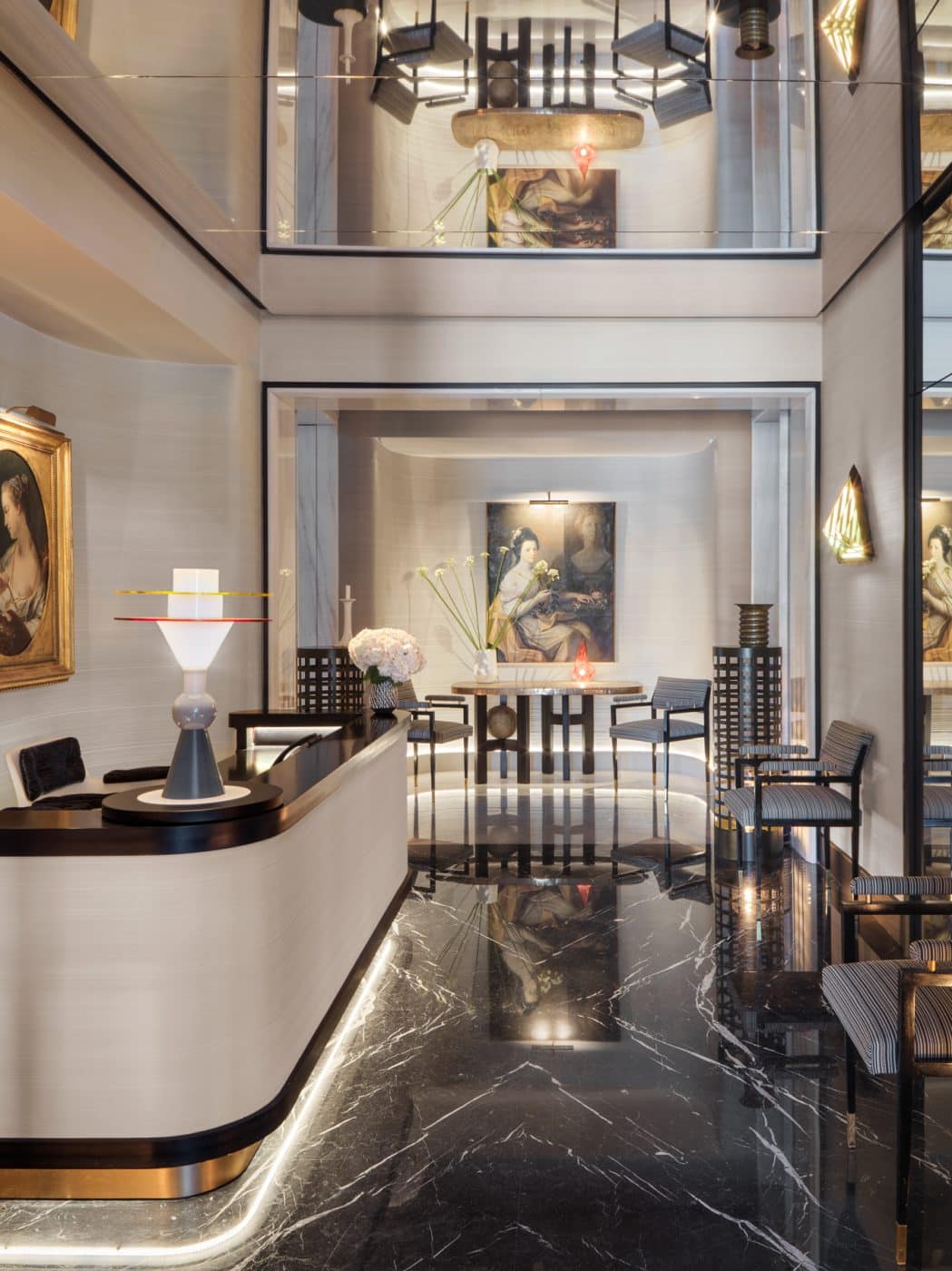 Among the projects currently on their drawing boards — or more precisely, their computers — are five commissions in Hong Kong and a 54,000-square-foot house in Bangkok. Deniot is hoping to sign up others in Australia, Taiwan and Brazil in the near future, but the country where he'd most like to work is Japan. "I've never yet set foot there, but something tells me that I'll love it," he explains. "Their philosophy when it comes to crafts is something I'd adore taking the time to discover."
Jean-Louis Deniot's Quick Picks