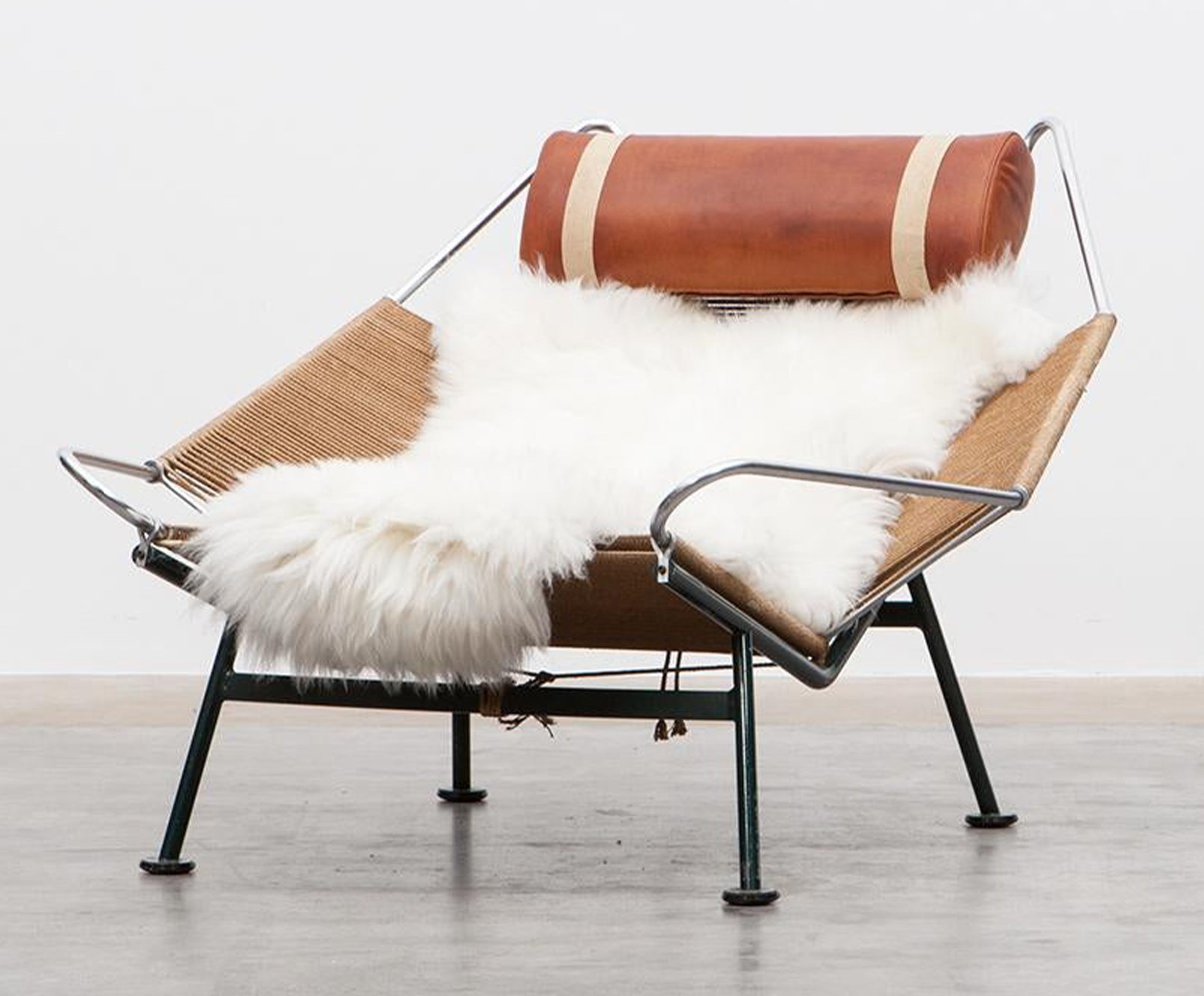 Iconic Designs
Flag Halyard Chair
About the Design
In its broad form and wealth of hard angles, Hans J. Wegner's Flag Halyard chair is one of the more visually flamboyant pieces to emerge from the Danish mid-century movement. Legend has it that Wegner (1914–2007) conceptualized the piece in 1950 while on vacation at the beach, molding its seat out of sand and attaching a bit of halyard — rope typically used on sailboats — that he found nearby.
Danish brand Getama picked up the chair for production, an undoubtedly difficult task given the piece's suspension construction and unusual combination of materials. The original Flag Halyard consists of chrome-plated steel, woven rope, linen and a sheepskin throw; subsequent models incorporate leather cushions. But Wegner, who established his studio in 1943 after graduating from the Royal Danish Academy of Fine Arts and working for Arne Jacobsen and Erik Møller on furniture for Aarhus City Hall in 1938, was never one to shy away from unconventional material or construction — and an early apprenticeship with master cabinetmaker H.F. Stahlberg instilled in him a devotion to fine details.
Around the same time that Wegner created the Flag Halyard chair, he developed the widely beloved Wishbone chair and an armchair in 1949 commonly known as "The Chair," which earned him international recognition when it was used in the 1960 U.S. presidential debate between Richard Nixon and John F. Kennedy. Compared to these two seats, the Flag Halyard is a delightfully experimental marriage of material. Today, it's manufactured by PP Møbler.
Previously Available Items
More Hans J. Wegner Designs