October 8, 2023Sara Cukerbaum, the founder of SLIC Design, in Austin, Texas, doesn't have a whole lot to say about the current trend of maximalism. "It's fun in hotels and restaurants, but to live with it in my home with my husband, two kids and three dogs would be overwhelming," the self-proclaimed minimalist states. "And many of my clients who are focused on their health and well-being also want homes that have less clutter and chaos, and more peace."
In lesser hands, minimal interiors can often look and feel antiseptic, cold or downright blah. But Cukerbaum infuses her projects — from gallery-like lofts to new-build contemporary houses — with life and plenty of visual interest by using what she describes as "color, texture and memorable pieces that are provocative without overpowering the room." Interior architectural flourishes, sculptural furniture, abstract art, handmade ceramics and planters and dazzling modern mirrors are just a few of her style signatures.
Take the loft-like apartment she decorated a few years back in a new building set on the campus of a former Austin power plant. Wanting to "reference the building's industrial history," Cukerbaum explains, she installed a suspended white wood-slat ceiling in the open-plan main living space and used retractable black-steel-and-glass doors to define a home office/lounge.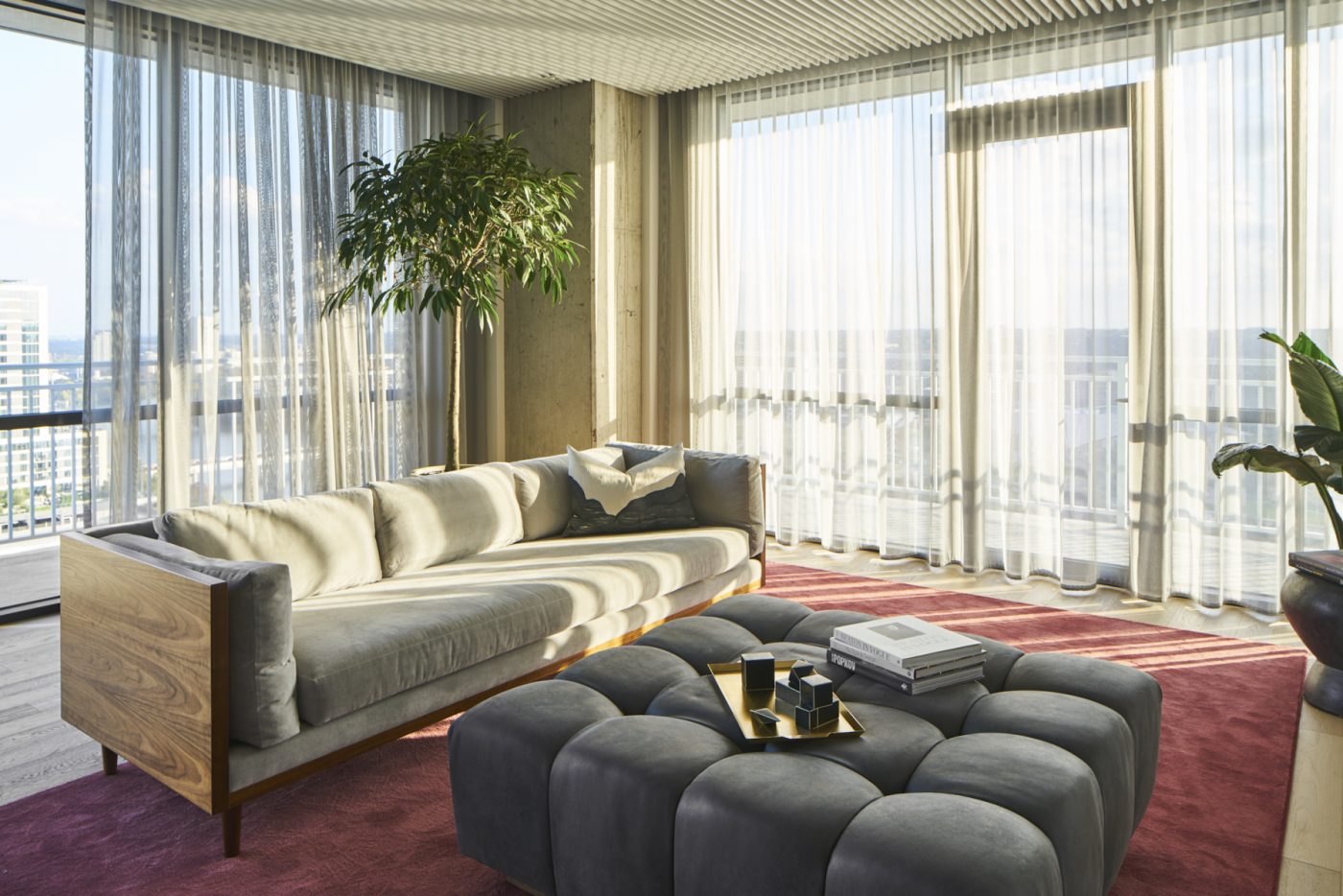 Black-metal-framed seating, including dining chairs reminiscent of Marcel Breuer's cantilevered designs, add a Bauhaus simplicity, while warmth and texture come from the living room's walnut tuxedo sofa and linen-wrapped Made Goods nightstands in the boudoir.
Throughout the home, Cukerbaum created focal points using elements like patterned wallpaper, tile and fabric-upholstered headboards, as well as dramatic swathes of color. For the kitchen and bath — rooms that often default to white — the designer had cabinetry with unlacquered-brass hardware painted in Farrow & Ball's brilliant Hague Blue.
Another recent client, who had built an organic modern home in Austin's historic Bouldin Creek neighborhood, preferred neutral tones and natural materials. Here, Cukerbaum crafted interiors that exude calm without inducing yawns. She did so, in part, by adding visual dimension, bringing the vertical-slatted wood siding from the home's exterior onto interior walls, doors, bookshelves and a custom headboard with floating drawers.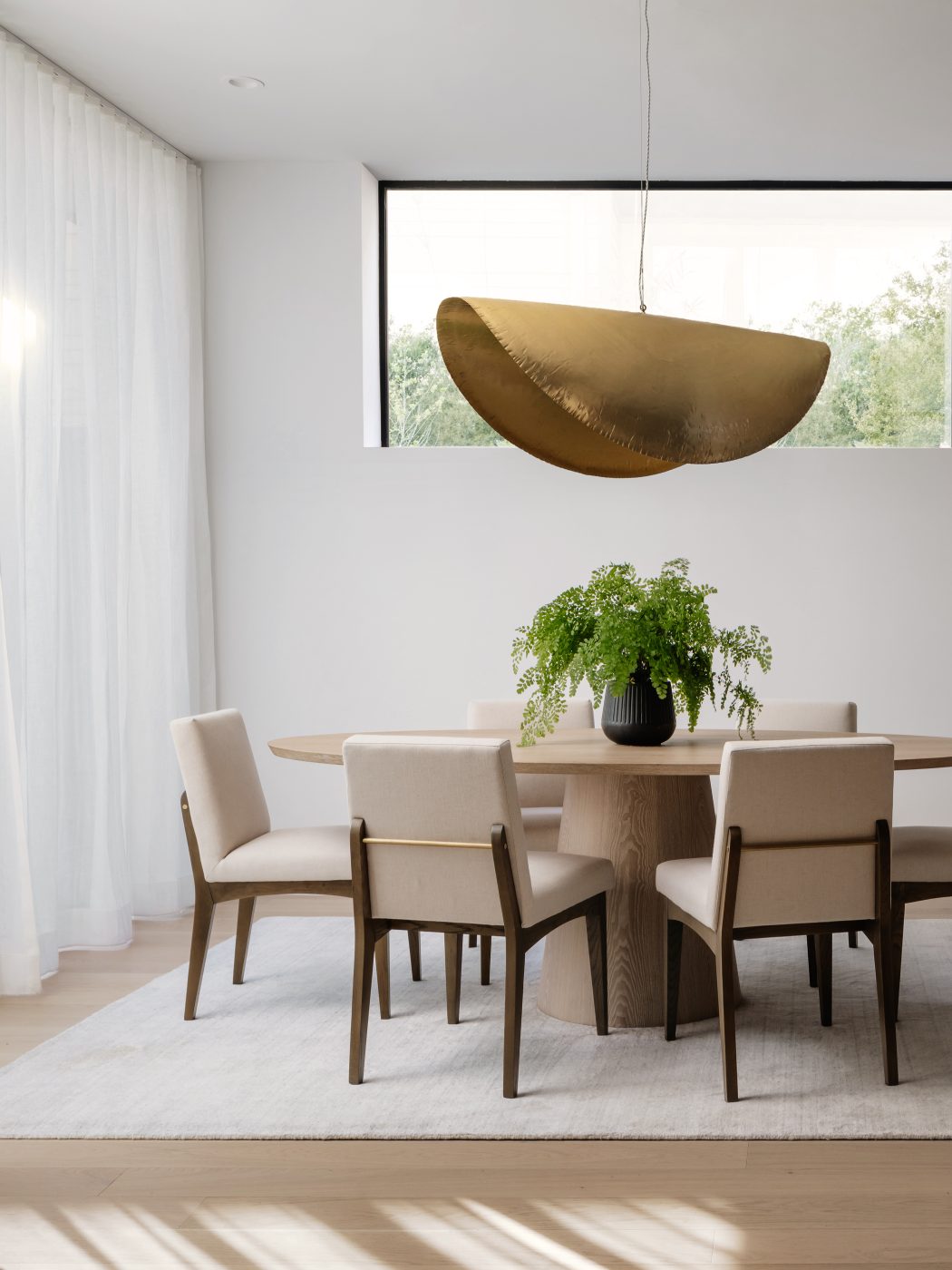 In addition to hanging monochromatic abstract wall sculptures by Austin artist Brandon Mike and a bent-brass pendant light by Paola Navone for Gervasoni, she made strategic placements of black furniture — limed-oak dining chairs, Scandinavian-style webbed lounge chairs — and accessories. "No matter what the color scheme," she explains, "I always use black to help ground a space."
In another recent project, a 3,200-square-foot, two-story home in the arty district of East Austin, the designer channeled the Museum of Modern Art in New York, paring down materials to white walls, pale oak floors, Mont Blanc quartzite counters and walnut cabinetry to create a seamless visual flow. "This is one of our signature minimalist moves," Cukerbaum says. "We don't reinvent the wheel every time you walk through a doorway."
Behind a wide black-steel and glass front door, the entryway sets the tone for the entire home, with a wall of charcoal-gray brick that echoes the exterior. Here, Cukerbaum hung a glistening Rondel mirror by ZIETA. On a walnut wall that wraps around into the kitchen, she placed a WORKSTEAD sconce, adding a round table and contoured stool, both made of cast resin by Zachary A. Design. "They look like terrazzo," Cukerbaum says, marveling. "But they're extremely lightweight and portable. It almost feels like you're moving Styrofoam when you lift them."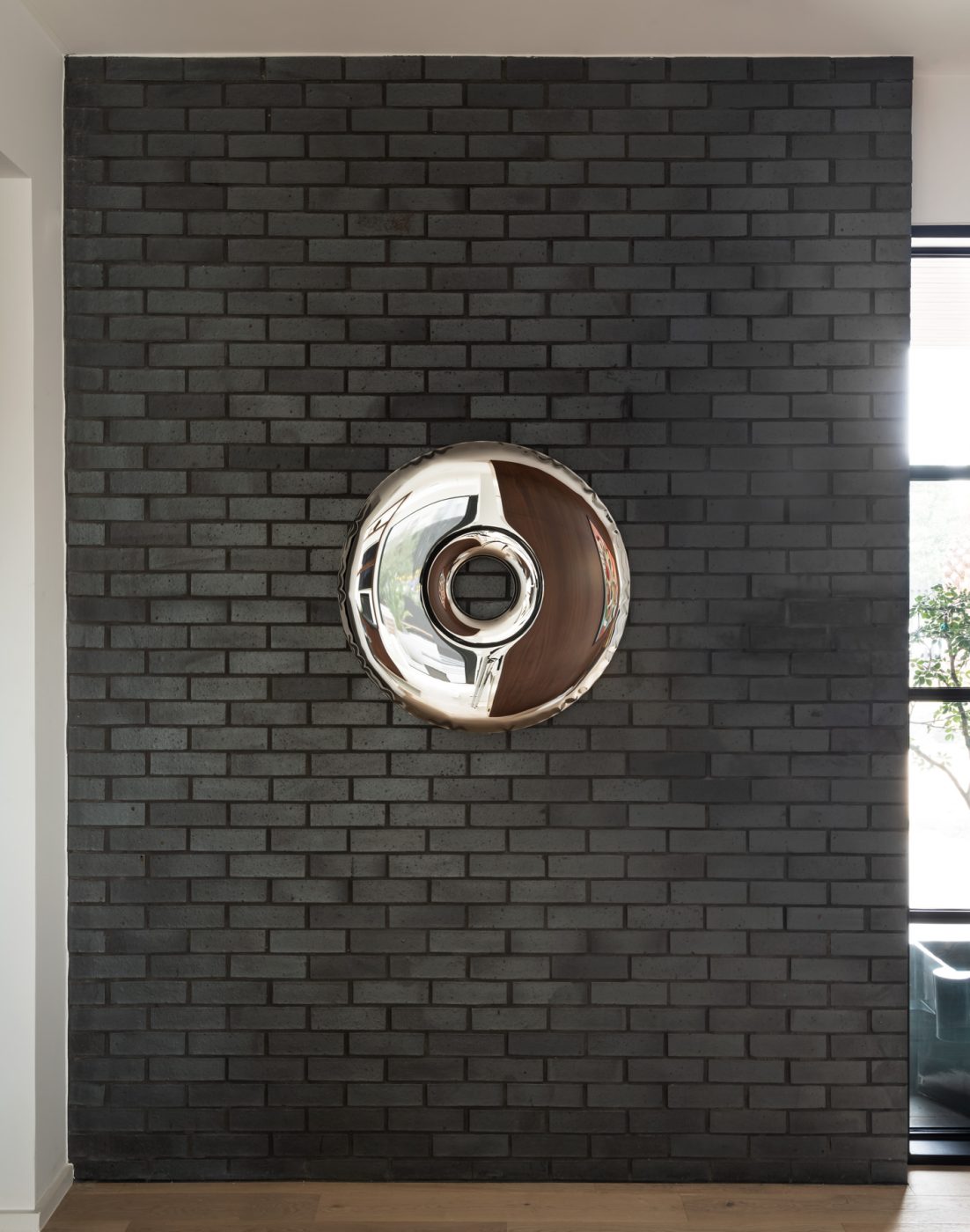 Adjacent to athe kitchen, which Cukerbaum laughingly describes as so streamlined "you have to look twice to know it's a kitchen," the dining and living areas are defined by a floor-to-ceiling walnut room divider she designed to incorporate a wet bar. Above it, open shelves display ceramics by BZippy and Caroline Blackburn. These contribute a warm, organic element to the scheme.
"The 'great room' idea is still really popular, but for me it's hard to make it cozy and warm," she says. "The bar creates some separation between the spaces without closing them off."
In the living room, STUDIO KALI's Kanyon coffee table sits between a contemporary sofa by MATTHEW HILTON and a pair of ALKY CHAIRS designed in the 1970s by GIANCARLO PIRETTI for ARTIFORT and upholstered in ivory Pierre Frey wool. Tucked into a corner, a 1984 postmodern EKSTREM CHAIR BY TERJE EKSTRØM — a three-dimensional squiggle in yellow upholstery — commands attention with a jolt of color and wit.
The idea behind the mix of pieces, Cukerbaum says, "is to juxtapose this linear home with softer lines and curves, using unique opposing shapes that balance and blend with each other."
Cukerbaum is equally adept at melding periods and styles. The dining room features a 2020s Klein Agency black-oak table flanked by a suite of Gio Ponti–esque mid-century Italian chairs still adorned with the worn and faded original velvet upholstery. "That really brings in character," she says. "Although contemporary furniture is relevant to the architecture of the house, vintage pieces give it soul."
The designer comes by her minimalist style organically. She was born and raised in Dallas in a single-story modern brick-and-glass house built by her commercial-real-estate developer father. "Growing up in that elegant beige house was the beginning of my passion for design," she recalls. "I had a built-in desk, with a glass coffee table in front of my daybed, like a sitting room. Since then, I have always leaned toward the contemporary."
Cukerbaum's professional trajectory has been marked by career and address changes. After earning a bachelor's degree in economics and political science at New York University, she did a stint in finance, which paid scant creative rewards. She then studied interior design at the Harrington Institute, in Chicago, and hired on at traditional studios before decamping to South America to work at a winery, travel and learn Spanish. Returning to the States, she moved to Austin, where her brother lives and where, in 2012, she established SLIC Design. "I wanted to bring a unique voice — all the things I have seen and learned in all the places I've lived — to Austin," she says.
There, people want something different from the more traditional interior design you find in much of the rest of Texas. "We're a relatively young city," Cukerbaum explains, "a college town that exploded, and we're still evolving."
Even so, this minimalist remains certain that less is more. "The interiors I create are never so 'done' that there's no room for anything new," she explains. "If we overcrowd a space, it doesn't leave room for personalities and growth." She smiles serenely. "Good design allows for change, so that families can evolve, bringing things home from their lives and travels."