It's hard to believe that Mexico City–based interior designer Sofía Aspe opened her practice less than six years ago. In that time, she's built a boutique firm and completed more than 50 projects in Mexico and the United States — many of them documented in a recently published book about her multifarious oeuvre.
Before pursuing a career in design, the ambitious mother of two school-aged children studied business management in Mexico City and culinary arts in Chicago, after which she served for 11 years as president of the not-for-profit ChildFund Mexico, which she continues to support. But friends were continually asking her for decorating advice (and insisted on paying her for her work), so she decided to make this her full-time job. Big projects followed, and she embarked on a path she didn't realize she'd been preparing for since childhood.
"For years, I collected miniature furniture that my father would bring from his travels or that I'd buy from Bazar del Sábado, in the south of the city," she says, describing the hours she spent crafting spaces where dolls would receive guests and in which they could relax. Recalling the various configurations of furniture she'd toy with to ensure "mood-enhancing" experiences for her dolls, she says with a laugh: "It was pretty evident that I was into this."
Now designing for real people, she maintains her youthful inclination to create welcoming spaces. "I design for comfort and coziness," she says. "A home that is beautiful but not comfortable is useless. Interiors should encourage sitting, leaning, touching." She sees herself as an enabler, helping people live better lives in their environments. "My projects must speak of their inhabitants rather than about me," she explains. "I always ask clients what feeling they want in each room — do they want to feel alive, fun, sexy or motivated to read or exchange ideas?"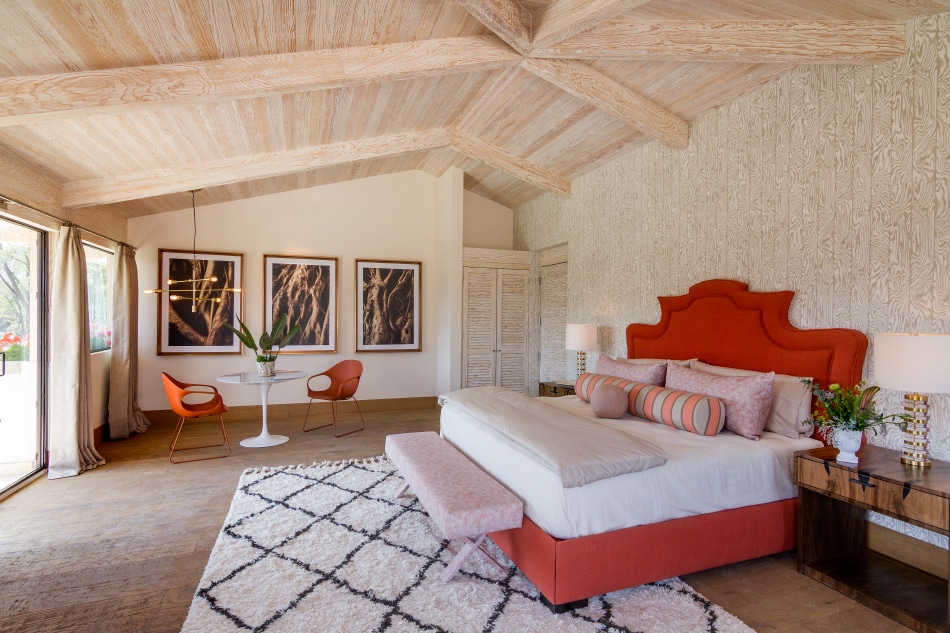 She points to Sierra Leona, a private residence in Lomas de Chapultepec, where the owners' affinity for dominoes prompted her to design an upscale games room in which small details, like side tables for drinks, were well-considered additions. The patio, frequented by the homeowners' grandchildren, includes furniture upholstered in durable, easy-to-clean fabrics, reflecting her commitment to designing around her clients' lifestyles.
Last year, Aspe was named to AD México's list of Latin America's 100 top interior designers and architects, recognized for her bold use of color, her mixing of eras and styles and her disregard for decorating conventions. "Why should wallpaper end in the corner of a room, a ceiling be white or all the bathrooms be uniform?" she asks.
A country-club house in Atlixco, in Central Mexico, exemplifies her nonconformist style. Each of the seven bedrooms is supremely different in color, material and aesthetic: One sports red-and-white-striped wallpaper, red cylindrical silk cushions and wooden benches; another has pale green patterned walls, a beveled velvet headboard and mirrored pedestals. In the reception area, Italian Calacatta marble is used alongside black tiles handmade in Oaxaca, both serving to set off basketry and hand-carved wooden and leather and linen furniture.
Campos Eliseos, a two-bedroom condominium in the upscale Mexico City neighborhood of Polanco, presents another example of Aspe's unconventionality. Here, black granite and green Brazilian marble harmonize in a botanical-wallpapered bathroom, while the dining area introduces a plethora of textures, reflections and tactile experiences through marble, mirror, wood and leather.
---
"A home that is beautiful but not comfortable is useless. Interiors should encourage sitting, leaning, touching."
---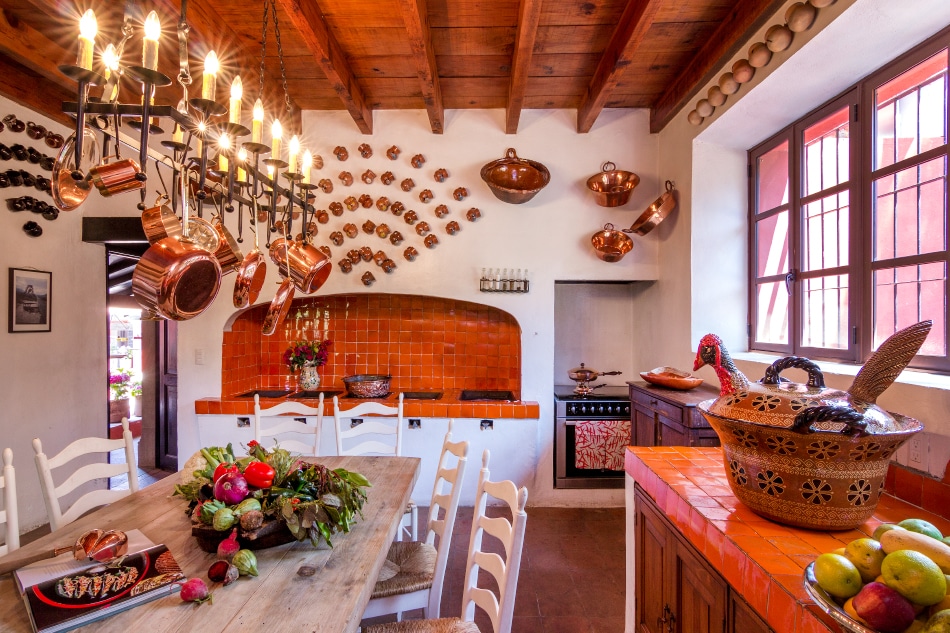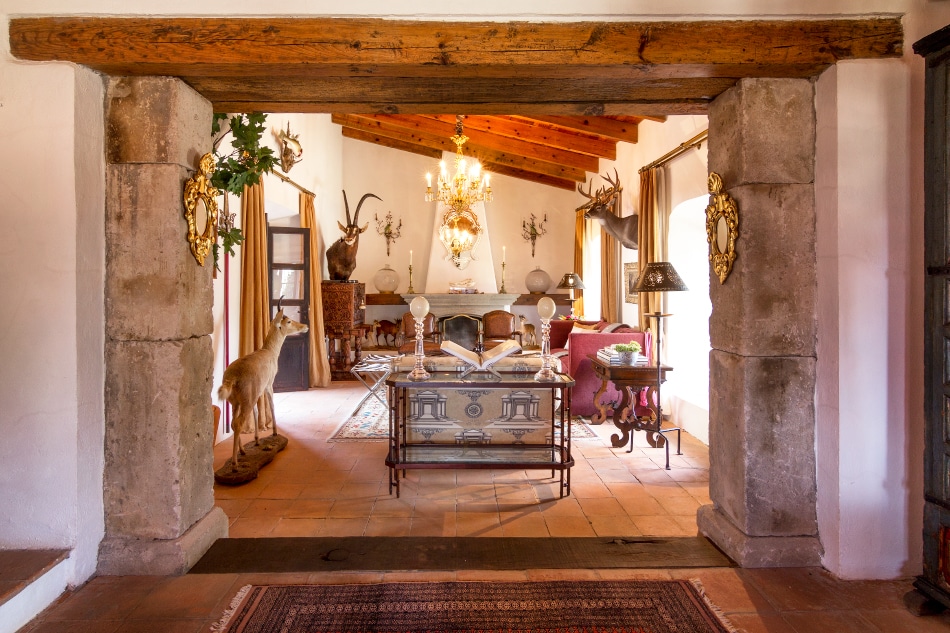 "I don't have any of the limitations often brought about by formal education," says Aspe, who is adept at mixing antique and contemporary textiles and furniture in her interiors. At an expansive ranch in the central Mexican state of Querétaro, she used English fabrics alongside vintage Mexican chests and chandeliers. Outside the stable, vintage chairs, painted red to complement the floral plantings, are paired with a mammoth modern table made from a tree indigenous to Bali. "You have to include artisanal, handmade pieces and unique creations like vintage furniture and art if you want the space to have character," she says.
Aspe, who grew up in a family of art aficionados and antique-furniture collectors, regularly advises on art, applying the knowledge she has gleaned from visiting art fairs around the world (she attends four or five a year) to helping clients build their collections.  Although she cites Mexico-based artists as favorites, she also includes international talents in her projects, to create a culturally richer aesthetic.
In Sierra Leona, Aspe created environments to showcase the homeowners' extensive collection of contemporary Cuban and Mexican art, complementing the vibrancy of some works with exuberant decorative flourishes and letting others pop against more muted backdrops. Aspe dusted off the family's heirloom silver candlesticks, for instance, and put them on prominent display in the dining room, finding pleasure in digging out old forgotten pieces and giving them a contemporary spin. On the Querétaro ranch, she presented myriad old irons formerly used on the hacienda as a row of objets d'art atop a fireplace. She also cleverly mounted on the walls pots, pans and traditional clay mugs typical of the property's era or dangled them over the central counter in the kitchen.
Perhaps Aspe's most important accomplishment, however, is building her nine-women team of interior designers, industrial designers and architects. Her staff works from her home atelier, and this year they will be adding a restaurant and hotel to their portfolio. "We're doing many firsts — these are things I've always dreamed of," she says with a satisfied smile.
---
Sofía Aspe's Quick Picks on 1stdibs