April 4, 2021What do a life-size statue of a Roman soldier and a 1983 Porsche 911 have in common? "I see them both as beautiful sculpture," says interior and furniture designer Tommaso Spinzi of Spinzi Design, whose loft-like live/work space in Milan displays one of each.
The 37-year-old car and motorcycle aficionado drove the classic vehicle into his ground-floor unit through a wide opening created in the early 20th century, when the building housed the horse stables for a post office, and parked it, more or less permanently, in his living room.
Spinzi's home is what he calls "a container of my passions," and a showcase for his singular approach to interior design. Such 20th-century icons as Tobia Scarpa's Coronado sofa for B+B Italia and Giò Ponti's Superleggera chairs for Cassina share space with industrial salvage like a metal office desk from the 1950s or '60s, along with hearty contemporary pieces of Spinzi's own design. "My world is a masculine world," Spinzi says. "A lot of toys for boys."
He means this quite literally. One of Spinzi's furniture lines, comprising consoles and coffee tables of powder-coated perforated steel, is called Meccano after the popular European children's construction toy (similar to the American Erector set), which actually played a key role in the development of his aesthetic. "I am the child who plays with the Meccano, and when he grows up, creates a furniture line based on the same principle," says Spinzi.
He has produced several limited-edition collections since moving back to Italy in 2019, after 15 years living in Switzerland, Japan, Australia and the United States. The first was Origini, in which he replaced the worn surfaces of existing tables and case pieces with ceppo di gre, a natural, locally quarried stone composed of broken mineral fragments.
"I was running around Milan with my motorcycle and saw this stone on the facades of typical Milanese buildings," recalls Spinzi, who had been collecting vintage modern furniture by Italian masters like Ponti and Osvaldo Borsani and would occasionally come across unsigned pieces he deemed worth rehabilitating. "I wanted to use this material to give these pieces new life."
But the Origini line was, by definition, composed of one-offs, and Spinzi wanted to make multiples. His next endeavor was the Palladium line of metal coffee and side tables. Based on the arch, the pieces are, he says, "very simple, very pure geometric shapes that create shadows in space."
Palladium was followed by Medusa ("Jellyfish"), a group of diminutive hand-carved marble stools with evocative forms inspired by a dream Spinzi had of Lake Como, where he grew up. "I dreamed I was bathing in the lake, and all of a sudden this dark creature" came up from the depths, he says. "The next day, I designed Medusa."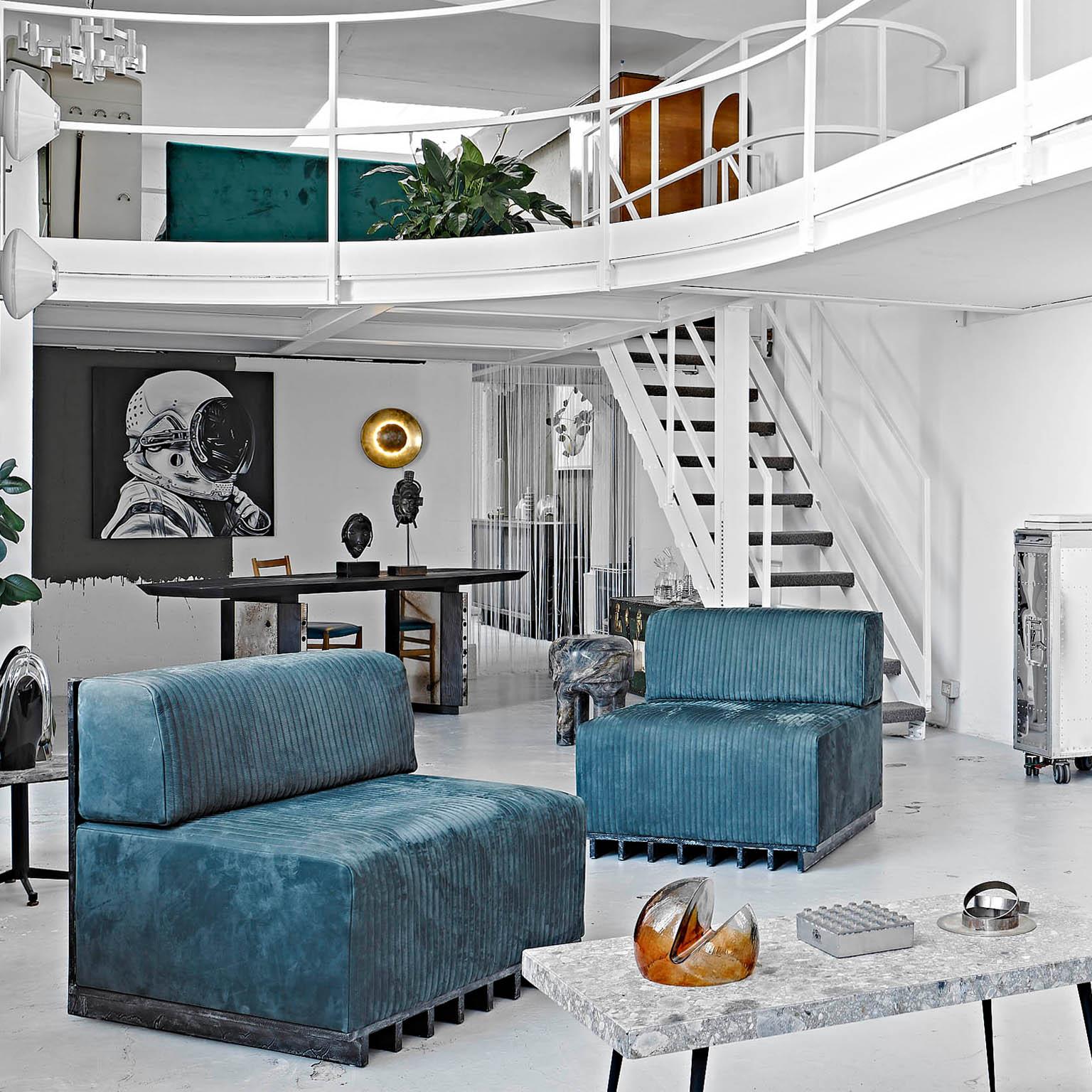 Most recently, drawing on his longtime fascination with automotive design, Spinzi conceived the Lamè ("Blades") series of modular upholstered pieces, whose unusual design, particularly the slatted back and base of patinated wood, is based on that of the air-cooled engine.
"I wanted to create a sofa that juxtaposes the brutally masculine world of mechanics on one side and the elegance and luxury of Italian leather on the other side," the designer explains. He notes that any item, whether it's a piece of his own design or a 1980s chandelier that looks like a bouquet of chrome exhaust pipes, "if it has a connection to cars, motorcycles, mechanics or engines, it fits in my universe."
Living and working in Milan, Italy's industrial powerhouse, "is a continuous source of inspiration," Spinzi says. "I have a strong connection and bond to the city of Milan. Every day, you discover something new: materials, shapes, details. It makes you want to produce and create things." That he does, with the help of two full-time associates. "We design and make things that reference the beauty of industrial artifacts, even raw beams, gears and bolts. We want to capture the same beauty in our pieces."
Spinzi was not always an urban creature. He grew up in Menaggio, on famously beautiful Lake Como, in Italy's Lombardy region. It is, he says, "a typical little Italian village, almost like going back in time." Early on, he wanted to be a mechanic, and for a while, his parents urged him toward engineering.
Ultimately, he tried studying architecture, "but it was too structured. They teach you all these rules that kill the creativity." Instead, Spinzi became a building surveyor and learned the principles of construction.
For five years, he worked in Lugano, Switzerland, in the architecture firm of the late Gianfranco Rossi, who was also a sculptor and an associate of Carlo Scarpa. There, Spinzi learned to draw plans and, in his spare time, cultivated an interest in collectible watches (he is now a brand ambassador for Seiko).
A period of globe-trotting followed, including a stint in Japan, a year in New York City ("too busy for me"), and seven in Melbourne, where Spinzi, more convinced than ever that architecture was not his path, studied interior design at Holmesglen and perfected his English.
Working for Colin Bowman, a Melbourne-based interior designer, he realized he was "passionate about interiors" and gained a thorough grounding in custom design, color schemes and working with clients.
Spinzi's varied experience has stood him in good stead in his residential projects as well as in such high-profile interior design commissions as the St. Moritz tourism offices and the Seven Stars Galleria boutique hotel, tucked within Milan's Galleria Vittorio Emanuele II, the landmark 19th-century "crystal palace" of shopping malls.
At his weekend home on Lake Como, Spinzi tools around in a 1968 Mercedes 200SE. In Milan, however, the exigencies of parking require him to drive a tiny Smart Brabus by Mercedes-Benz. "You can park on the footpath, you can park in every sort of direction. It's not allowed, but you can do it," he says.
Being Tommaso Spinzi, he customized the car. "I repainted it a green color that represents me and redid the interior in suede and perforated leather." It turned out so well, he says, "my clients want a house that looks like the inside of my car."
---
TOMMASO SPINZI'S TALKING POINTS