September 27, 2020As a leading figure on the international design scene, Stephen Burks has spent the last 20 years traveling all over the world. But the past couple of years, he returned again and again to a particularly unexpected locale: Berea, Kentucky, nestled in the Appalachian Mountains.
The tiny town is the home of Berea College, which was founded in 1855 by abolitionists and was the first interracial and coeducational college in the South. Burks went there as part of the institution's Crafting Diversity in Design initiative, in which he collaborated with students on a series of objects that will be produced by hand in a work-study program carrying on Appalachian craft traditions.
"When I learned the history of the college, I simply could not say no," Burks explains. "Diversity is in its DNA, and I want to do everything I can to support that."
The initiative is one example of how Burks is using his prodigious reputation to bring about more diversity and cultural inclusivity in the design field. Through his New York City–based studio, Stephen Burks Man Made, he works with leading design brands to develop authentic collaborations with artisan communities in developing countries.
He's also a thought leader and recently became a host of "Design in Dialogue," a series of free Zoom conversations with leading designers created by the New York City gallery Friedman Benda as a way to connect during this time of social distancing. His conversations largely focus on diversity in design.
"The design world is changing, and it has to change, in response to the racial equity movement that we're seeing right now," Burks says. "There's a generational shift happening, and in many ways, design is just catching up."
He would know. Burks was the first African American designer — and among the first American designers — to work with his European clients, which include Roche Bobois, Moroso and Dedon. His big break was getting hired by Cappellini, around 2000. The road there wasn't smooth.
Burks, who grew up on the South Side of Chicago, became fascinated with art and architecture at an early age. By the time he turned nine, he was already making trips to the Art Institute of Chicago on his own.
As a high school senior, Burks applied to only one college, the Illinois Institute of Technology (founded as the New Bauhaus in 1937), because he wanted to take classes in Crown Hall, a Ludwig Mies van der Rohe landmark. He graduated with a degree in product design and headed to New York to study at Columbia University for a master's in architecture. He completed the degree but quickly became disillusioned with the field.
"I realized I could never be an architect, because my peers were interning for free for 'starchitects.' That's what you did, but I couldn't afford to work for free," he recalls. "Ultimately, that helped me realize I was more interested in what design could do for people — at the scale of the hand, the body, the interior."
He worked for product-design firms and, with his own money, began showing at design fairs, receiving little attention at first. In 1999, however, the now-defunct French gallery Néotù invited him to exhibit and funded the development of his pieces, which included ethereally minimalist shelves made of powder-coated and stainless steel (quite a contrast with some of his more recent work, which is rich in texture and detail, in some cases by artisan weavers).
During that show's run, Burks had a chance encounter with the English designer Jasper Morrison, and Morrison brought Giulio Cappellini to the exhibition. The Italian entrepreneuer liked Burks's work and bought his shelving designs to put into production. "That could never happen today," Burks observes. "The community was so much smaller then, and there was no social media. The pace of everything was much slower."
A few years later, Missoni commissioned Burks to create pieces with its fabric offsets. His Missoni Patchwork vases were a highlight of the 2004 Milan Furniture Fair, elevating his reputation. The machine-meets-handmade nature of the pieces got him pondering industrial processes and the means of production.
"I began thinking about how the majority of the world is not involved in this Western concept we call 'contemporary design,' and shouldn't they be?" he recalls. So, he started partnering with artisans in developing countries. Burks's next project was a collaboration with craftspeople in South Africa to design and produce a set of wire tables for Artecnica in partnership with Aid to Artisans.
Today, Burks specializes in creating collaborations like this — which he describes as engaging "hand production as a strategy for innovation" — for brands like the German outdoor furniture company Dedon.
These are true partnerships, with the artisans participating in the design process and paid fairly for their work. "I believe everyone is capable of design, and I prefer to use the hand where the hand is most useful," Burks says. "Hands have power. They can build economies and change culture."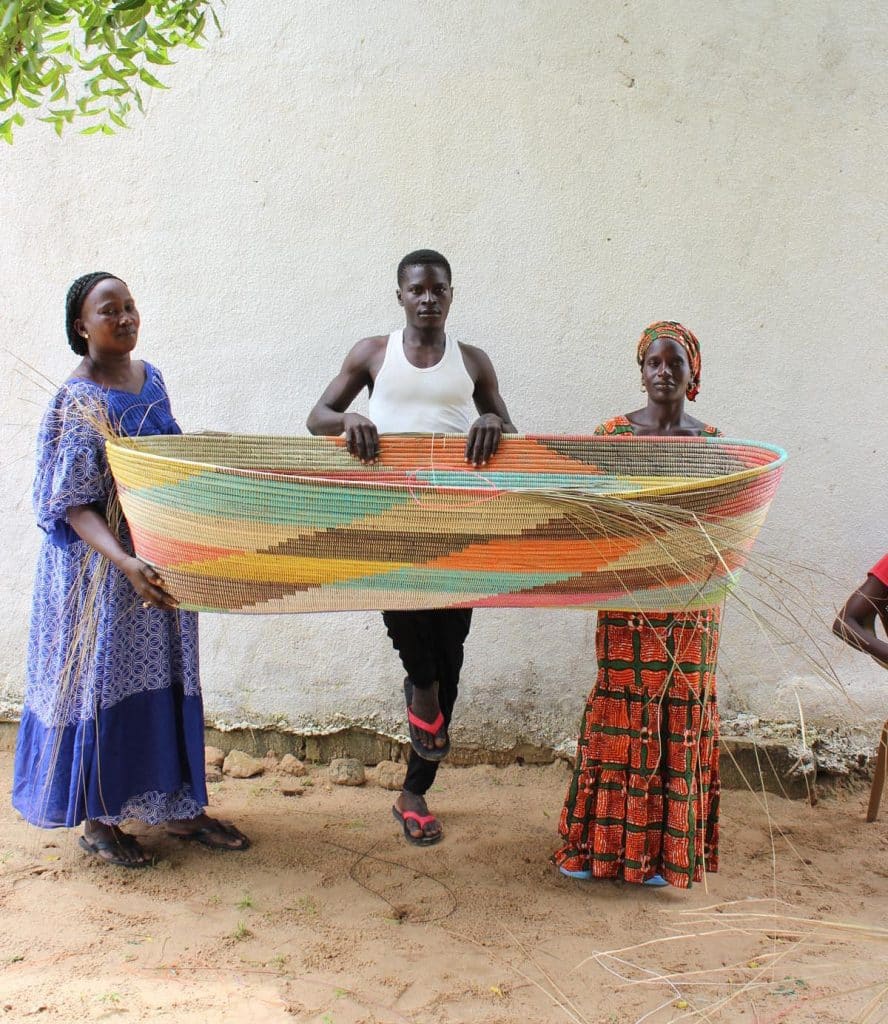 It's not surprising, then, that Burks likes to be as hands-on with his pieces as possible, frequently describing his mission as "returning the hand to industry." This is exemplified in his Grasso collection for BD Barcelona Design. Burks collaborated with Swedish flooring company Bolon on new textiles to incorporate in the furniture pieces, which included leather chairs with shaggy backs, suggestive of the human body. Burks himself cut strands of space-dyed yarn to achieve this effect.
Burks's roster of recent projects is dizzyingly eclectic. In 2019, he was a Loeb Fellow at the Harvard Graduate School of Design, participating in a program that brings together expert practitioners with the mission of revitalizing communities. (His positions at the university have also included design critic and expert-in-residence.) He's currently at work on new collections for Dedon and Roche Bobois. And he's advising companies, including the New York City–based Matter Made, on how to bring in more work from designers of color.
Then there's his role in Friedman Benda's "Design in Dialogue." In July, Burks became a cohost of the program (available after the fact on Vimeo and YouTube), alternating with design curator and historian Glenn Adamson. "I'm excited to return to being public about my opinions," he says, recalling that when he was starting out, in the 1990s, he wrote about design occasionally for publications like the British fashion magazine Arena Homme.
His first guest was Ini Archibong, whom he describes as "the first other African American voice to come along at the highest level." Burks cites the fact that, among other projects, Archibong has designed a watch for Hermès, something no person of African descent had done before.
Burks also interviewed Patricia Urquiola — "She's an old friend and a role model," he says — and Amale Andraos, cofounder of the international architecture firm WORKac and dean of Columbia's Graduate School of Architecture, Planning and Preservation.
Also among his recent projects, of course, is the Berea College initiative. The items Burks designed with the students sold on Berea's website to benefit the college, with an outside distribution deal in the works. In addition to the textiles, ceramics and aluminum and wood baskets, the pieces on offer will include one that Burks calls Broom Thing. Drawing on Berea's tradition of producing elegant Shaker-style brooms, it's a sphere composed of 26 brooms that come together with a kind of polyhedron in the center and is meant to be hung from the ceiling. "I was trying to do with colorful broomcorn something similar to what Harry Bertoia did with wire," Burks says.
Finally, Burks is in the process of founding his own nonprofit, Designing Diversity, which would channel a portion of the proceeds from his work into such causes as the Equal Justice Initiative.
"We don't get beyond this crisis by doing one-off projects," he says. "People are realizing that there needs to be real investment. We need to broaden the dialogue and be more inclusive in as many ways as possible."