March 15, 2020Before concerns about coronavirus cut it short this past  week, TEFAF, in the Dutch city of Maastricht, was a feast for the eyes. The flowers alone were showstoppers at this — the 33rd — edition of the fair. The hot pink, purple, orange and red masses of orchids, lilies and tulips hanging above the aisles lifted the spirit, despite the headlines of the current news cycle. But it was, as ever, the treasures on offer that lured tens of thousands to the event, held in the southeastern corner of the Netherlands. With 275 dealers from 20 countries filling an exhibition space of 116,000 square feet, TEFAF is simply the biggest and finest art and antiques fair in the world. At both the Collectors and VIP previews leading up to the public opening, on March 7, the large entrance was full of people waiting to get first crack at the stock of their favorite dealers, who reserve the best of the best for the show. The exhibit hall is without windows; it was easy to forget the outside world and enter a dreamlike state among the acres of splendors and surprises — a stand displaying an 18th-century boudoir, perhaps, or a Shaker dining room. As ever, TEFAF proved a magnetic draw for collectors and connoisseurs alike.
To help visitors navigate this large and varied fair, the organizers created "neighborhoods," each with its own identity — among them Ancient Art, Paintings, Modern Art, High Jewelry, Antiques, Tribal Art, Works on Paper and the ever-stronger Modern and Contemporary Design. Intersections of the main avenues (or aisles) had such famous place names as Trafalgar Square and Place de la Concorde. Color-coded portable maps were provided; freestanding ones with "You are here" red dots were placed along the periphery. And each dealer's stand was numbered. I am pretty good at map reading and a veteran visitor to TEFAF Maastricht, so you might think that when I set off to visit a particular dealer, I'd arrive at my destination promptly. In fact, I was always getting lost. As I marched along, I would glimpse an artwork and become powerless — I had to follow my eyes. The discoveries that resulted were among the chief pleasures of this year's fair. What follows are some of the pieces that took me happily off course.
---
ArtAncient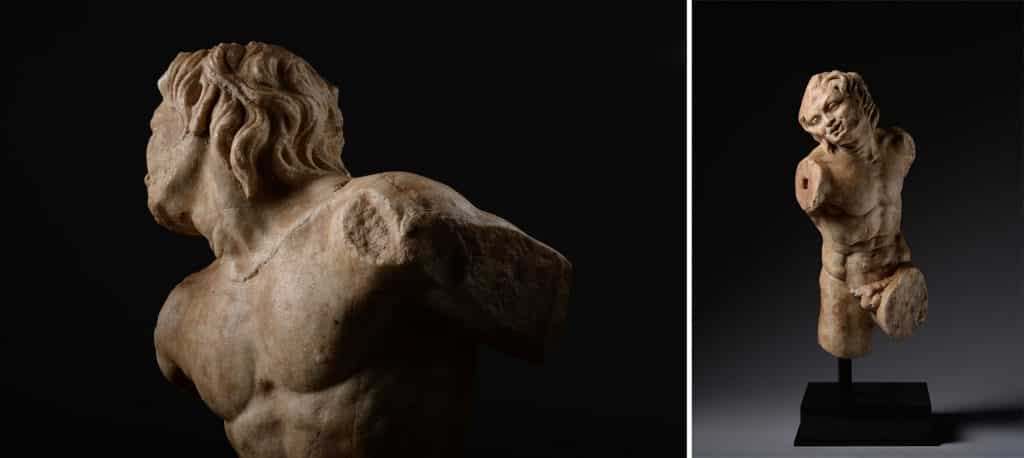 Lusty satyrs, half man/ half beast, were mischievous mythological trouble makers. This one lured me to the stand of ArtAncient, which launched online in 2006 and has operated a London gallery since 2016. The body of the first-century Roman marble figure, a manageable 20 inches tall, twists as if in ecstasy; his expression is that of a devious drunk, released from all restraints.
---
Salamon Fine Art
The proprietors of Milan's Salamon Fine Art are not just third-generation dealers in Old Master paintings; they are scholars and enthusiasts as well. The most important painting at their stand was Michele Marieschi's circa 1735 view of Venice's Piazza San Marco, looking toward the clock tower. To their knowledge, it is the only one of the artist's available paintings with an unbroken provenance, extending back to its first buyer, the Earl of Carlisle, whose home was Castle Howard (in our time, the setting for the 1981 British television series based on the novel Brideshead Revisited as well as the 2008 movie adaptation). It is the epitome of the Venetian Veduta paintings that were in such high demand from aristocratic Grand Tourists eager to show their guests at home that they had been over the Alps to la bella città lagunare.
---
Friedman Benda
What an armchair! The seat of this piece at Friedman Benda — New York dealer in works by architects, designers and artists — appears to be embedded in a chest of drawers. One look, and I did not just want to sit down, I wanted to move in. It was created in 1967 by Shiro Kuramata, who grew up during the Allied postwar occupation of Japan and lived through a profound, if partial, transformation of its culture that included switching from kneeling on tatami mats to sitting in chairs. This witty marriage of East and West was produced for architect Tadao Ando's mid-1970s Soseikan-Yamaguchi House, outside Osaka. I love picturing such a cozy chair in Ando's severely geometric, poured-concrete building.
---
Shapero Modern
As I looked at Andy Warhol's Shoes, a 40-by-60-inch diamond-dusted screen-print at Shapero's stand, I couldn't stop smiling. With originality and wit, the artist captures the special place fashionable shoes have in women's lives — their allure, beauty and, yes, sometimes the silliness. This London dealer has been renowned since 1979 for rare books and works on paper, with a specialty in early illustrated tomes. In 2014, it added Shapero Modern, offering modern, postwar and contemporary prints, as well as photography. Warhol's print, from an edition of 60, features glittering purple, pink, green and blue tumbles of high heels.
---
 Hancocks
As you might expect from a jewelry dealer founded in 1849, Hancocks has connections with the aristocracy that go way back. In a case placed front and center at its TEFAF stand was the dazzling diamond Anglesey tiara (top), first owned by the extravagant, outrageous fifth marquess of that name. In the next generation, it was worn by the sixth marquess's wife at the coronation of King George VI. Yet Hancock's treasures are anything but snooty. Just a few feet away from the tiara was a display of five brooches, each one a gold and diamond frog playing a different musical instrument. What fun! Dear Santa, can Christmas come early this year?
---
Osborne Samuel Gallery

Osborne Samuel Gallery, London specialist in modern British art, is particularly known for its trove of edgy Lynn Chadwick sculptures, and several Chadwicks were prominently displayed at its stand. My eyes, however, led me to a wall at the side and Frank Auerbach's 1980 portrait of JYM, offered for sale for the first time since shortly after it was made. Looking into the charcoal drawing's dark density, feeling the energy of its lines, gives one the illusion of being transported back four decades into the studio and watching the artist at work.
---
Van de Weghe Fine Art
High above the stand of Van de Weghe Fine Art — New York dealer in modern, postwar and contemporary Western art since 1999 — hung a beguiling Alexander Calder mobile. Very nice to have, but what I coveted was the artist's more intimate, hold-it-in-your-open-palms stabile with "feet" of swooping yellow and four cherry-red, cherry-sized balls that bounce around in the breeze.
---
Wienerroither and Kohlbacher
The most striking, beautiful and unnerving work at Wienerroither and Kohlbacher (W&K), Viennese dealer in Austrian and international modern art since 1997, was Egon Schiele's 1910 Reclining Male Nude. At first sight, this watercolor seems to portray a man in repose, one who is quite literally all legs. On closer inspection, however, it is possible to make out his hips and part of his torso. The figure is so emaciated it might be disturbing, were it not for the cheery colors: oranges, pinks, greens and blues that transform it into a more reassuring work of art.