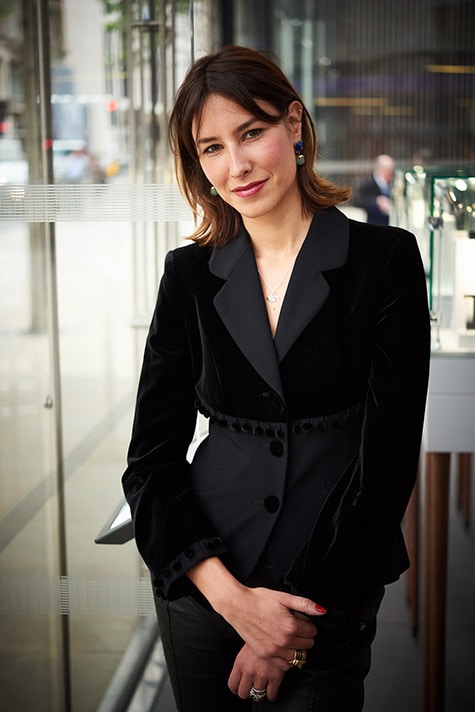 Like many creative talents, jeweler Tessa Packard applies her eye for design to all areas of her life, including her interiors. Packard mixes timeless elegance and irreverent playfulness in her jewelry and took the same approach in designing both her home and her recently opened private showroom, in the heart of London's elegant Chelsea district.
Packard's jewelry collections are narrative driven, frequently with tongue-in-cheek twists on popular culture or history. "The one force that governs my creativity — even the simple act of getting dressed in the morning — is juxtaposition, contradiction and a pinch of the fairy tale," she says.
Her Fat Free line from a few years back was inspired by her childhood love of British pick 'n' mix candy, or penny sweets. Her Fried Egg earrings, for instance, were inspired by a treat whose vibrant colors are re-created in yellow topaz with a "sugar coating" of pavé white diamonds.
Packard's most recent collection, Emperor's New Clothes, takes its name from the Hans Christian Andersen fairy tale. It riffs on the idea of illusion through the use of colorful enamel and exaggerated forms that give the stones in the pieces the appearance of record-breaking high-carat precious gems without the matching price tag.
When it came to designing her showroom's first-floor drawing room, where she greets clients and hosts frequent evening events, Packard took a Victorian gentleman's study as her model. "I wanted something rich in leather-bound books, kilims, taxidermy and art — the imagined objects of a modern-day Grand Tour," she says.
Drawing clients into Packard's fantasy world of discovery and adventure puts them in a perfect frame of mind for viewing her equally imaginative jewelry, whether it be hand-carved-amber Fire Wasp earrings or one-of-a-kind Fruit Bat earrings, inspired by the flora and fauna of her mother's native Brazil.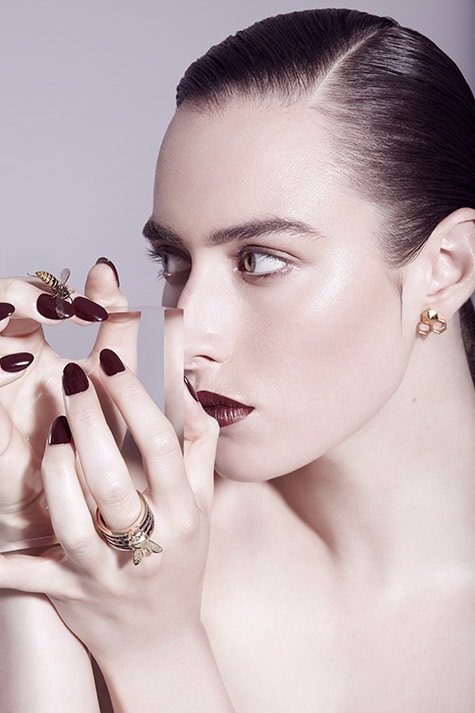 The Victorian cabinet of curiosities, in which were displayed the owner's worldly treasures, was the inspiration for Packard's vitrines. The aged-wooden cabinets are "more akin to those found in institutions such as the Natural History Museum than those on Bond Street," she says. "I see my jewelry as sculpture in miniature and so wanted to display the pieces in a manner that elevated them into treasured curiosities."
A client may sit in one of Packard's matching rough-hewn-wood chairs with worn leather cushions, which provide a playful contrast with the room's overall elegance, to select a jewel from her collections or to discuss a bespoke design.
One of her personal favorites among her past private commissions is a magnificent engagement ring featuring custom-cut diamonds and an interlocking pavé-set diamond ring jacket. While an engagement ring is intended to be worn for life, the jacket makes this one versatile too. The central diamond can be worn alone for day or dressed up as an impressive cocktail ring for evening.
Commissioned by an animal lover on another occasion, Packard created engraved gold earrings in the shape of lions' heads with manes of custom-cut mandarin garnets. Despite their contemporary design, they have a classic style that is equally suited to jeans or a little black dress.
The designer says she thrives on this juxtaposition of the timeless and the irreverent. It is a theme that continues in her Chelsea home, "a squat Georgian townhouse," as she describes it, which is just a short walk from the showroom. Here, Victorian prints, rich fabrics and antique taxidermied creatures contrast with contemporary art and such fanciful touches as a unicorn wall trophy and a watermelon-shaped table.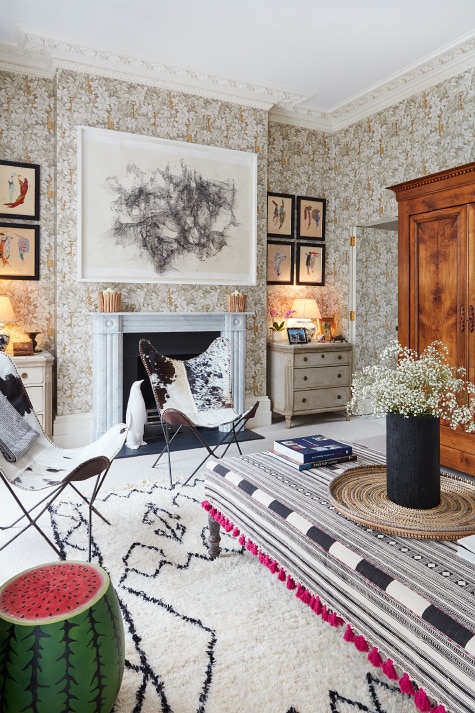 "Elegance is boring without playfulness. Whimsy is superficial without the gravitas of timelessness," says Packard, adding with a smile, "Life would be so miserable without unicorns and watermelon tables."
Whether on a miniature scale when designing jewelry or on a larger scale when dressing a room, Packard enjoys putting objects together to create interesting and unique narratives. Before starting out as a jewelry designer, in 2013, she worked for a private art dealership in Mayfair that specialized in Impressionist and modern works as well as Brazilian Concretism, which was just beginning to make waves internationally.
Packard made the switch to jewelry with no formal training. Mistakes were inevitable in that first year of business, she admits, but learning on the job has paid dividends in unforeseen ways. "Now, I'm grateful for the lack of institutionalized teaching," she says. "Like a child, I still think everything and anything is possible." And the art world continues to provide inspiration for her designs. Pop art, for instance, informed the bright colors and bold shapes of her Fat Free pieces.
Hard at work on her latest collection, Packard has designed a haven for creativity upstairs at her showroom, with her first dedicated painting desk. Surrounded by potted plants, cowhide rugs and colorful touches, the personal treasures on display serve as inspirations for her designs, the decor as a whole providing the perfect environment in which to share her vision with others. Her very personal approach to interior design is the only way to communicate her brand's DNA, she says. "Everything talks to everything else."
Shop Tessa Packard London on 1stdibs