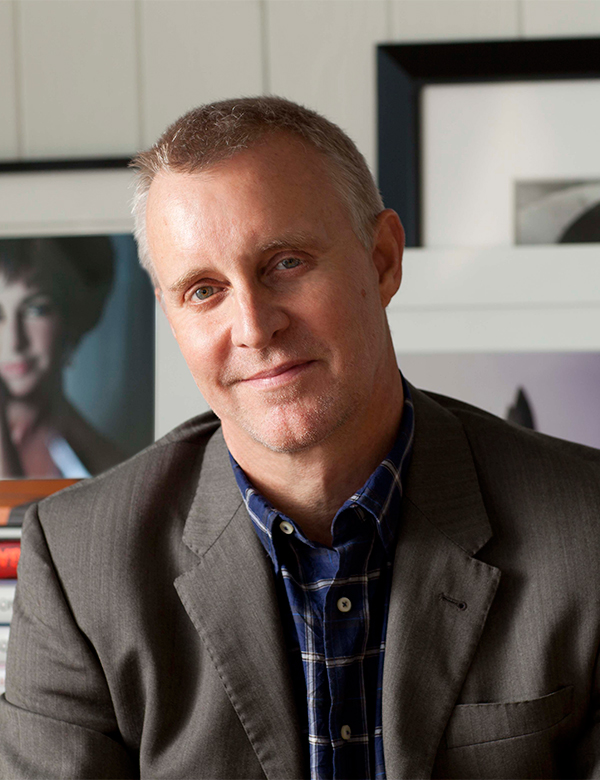 Despite the many celebrity homes Trip Haenisch has helped transform over the years — whether belonging to Courteney Cox, Cheryl Tiegs or Hank Azaria — eschews the flashy attitude so frequently found in Hollywood. In its place, Haenisch, who emigrated from Kansas City to Los Angeles 31 years ago, exudes a sense of humble gratitude mixed with clever whimsy.
"I love good things, but I have a sense of humor," says Haenisch, who adds signature twists to every project. Examples include transforming a Memphis Group–style Tawaraya boxing ring into a bed for his teenage son or putting a urinal in a cigar-and-poker room in a private home in California. Outside his office window, he's fashioned an outdoor bed from cement, which is now completely covered in boxwood and ivy so that it appears to have been made by Mother Nature herself. And beside his swimming pool, Haenisch designed and installed a 12-foot-high outdoor lamp with a base created from petrified wood. "Experimenting with things is key," says Haenisch.
Years into a successful design practice and with five shelter magazine covers under his belt, Haenisch is still quick to credit much of his success to designer extraordinaire Waldo Fernandez. "I didn't have any kind of formal design training when I first came to LA.," Haenisch say. "But exposure to the best in the field of design and experiencing amazing interiors throughout the world thanks to Waldo gave me the foundation — and inspiration — I needed."
Having worked post-college for IBM analyzing the efficiency levels of corporations, Haenisch first helped Fernandez get his thriving interior design business automated. In return, Haenisch was lucky enough to soak in the Fernandez aesthetic that eventually won him a devoted client list that twinkled with stars, like Elizabeth Taylor — who would become godmother to Fernandez and Haenisch's son, Jake — among them. "When Waldo and I had a house together, we placed at one end of the living room an enormous Roman head with a provenance dating back before the time of Christ and opposite that was an 18th-century gilded Italian console," remembers Haenisch. "Set on top was a slatted Crate & Barrel container planted with a white orchid, and hanging above that was a Jean-Michel Basquiat painting. I quickly learned that high and low can contrast beautifully."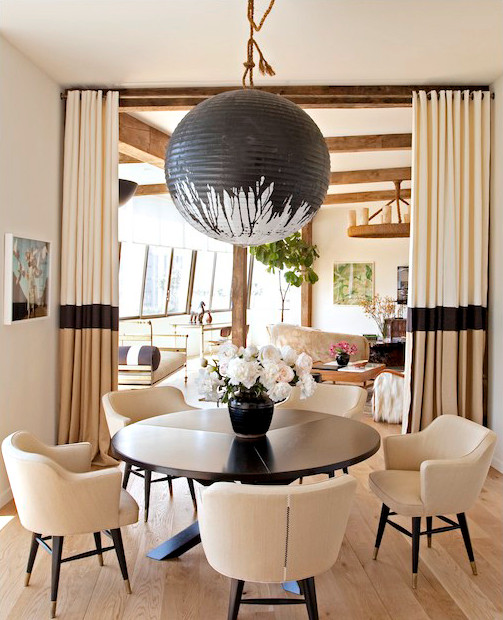 In 1985, the two formed the Waldo Collection, a trade-only business selling vintage furniture, accessories and carpets found during their trips to everywhere from Morocco to Maine. "I gleaned a lot by watching the designers assess what was in our gallery and their decision-making process," says Haenisch. And while the company, and his relationship with Fernandez, ended five years ago, Haenisch continues to be indebted. "Waldo's influence ultimately gave me the confidence to go out on my own as a designer," he says.
While still involved in the Waldo Collection, Haenisch co-founded the design firm Martynus-Tripp with fellow Angeleno Martyn Lawrence Bullard in 1997. Together they worked on a number of residential projects — including model Cheryl Tiegs' Bel Air home, which they turned into an Indonesian-style pavilion — that helped put them both on the map. After 10 years of successful collaboration, Haenisch knew it was time to capitalize on the growing word of mouth surrounding his talents and, in 2007, he launched his own firm.
Two years later he began transforming Courteney Cox's Malibu retreat: a tired 1950s affair featuring spectacular Pacific views and precious privacy. Using vertical siding, bronzed-steel trim and a plethora of white walls, Haenisch created a modern, barn-like compound that manages to feel completely appropriate in its beachfront setting. "The intent was to make it feel like a great old house that was contemporized," says Haenisch, who layered in a Hans Wegner ox chair covered in a lush mohair bear fabric, colorful artwork from the likes of Massimo Vitali and a comfortable-yet-sexy L-shaped sectional Haenisch designed himself. A dining room — which Cox knew she'd never use — morphed into a hip rec room, complete with a custom pool table and an enormous wall painting by Croatian artist Arsen Roje. "Trip is such a talented designer," Cox says. "I love working with him because of his great taste and his ability to adapt to my style while maintaining his own."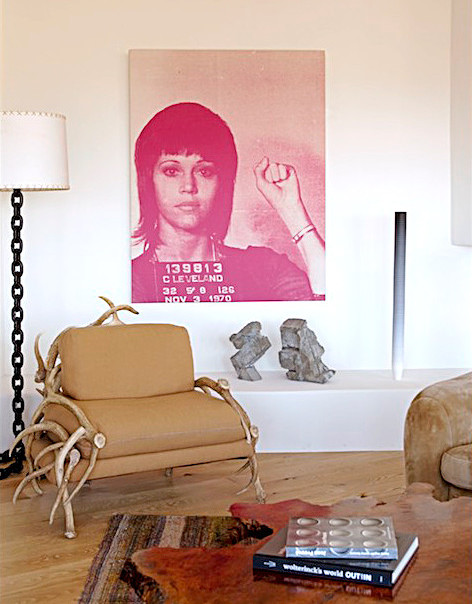 With an equally savvy and sure hand, he also recently reinterpreted actor Hank Azaria's 1932 Monterey Colonial in Bel Air by combining leathers, metals and ceramics, as well as linen, velvet and wool, with vintage pieces — French Army lockers in the dressing room, say, or a round steel worktable in the breakfast nook. He even roughed-up the too-smooth ebonized floor using wire brushes. "It's highly personalized," says Haenisch. "I've become more fearless because I've learned that when it comes to designing, there is no right or wrong answer."
Upcoming residential projects include retreats for clients in Aspen, Colorado, and Montana as well as a teardown ranch house in Bel Air, which Haenisch is going to replace with a traditional Paul Williams–style white-brick house. Constantly on the go, he sees little distinction between work and play, especially since so many of his clients have become friends. When home, you can usually find him swimming laps, pursuing a daily yoga practice or reclining poolside with his son and friends watching Monday Night Football on an outdoor screen that projects from his bedroom. He's the very picture of contentment. "So many designers now are able to make furniture and fabrics and brand themselves in so many ways," says Haenisch. "But no matter how much I've been tempted, I still want to focus on my core interior design business. By doing only what I love, nothing suffers."