August 4, 2019In a boldly hued bedroom in Manhattan's most recent Kips Bay Decorator Show House, a smart 19th-century French Directoire bureau plat sat near a bright-yellow contemporary custom sofa from Anthony Lawrence Belfair, both atop a muted-yellow 20th-century modern Scandanavian rug by Märta Måås-Fjetterström, surrounded by vibrant blue and gray floral wallpaper. Decorated by Alice Engel, interior design director for Peter Pennoyer Architects, the space playfully updated neoclassical decor.
Engel's most memorable gesture, however, may have been the addition of a suite of wry, lighthearted sketches with a refreshing abundance of white space. Created by Manhattan artist Tug Rice, the caricature-like illustrations — vignettes of vine-covered Ivy League dorms, uptown cocktail parties and Park Avenue residents' private lives — seemed right at home in the tightly curated bedroom.
Although the similar tone of the eight storybook-style drawings suggests a narrative, Rice has ensured that each character exists in his own quirky world. In one, a canine companion sits attentively at the feet of his owner, who reclines in his smoking jacket, a plume of smoke rising next to a portrait of the two of them sporting bow ties. In another, a rosy-faced tuxedoed man presents a pair of stilettos on a serving platter to, one assumes, the same (unpictured) woman who has rejected the shoes in the boxes littering the floor around him. Rice's works are instantly familiar and clever, concerned with the self-conscious mannerisms of New York's bookish elite.
A self-taught illustrator — as well as artist, writer and actor trained at Carnegie Mellon — the Nazareth, Pennsylvania–born Rice, 29, possesses a unique set of talents that has lately brought him several high-profile commissions. The best fit yet for his gifts might be his 2019 calendar drawings of Manhattan's Carlyle Hotel, featured on its Instagram account, which focused Rice's waggish eye on a particularly compelling set of subjects: the denizens of his own Upper East Side neighborhood. (The hotel's Bemelmans Bar is named for one of Rice's primary inspirations, illustrator Ludwig Bemelmans.) Shortly after that, Patrick Dragonette, owner of Los Angeles showroom Dragonette, invited Rice to create art for the annual Legends of La Cienega, which he heads up. Rice populated the design event's posters, website and promotional materials with homages to designers of yesteryear, like Mario Buatta, pictured holding a length of chintz.
Rice's whirlwind of high-octane commissions followed a more modest venture. In 2018, a friend introduced him to Emily Eerdmans, of the New York gallery Eerdmans Fine Art, and the two immediately hit it off. "For me," Eerdmans says, "Tug's work evokes the verve and wit of a Wodehouse novel, where everything and everyone is amusing and stylish. It's a sunny, life-is-a-bowl-of-cherries point of view."
The gallerist asked Rice to create a collection for the 2018 Eerdmans Holiday Bazaar, a yearly gift fair she holds at her East 10th Street space. That spawned Rice and Eerdman's "Enthusiast" series of limited-edition prints wittily depicting various types of connoisseurs — such as The Bibliophile and The Balletomane — now available on 1stdibs. These caught Alice Engels's attention, leading her to feature Rice's work at Kips Bay. Which brings us full circle.
Recently, Introspective sat down with Rice to discuss his inspirations, collaborations and new ventures.
A lot of your characters navigate high society. How and why do you choose your subjects?

I have no idea [laughs]. Part of it is living on the Upper East Side. If I were in Williamsburg, I'd be drawing a different set of people. If I lived in the Village, they'd also look different. There's something about the Upper East Side, the tradition of it. Dressing for dinner, dressing to take out the garbage. I find it beautiful and hilarious.
Early on, I was really conscious about making pieces that didn't feel too nostalgic. I wanted things to feel current. Even though I think I have a nostalgic sensibility, I am inspired by what I see today.
When I did the Carlyle Hotel's calendar this year, it was almost like doing a book, because you have twelve images. I thought about the revolving door of a hotel, which means there are lots of different people coming in and out, but there are also people returning, people staying for a longer period of time. So, I would include the same characters throughout. You miss it unless you're looking for it, but it was a way for me to try to create a through line.
How does your theater background inform your illustrations?
I think, coming from the theater, I always had this narrative focus: The story had a beginning, a middle and an end. And the illustrations do tell a story. There are principal characters, background characters, there's an action. Sometimes, they look like old costume plates or renderings. There definitely is a theatrical quality to my work.
I've read that you prefer commissions. I've not heard many artists say that.
I didn't think that was weird until other people said they were so surprised to read that, too [laughs]. I think that because I'm self-taught, I'm so curious about illustration and about the work — I don't have an unhealthy ego. Others might disagree.
When a client or a collaborator has a suggestion for something, I try to believe that there's a reason for it, and that they're right. It's like solving a puzzle, and I think that's really fun. If you just tell me, "Draw a picture," I'm going to feel overwhelmed. But if you tell me, "Draw a picture that's pink, of a dog," I suddenly feel very free and unrestrained.
I often get commissions where someone asks me to draw people I've never met. I recently did one with twenty people, and I didn't know any of them. They sent me a photograph of every single person and a few words, maybe, about each: "She always wears her hair up," "He would be holding a martini" or whatever. Illustration is about looking at a photograph and trying to get the essence of this person and translating it to lines and color. When you get it right, it's a very good feeling.
Do you feel better about a commission if you've met the subject?
Not necessarily. If I don't know somebody, I can make an idea of them. If I know someone well, I tend to want to get every bit of them into that illustration, and that's impossible. But when I can do it, and when I can capture somebody and they see themselves in it, that feels really good.
I also love inventing characters. There are a lot of characters that don't exist in real life, but I'll have people say, "Oh, I know him! I've met that person." And that's kind of funny, because that's someone who just came out of my head, and suddenly they're real.
Illustrator Tug Rice Pays Homage to Stars of Interior Design for Los Angeles's Legends of La Cienega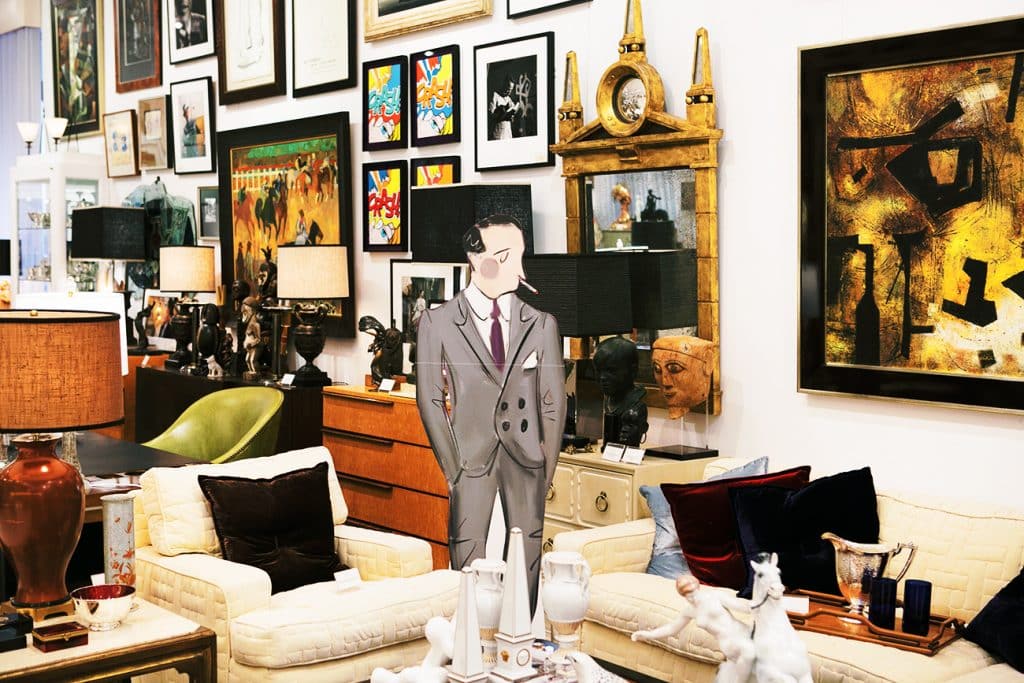 You were recently commissioned to create work for Legends of La Cienega. How did you get involved?
That was through Doug Meyer. I had done his Color My World event [a charity event where 100 artists put their signature spins on a line-drawing template provided by Meyer] last year. Through him, I met Patrick Dragonette, the new president of the La Cienega Design Quarter, which organizes Legends. Patrick had this idea of paying homage to all these grand designers from the past.
I feel like the design community has a respect for its history. Everybody at Legends can talk expertly about Dorothy Draper and Tony Duquette and Jean-Michel Frank. There really is respect for people who came before.
Do you think you were a good fit for the event because your illustrations display a reverence for the past?
I think so, yeah. It can be hard to get right — you don't want art to take itself too seriously, or at least the kind of art that I do. It has to be playful and a little bit self-deprecating, but also respectful. I was trying to strike that balance, of creating a tribute to those people without making it feel reverential.
You seem to have a love affair with New York. Do other cities interest you?
It's New York! I've been to other great cities, and I've loved the people and the sights. But I always leave a trip excited to come back to New York. There just really is nothing like it. It's kind of indescribable — to be in the center of the world, where there is still so much glamour and excitement.
What New York space would you never tire of drawing?
Park Avenue in the spring. I mean, I love the Upper East Side. I still find it very exciting and kind of unchanged. Other neighborhoods have gone through huge metamorphoses, but the Upper East Side has never needed to. I've always liked living uptown. How could you not want to walk to all the major museums or walk to the Carlyle for a drink? I feel like I'm on vacation every day.
Do you think if you lived in, say, Iowa City, your characters would be more suburban? Or would you always be drawn to the glamour of certain sorts of characters?
I think if I lived in Iowa City, the farmers would still be in black tie.
Shop Tug Rice on 1stdibs