Think of the Ottoman Empire, and visions arise of jewel-encrusted swords, ornately set rose diamonds and rubies, dazzling gold and emerald aigrettes. That passion for color, splendor and heavy adornment has remained a feature of Turkish style, with its unique blend of Western and Middle Eastern influences.
But styles change. These days, Turkish jewelry designers have turned from high-wattage bling and, heeding the call for more casual looks, are producing pieces that are elegant, modern and simplified. There is a greater use of semiprecious stones — purple tanzanite, rose-hued morganite and deep blue lapis lazuli are favorites — frequently mixed with white or colored diamonds.
We talked with designers from three jewelry houses whose innovative creations are seducing jewelry lovers not just in Turkey but across the world.
---
MELIS GORAL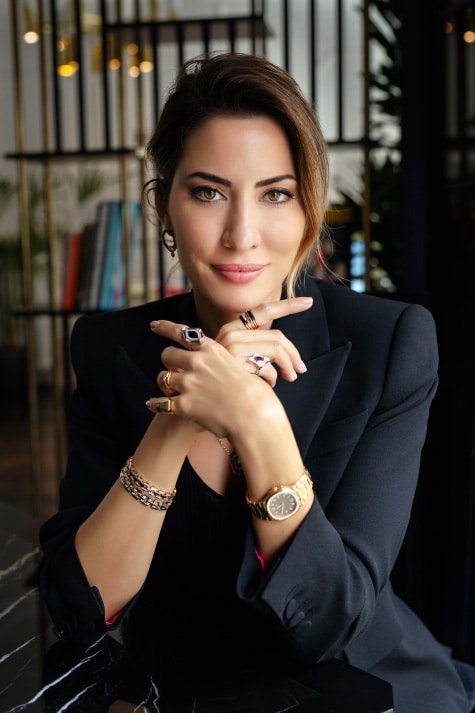 Jewelry is in Melis Goral's DNA: Her father, Fuad Goral, is the owner of Ziya, one of Turkey's most prestigious jewelry brands, founded in 1959. Rather than join the family firm, however, the younger Goral chose to go her own way. "I wanted to appeal to the millennial generation," she says.
Having her independence as a designer was crucial, too. While her designs evoke an Ottoman heritage by employing stones like turquoise and lapis lazuli, her aesthetic, she says, is largely based on her wide travels and reflects a vision that is hers alone.
As a result, she brings a contemporary twist to her work — even to creations that echo the Art Deco–inspired jewels for which her father is known. Her first collection, Color Therapy, introduced in 2008, featured polished slices of agate in deep blues and greens, magenta and violet, each laser-drilled and set with gold and diamonds, a process she compares to "the way an oil painting is done through layers of paint."
At the other end of the design spectrum, her minimalist Geometria collection takes the Deco aesthetic into the 21st century with a lightness and youthful edginess that is elegant without being overly dressy.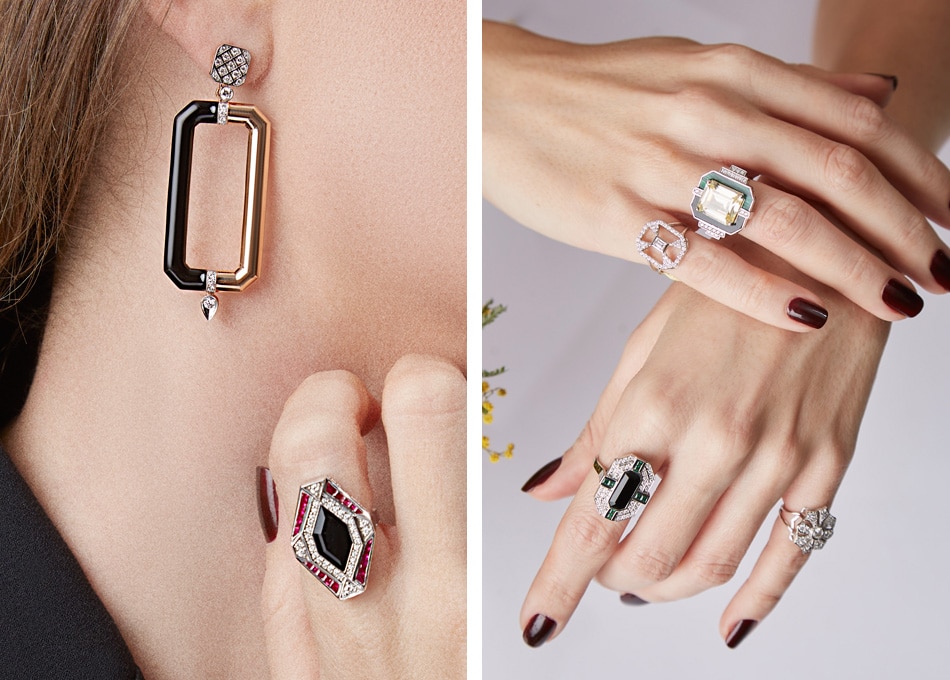 For the even edgier Ivy line, Goral combined round-cut and baguette diamonds with leather bands to create wrap bracelets and cuffs that are as much fashion as ornament. "I have a special love for leather," she says. "I believe it has an elegance that can be mixed and matched to be more modern and young."
All speak to Goral's mission to create pieces that will appeal, as she puts it, "to the woman who wants to wear her jewelry throughout the day and into evening."
---
BEE GODDESS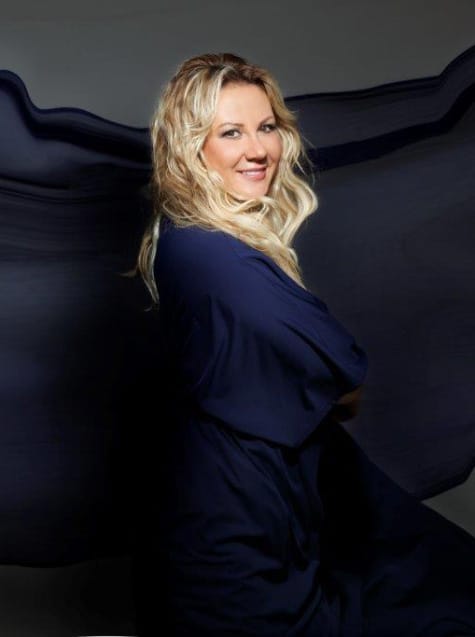 Calling Istanbul-based Ece Şirin's creations "jewelry" somewhat misses the point. They are much more like bejeweled talismans, manifestations of the spiritual journey that in 2005 took her from the world of multinationals (Microsoft, Coca-Cola) to her current vocation, in which she seeks to inspire through symbols and myth.
In fact, she didn't set out to become a jewelry designer. Rather, after meeting with an astrologer, Şirin created a pendant symbolizing the goddess Artemis, who is linked to her sun sign of Virgo."I wore a lot of jewelry at that time," she says, "but I thought, 'There is no carat big enough to lighten my heart.' So I took off all my diamonds and put her on."
People started asking about the piece, so in 2007 she made other versions, adding diamonds she took out of old jewels, including some that had belonged to her mother. "I use diamonds because they last," she explains, "like the soul."
The name Bee Goddess refers, Şirin says, to "the mother of all goddesses," images of whom dating to 7500 B.C. have been found at Çatalhöyük, in Anatolia, now part of Eastern Turkey. Many of her designs draw from this ancient wellspring, incorporating such classic Turkish iconography as the popular "evil eye."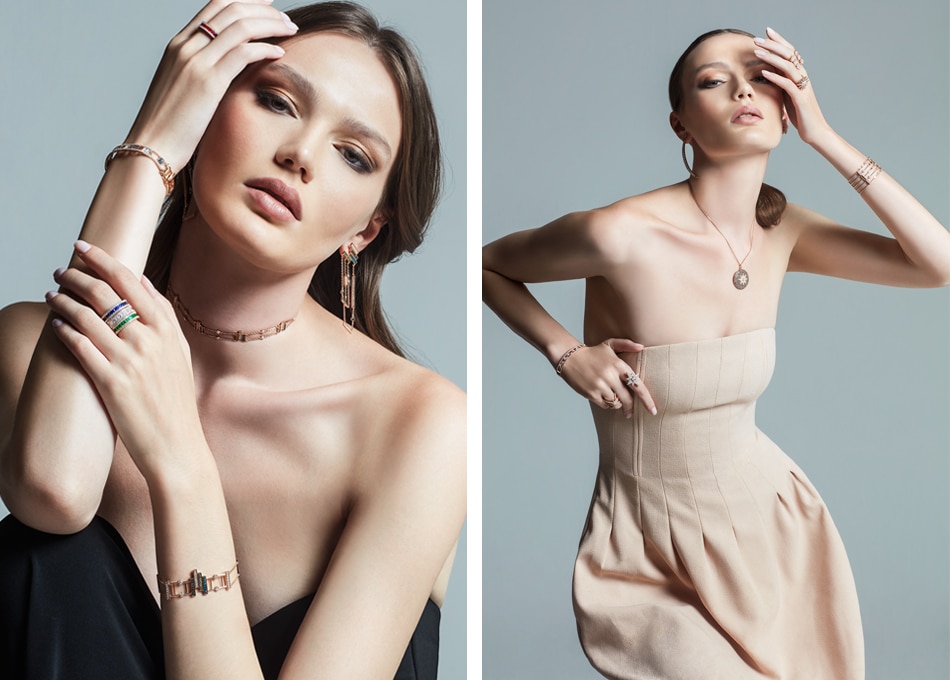 Şirin's vision, however, goes beyond the borders of Turkey, embracing the symbology of multiple cultures in an effort to create metaphors for unity. Indeed, her abstract forms and clean lines have universal appeal, attracting a host of enthusiastic fans, including Kate Moss, Rhianna and Donna Karan. "People say the designs are simple," she says, "but the collection has become a sisterhood. People who wear the pieces often ask each other, 'Which goddess are you?' "
All her jewels incorporate precious stones — white, blue or black diamonds; rubies; emeralds; sapphires — set in 14- or 18-karat gold. Yet, her prices remain relatively affordable. "It is not about the democratization of luxury," she states. "It's about the enlightenment of luxury."
---
MOLU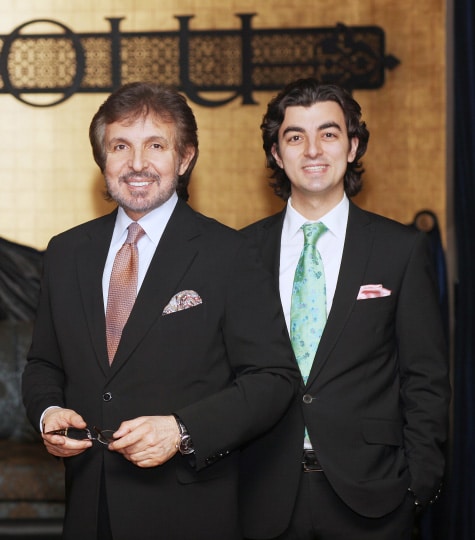 Started by two brothers in a small shop in Istanbul's Grand Bazaar in 1956, Molu is now one of Turkey's most prestigious jewelry brands, celebrated for its top-quality stones — it was the first jeweler in the country to insist on internationally certified diamonds — and exquisitely detailed designs.
"We are especially proud of our craftsmanship," says international sales director Enes Molu, who, with his brother Ahmet, belongs to the third generation of Molu jewelers (Ahmet leads the firm's design team). "We pay a lot of attention to each piece. If something isn't quite perfect, we will melt it down and start again."
That focus on quality and detail, displayed in pieces ranging from elegant emerald and diamond stud earrings to colorful briolette-cut diamond bracelets to a mesmerizing kunzite and brown-diamond ring in rose gold, has made Molu a favorite throughout the region. Customers' loyalty to the brand is deeply emotional.
"We have families who have bought from us for over forty years. Now, we sell to their grandchildren," Enes says. A younger generation has inspired more youthful designs. Like other brands, Molu is adorning its pieces with such stones as kunzite, aquamarine and morganite. "They're very wearable, more colorful," Enes explains, noting that the firm also takes advantage of technological advances in stone cutting to bring a new dimension even to their more classic designs. "It's about reinterpreting tradition. We try to add our signature each time."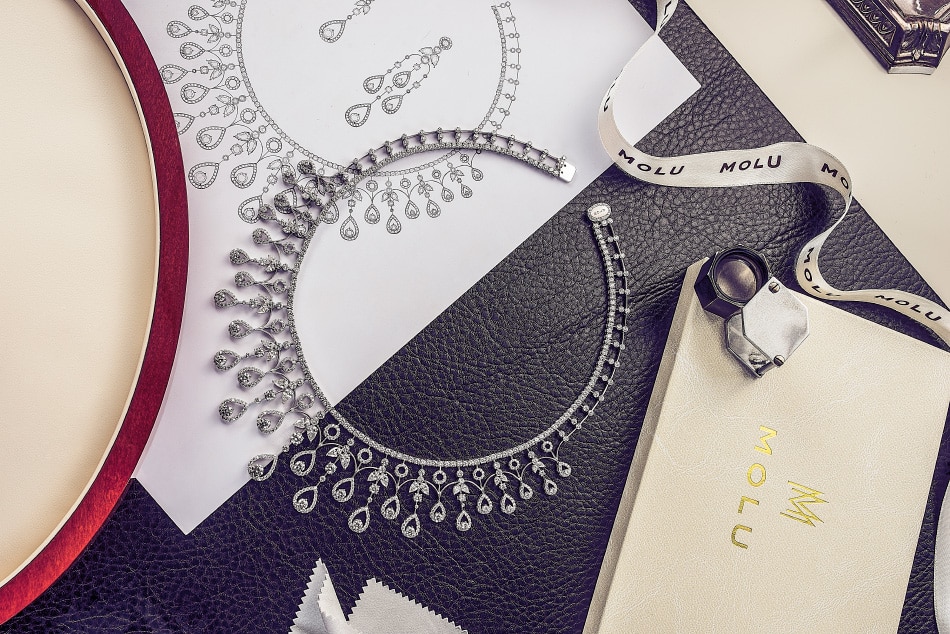 While classical Ottoman jewels relied heavily on rose-cut diamonds, which require a foil backing for brilliance, for instance, Molu uses a newly developed domed rose cut that eliminates the need for the foil. The stones become transparent yet retain their sparkle and shine.
Molu's new focus on wearability and color has inspired pieces that seem less showy, using brown diamonds, perhaps, or multicolored, briolette-cut diamond beads. The idea is for "people to wear them with the same joy thirty years later," concludes Enes. "We try to design pieces they will decide to pass down to their loved ones."